If you're using Bitrix24 Free plan want to get extra features without breaking the bank, Bitrix24 Plus plan with its $39/mo price tag is exactly what you need. In this article we'll try to explain how your team can benefit from Bitrix24 Plus plan.

You have between 12 and 24 employees

As you know Bitrix24 free plan offers communication tools for unlimited users, but business tools (CRM, tasks, disk, calendars, etc.) are limited to 12 users only. If you need more than 12 business tool users, but fewer than 24, Bitrix24 Plus makes a great choice.
*Please note that several features & options are available starting from Standard or Professional plan (e.g. Time management). Please refer to our
price page
for details.
Get Advanced CRM
Twice the CRM users as compared to Free plan (24 vs 12).
24 GB worth of online storage (5GB in Free plan)
Email integration. Again, up to 24 of your employees will be able to integrate their email accounts with Bitrix24 CRM vs 12 users in Free plan.
Chat to CRM in Bitrix24 Open Channels - unlimited (vs 100 per month at Free plan).
Automatic conversion and generation of CRM invoices, deals & quotes based on other CRM entities, like leads. The option to generate new invoices, deals or quotes automatically from leads IS NOT available in Free plan – you'll need to transfer all required information and contact details manually.
Advanced duplicate control – you can find duplicates by email, phone number or name after records are added already (not available in Free plan).
History change & CRM access log. Starting from Bitrix24 Plus plan, you can view your CRM History – what your sales agents viewed, added, changed, or even deleted. The free plan doesn't show you the log of your CRM agents and does not allow you to restore data deleted by your employees. *Full backup restore of your CRM data is available for Bitrix24 Standard & Professional plans only.
Marketing & sales automation for leads - not available for Free plan users. Lear more about this feature here.
Business cards scanner from mobile app: allows 24 scans per month compared with 12 scans at Free plan.
List view exceeding 5000 records: Bitrix24 Free plan allows CRM records list view up to 5000 elements of each type, which means if you have more than 5K records, they all will be saved in the CRM, but you will need to create different filter tabs to switch between them or use search since one list view is limited to 5k elements.
Remove 'Powered by Bitrix24' branding. You may have noticed already that Bitrix24 emails, forms & public pages sometimes have "powered by Bitrix24" signature added. Bitrix24 Plus plan allows you to remove this.
Get Task Dependencies
If you're looking for a Gantt chart, you probably need 4 types of most
common dependencies
Bitrix24 Plus plan offers. Free plan lets you have up to 5 dependencies between tasks at the moment, when at Bitrix24 Plus plan you
get unlimited dependencies
.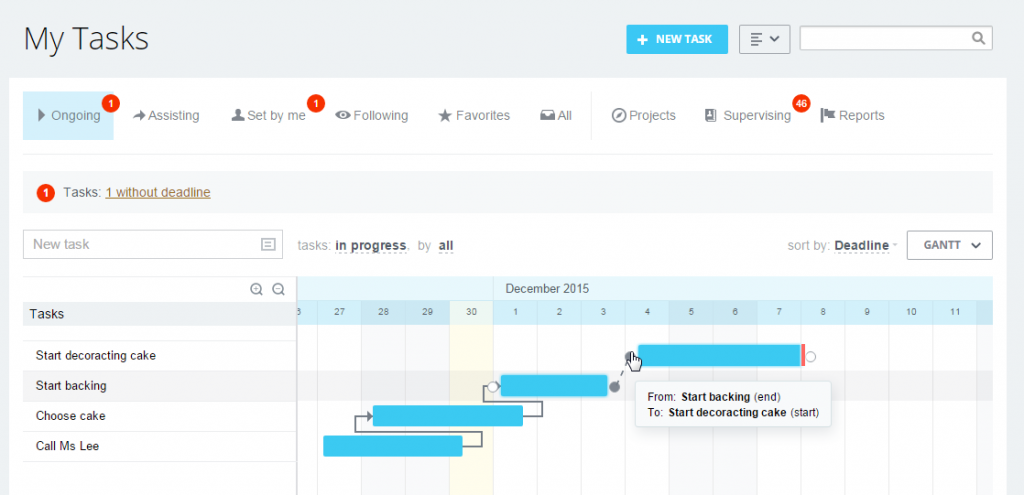 Get Advanced Telephony
Bitrix24 Free plan allows you to use built-in
telephony services
, but there are several features that become available only once you upgrade to Bitrix24 Plus or more advanced plans:
Unlimited call recordings: Free plan call recordings are limited to 100 recordings per month.
Simultaneous call to all available employees NOT available in Free plan.
Track call source (CRM)
Call analytics and reports
Call quality assessment – offer your customer a chance to assess the quality of service after they have ended conversation (you can upload your own recording).
Automatic Dialer (not available at Free plan)
* Phone call and telephony settings
access rights
&
IVR
are available for Bitrix24 Standard & Professional plans only.
Disable OTP for Admins
Since Bitrix Inc takes security issues very seriously,
2 step authorization
is available for all users starting from Free plan.
Starting from Bitrix24 Plus you can disable OTP for users with admin privileges
.
Technical Support
Bitrix24 Plus subscribers can submit ticket to Bitrix24 Technical Support if they have any issues. Free accounts are limited to self-support resources such as product manuals, helpdesk articles, video tutorials, and free webinars.