There are additional tasks features that make working with tasks easier. Here's a brief description of some of them:


How to view all the tasks that I participate in?


Click
Tasks
.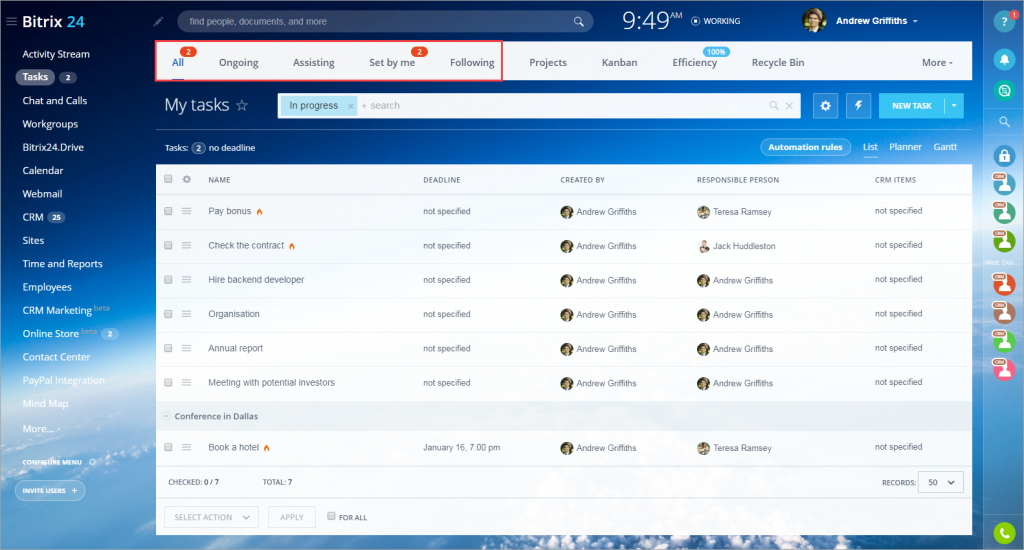 In the All section, you can view all the tasks that you participate in. Also, you can use quick filters on the top - Ongoing, Assisting, Set by me and Following to view tasks depending on your role in them (Responsible person, Participant, Creator or Observer).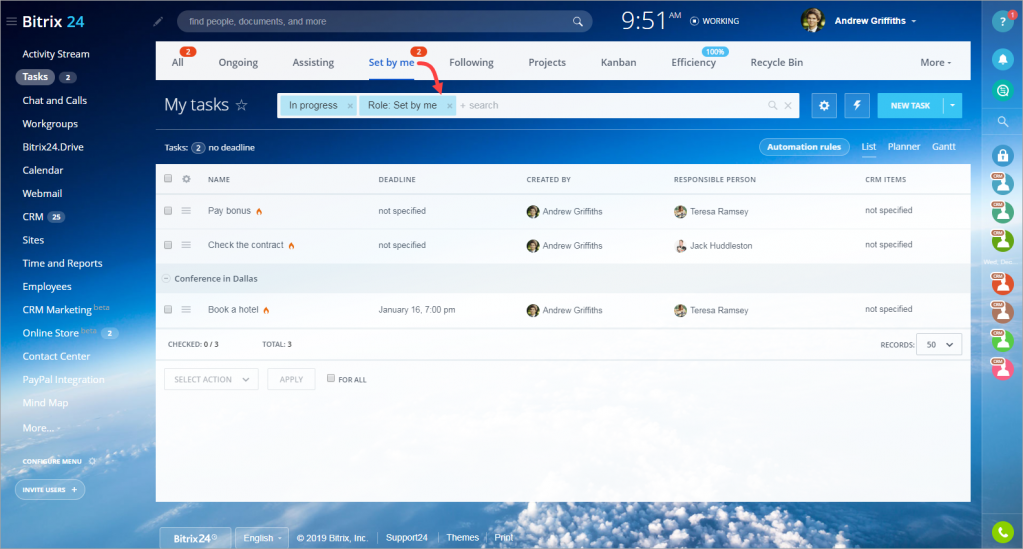 How to view all the tasks created in my Bitrix24?


An Administrator and the head of the company can view all the tasks created by any user. Just use a specifically configured filter. Click
Tasks > All >
click on the search bar >
Add field > Task parameters
> select
Show tasks I don't participate in
option and click
Search
.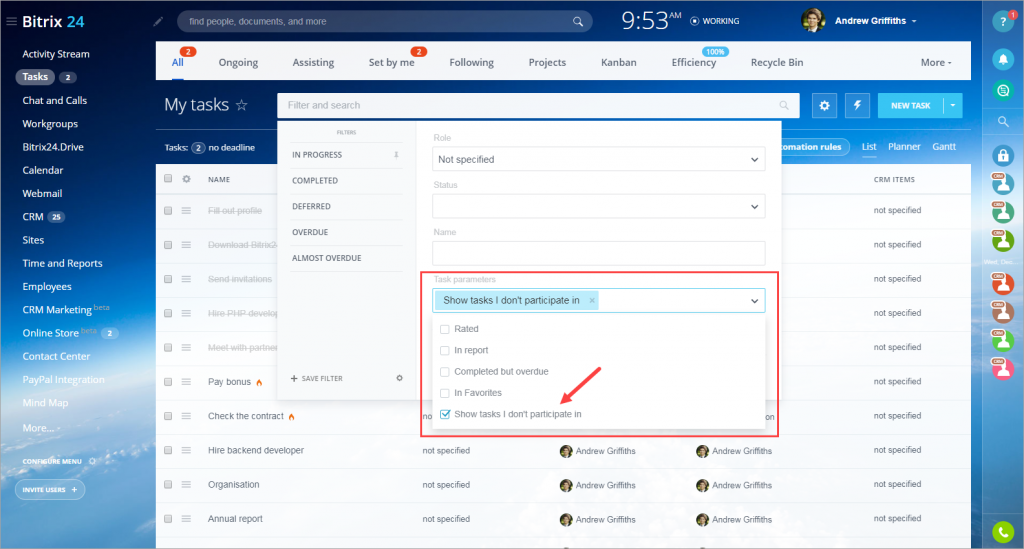 The administrator can also view a user's tasks by opening his/her profile page in the Tasks section.
A department supervisor can also view tasks of his/her subordinates in the
Supervising
section.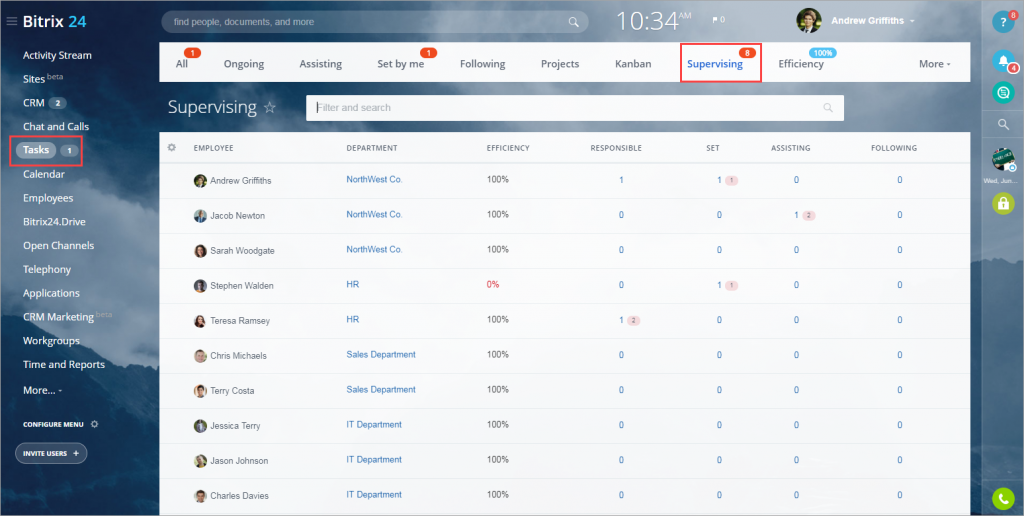 Read more in the article - Supervising tasks.


What do different colors in tasks names mean?


Different colors of tasks names are used for different statuses of tasks:
Green - the task has been assigned, but hasn't been viewed yet;
Black - the task has been assigned and viewed; is not completed, deferred, pending review, overdue or almost overdue;
Red - the task is overdue;
Grey - the task is deferred or completed (if the task is completed, its name is struck through)
Orange - the task is pending review;
Blue - the task is almost overdue (less than 24 hours left before the task deadline).


How to change a responsible person for multiple tasks?


These actions can be performed by administrators or supervisors.
When a responsible person is on vacation or dismissed, you need to assign this employee's tasks to another person.
Just open this employee's profile page > click Tasks > select tasks that you want to assign to another employee > select Change responsible person in the list of available group actions > select a new responsible person > click Apply.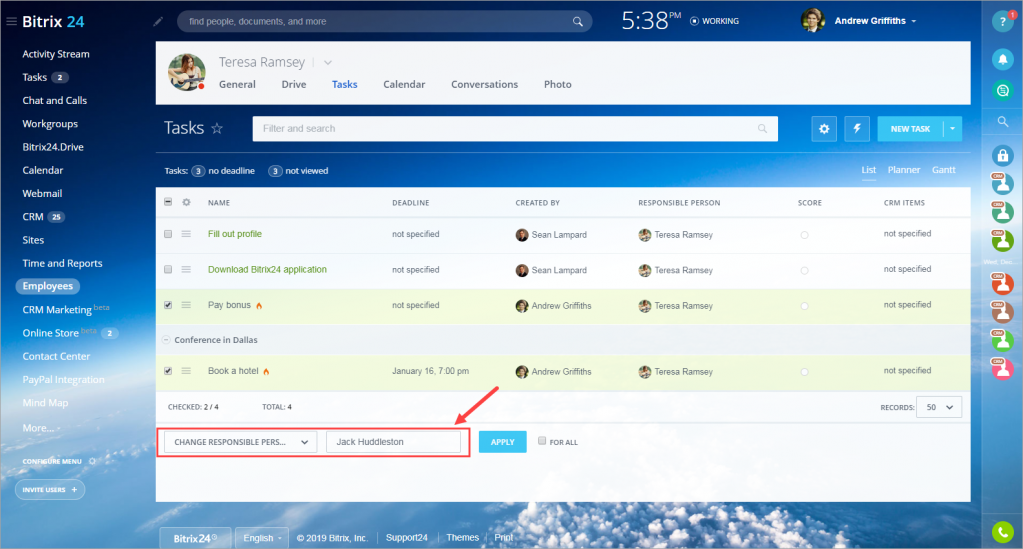 How to attach files to a task?




How can a task creator score completed tasks?


Recommended articles