We understand that more and more companies start using Bitrix24 for video calls and voice calls, so we're working hard on improving the connection quality. Thanks for using Bitrix24!
Video calls and voice calls between employees
To call an employee:
Allow Bitrix24 Messenger to access camera and microphone > start conversation.
You can send text messages to the user you are talking to, or send messages to other users while video calling.
Voice and video calls between employees are not recorded.
Video conferencing
Create a private group chat and perform a video call to start a video conference.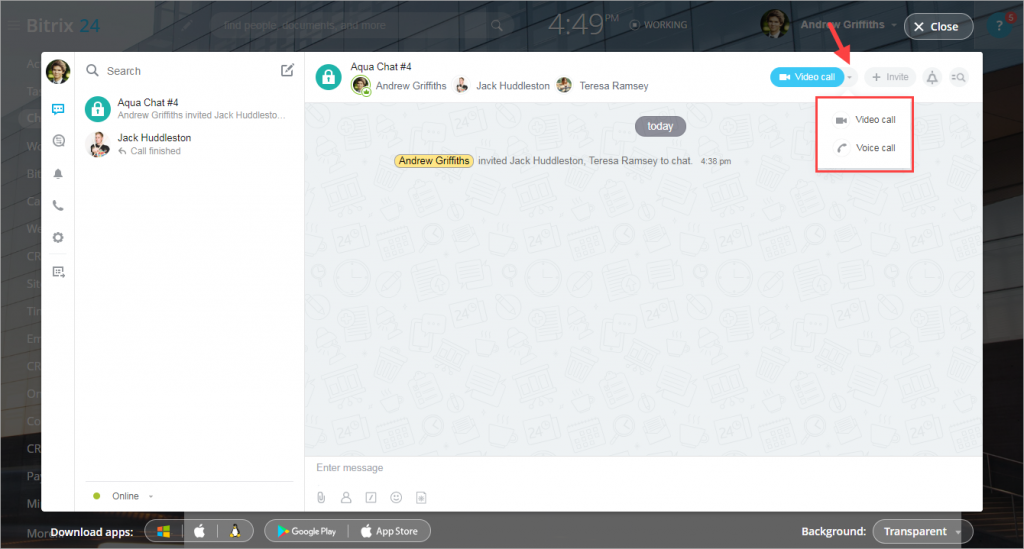 You can also invite new users to a chat while video calling.
Important:
Allow access to:

turn.calls.bitrix24.com
calls-de-1.bitrix24.com
calls-us-1.bitrix24.com
calls-ru-1.bitrix24.com
calls-ru-2.bitrix24.com
Also, open port 3478 (TCP and UDP) for STUN and TURN protocols. If peers are not able to establish a direct connection, TURN-server can act as a proxy for RDP connection (UDP ports 16384-32767).
To perform video calls, you need to have an Internet connection speed depending on the video quality (VP8 codec):

720p, 30 fps: 1-2 Mbps
360p, 30 fps: 0.5-1 Mbps
180p, 30 fps: 0.1-0.5 Mbps

Video quality is changed automatically depending on the connection speed.

Use the formula below to figure out what Internet connection speed you need to have to perform a group video call between employees:

from 0.1 to 2 Mbps * [number of users in a group video call] * 2
Video conferencing is available for small private groups of up to 24 users (commercial plans) or 12 users (free plan). If there are more than 24 employees (or 12 if you use free plan) in the group, the video call button will be unavailable.

Bitrix24 On-Premise Edition users have the limit of 12 employees in the group to make a group video call, but need to meet the following requirements:

- have an active Bitrix24 On-Premise license
- have a Telephony module installed
- Use SFU Voximplant server for video calls option needs to be enabled in the settings of the Instant Messenger module (im).

In the Bitrix24 Mobile app, you can perform and accept only one-on-one calls.
The duration of video and voice calls between employees is not limited.
You need to use Google Chrome v29+, Mozilla Firefox v27+ or Opera v18+ to perfrom video calls.