Administrators can contact Bitrix24 Support straight from the Bitrix24 Messenger and get prompt & knowledgable assistance.
Just open Bitrix24 Messenger > type Support into the search bar > send your message.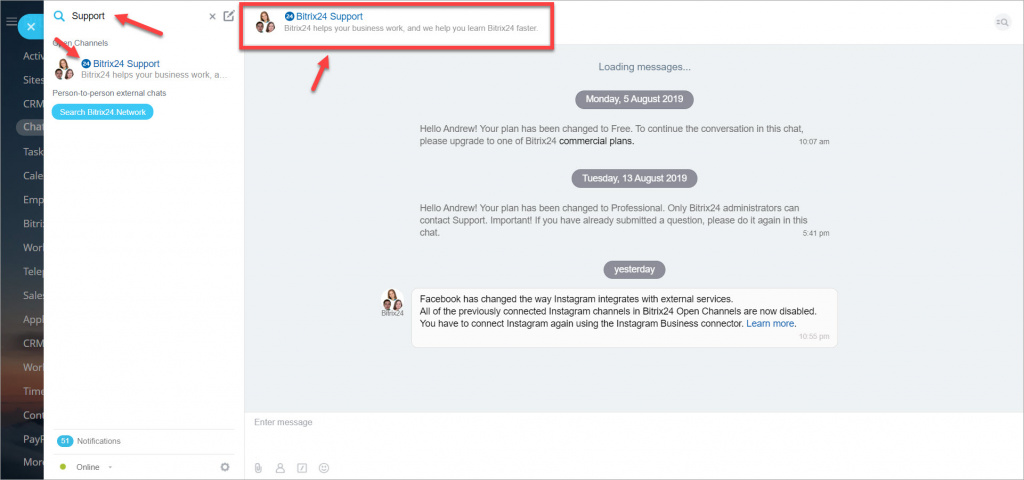 Important: the official Bitrix24 Support chat has a blue icon with a "24" sign on it. This will help you to see the difference between the official Bitrix24 Support chat and other chats.
If you type Support into the search bar and don't get any results, make sure that you are an administrator of your Bitrix24 account.
Important!
Only administrators can send messages to Bitrix24 Support.
Bitrix24 Support chat is available to commercial plans subscribers only.
If you need help with selecting the optimal Bitrix24 subscription plan, you can select a Bitrix24 Partner closest to your location. If you cannot find the right Bitrix24 Partner, feel free to send us a message at partners@bitrix24.com.
If you send a message using a website widget on a Bitrix24 partner's website, you send it to Bitrix24 partner's support, not to Bitrix24 Support.