The main calendar function is scheduling events. Events within the company are easy to schedule in seconds, because the scheduler displays each employee's free time.
But there are also meetings with customers and partners who are not users of your Bitrix24.
For such cases, the calendar has the Invite a guest function.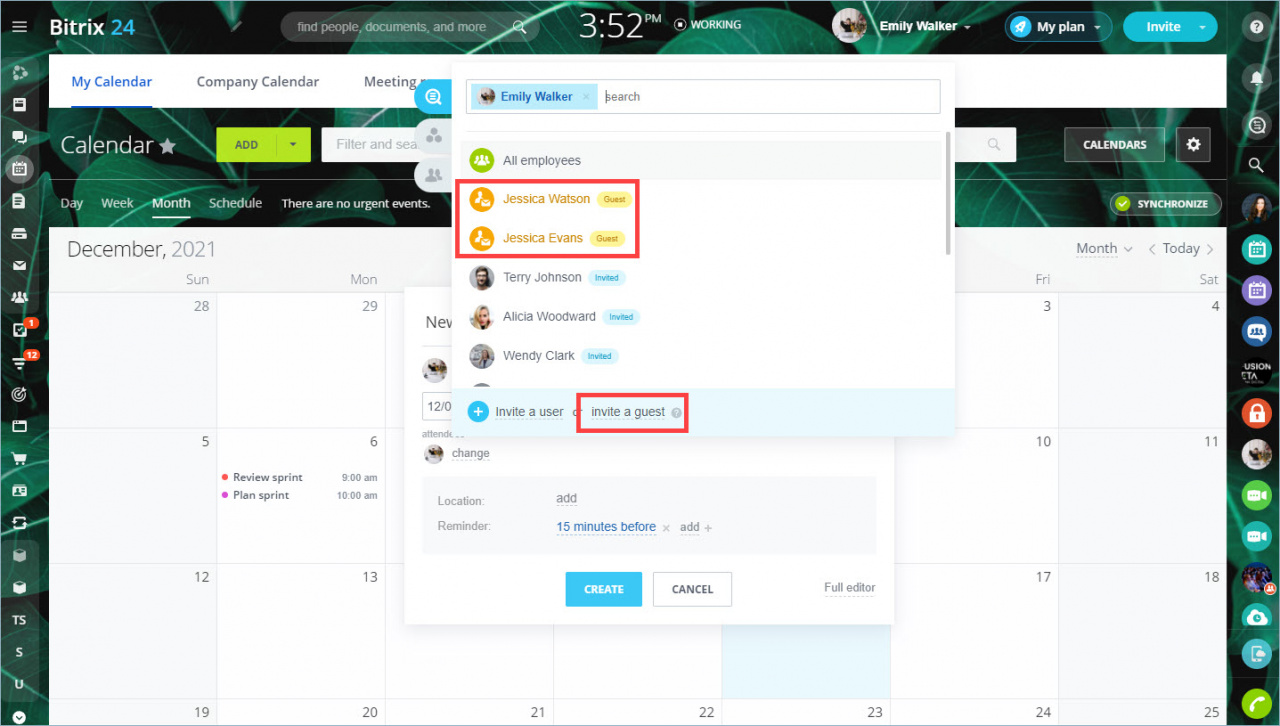 How to send event invitations to a guest by email
Select a day in your calendar and add an event. Specify the event parameters.

In the Attendees section, click the Change button > select users that will participate in the event.

Click the Invite a guest button.

Specify the email, first name and last name of the guest and click Invite.

When you click Invite, the guest will be added to the event's attendee list. But the invitation will still not be sent.

The guest is added to the attendees' list, saved to your account, and is displayed in the yellow color. Select the guest from the list and press Enter.

Mail users have no access to your account, so they cannot be deleted or deactivated. They are not internal or external users.

How to add a new sender email

Make sure to enable the Notify of decision option. If this option is enabled, you'll get the notification if the event's attendee has accepted or declined the invitation.

Click Create.

The event is added to your calendar.
How do I check if the guest has received my invitation?
Is it possible to edit the event if the invitation has already been sent?
You can edit the time and location of the event, as well as the list of attendees.
The guest will be notified of updates via email.
Also, the guest will be notified if you've canceled the planned event.
The guest will see all the details about the meeting in the calendar.
Will the guest see the attachments?
How many invitations can I send?
For
Free
plan subscribers, you can send invitations by email
for up to 10 events
. This limitation applies to the entire Bitrix24 account.
Commercial plans subscribers can send an unlimited number of invitations.
For Bitrix24 On-Premise:
To make it work properly you need:
configure the mail server
.
MX record of the Bitrix24 mail server -mail-001.bitrix24.com- must be specified for the account domain. Contact your domain administrator to do this.