Mind Map helps you to visualize personal or team objectives. In addition to standard Mind Map app features, you can assign users, create tasks and events – all associated with your Bitrix24 account.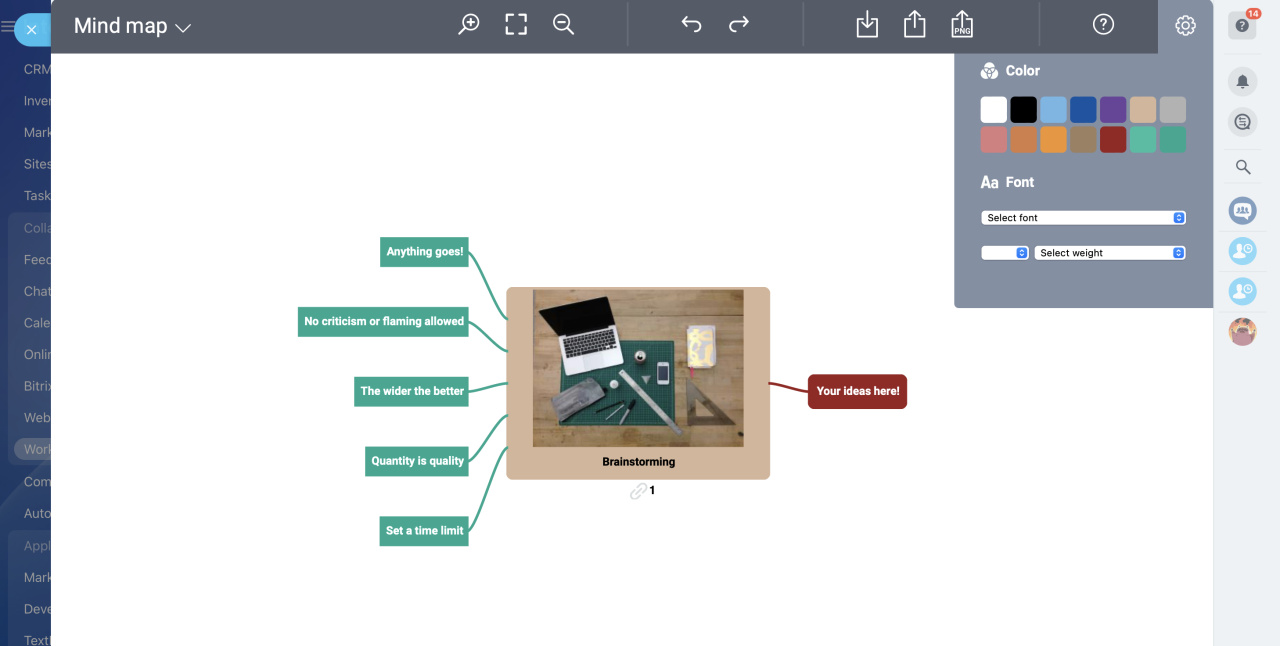 Mind Map can be used in workgroups or projects only.
Based on your feedback, we have added several new features starting from version 5 of the app.
If you are a Mind Map user, make sure to update your app in the Installed subsection within the Market section in your account's left menu.
If you are just considering to try the app, these feature will be available to you by default.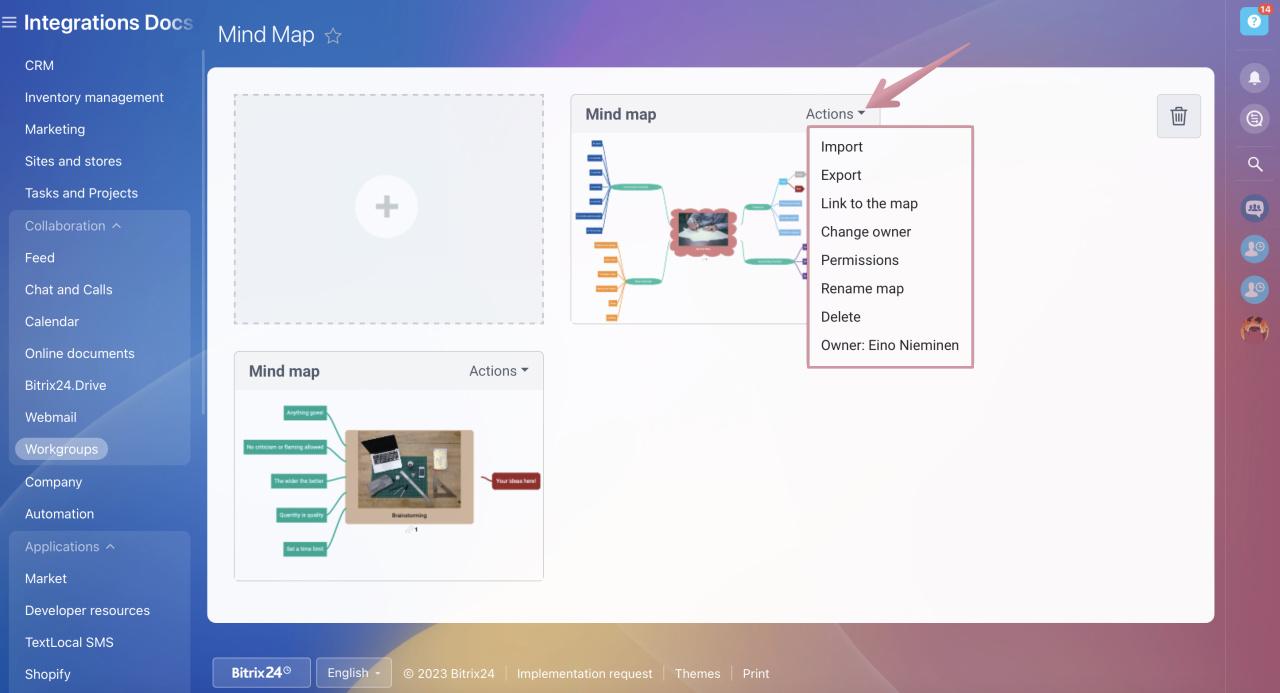 How to install Mind Map app
Open
Market
section in your Bitrix24 account and search for the app. Alternatively, you can install the app right from the Market web catalog using
the direct link
. If you are new to Bitrix24, check our
detailed guide on how to install Market apps
.
Mind Map app is distributed free of charge for commercial plans' users.
At the end of Mind Map app installation, you will get a warning that the Mind Map app can be used only in workgroups and projects.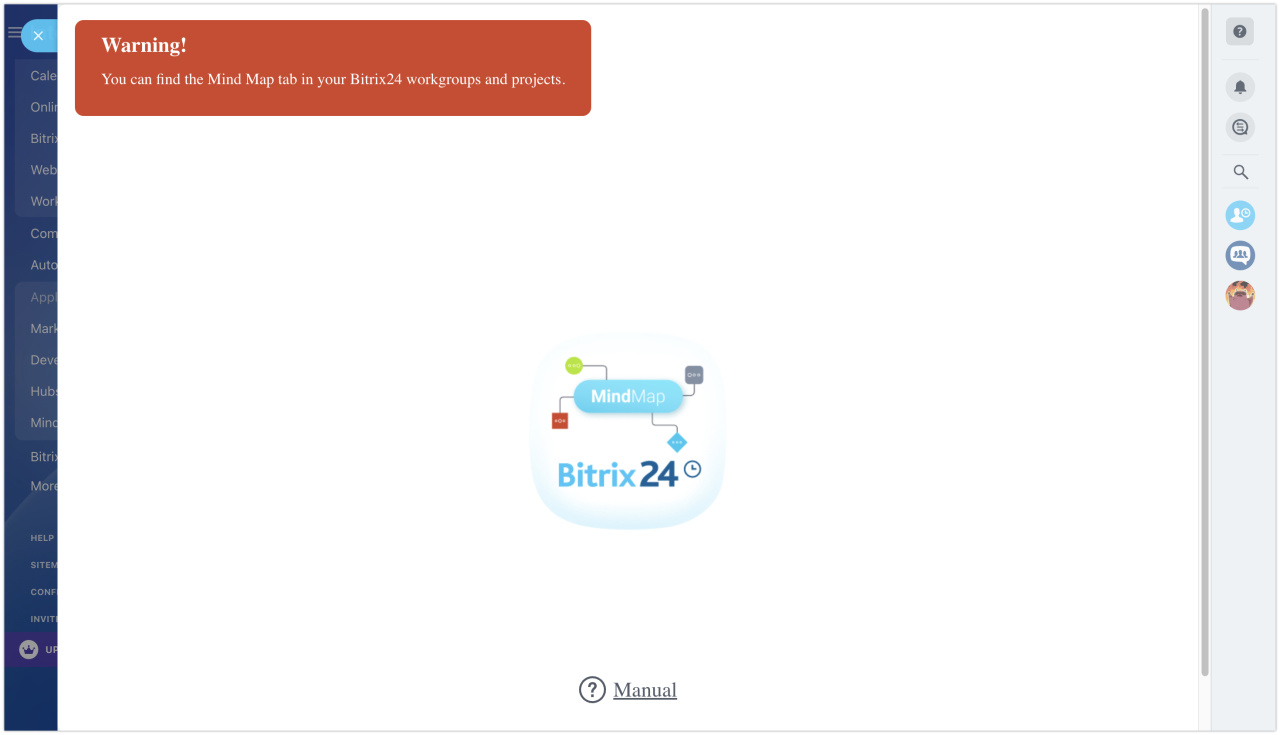 How to create a mind map
Open
Workgroups
section > select a workgroup or project > click
Mind Map > Add button (+)
.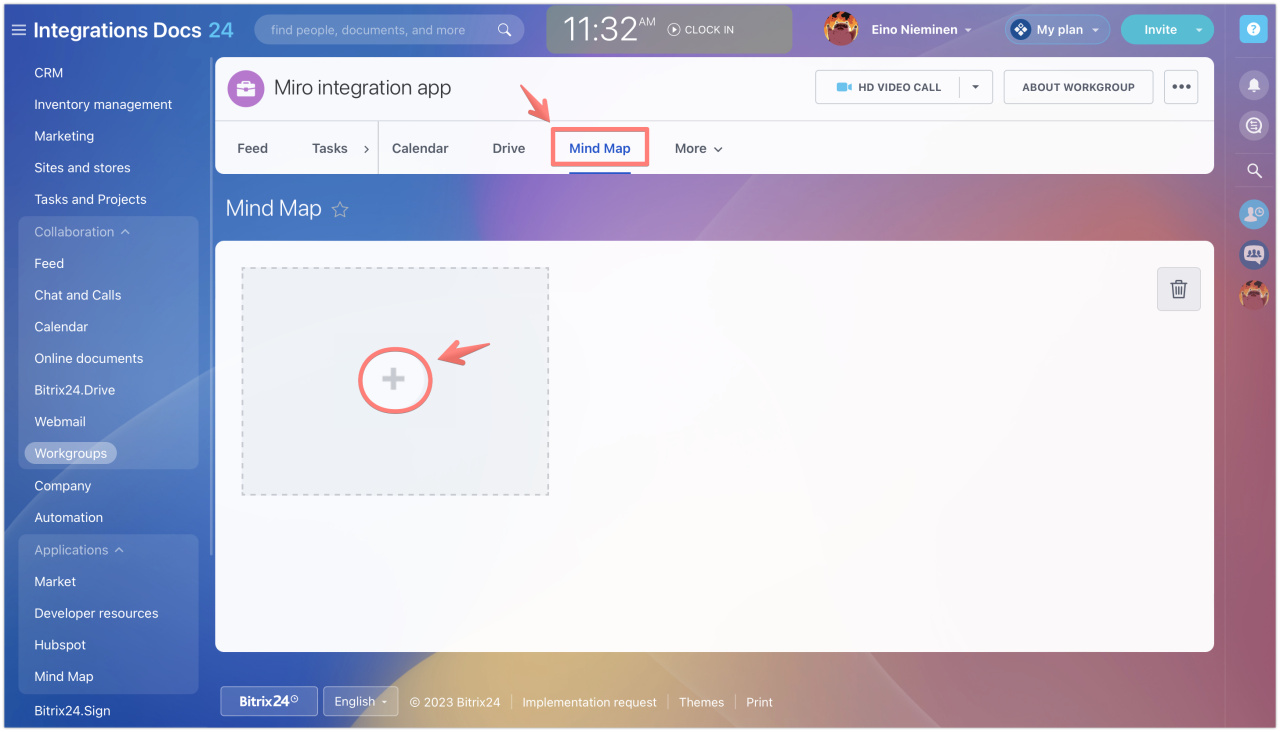 Select the most suitable mind map template. You can reframe it as you like later on.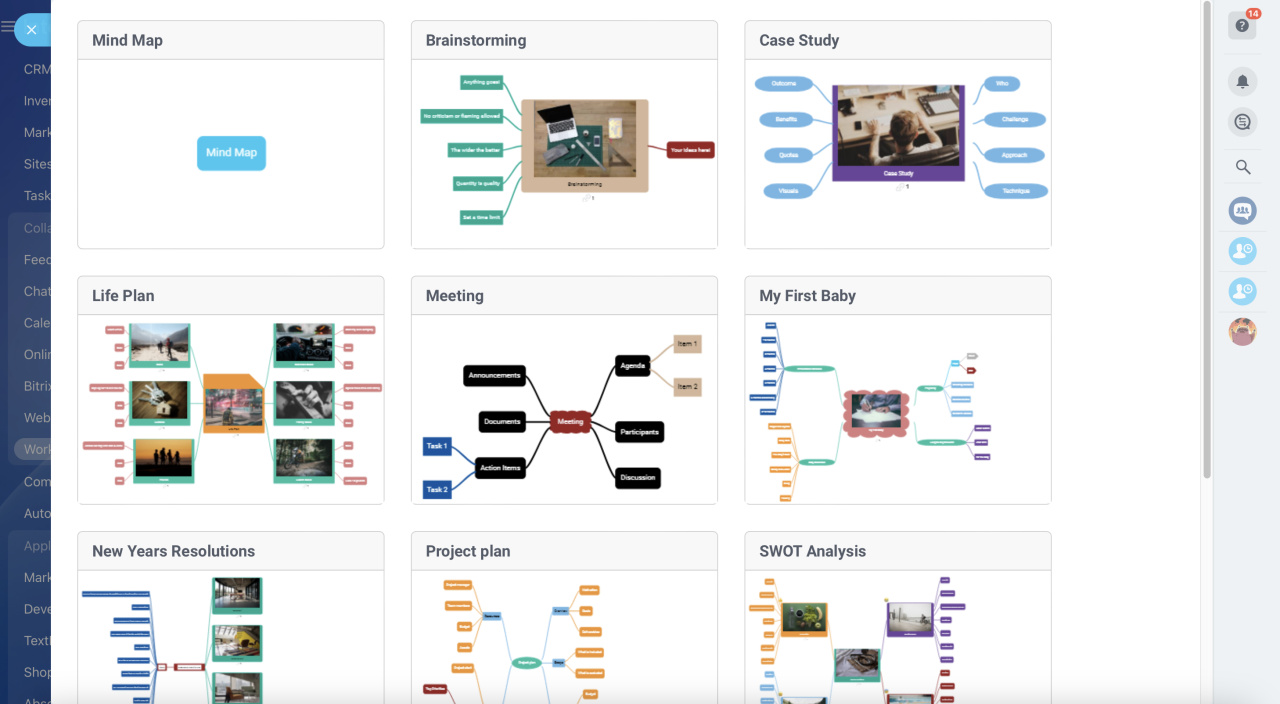 Access permissions to a mind map
: full access is available to the owner (creator) of the mind map and/or Bitrix24 account administrator.
Read-only mode is enabled for other users by default. However, you can assign editor rights to your colleagues in the Permissions tab.
The owner (creator) of the mind map can change ownership by clicking Actions > Change owner. The current owner is also displayed in the context menu, so that you can check ownership structure for specific maps anytime.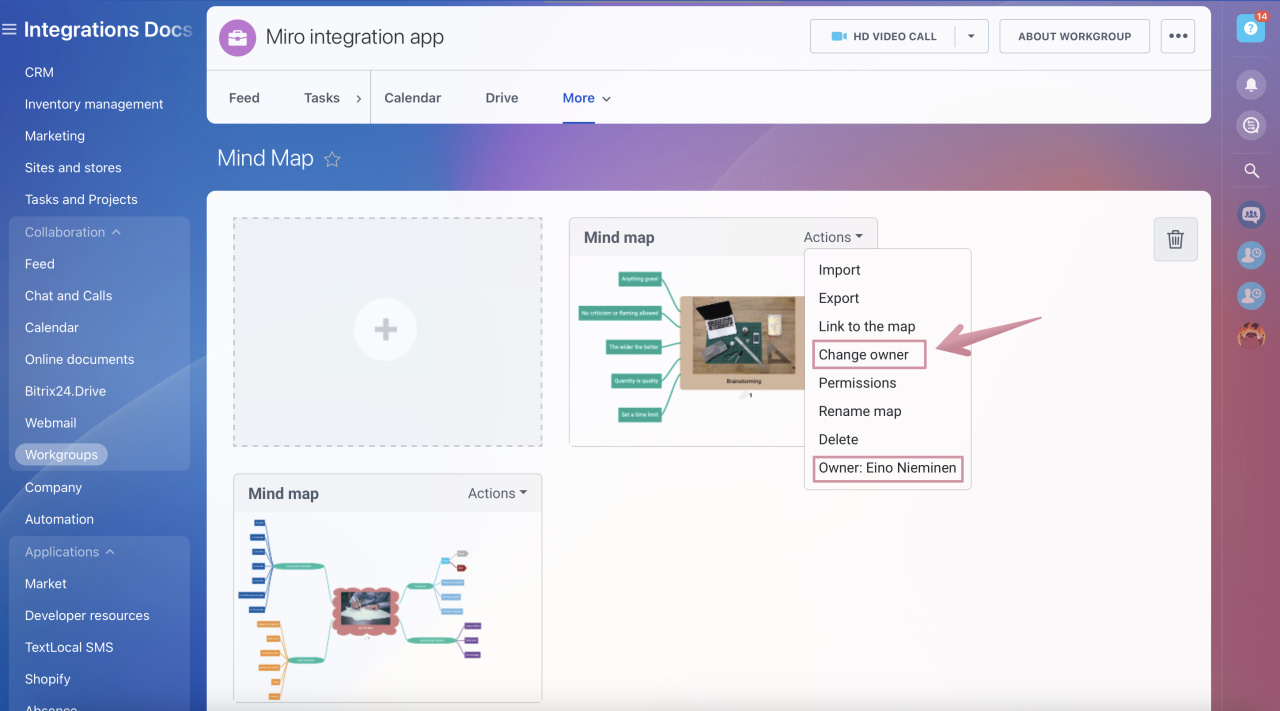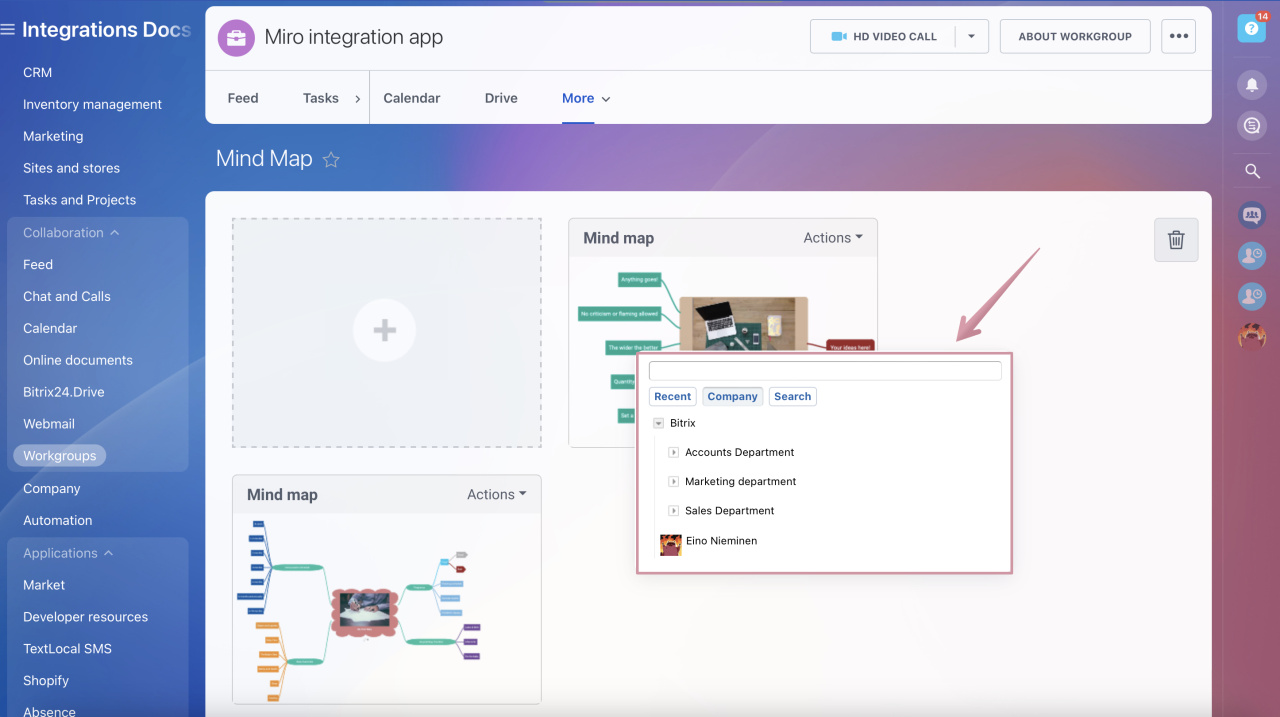 How to configure a mind map
Any mind map consists of nodes connected with other nodes. You can move a node by dragging and dropping it to a new location.
Click the ? button to see the list of available commands.
Click the cogwheel button to change the background color and fonts for all nodes.
Nodes can be root, child, parent and neighbor. For example, To-Do List is a parent node, Study and Misc nodes are child nodes of To-Do List node. Study and Misc are neighbor nodes.
A mind map is automatically assigned with a name of the root node.
To add a new child node, select a parent node and press Tab.
To add a new neighbor node, select a node and press Enter.
Select a node and press F2 to edit text in it.
Select a node and press Delete to delete it.
You can copy and paste nodes by selecting a node and pressing Ctrl+C/Ctrl+V.
To import a mind map, click the square with a down arrow. To export a mind map, click the square with an up arrow. In this case, the mind map is exported as .json file. If you want to export it as .png file, click the corresponding button.
How to edit a node
Select a node and press
F2
to edit text in it.
If you select a node, the toolbar appears on the right. Here's a list of actions that you can perform using this toolbar:
How to view and delete attached elements
The owner of the mind map can click on the element icon to view this element. As an example, let's click on tasks icon.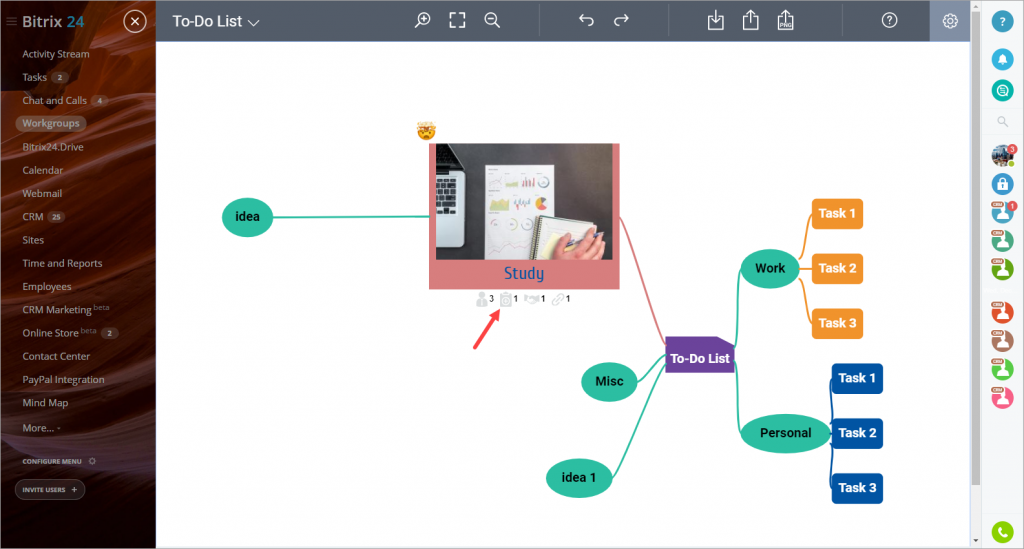 The owner of the mind map can delete or detach elements, attached to the node. "Delete element" means the element (task or event) will be deleted from the selected node and Bitrix24 account. "Detach element" – the element will be detached from the selected node.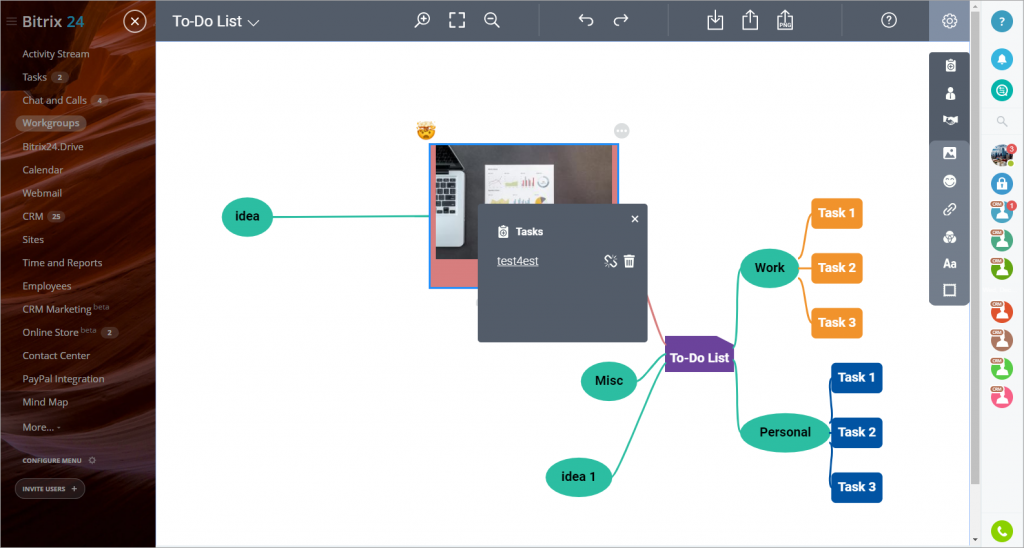 Click the element name to open this element in Bitrix24.
Tasks and events can be viewed only by users who have access to them in Bitrix24.