Call Tracking is a tool for tracking lead sources. It helps to evaluate how many calls you've got from each source (marketing channel). All you need to do is to analyze the results and reallocate marketing budget if needed.
Check if this tool is available on your plan. You can find all the information about Bitrix24 plans on the
pricing page
.
How it works
Call Tracking tracks the client path using different phone numbers. Each number is assigned to a specific marketing channel or client.
There are two types of Call Tracking:
Static - each marketing channel has a unique phone number assigned to. For example, there is one phone number placed on a billboard, and the other one is used in a TV commercial.

If you get an inbound call to the first phone number, you know that this client has seen the billboard.

Dynamic - every website visitor sees a unique phone number. The system automatically swaps phone numbers.

This method can be used for online marketing only.
Bitrix24 uses static call tracking. Static call tracking better suits small and medium businesses, as it's cheaper and works not only for online marketing but for traditional marketing too.
What phone numbers can be used for call tracking
You'll be able to rent blocks of numbers soon.
You can rent blocks of 5 or 10 phone numbers in Bitrix24.
The phone numbers' price depends on the country and city.
It's also possible to use your own numbers that you've bought from any provider.
How to assign a phone number to a source
Open CRM > Analytics > Sales Intelligence > Call tracking.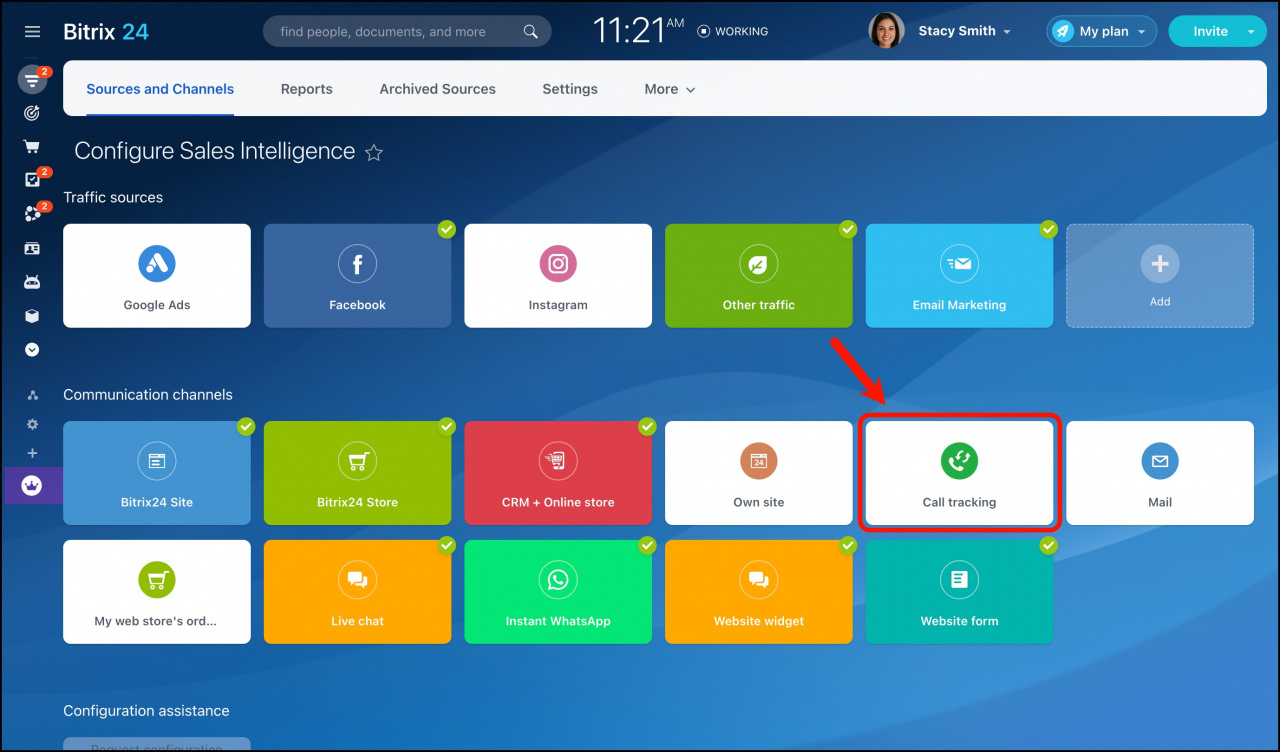 For example, let's assign a phone number to Facebook.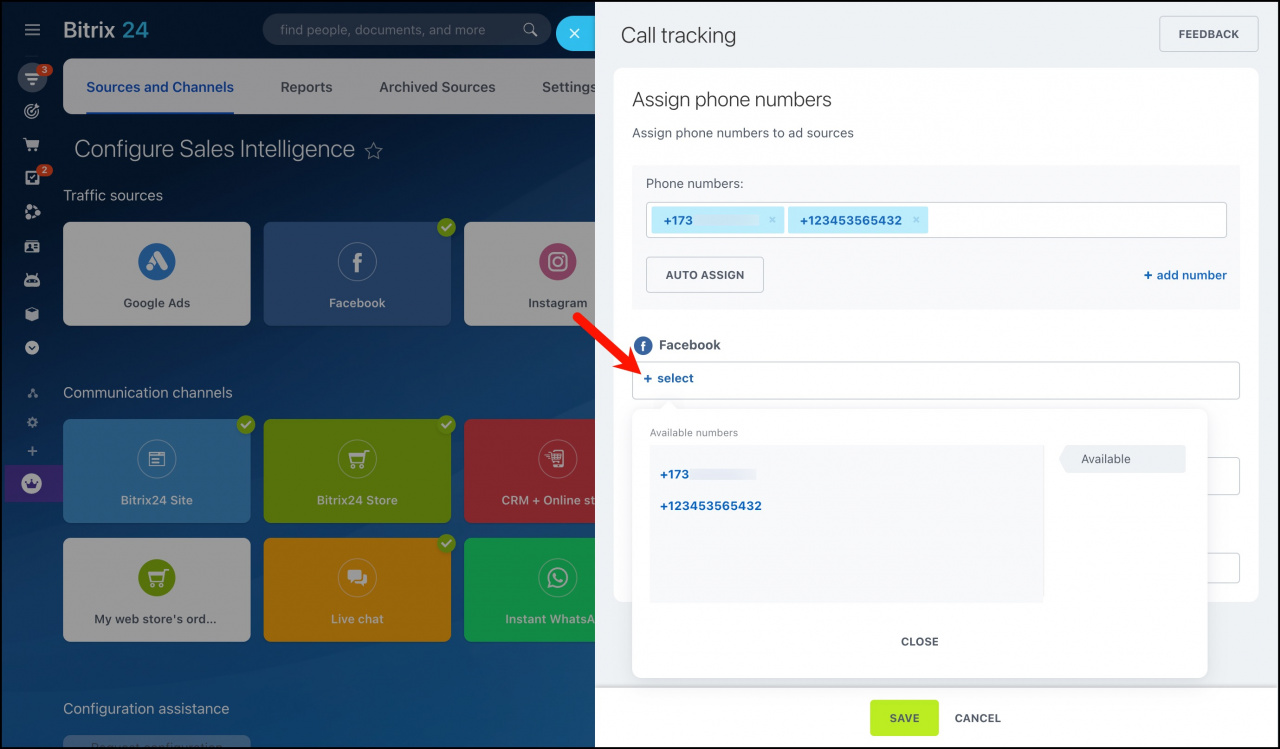 Add this phone number to your Facebook page contact information or to a post. After you get a call to this number, it'll be displayed in the Customer journey field in CRM.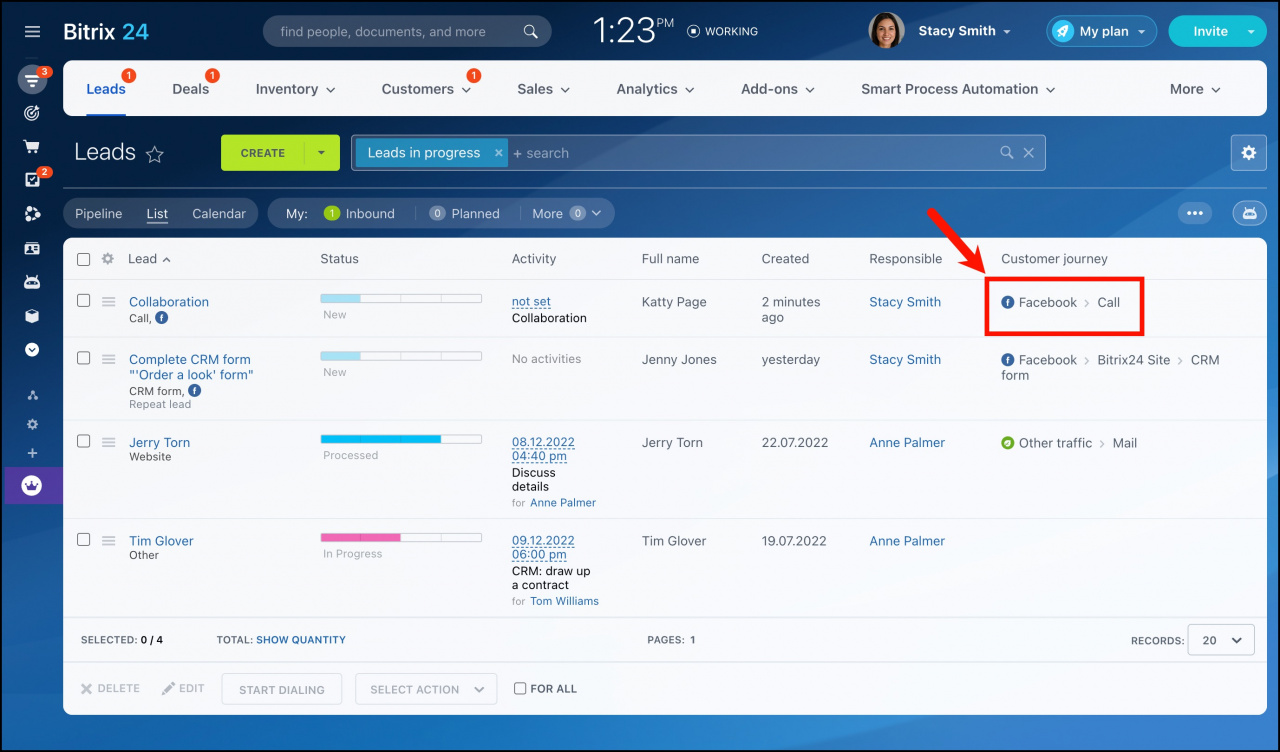 Customer journey field shows the history of the client's actions.
For example, a client sees your ad on Facebook > gets to your website > sees the phone number > calls you > discusses details with a manager > the manager adds a new deal to CRM.
The Sales Intelligence allows you to track the client path - from the first action to a deal.