The General Data Protection Regulation (GDPR) (EU) 2016/679 is a regulation in EU law on data protection and privacy for all individuals within the European Union and the European Economic Area.
When you create a CRM webform in Bitrix24 or configure a communication channel, you may need to add a GDPR consent.
How to add a GDPR consent to a CRM webform
Click
CRM > CRM forms >
select a webform > click
Edit
.
In the CRM webform settings section, click More > scroll down to the Terms of service section > enable the show terms of service option > click Create new Consent.
Specify the consent name, text and edit the title of the consent checkbox if needed. Click Save.
Select the created consent from the list.
Enable the Auto accept the Agreement option to set the initial option state to checked if needed.
Done! Click the Save button.
How it works
A client completes the webform and needs to accept the consent to send the completed form.
If a client doesn't accept the consent, the webform won't be sent.
How to view the list of obtained consents
Just click the obtained consents button in the CRM webform settings section.
You'll see the list of obtained consents.
Click the source name to view additional information.
How to set a GDPR consent for a communication channel
Click
Contact center
> select a communication channel > select an open channel > click
Configure
.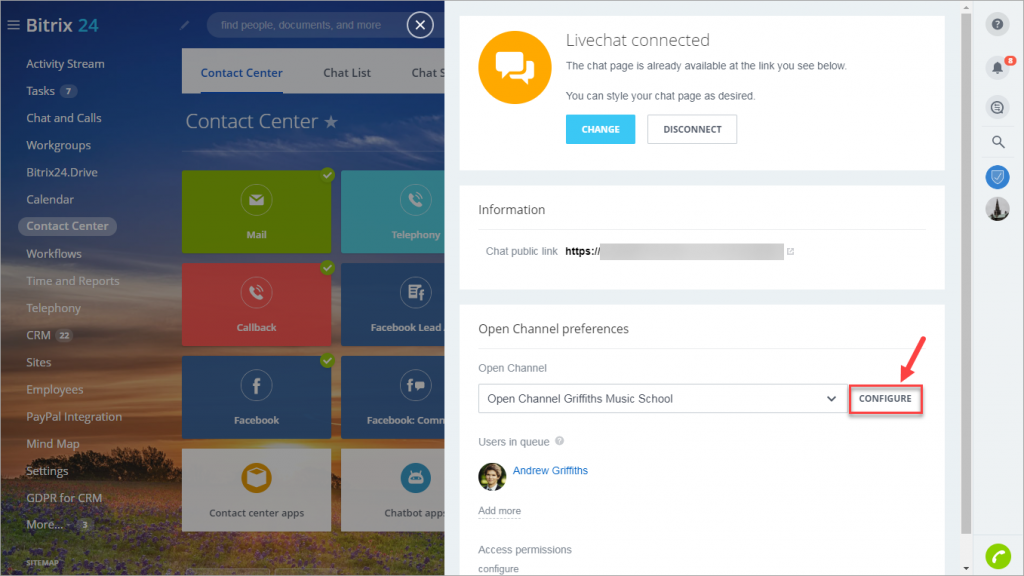 In the Agreement section, enable the Send warning about collecting personal data option > select a consent from the list or create a new one. The consent creation process for open channels is the same as for the CRM webforms