1. Change default Bitrix24 account name (address)
When you create a new Bitrix24 account, it is automatically given a random name (address) - e.g. b24-n5902fca7a9b82.bitrix24.com. You can change it for the other name that suits your company better - e.g. mycompany.bitirx24.com. If the selected domain name is available and you have a Free, Start+, CRM+ or Project+ plan subscription, you can do that only once for free.
To change the account name, the administrator needs to click the pencil button next to the company name.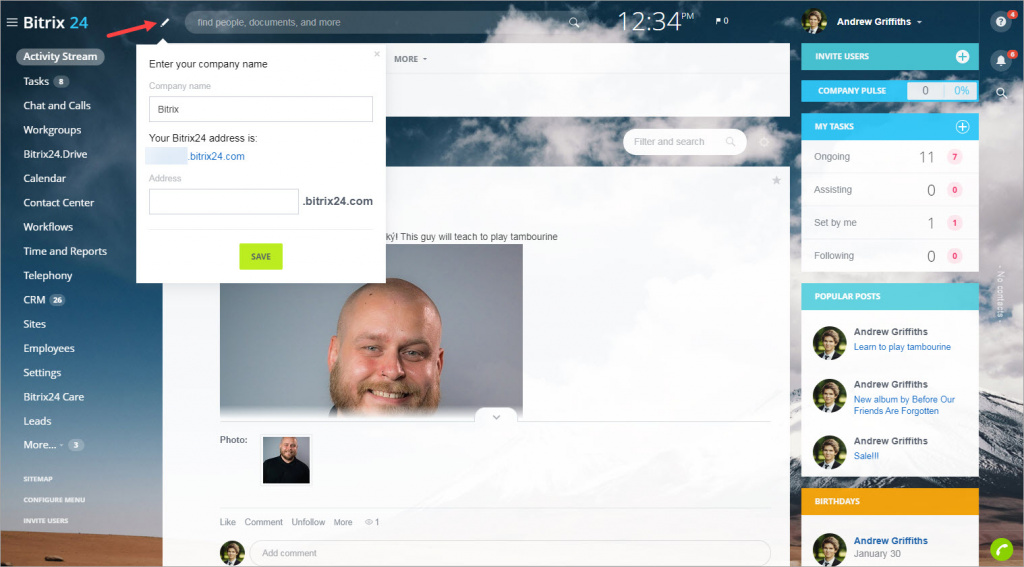 2. Use own domain
You can use your own domain for your Bitrix24 account. For example, you can use test.company.com or mycompany.com instead of mycompany.bitrix24.com. Also, the reverse passage is available.
Important:
This option is available to the Professional plan subscribers only. You cannot use your own domain when having a free 30-day trial.
You no longer have to purchase and renew SSL certificate for your domain. The certificate is now issued by Let's Encrypt certificate authority and is renewed automatically.
The following services will stop working after the domain name is changed:

Open Channels - you'll have to reconnect them after changing the domain name.
Website Widgets (CRM webforms, Live Chat, Callback form) - you'll have to reinstall them after changing the domain name.
Follow these steps to use your own domain:
Enter 4 "IN NS" records in the DNS Editor for your domain's zone. If there are other records for the domain, you should remove them.

ns-1277.awsdns-31.org.
ns-310.awsdns-38.com.
ns-581.awsdns-08.net.
ns-1613.awsdns-09.co.uk.

We provide only NS record types. We do not provide A-, CNAME-, or other records. If you can't provide them yourself, please contact your hoster support. If the hoster won't provide NS records, you need to change your hoster.

Contact Bitrix24 support. Only your Bitrix24 administrator can do this.

Specify the exact name of your own domain to which you are migrating. Provide evidence of changes made to the NS records. It can be a screenshot of your domain's DNS zone editor.
3. Switch back to the previous domain name
If you are going to switch back to the previous domain name (e.g. from mycompany.com to mycompany.bitrix24.com), contact Bitrix24 Support. Our specialist will switch your Bitrix24 to the former address.
You can always find the current address in Passport.Bitrix24.