Cannot select the needed Facebook page when connecting Facebook to Bitrix24
When connecting Facebook to Bitrix24, you're asked to configure access permissions for Bitrix24 Open Channels connector only once. If you try to connect another Facebook page to Bitrix24 after that, the access permissions window won't be shown again. In this case, you'll need to configure these access permissions manually.
For example, we've created the Facebook page "Perfect Spa" and want to connect it to Bitrix24. But this page is not displayed in the list of available Facebook pages.
Open your Facebook account menu > click Settings & Privacy > Settings.
Go to Security and login section.
Then open Business integrations tab.
Select Bitrix24 Open Channels or Bitrix24 Open Channels Comments (depending on which Open Channel you want to configure) > tick the Facebook page you need to connect in all sections: Manage your Pages, Show a list of the Pages you manage, Publish as Pages you manage.
Refresh the Contact Center > Facebook or Facebook: Comments page in Bitrix24 > click Continue. The Facebook page you want to connect will be displayed in the list.
After disconnecting your Instagram account from your Facebook page, the old connection remains in the Open Channel settings
Switch your Instagram Business account to the personal account and then switch it back to the Business account. Then select a Facebook page you want to connect this Instagram account to or tap Don't connect to Facebook Now (in this case, the Instagram Business account will be automatically disconnected from the Facebook account).
After connecting the Instagram account to the Facebook page, the corresponding account is not displayed in the communication channel settings
Launch Instagram mobile app > open the account settings > check that the Instagram account is connected to the Facebook page. If your Instagram account is not connected to the Facebook page, you need to connect it manually.
Instagram Direct messages are not delivered
Check the Allow access to Instagram messages option. It should be enabled at the stage of connecting Instagram to a Bitrix24 Open Channel.
You can also check and enable it in the Instagram mobile app: Settings - Privacy - Messages - Allow access to messages.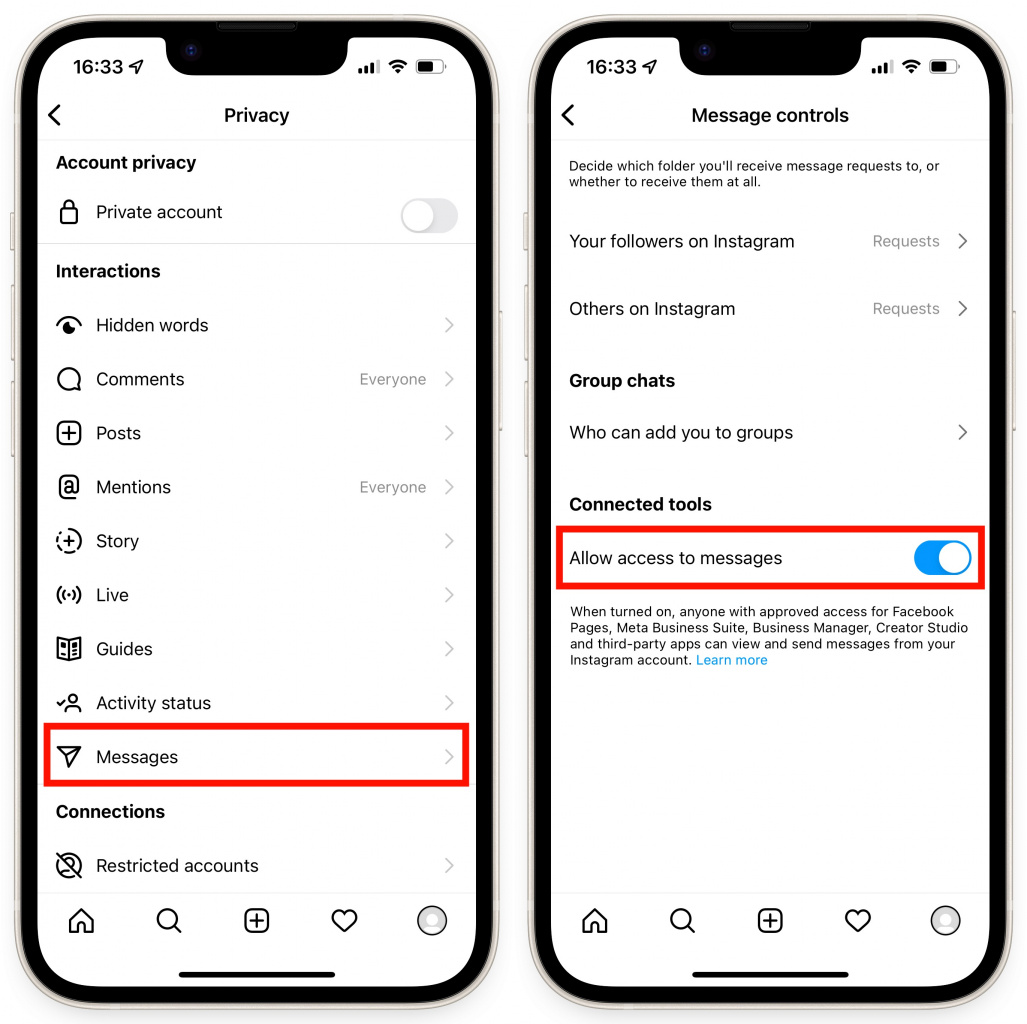 Each time you connect your Instagram account, make sure the Allow access to messages option is enabled.