Number of users on Bitrix24 Cloud plans
There are different subscription plans in Bitrix24, and the number of users depends on the chosen plan: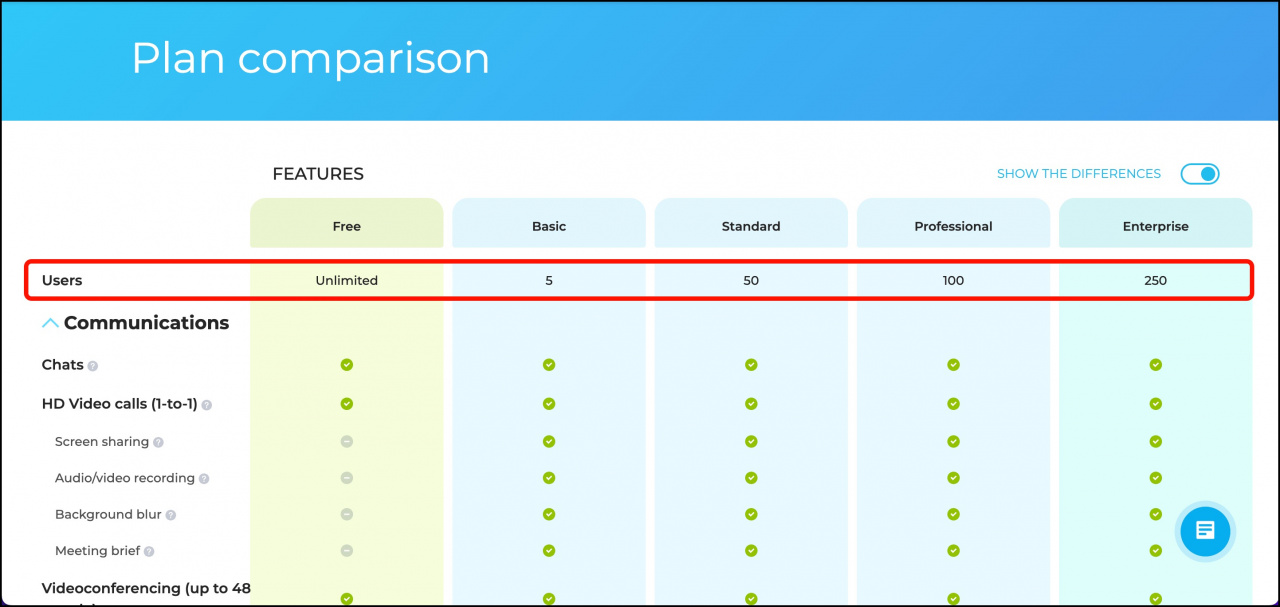 Free - unlimited
Basic - 5 users
Standard - 50 users
Professional - 100 users
Enterprise - 250-500-1000-2000-...-10000 and more
Extranet users
are counted as regular users. They are included in the total number of users in Bitrix24 Cloud and On-premise versions.
Most of the companies that start working in Bitrix24 choose the Free plan. This plan has all the basic tools available to an unlimited number of users. The major advantage of the Free plan is that you can invite an unlimited number of users.
Read more about the Free plan features and limitations in the article -
Free plan
.
What do you need to know when upgrading to a commercial plan
These rules are applied to accounts created later than June 10th, 2020.
If you want to expand the capabilities of your Bitrix24, you can upgrade to one of the commercial plans and access additional tools. When upgrading to one of the commercial plans, the maximum number of users changes.
If one of the users logs out and goes offline, another user can log in instead of the logged-out user the next day. When logging in to Bitrix24, such a user will receive a notification that the limit of users at the rate is over, and the user is in the login queue. The counter of users in Bitrix24 is updated once a day.
When using the Desktop or Mobile apps, access to tools is blocked immediately for all users once you hit the limit on users.
The maximum number of users has been exceeded
If you exceed the maximum number of users allowed by your commercial plan, the administrator will get a notification saying that some users cannot use Bitrix24 tools.
The administrator is counted as a regular user, so if the plan allows six users, the administrator can be the seventh user and won't be able to access tools.
If you exceed the number of users available on your current plan, use the Plan compatibility check to select a higher plan or dismiss unnecessary users to fit the limits. If you do not do that, the use of Bitrix24 will be suspended for all users.
Information about your subscription plan
Find out how many users are allowed in your subscription plan in the Subscription section.