Our team constantly upgrades Bitrix24 and its additional services. In the Bitrix24 Desktop app, version 10, we have combined the browser with your Bitrix24 and messenger.
The all-in-one Desktop app is optimized to work with Bitrix24 services. Now, your web browser version does not matter. Bitrix24 works faster in the built-in browser.
Voice and video calls, chats, CRM, Webmail, Analytics, Workgroups, Drive - all these Bitrix24 features can be used in the new Desktop app!
How does it look like
The new Desktop app consists of two separate windows - your Bitrix24 account and a separate window with chats.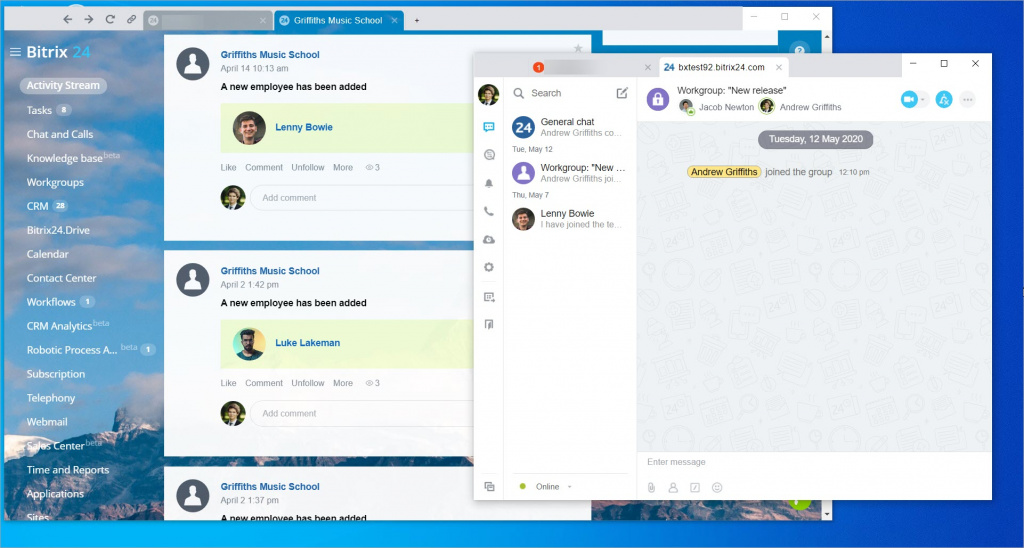 This allows you to use both windows in the split view mode: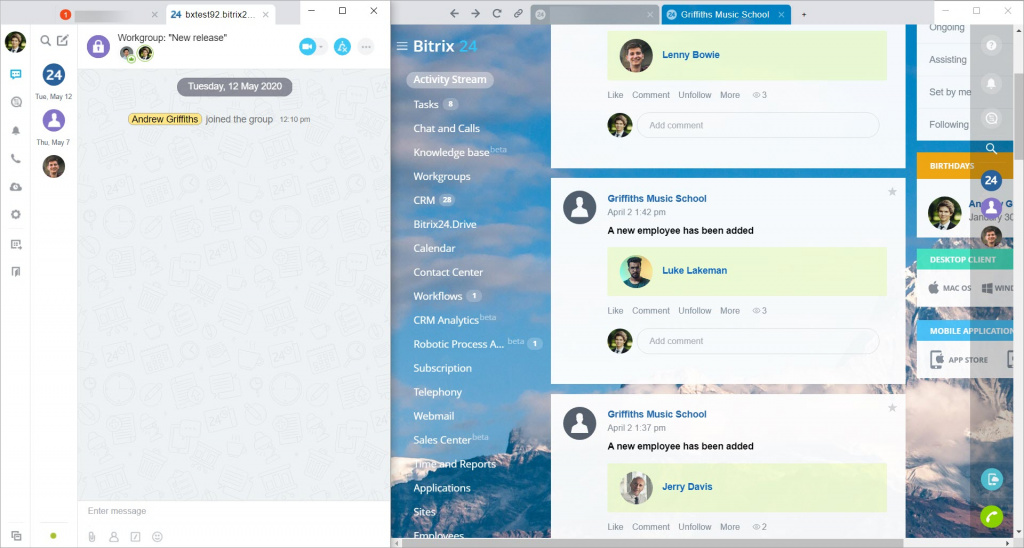 Toolbar
We've tried to make the toolbar intuitive: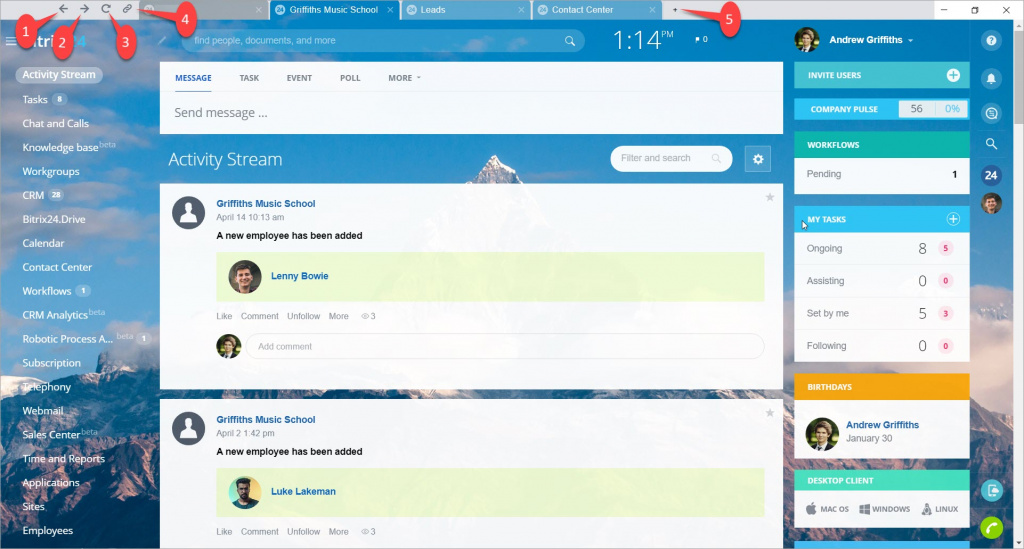 1
- go back
2
- go forward
3
- reload the page
4
- copy the link to the current page
5
- add a new Bitrix24 account.
The tabs display the names of the open pages of all the Bitrix24 accounts you've connected to the Desktop app.
If you use several Bitrix24 accounts, you can easily distinguish them by the selected theme - the color of the tab is the same as the Bitrix24 account background theme.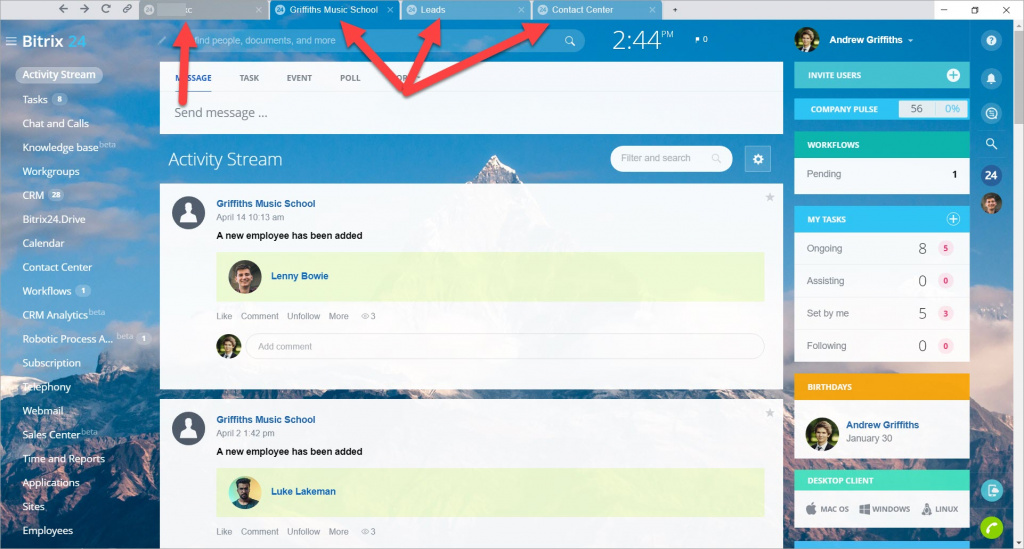 How to enable the chat window
If you have closed the chat window, there are three ways to enable it back:
Click the Chat and Calls button in the desktop app.
Click any chat icon on the chat panel on the right.
Windows - click the Bitrix24 app icon next to the time and date panel.
macOS - click the orange Bitrix24 icon on the Dock.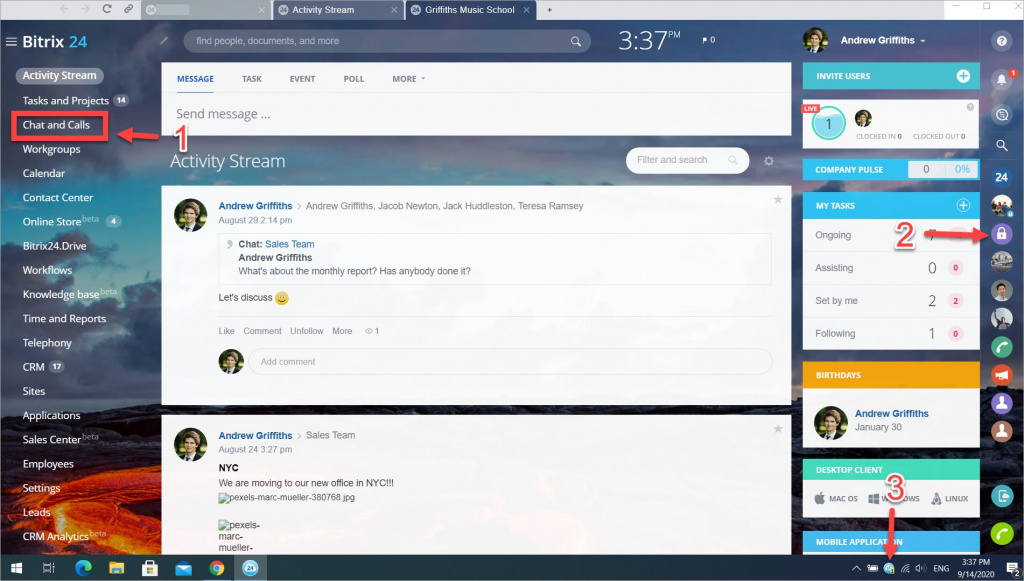 If you have disabled the Run application on quick access bar click, only the third option will work for you.
Dark mode in chats
You can enable the dark mode for chats in the Desktop app settings.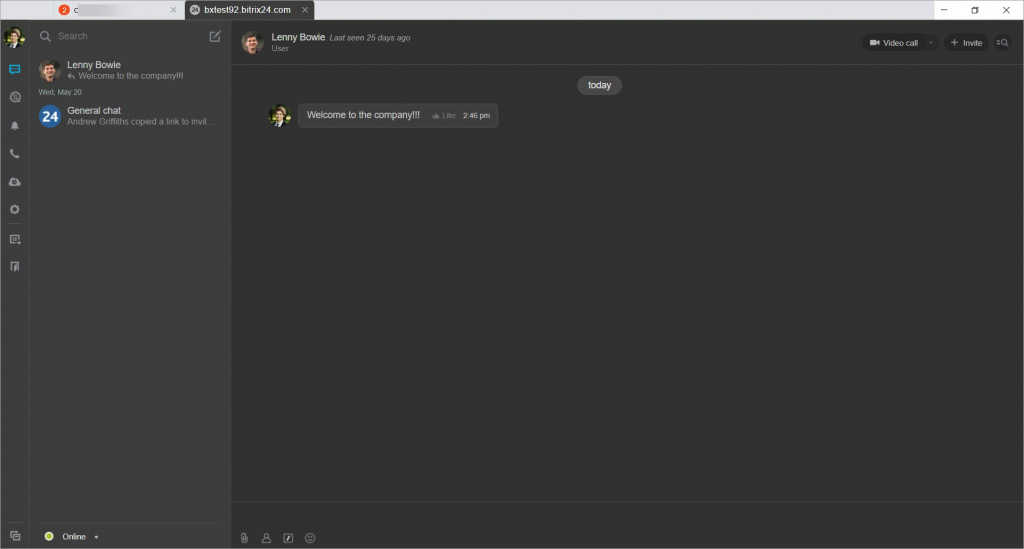 This option is linked to a specific Bitrix24 account. If you want to enable the dark mode in chats on multiple Bitrix24 accounts, you need to do that for each Bitrix24 account.
Disable the two-window mode
If, for some reason, you want to switch back to the classic Desktop app with only one window for chats, click the cogwheel button in the chat window > disable the View Bitrix24 pages in a separate application option.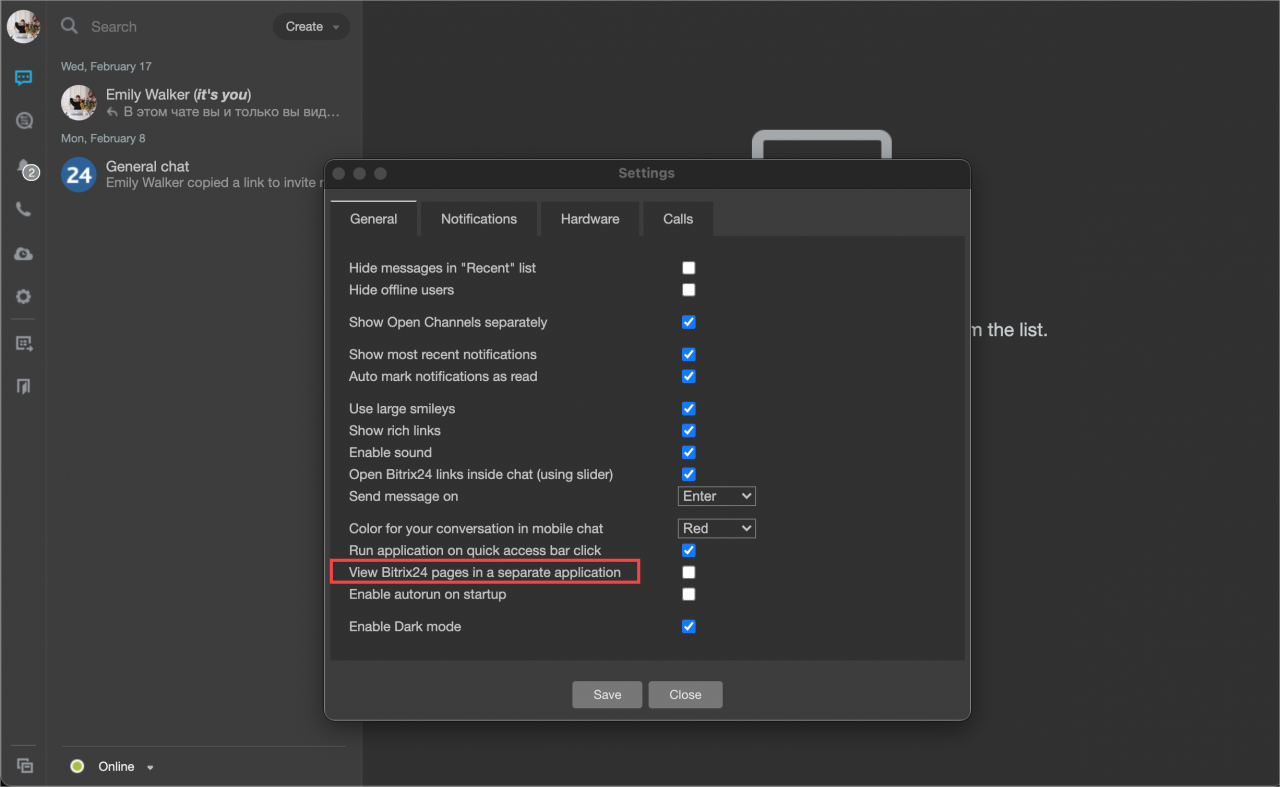 After you restart the app, you will have only one window with Bitrix24 chat and can continue working with your Bitrix24 in another browser.
If you do not have the option View Bitrix24 pages in a separate application , update Bitrix24 desktop app to the latest version. If you have Bitrix24 On-Premise version, you need to update the Web messenger (im) module of your portal.
Download or update the Bitrix24 Desktop app
If you've already installed the Bitrix24 Desktop app, you'll be suggested to update it to the new version. All you have to do is to click "Yes". You can also download or update the Bitrix24 Desktop app at any time. Read more in the article - How to update Bitrix24 Desktop app.