Web Messenger allows the users of the Bitrix24 account to stay connected, communicate with colleagues, and get informed of the new events right in the browser window.
Web Messenger at its core is almost the same as any other similar service or application: the users communicate by exchanging instant messages;
the contact list reflects the company structure and indicates the contact status (online/offline);
the notification center shows the information on the new events;
a user gets notified of new messages anywhere inside the account, on any page;
messages can be sent to offline users for later delivery;
messaging history is saved on the server-side and can be accessed and viewed by the users anytime, anywhere.
The mini-panel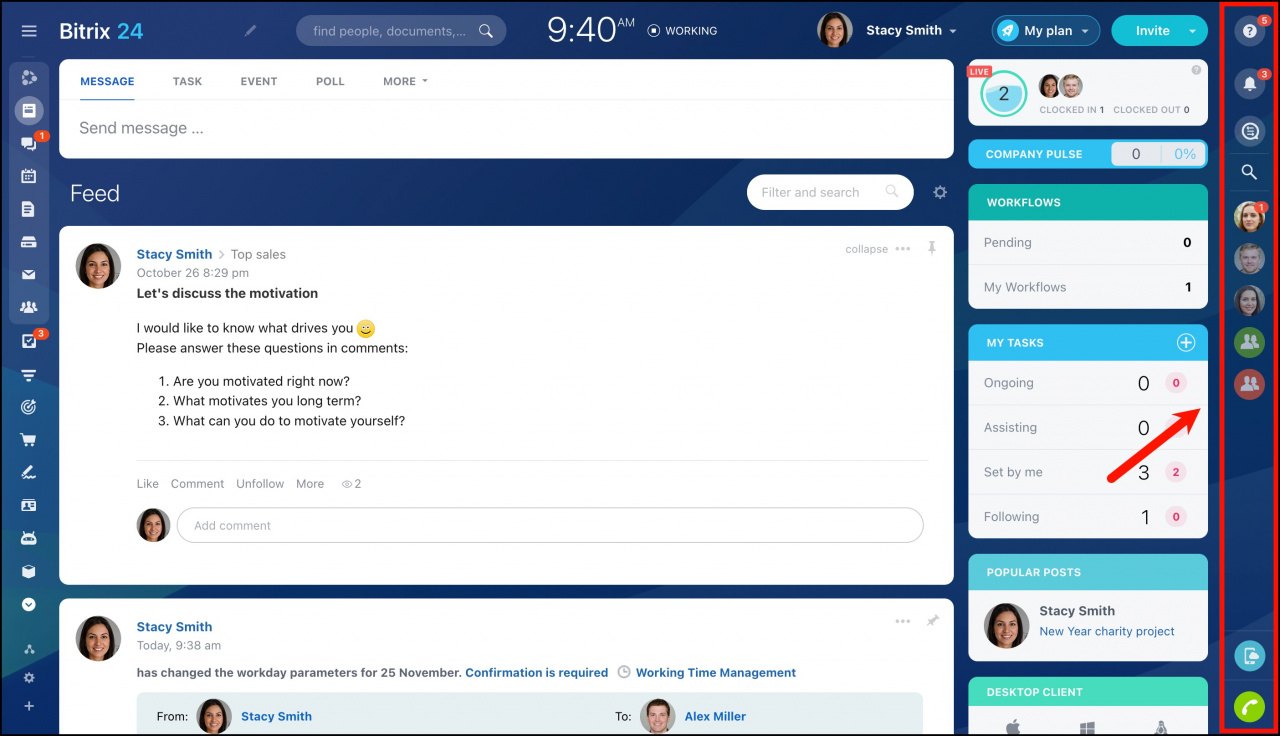 The mini-panel is located on the right side of your account page and contains main messenger indicators:
1 – brings up the Help section where you can find the information for the independent study of Bitrix24.

2 – brings up the Notifications center section that shows you notifications about new messages, new tasks, invitations to workgroups/projects, new "likes" to your posts and comments, etc.

3 – brings up the Open channels chats.

4 – brings up the Messages section with the Search option.

5 – brings up a corresponding personal or workgroup chat with your colleagues.

6 – brings up a slider where you can download Bitrix24 Mobile app.

7 – brings up the Dialpad (the icon is active if you have connected Telephony in Bitrix24).
Bitrix24 Messenger interface
Bitrix24 Messenger has three main parts: another mini-panel on the left, a list of conversations and the dialog box.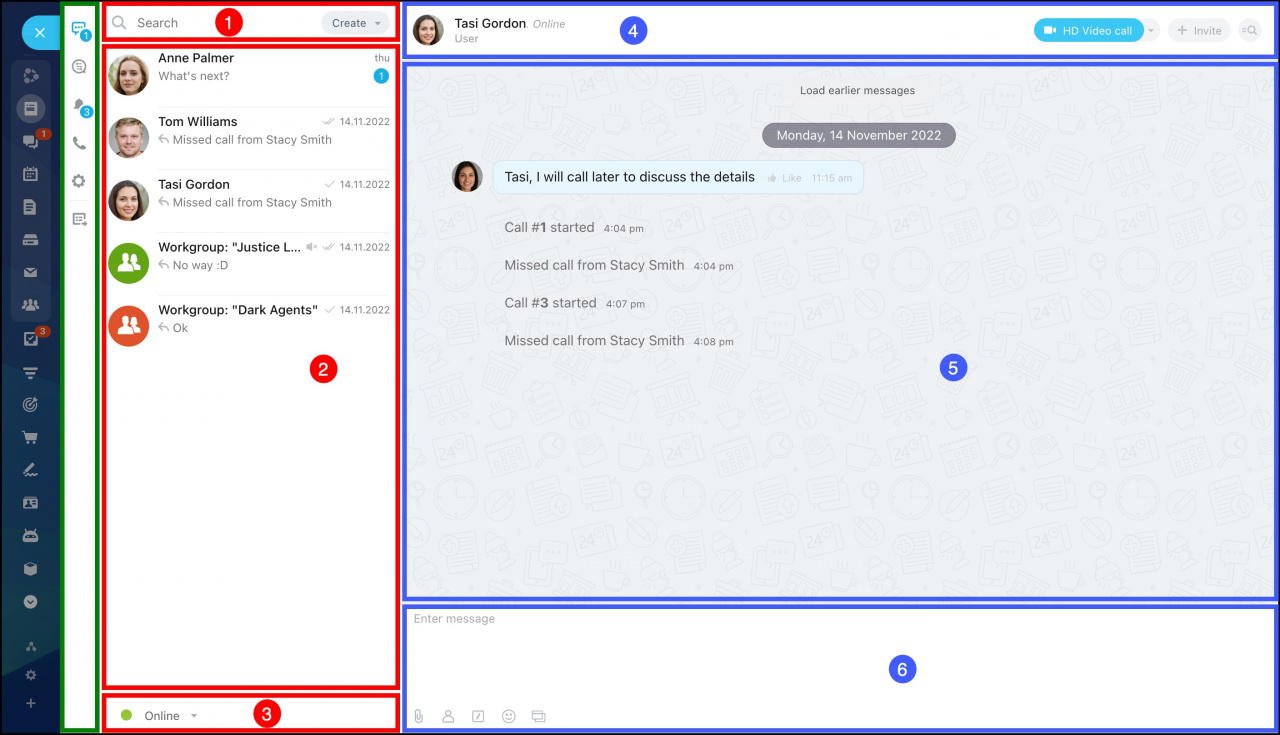 This mini-panel consists of different control buttons and counters:
– Messages: the counter shows the number of new messages. If you've switched to the other section (for example, notifications), click this button to get back to the previous chat;
– Open Channels: the counter shows the number of new Open Channel inquiries;
– Notifications: shows the number of unread notifications. Click this button to get to the Notifications center;
– Dialpad: allows you to dial a phone number;
– Settings: click this button to configure chat settings;
– Feed: the counter shows the number of new Feed messages. Click this button to get to the Feed;
In the Conversations list you can:
1 – use the Search field to find a chat with your colleague or click the Create button to create a new one.
2 – view the list of conversations.
3 – click on your current status to change it.
The Dialog box shows:
4 – general chat information and settings: chat icon, name, notification management, video call button, invitation button and message history tab.
5 – dialog box.
6 – text entry field with visual editor.