Bitrix24 Messenger Overview
The internal messenger delivers system notifications and instant messages.
The messenger interface includes:
Chats: person-to-person chats, private chats, public chats and general chat.
Voice & Video calls: functions use your browser (support presently for Chrome 26.0 and higher) only. Access to video conferencing for groups up to 4 users is provided.If you are away from your desk, the IM will notify you about missed calls & add it to your call history.
Screen sharing & HD video conferencing: is available via desktop app for groups up to 4 users (video). HD streaming via mobile devices is done in 16:9 aspect ratio. Importantly, if you don't have a high speed internet connection, you can still hold video conferences in standard quality. Screen sharing is also available (read more here).
Notifications: all system notifications about various events are gathered here. Notifications can be configured here as well.
Contacts search: with the most recent contacts displayed conveniently.
Online status Indicator: online, away, don't disturb (the last one prevents messages from popping up and interrupting work, but an indicator still displays the number of new messages).
Message History: all messages & files shared via Im are saved in a history.
Desktop app: a stand alone application for Windows, Mac OS X & Linux(beta) is available. Besides web messenger options, desktop app also offers files synchronization between Bitrix24 cloud & user's computer.
How to use
You can use Bitrix24 Messenger in web version of your account, desktop app or mobile app. Use chat icons to create new chats &
Invite
option to invite new users to chat.
Voice & Video calls
option can be found in small chats consisting of up to 4 persons.
Chat History
is available inside each chat.
If you'd like to mention user in the chat message - use user icon located under the new message area.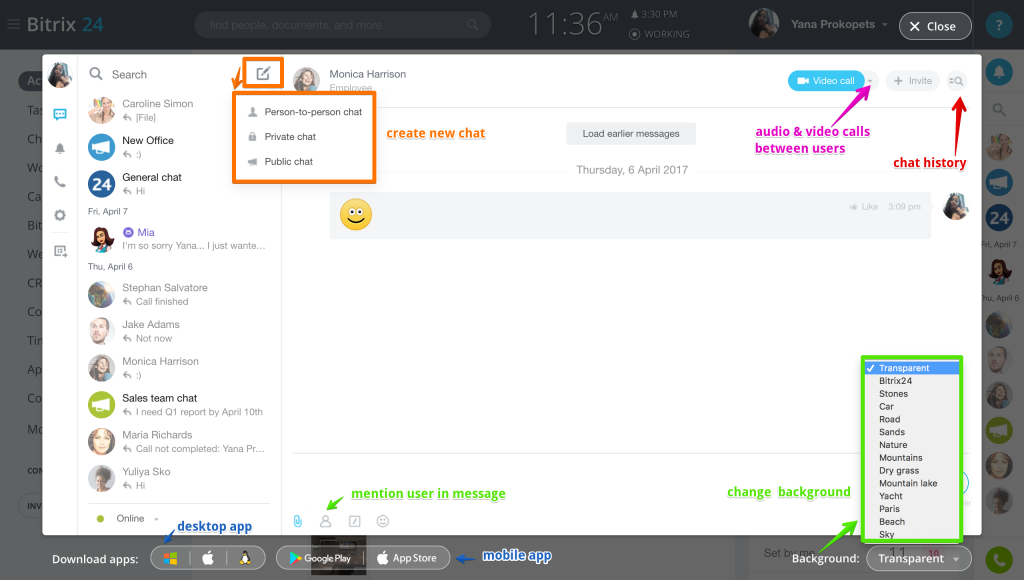 For web version of Bitrix24 messenger - you can
change messenger backgrounds
. By default, all users have transparent background (see above), but you can set one of the suggested backgrounds as well (see below).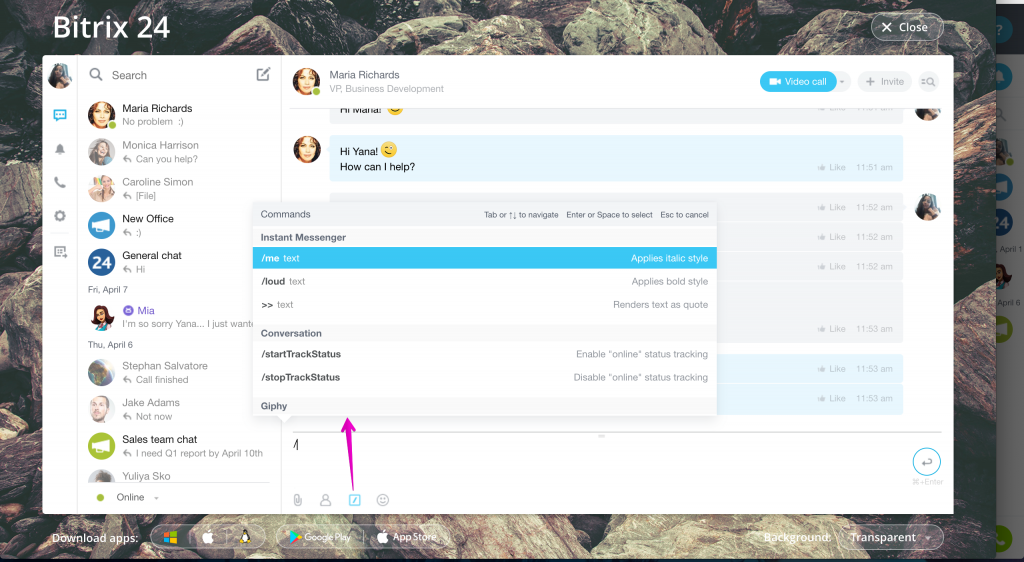 Open
Commands
section to see available options - such as bold, italic or quote text.
IM Keyboard shortcuts
You can use these keyboard shortcuts to change your Bitrix24 Instant Messanger text format:

"Ctrl+B" – bold font
"Ctrl+I" – cursive font
"Ctrl+S" – a line (a "strikeout") drawn through the text
"Ctrl+U" – underlines the enclosed text