Web Messenger allows the account users to stay connected, communicate with colleagues and get informed of the new events right in the browser window.
Web Messenger at its core is almost the same as any other similar service or application: the users communicate by exchanging instant messages;
the contact list reflects the company structure and indicates the contact status (online/offline);
the notification center shows information on the new events;
a user gets notified of new messages anywhere inside the account, on any page;
messages can be sent to offline users for later delivery;
messaging history is saved on the server side and can be accessed and viewed by the users anytime, anywhere.
All unread notifications and messages can be sent to the user's e-mail address if so configured in
notification settings
. For example, if for some reason you are not logged in but there is a new task notification or an instant message in your messenger, you will be notified by e-mail.
A stand-alone application for Windows and Mac OS X - Bitrix24 Desktop app - is also available. Once configured, it will connect to your account without having to log in every time you want to use it.
The Mini-panel

The mini-panel is located on the right side of your account page and contains main messenger indicators:
Open channels notifications
Private person-to-person chats
Workgroup chats
Call dialpad option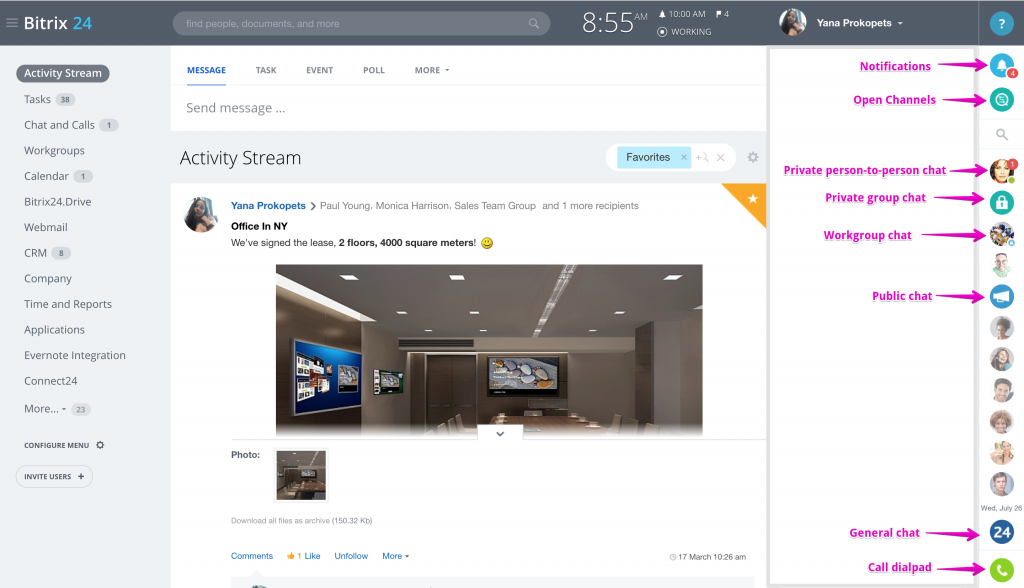 If you have Bitrix24 desktop app active when you're working in your account in the web, you will be automatically redirected to the desktop app chat when you click on the right side chat icons in your account. Here is how to deactivate it.


Bitrix24 Messenger Overview

The internal messenger delivers system notifications and instant messages.
The messenger interface includes:
Chats: person-to-person chats, private chats, public chats and general chat.
Voice & Video calls: functions use your browser (support presently for Chrome 26.0 and higher) only. Access to video conferencing for groups up to 10 users is provided.If you are away from your desk, the IM will notify you about missed calls & add it to your call history.
Screen sharing & HD video conferencing: is available via desktop app for groups up to 4 users (video). HD streaming via mobile devices is done in 16:9 aspect ratio. Importantly, if you don't have a high-speed Internet connection, you can still hold video conferences in standard quality. Screen sharing is also available (read more here).
Notifications: all system notifications about various events are gathered here. Notifications can be configured here as well.
Contacts search: with the most recent contacts displayed conveniently.
Online status Indicator: online, away, don't disturb (the last one prevents messages from popping up and interrupting work, but an indicator still displays the number of new messages).
Message History: all messages & files shared via IM are saved in history.
Desktop app: a stand-alone application for Windows, Mac OS X & Linux(beta) is available. Besides web messenger options, desktop app also offers files synchronization between Bitrix24 cloud & user's computer.
How to use
You can use Bitrix24 Messenger in the web version of your account, desktop app or mobile app. Use chat icons to create new chats &
Invite
option to invite new users to chat.
Voice & Video calls
option can be found in small chats consisting of up to 10 persons.
Chat History
is available inside each chat.
If you'd like to mention a user in the chat message - use user icon located under the new message area.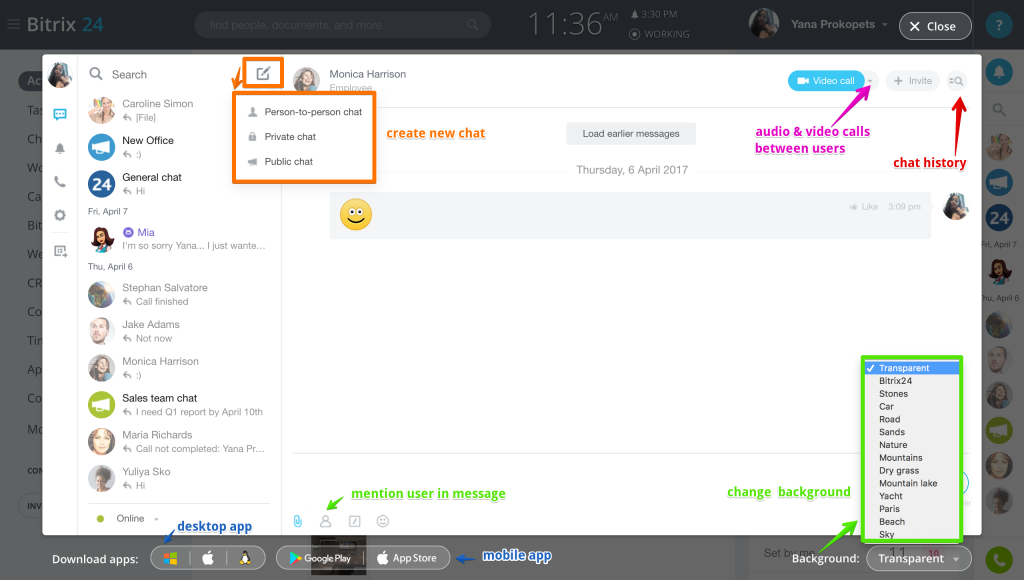 For web version of Bitrix24 messenger - you can
change messenger backgrounds
. By default, all users have a transparent background (see above), but you can set one of the suggested backgrounds as well (see below).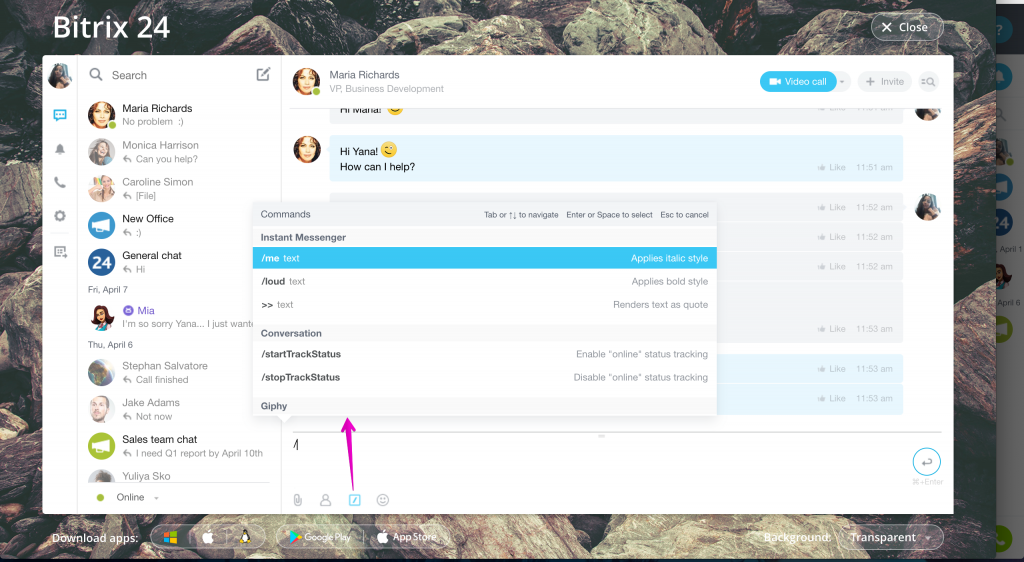 Note: you can switch between Cmd+Enter (Ctrl+Enter) and Enter to send messages. To change the reply input box height, drag the top edge of the input box.
Open
Commands
section to see available options - such as bold, italic or quote text.
IM Keyboard shortcuts
You can use these keyboard shortcuts to change your Bitrix24 Instant Messenger text format:

"Ctrl+B" – bold font
"Ctrl+I" – cursive font
"Ctrl+S" – a line (a "strikeout") drawn through the text
"Ctrl+U" – underlines the enclosed text