Bitrix24.Drive is a complete file storing, synching, editing, and sharing system. Coupled with the desktop app, Bitrix24.Drive lets you store files both in the cloud and locally. If you modify a document on your computer or device, the copy stored in the cloud is automatically synchronized to match the new version. It works like magic - Bitrix24.Drive saves you the hassle of downloading and uploading files. Open a file, edit and close - just as you would do when editing a file on your computer. The latest version of the document will be available to you and your coworkers in the cloud as well as on their computers and mobile devices. Simply download the Bitrix24 desktop app and connect your Bitrix24.Drive to get access to multi-device autosync capabilities.
How To Enable Drive Synchronization
To enable Bitrix24 Drive synchronization with your computer, first install
Bitrix24 Desktop app
. The desktop app is currebtly available for Windows & Mac, the Linux beta version does not support the Drive sync feature at the moment.
Go to Settings > Drive > Enable Bitrix24 Drive. Save configured preferences.


Select folders to synchronize with computer
Change local folder for Drive synchronization
When you enable
My Drive synchronization with your computer
, a special Bitrix24 folder is created automatically. You can change default Bitrix24 folder location at your computer, e.g. from C/users/... to D/…). Here is how:
Switch off the Drive sync in Desktop app Settings > Bitrix24.Drive: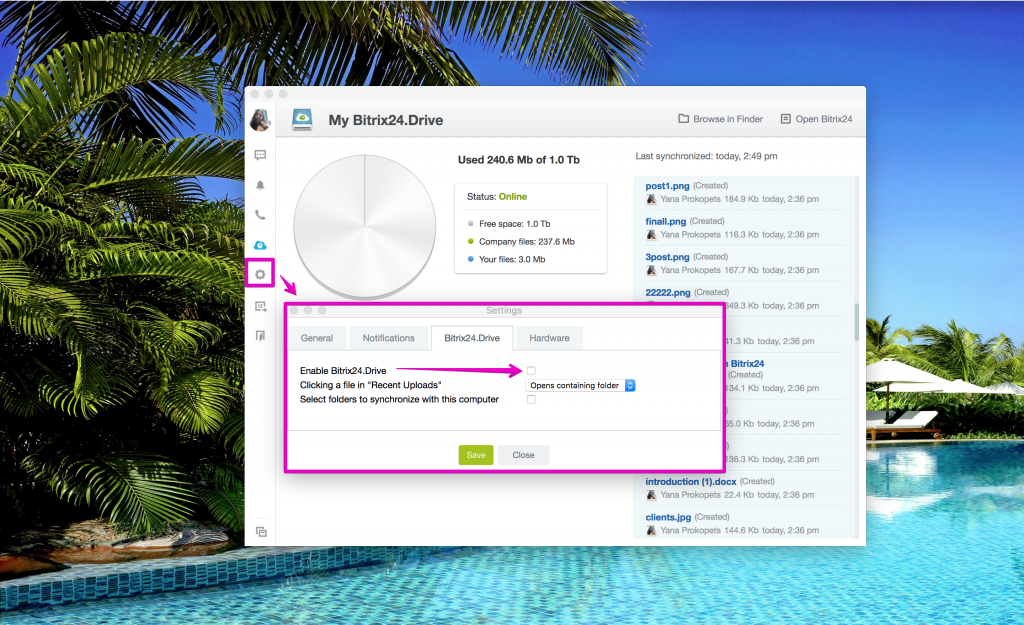 Go to Bitrix24.Drive section & you will find Change Destination Folder option there:




Don't forget to switch on the Drive sync back.
You can also
connect Company Drive folders to My Drive
. Read more about
how to synchronize Company Drive folders here
.