Now bright and informative dashboards are available not only for deals but for invoices as well. New tools can help to measure sales managers work efficiency, track paid and pending invoices ratio, visualize company's debts and payments, etc.




In order to switch to the "analytical reports view" use a special dashboard tab above the invoices list: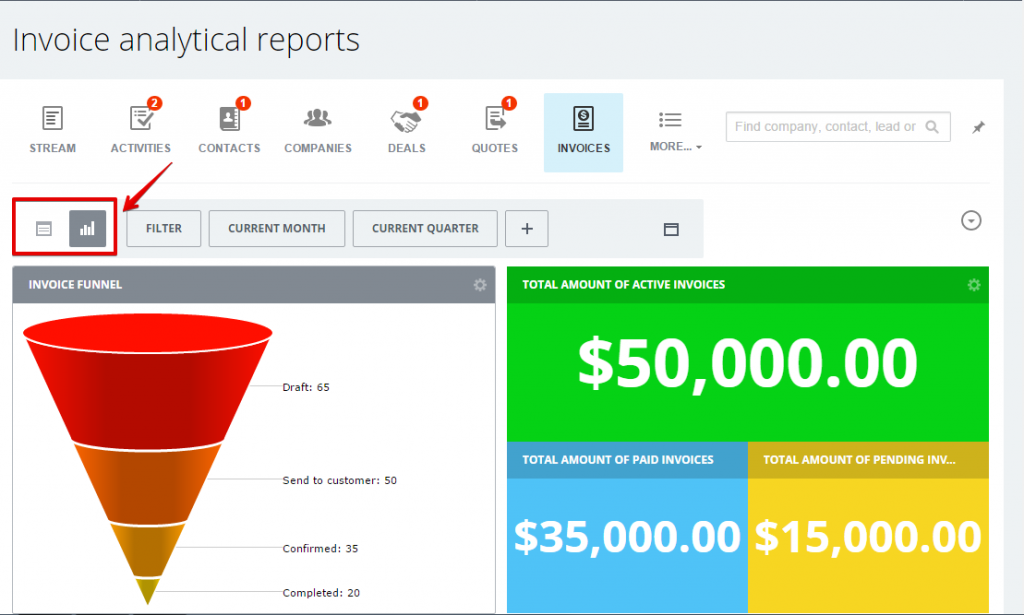 Important: fist time you open the report it will be shown in the demo view, just hide demo data to construct your own report. You may also need to update the invoices statistics for the system to collect all data about your previous invoices and take them all into account (in this case you will get a system message with the tab "run").

Invoice funnel - widget shows invoices distribution by statuses.

Total amount of invoices block.

- Active invoices - invoices that your sales team has been working with during the report period - invoice issue date, status change date and finished activities are taken into account.
- Paid invoices - invoices received "paid" status during the report period.
- Pending invoices - difference between active and paid invoices.

Number of overdue invoices: each invoice has it's due date, this report shows the total amount of overdue invoices for the report period.





Amount of overdue invoices: probably one of the most important widgets that reflects the total amount of your accounts receivable.





Debts and payments: the diagram displays the invoices statuses dynamics during the report period.





Invoices paid leaderboard - reflects your rank & the total amount of paid invoices for the report period. It also shows 2 closest to your rank users ("competitors"). This is a motivation board for the sale agents.





Employee's invoice handling efficiency: this report is available for the sales team supervisors only. It helps evaluate the subordinates work efficiency (individually and in comparison to the coworkers). For example:





Won deals payment control - besides the report showing won deals amount, it is also important to track the amount of won deals without issued invoices. This report shows the ration of won deals with paid invoices (created invoices) to won deals without issued invoices (uncreated invoices) ratio. The widget intends to motivate sales agent & supervisors to finish deals & issue missed invoices.

Each sales agent sees this report in the individualized form - only those invoices he\she is responsible for are analyzed. Sales team supervisors have subordinates listed in this report in order to have a complex evaluation of the work done.





Report settings - the report period can be configured in each widget's settings or set by the top filter for all widgets.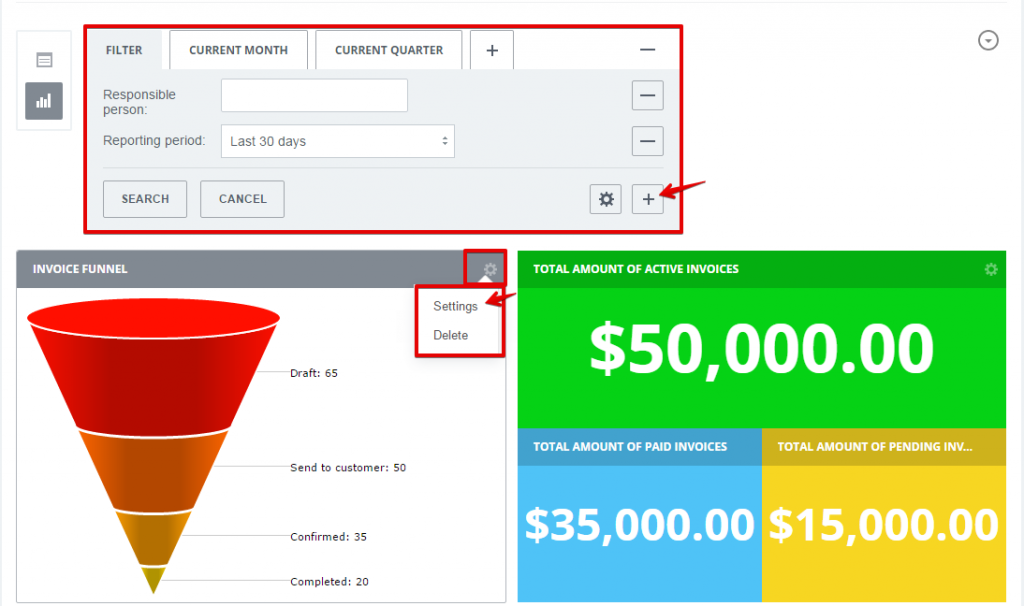 You can add your custom fields to be analyzed in the report in Settings > Form and report settings > Analytical reports.