Business tools Overview
Bitrix24 CRM+, Project+ & Standard plan subscribers have business tools access limitation:
Free plan: unlimited;
Start+: 2 users can access business tools;
CRM+: 6 users can access business tools;
Project+: 24 users can access business tools;
Standard: 50 users can access business tools;
Professional: unlimited.
For more details please see our
prices page
.
Business tools include:
CRM
Tasks & workgroups/projects
Calendars
Bitrix24 Drive (My Drive & Company Drive)
Open Channels
Business processes (Standard & Professional plan only)
Work time management (Professional plan only)
Work reports (Professional plan only)
Meetings & Briefings (Professional plan only)
Extranet
In order to give all users the possibility to test all business tools, activate free 30 days trial of Bitrix24 Professional plan under Subscription > Activate Trial.
Bitrix24 communication tools are available to unlimited number of users. You can invite any number of users to your Bitrix24, they will be able to use Activity Stream messages, chats, mobile app - for free.
Extranet users are counted as business tools users.
Manage users access for business tools
Bitrix24 users with administrative access only can configure business tools users.
First 2, 6, 24 or 50 users (depending on the salected plan) who accepted invitations to your Bitrix24 after registration are automatically granted with free access to the business tools. Business tools users can be changed by account administrator at any time later.
Bitrix24 account administrators have special section under Subscription > Business tools, where they can manage users access. For example, when one user is dismissed & a new one is hired to replace him; or when users who have been granted business tools access by default should be replaced.
Use "delete" & "add employee" tabs to edit user list.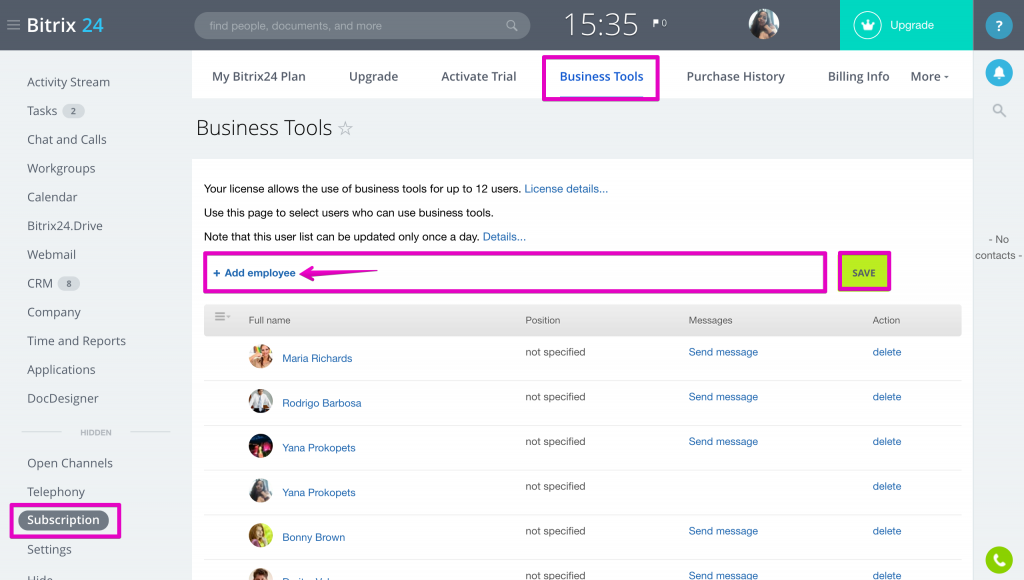 Important: business tools user list can be updated only once a day!
If Business tools page shows total number of users less than your plan allows (e.g. 49 instead of 50 for Standard plan) and you can't add more, please check the following:
- dismissed users: some of them may have business tools connected by default. Solution: hire the user back, delete business tools access, dismiss back.
- invited inactive users: these are users whom you've sent the invitation to & they have been granted business tools access by default, but due to some reasons these users haven't accepted your invitation yet. Solution: either force these users to accept your invitation or delete them from invited under the Employees section.
Important: Business tools page displays only active Bitrix24 users. Dismissed or invited users with business tools access won't be shown there.