How to make a new report
You can design a new CRM report in CRM > Reports:
You can read more about Reports in our Training Course.
Add custom fields to the CRM report's columns
Currently, only CRM items custom fields of "string" and "list" types can be added to the CRM columns. You can see the available custom fields at the very end of the report columns fields list:
Share report with other users
Currently, custom CRM reports templates are available only to their creator. Reports themselves can be exported to Excel and shared with other users (you can upload exported CRM report file to the Activity Stream message and choose recipients):

Reporting Period
Reporting period is the time interval over which the report will be built. The report will include all the elements (deals, leads) that were in operation during this period.
That is, the deal will fall into the report if:
- It was created, completed or modified at this time interval.
- It was completed a long time ago, but there was a case related to it - customer call, letter from him, any other activity.
- Work on the deal was conducted during this period, but it was not completed, that is, actually was in work.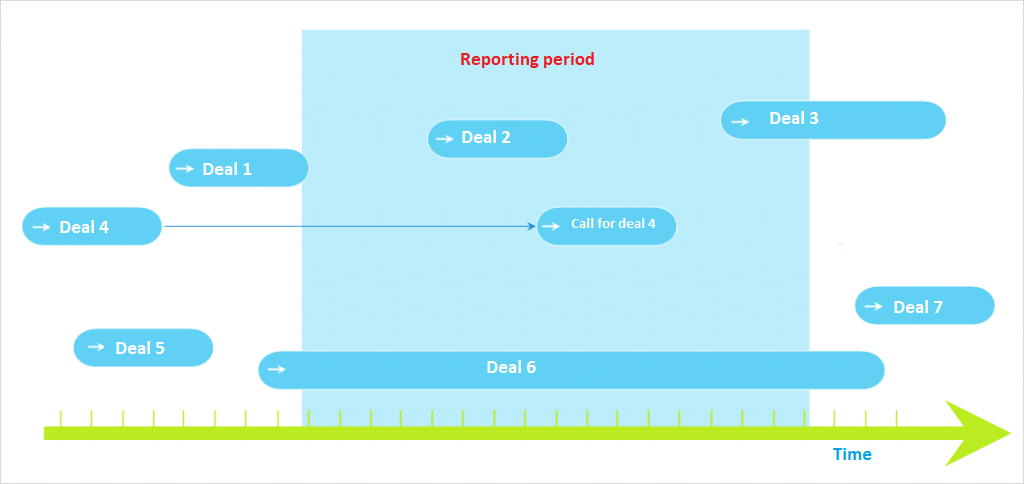 In the case as in the picture, all the deals will be included into the report, except for Deal 5 and Deal 7.