There may be several access levels for Bitrix24 account users:

Employee\User: all new invited users are granted the "employee" position by default, if not set differently by the administrator.
Head of department: users set as department head will have extended access permissions to the account. For example, such users will be able to see subordinate's tasks, work reports (available in Bitrix24 Professional plan).
Administrator: the user who has been granted administrative access to the account.
Extranet user: users invited to Extranet workgroups are marked with Extranet icon & have limited access to your account. Read more about Intranet (simple account user) vs Extranet user.
Please note that when you add email recipients to
tasks
or
Activity Stream posts
- these email recipients are not counted as account users & don't have access to your Bitrix24. Such users receive tasks & posts updates via email & can collaborate on them via Bitrix24 Network webpage, which shows only post or tasks the email recipient has been invited to.
Account Administrators
Bitrix24 account creator is granted administrative access to the account by default. When account creator invites new users - he\she can give them administrative access level too (use option "user has administrative access to the portal" inside user profile page).
To be able to access all hidden information (e.g. all tasks of a particular user), account administrator should enable Admin mode inside own Profile page. Click the small arrow next to the Administrator sign > Admin mode.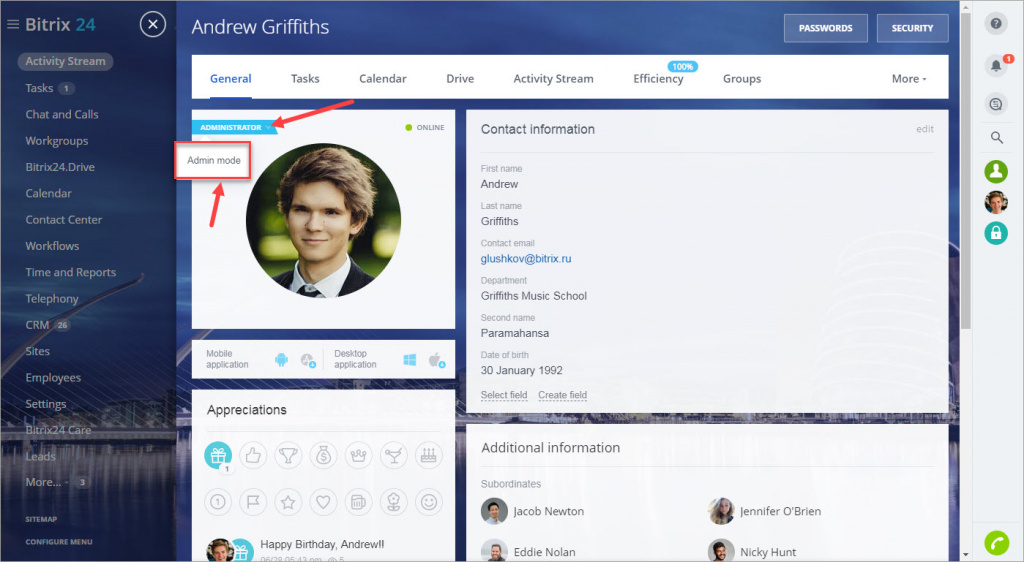 To exit the Admin mode, please return to your Profile page and click the corresponding button: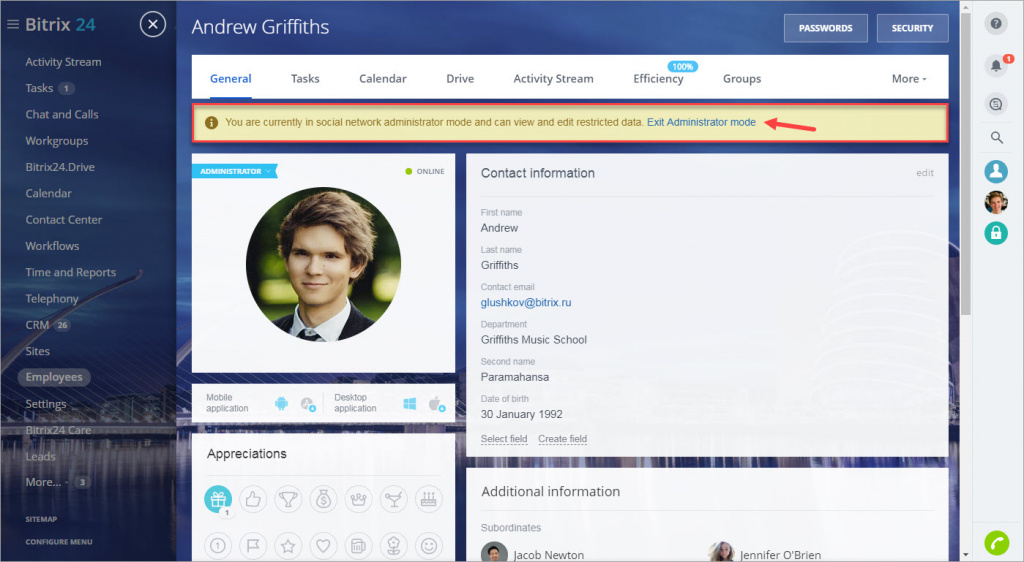 Bitrix24 account creator may be (or not) set as Company Top Supervisor (director). This can be changed at any time - just drag & drop the current supervisor to another department or employees section:
Set another user as a supervisor:
The top supervisor place may be left empty as well, in case your organization type does not include supervisors roles.
Please note that for some account settings administrative access may be required. For example, account settings page, OTP authorization, Time & Reports settings, etc.
Administrator Access To Other Account Users Data
It is important to mention that though users with administrative rights (in admin mode) can access other account users posts, tasks, files, where they haven't been given direct access permission, there are still some areas which remain private for each account user:
Bitrix24 private chats: person-to-person & private groups chats (don't confuse with public chats!) are private; even account administrators can't access them.
Bitrix24 user Network page & login & password details: each Bitrix24 user has own private login & password that account administrator doesn't have access to. User login & password can be changed only in Bitrix24 Network by its owner.