Сontact information forms are needed to identify the customer in Live Chat.
These forms help to get customers' contact information in a short period of time. They are attached to the CRM form.
You can not only enable or disable the customer contact form in Live Chat, but also configure showing this form after the customer's first message or before the customer starts the conversation.
A welcome form is only supported in the Live Chat channel.
How to enable a contact form
Go to the Contact Center > Website widget > Open Channel > Configure > Auto Actions.
Put tick in the Use CRM form to ask for contact information in the live chat checkbox. By default, the option is enabled.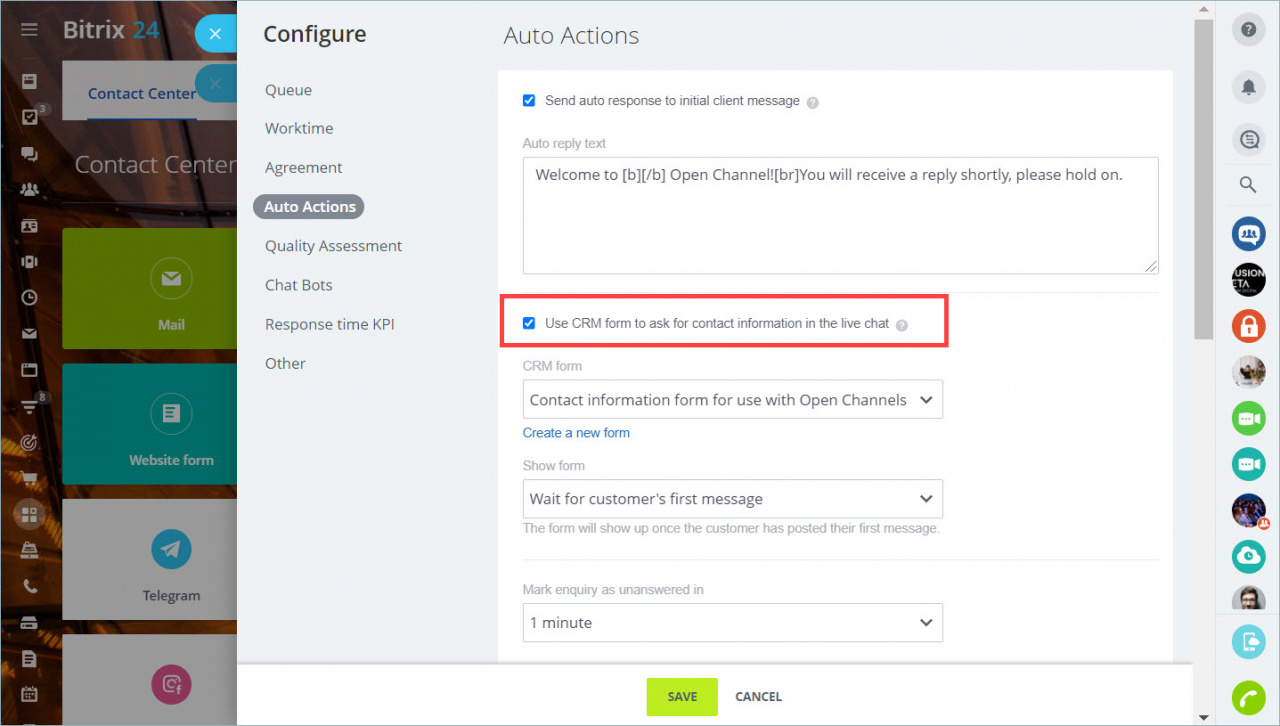 You can additionally select a specific CRM form from the list of active CRM forms in your Bitrix24, as well as the option how to show this form.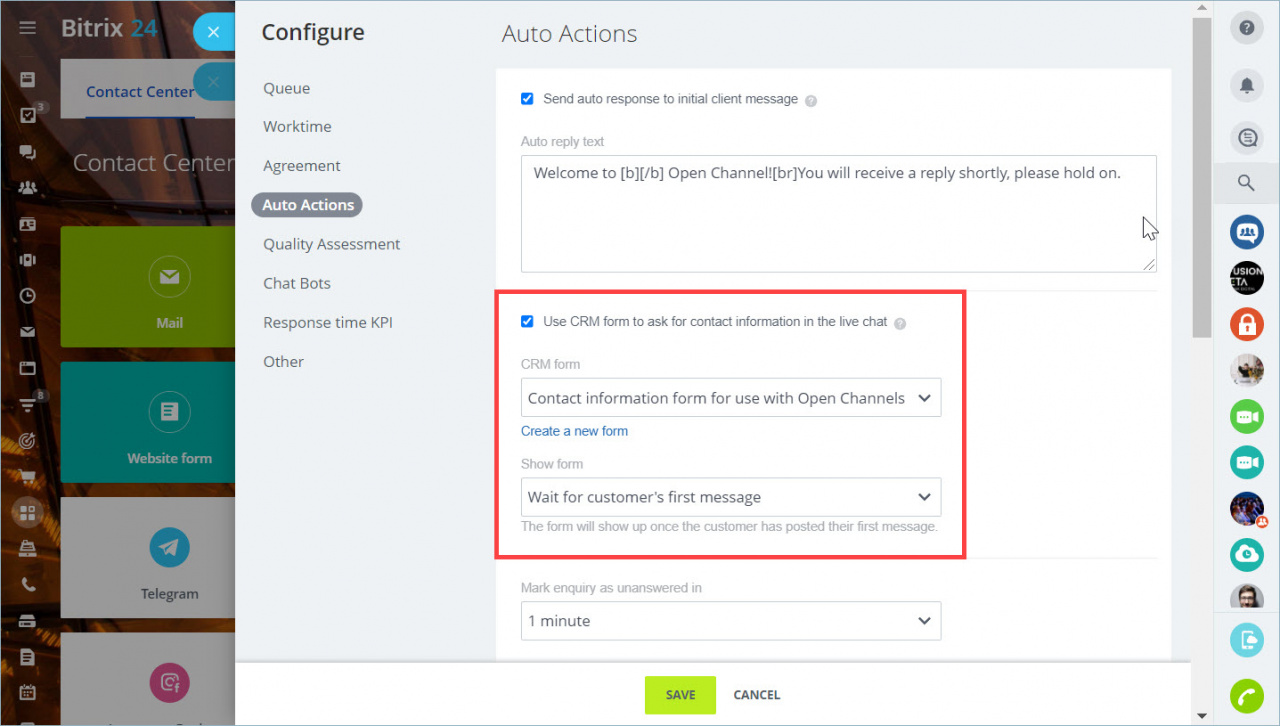 Wait for customer's first message - the customer writes the first message in the chat, then the CRM form is sent. This is a default variant.
Before conversation - the customer cannot write to the chat until filling out the form.
Preset CRM form
In Bitrix24, there is a preset CRM form Contact information form for use with open channels for compatibility with the previous functionality of the welcome form. You can find it in CRM > CRM forms.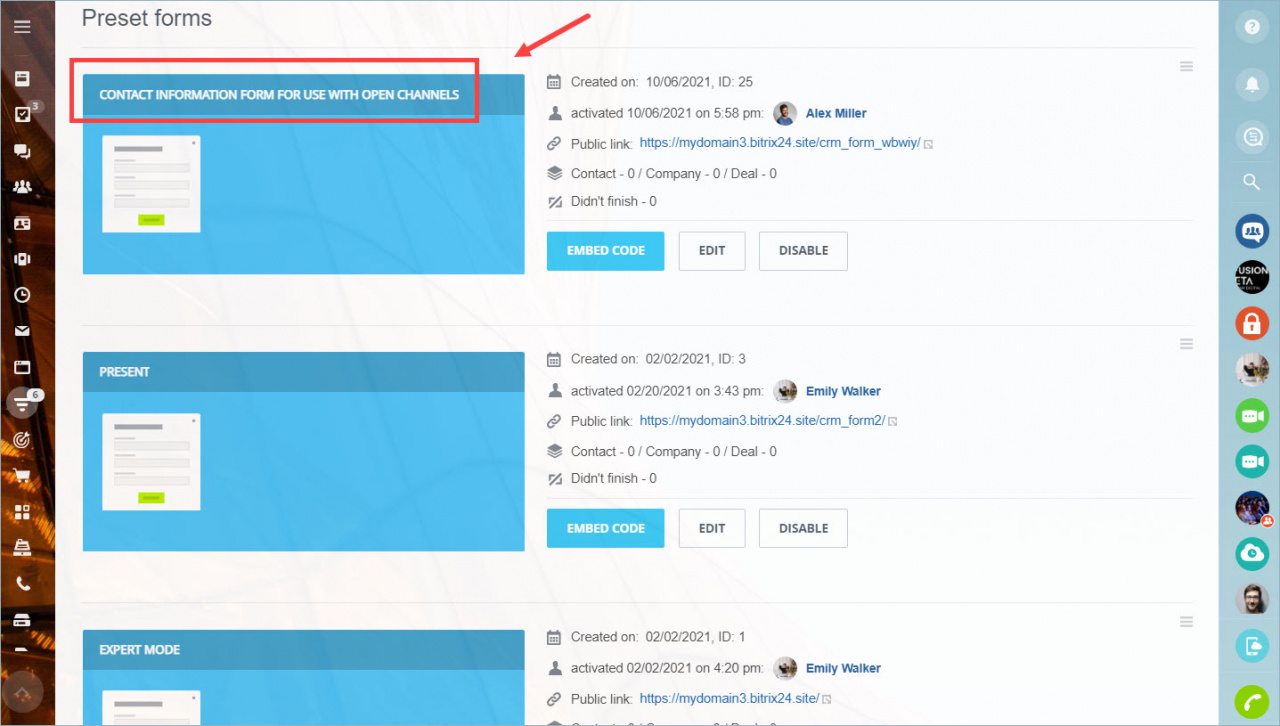 The preset contact information form consists of four fields:
First Name
Last Name
Phone
E-mail
The default form cannot be deleted, but you can disable or change the set of fields in it.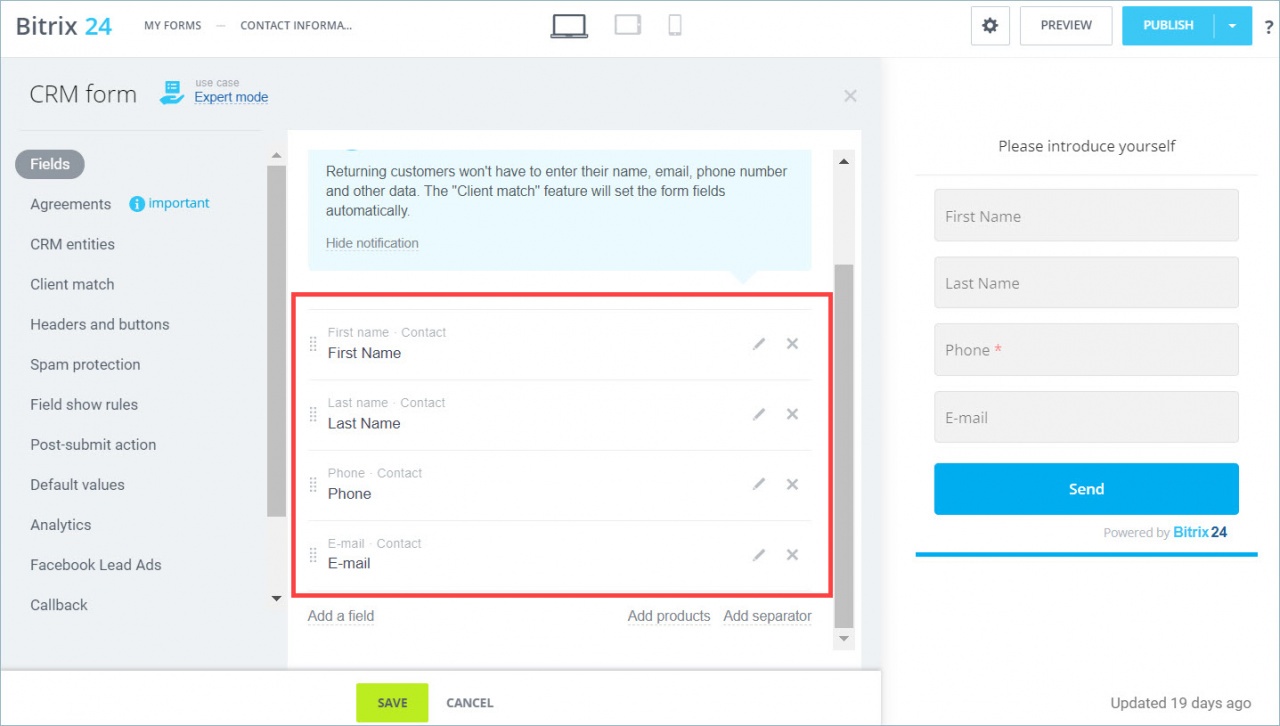 How it works
The customer writes to the Live Chat.
If the Wait for customer's first message option is enabled, the form will appear immediately after the customer's first message.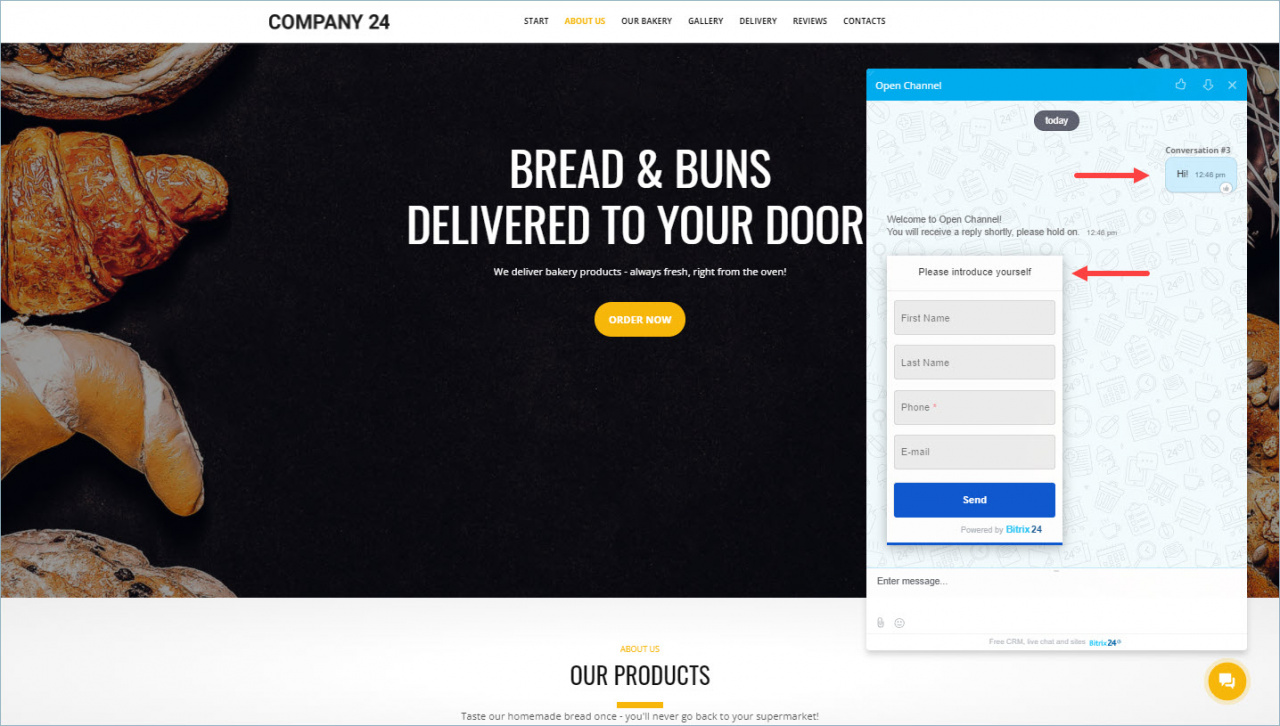 If the Before conversation option is enabled, the form appears as soon as the customer starts a conversation.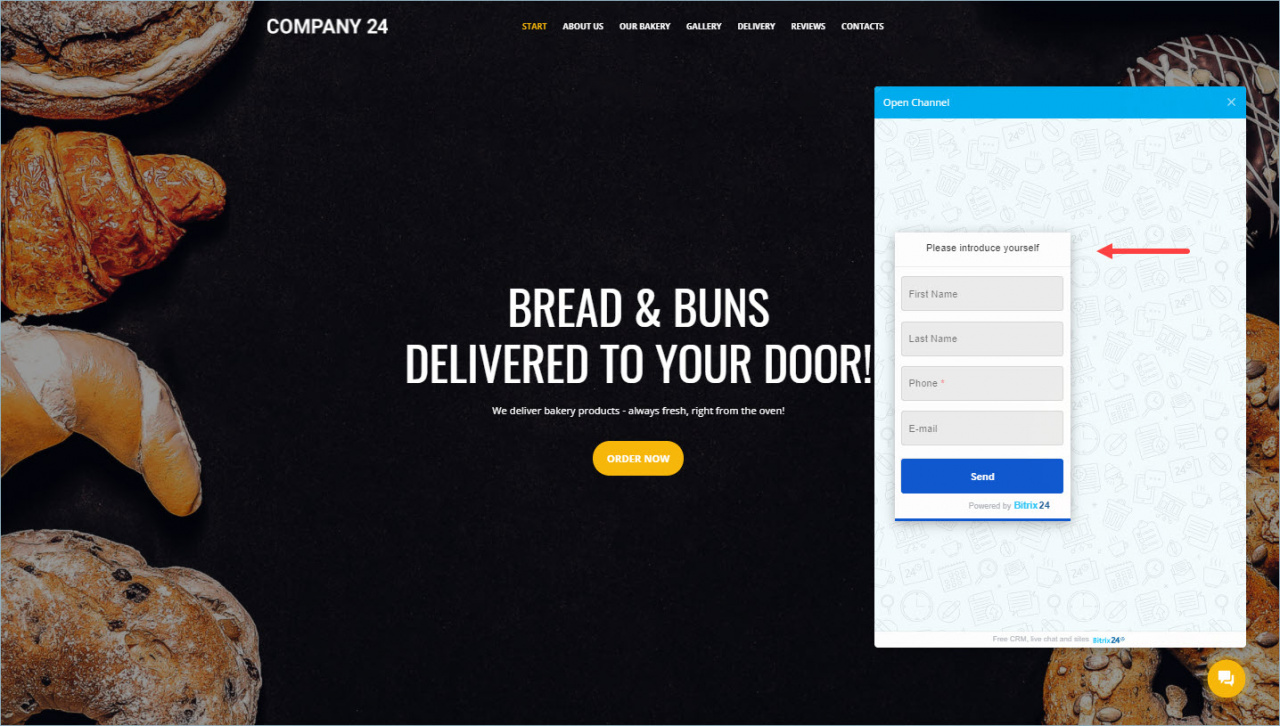 All customer's contact information entered in the form will be displayed in the chat.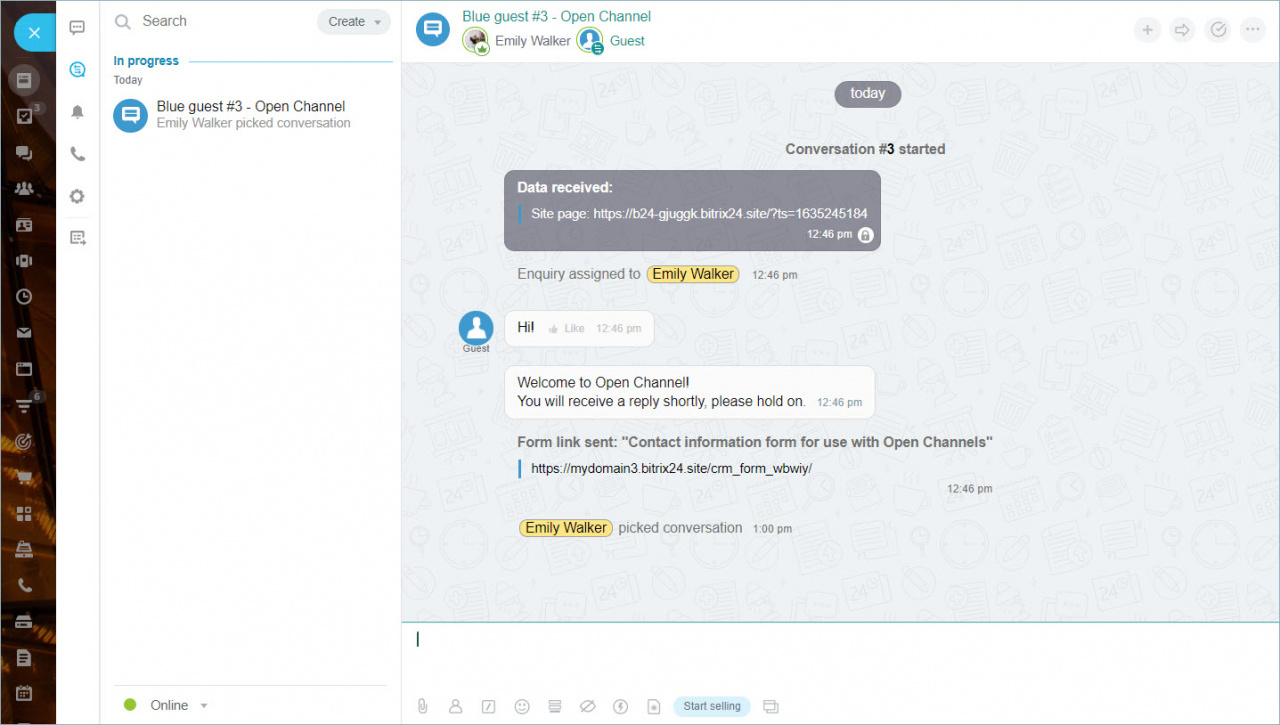 The same information from the form is saved in the CRM element form.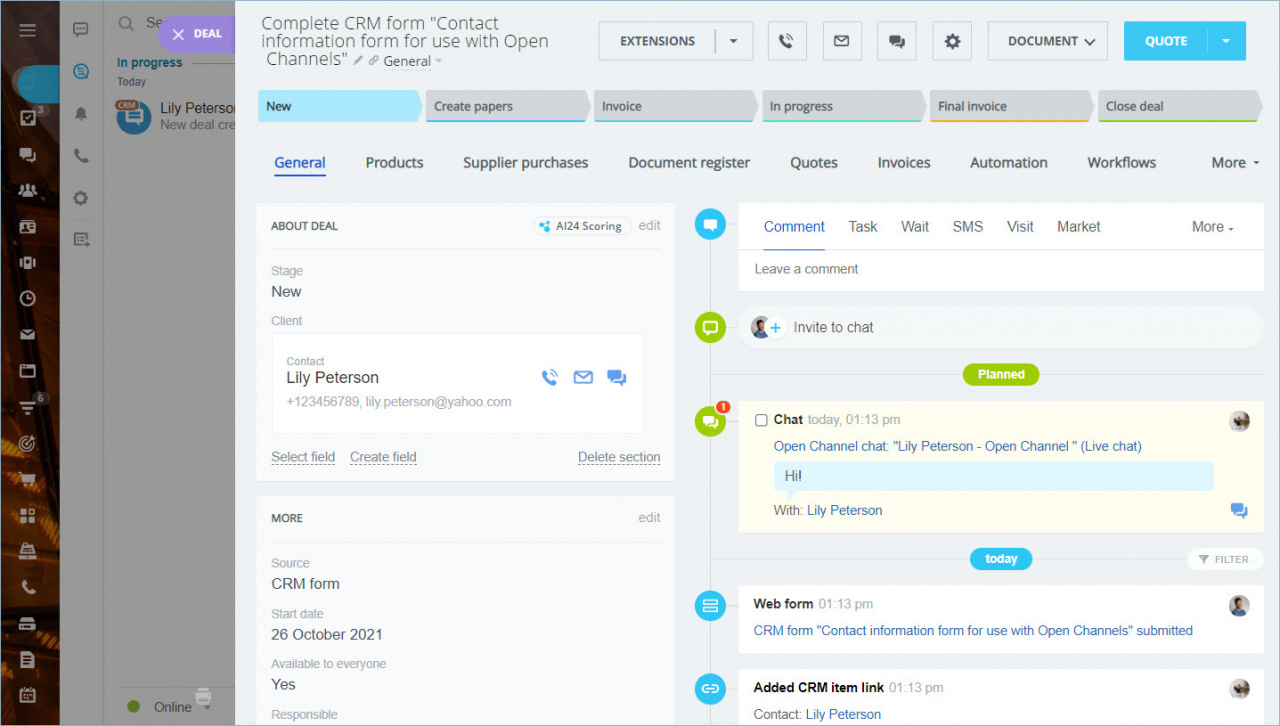 In the CRM form settings, you can set what elements will be created in the CRM: leads, contacts, deals and contacts, quotes and contacts.
If you switch the CRM mode from simple to classic or vice versa, the CRM form settings will not be changed. You have to change them manually.
Add data to the widget
Bitrix24 widget allows you to take additional data from external systems. For example, you can send customer contact information from the billing system to the widget.
If the customer's name or name + email were given to the widget, then the auto show of the CRM form will be disabled, even if the option Show the form is enabled.
Recommended articles: