Online shopping becomes more and more popular nowadays. There is no need to go anywhere and stand in line if there is an option to buy products in a couple of clicks online. If you sell products or services but don't have an online store yet, it's a good idea to create it right in Bitrix24!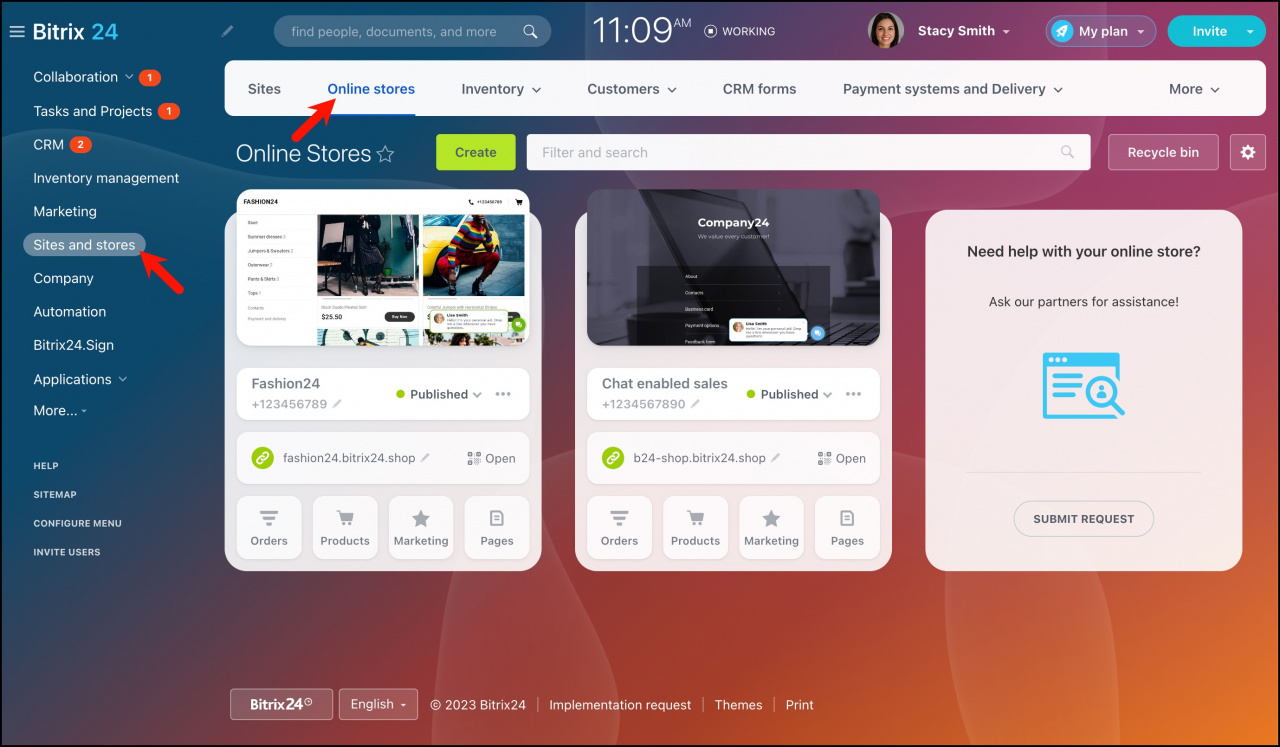 Why do I need an online store?
Get advantage of the higher profitability of an online store compared to a regular one.

Keep a detailed database of all your clients.

By default, the Online Store is linked to CRM. All the information about your customers will be automatically saved to CRM, and you won't lose any clients.

Attract new target groups. Sell your products worldwide.

If you have only a physical store, your target audience consists of your city's population. An online store can involve customers from other cities and countries.

Sell products at any time of the day or night.

Your customers can access your online store and buy products whenever they need them.
As for the services, you can also sell them via an online store. For example, a photographer can provide online courses and allow the booking of photoshoots online. In this case, an online store becomes an additional fantastic source of sales.
How to set access to Online Store
After creating an online store, it is important to set up access rights to it for employees. For example, an accountant won't need to access the online store and its settings as it is not a part of his/her job. Grant access only to those users who will work on the content and development of your online store.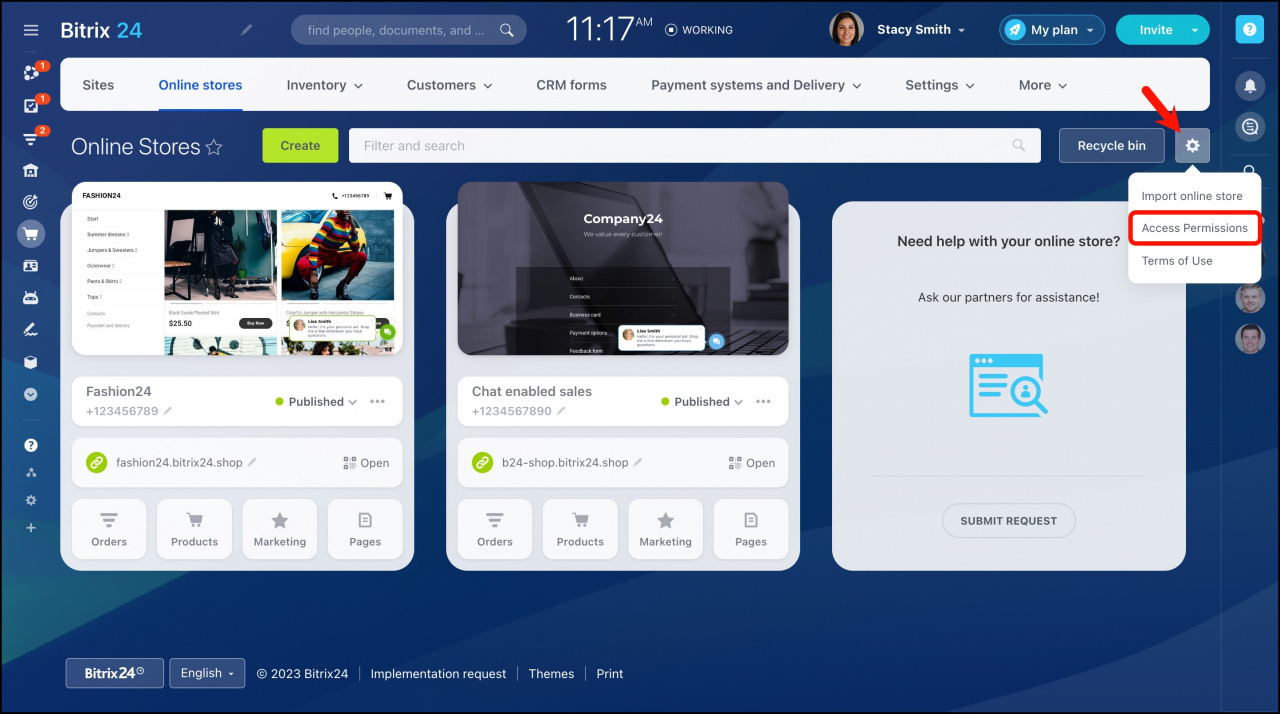 How to add a product catalog to Online Store
You may have several online stores, and we recommend creating different sections to prevent your products from being messed up. You can create subsections that define the product categories. For example, you sell jewelry: rings and bracelets. Add a separate section for each type of jewelry, then you will be able to place them on different pages of your online store.
If you don't have a wide range of products, you can add them manually in Sites and stores > Inventory management > Product catalog or CRM > Inventory management > Product catalog.
If you have a large number of products, you can import them using a CSV file.
Now you can add your product catalog to the online store.
How to configure the Online Store
Decide how to display the unavailable products, whether to include the tax in the product price or not and configure the user agreement and other settings in the Catalog settings section.
An important part of configuring an online store is to determine the steps that the order will go through.
After creating a product catalog, you can configure the payment systems. The default payment systems are internal accounts, cash, and PayPal. In addition, you can add different payment systems.
Delivery of the product is usually the final step of working on a deal. That's why it is important to configure delivery services that your Online Store offers in advance. By default, there are two options available - Local pickup and Delivery service. You can add your custom delivery services and your clients will be able to choose the most convenient one when placing an order.
How to change the Online Store address and add it to search engines
When an online store is created, it is given a random name on the subdomain *.bitrix24.shop. You can change only this name and keep the address as follows: yourname.bitrix24.shop. Else, connect the store to your own domain, for example, yourname.com.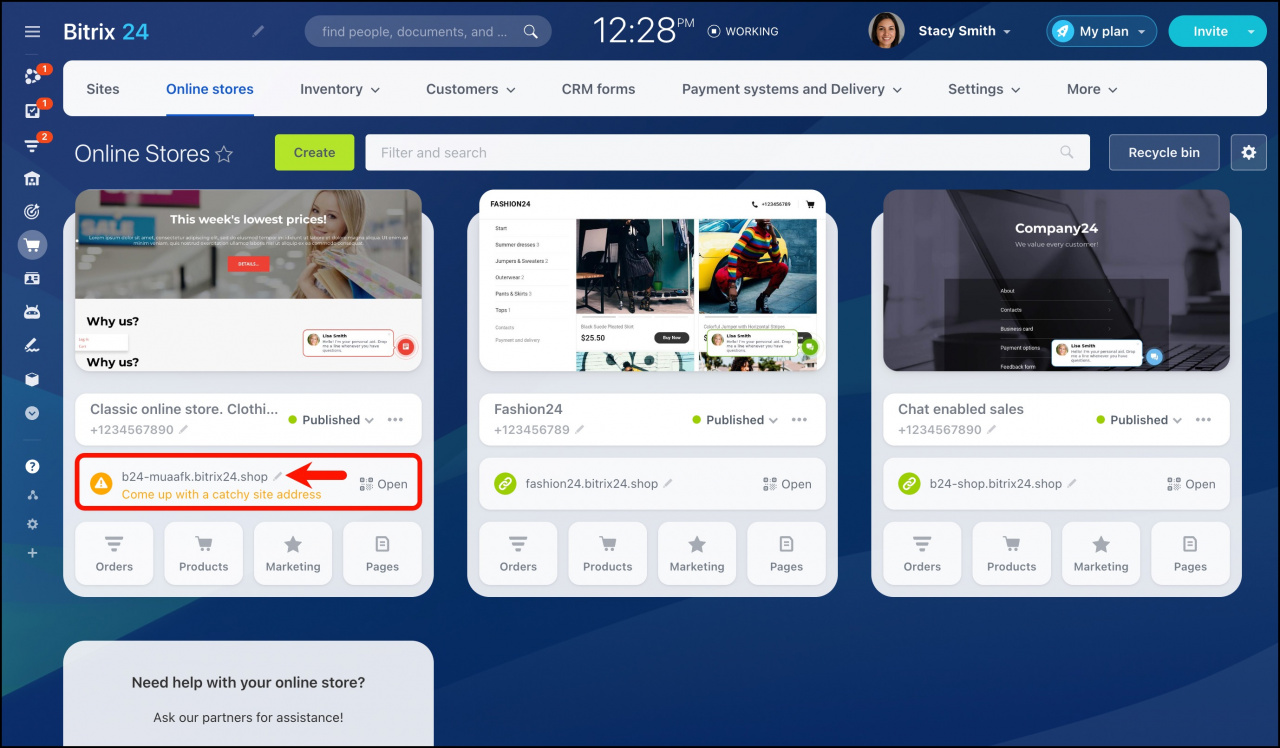 Let your clients learn about your online store by adding it to the search engines.