If you have your own domain and you want to link your Bitrix24 site or online store to it, you can do it for free on any plan.
Important!
Don't use the word bitrix in your own domain name otherwise you will not be able to connect such a domain to Bitrix24 Sites and Online Stores.


Bitrix24 Sites and Online Stores don't support domains that use CloudFlare DNS proxying. Proxying must be disabled.
Domains are sold by special services - domain registrars. Domains are serviced either by the registrars or by DNS hosting services. In order for your website to open by the domain name, you need to make certain domain settings - DNS resource records.
How to connect your domain
Go to the Sites and stores section. Select Configure site in the action menu.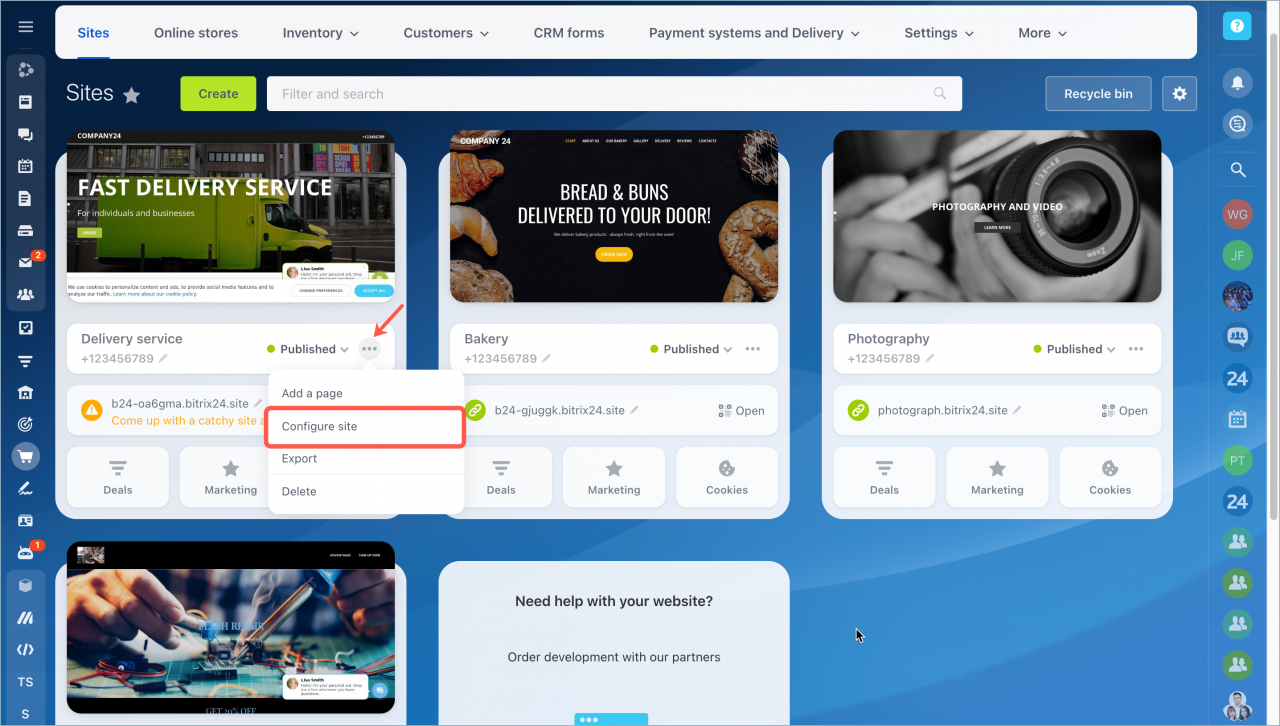 Click the Use your own domain button.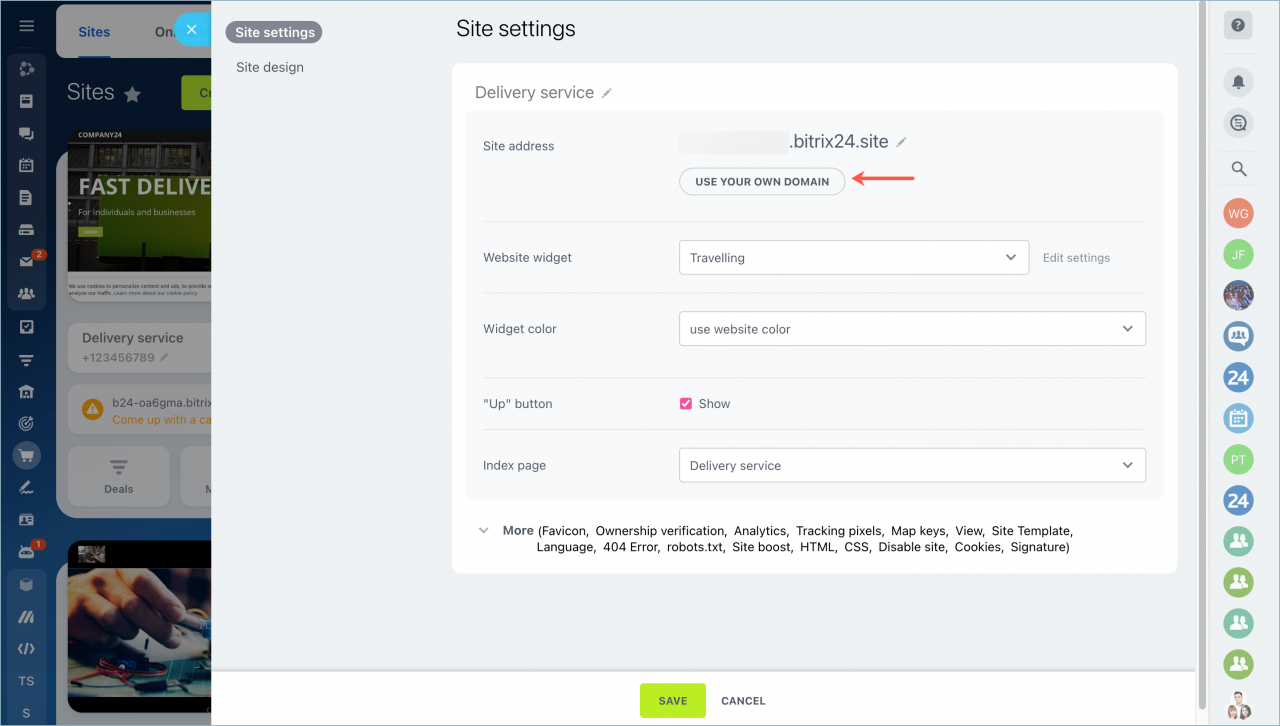 Enter your domain name to the Domain name field.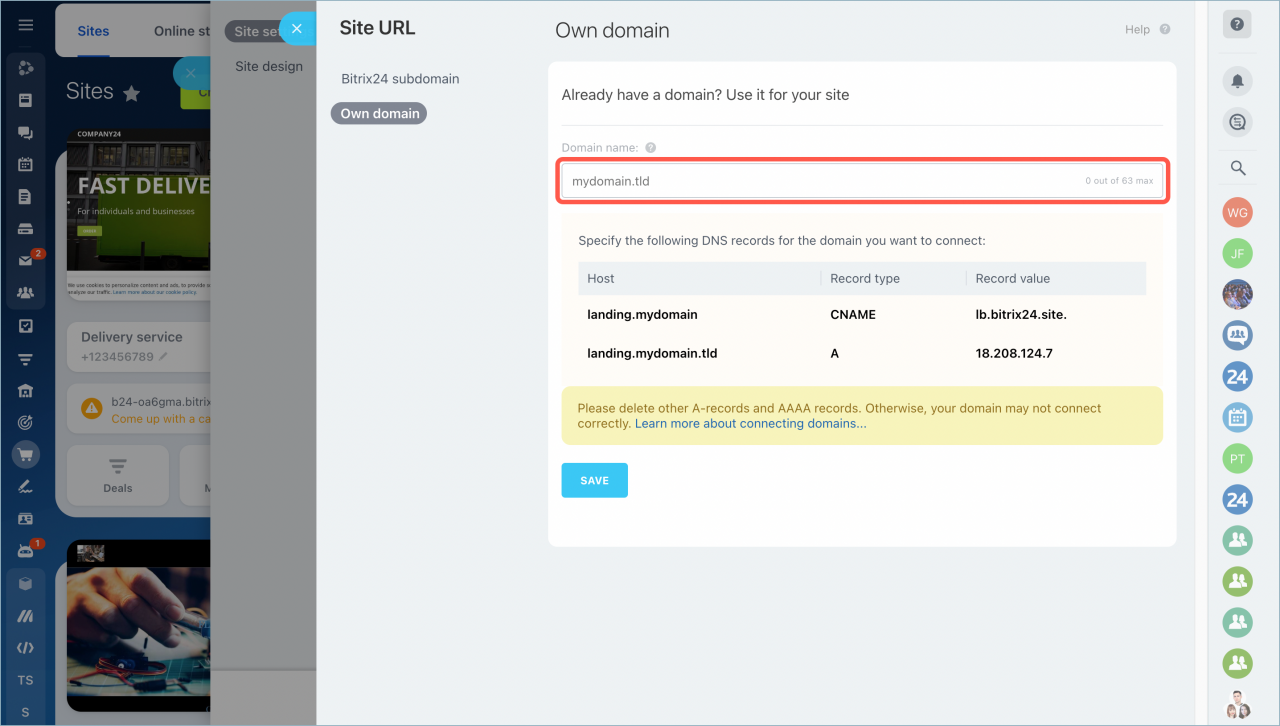 Now you need to configure domain registrar.
For the third-level domains or higher
For the second-level domains
Important!
Be careful when adding the information to DNS registrar. There shouldn't be any A, AAAA, CNAME records for the connected domain, except those that are issued when the domain is connected to the Bitrix24.Sites. When adding CNAME record, make sure to have a dot at the end:
lb.bitrix24.site

.
If it doesn't work, try to add CNAME record without the dot at the end, as some providers don't require it.
There may be a delay in changing your website address, as a domain registrar needs time to process new data. Usually, it happens in no time, but in some cases, it may take a couple of hours. The SSL certificate is automatically renewed approximately 20 days before the expiration date.
Done! Publish your website with a new address!
How to edit domain resource records
The domain resource records editing process depends on your domain name registrar. Also, you may need to use some additional services to manage the domain. Please contact your domain registrar to clarify this matter.
Important!
When adding CNAME record, make sure to have a dot at the end:
lb.bitrix24.site.
It can take up to 48 hours to apply changes to the DNS resource records.
Read also: