There are two ways you can work in Bitrix24 CRM - with or without leads.
Read more about CRM modes and leads in the articles:
The Simple CRM mode is enabled by default and does not include leads, and the Classic one does. You can switch between these modes at any time.
Go to CRM > Leads or Deals > click the cogwheel button and select CRM mode.
Choose the way you want to work with your CRM. Here you can also configure the Deal creation mode.
By default, Bitrix24 creates a deal and a contact for each inquiry. Also, you can specify whether Bitrix24 needs to create companies and select a pipeline for new deals to be added to.
If you decide not to close activities after lead conversion, tick the corresponding option.
What happens to leads when switching CRM mode
If you work in Classic CRM mode and decide to switch to Simple CRM, all leads will be converted to deals and contacts.
Read also:
Now you can decide how to work with your clients in CRM and switch CRM mode right in the Mobile app.
Open the CRM section in the Bitrix24 Mobile app. In Leads or Deals tab, tap the tree dots button in the top right corner and select CRM mode.
You will see brief information about both CRM modes – Simple and Classic. Tap on the CRM mode you prefer and confirm your choice.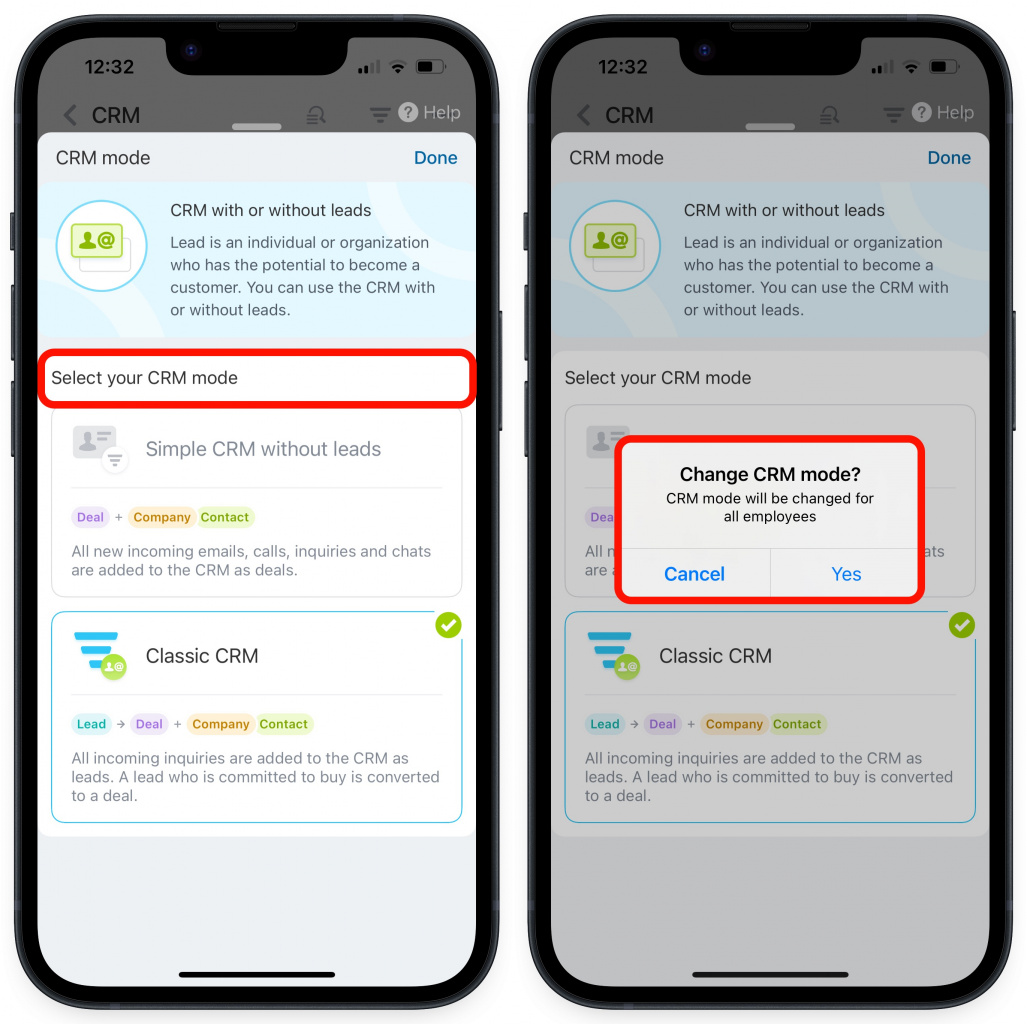 What happens to leads when switching CRM mode
If you work in Classic CRM mode but don't have any leads, you will switch to Simple CRM mode in a few seconds.
If you have at least one lead, follow the instruction below:
Select Simple CRM mode.

Specify the pipeline where the converted leads will be saved as deals. You can select an existing pipeline or create a new one, for example, Sales.

Create contact and/or companies in addition to the deals. You can use them to save contact information and other details about your clients.

Move activities to deals. We recommend keeping this option active, so you won't lose any activities you planned when working with leads.
Tap Continue in the top right corner to finish the process.