Automation rule is a specific action algorithm that runs automatically when the task gets to a specific stage.
Tasks automation rules and triggers are available to
Bitrix24 Professional plan
subscribers only. Read more here -
Cloud pricing
.
Tasks automation rules automate your workflow and help you increase efficiency in working on large projects and tasks.
Set the automation rules, and Bitrix24 will automatically send notifications, change responsible persons, change deadlines, etc.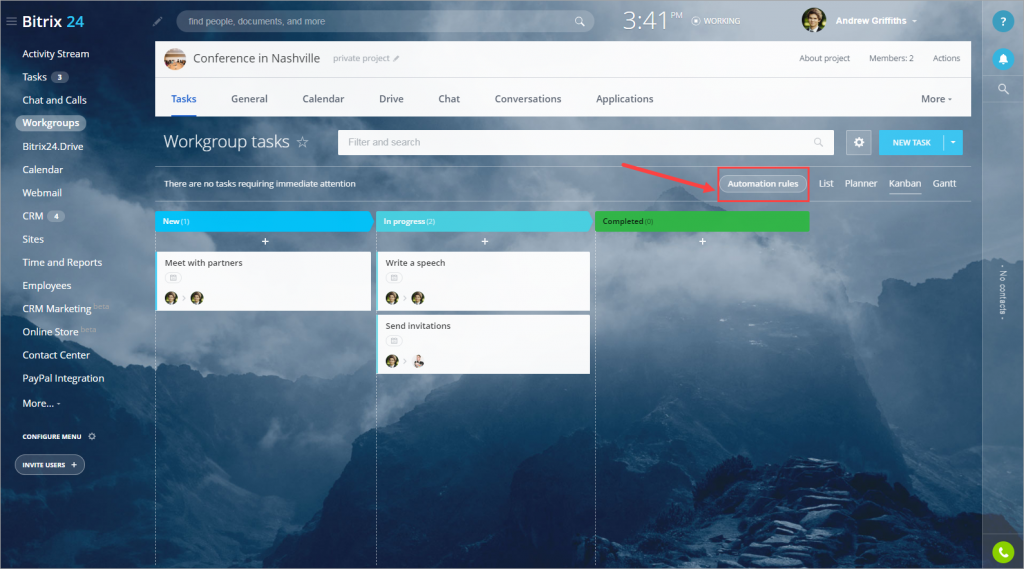 How to configure tasks automation rules
As an example, we will create an automation rule that will notify the responsible person in the Activity stream that the task is almost overdue.
Create a special stage for tasks in the project.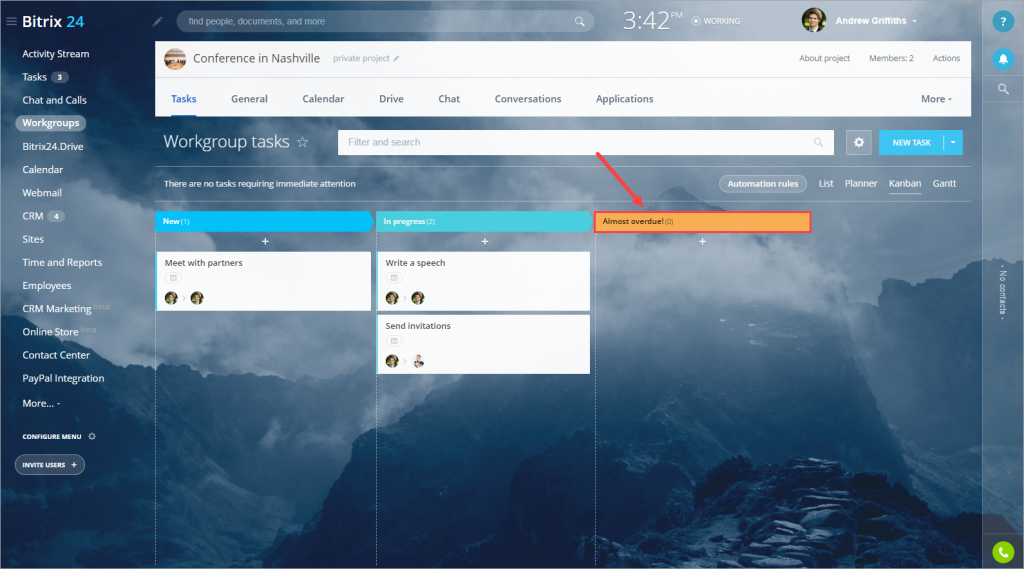 Click Automation rules > Configure automation rules.
Only workgroup owner can configure tasks automation rules in a workgroup.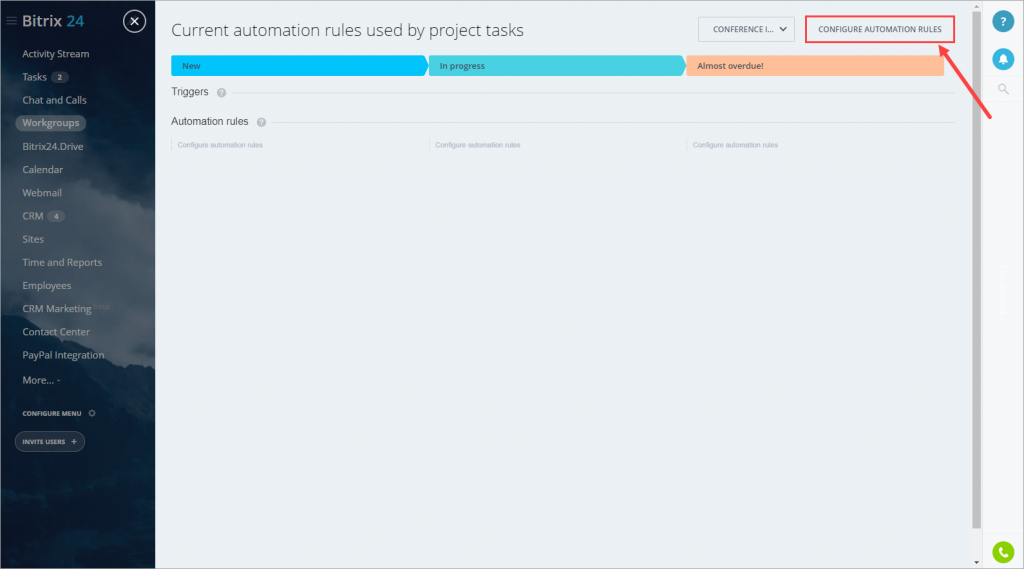 Add Almost overdue trigger to automatically move a task to the created stage when it's almost overdue.
Trigger is a specific action that automatically changes a task's stage. Once the trigger starts, the task is moved to the required stage, after which the appropriate automation rules are activated.
Tasks triggers
Status changed - as soon as the task status is changed to the specified status (e.g. "in progress"), this trigger will move it to the needed stage.
Almost overdue - the trigger is activated 24 hours before the specified deadline for an unfinished task.
Overdue - the trigger is activated after the deadline expires.
Add the required automation rule for the selected stage. As an example, we'll pick the rule for Employees Add message to Activity Stream.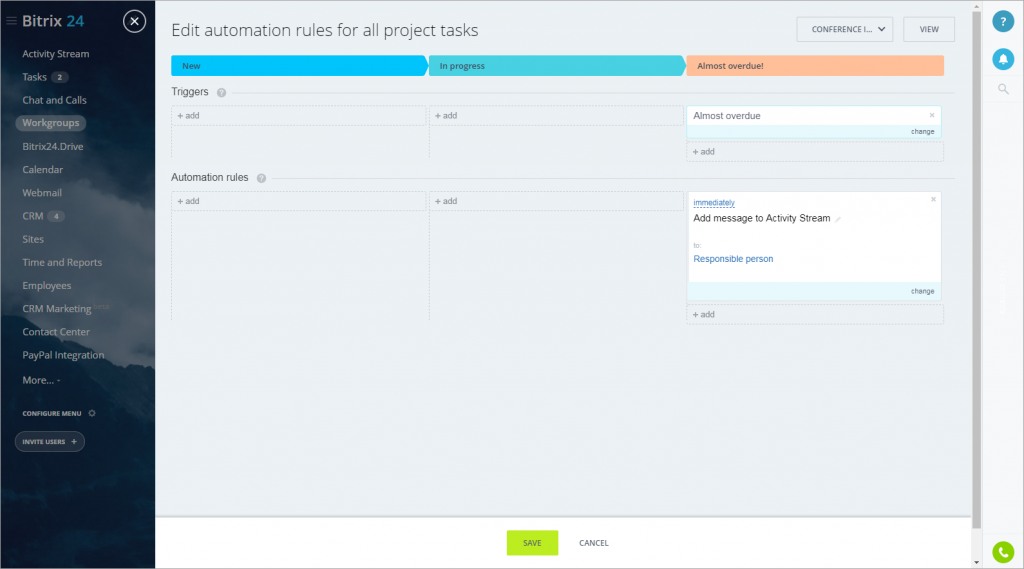 As soon as a task gets to "Almost overdue!" stage, a responsible person gets a message to Activity Stream.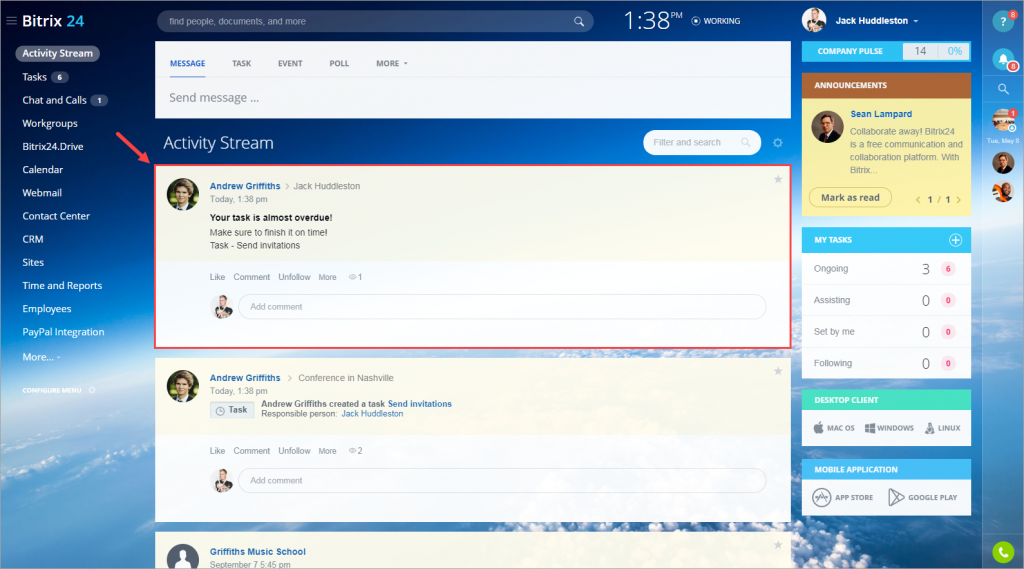 Available Tasks automation rules
For employee
:
Add message to Activity Stream
Change responsible person - specify the new responsible person and this automation rule will change the responsible person
Change stage - the rule moves the task to the other stage
Change status - the rule changes the task status
Delete task
Edit task - the rule edits the task, e.g. changes name, deadline, etc.
Send email
Notification
Task - the rule creates a new task
Custom automation rules
:
WebHook - using Webhooks, Bitrix24 can connect with third-party services. To set the rule, enter the address of the handler and the required parameters.

Read more about webhooks in the article -

Webhooks

.

Marketplace - you can download automation rules from the Marketplace.