Bitrix24 Telephony is only available for commercial plans. Depending on
your plan
, you will have access to certain advanced features.
Depending on your current plan, certain restrictions apply to telephony. All of them are marked with the "lock" icon in your account: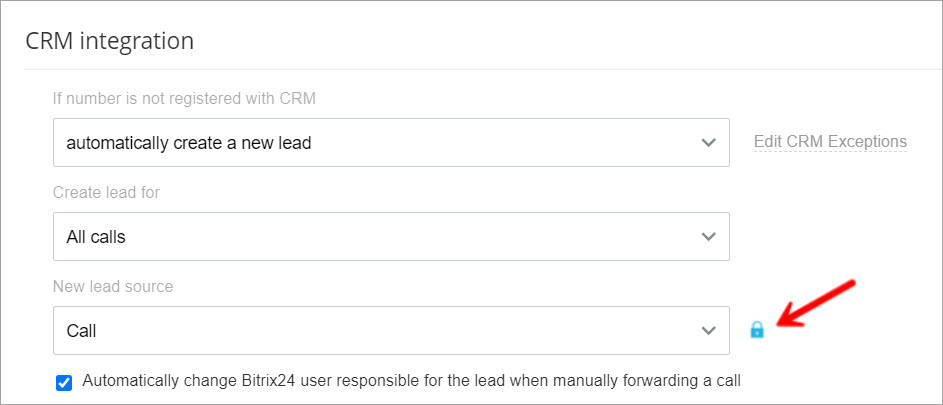 Call recordings - the limit of available recordings is 100 for the Project+ plan subscribers and 500 for the Start+ plan subscribers. Once you hit the limit, you won't be able to record calls this month. These limitations don't apply to the rest of the Bitrix24 plans.
Simultaneous call to all available employees - the call will be queued to all employees available.
Assess the quality of service - offer a customer a chance to assess the quality of service after they have ended conversation. You can upload your own file in the .mp3 file format.
Missed call processing - select next step if none of the selected Bitrix24 users answered the call - forward to voicemail, forward to mobile, forward to another number, send the call back to queue, hang up.
Allow call interception in this queue group - if one agent hasn't answered the call, then another agent from this queue group can pick up the call and answer it.
Call source tracking (CRM) - derive call source from phone number (CRM).
Automatic Dialer - automatically dials telephone numbers of the selected clients' list. Once the call is answered, the autodialer connects the call to an employee.
IVR - a technology that allows Bitrix24 Telephony and CRM to interact with your clients through dialpad input. In the CRM+, Start+ and Standard plans, only two levels are available in the language menu.
Custom telephony access permissions - you can distribute access permissions to your employees for calls, statistics and telephony settings.
In the Project+ plan, you can create only one queue with three agents. Also, on this plan, the following options are not available:
Simultaneous call to all available employees
Missed call processing
Allow call interception in this queue group
Call source tracking (CRM)
Export call details to Excel
Automatic Dialer
Customer assessment of the quality of the conversation
IVR