Bitrix24 Telephony provides a high-quality connection as well as many useful options for processing of phone calls.
How to start
To start working with calls in Bitrix24, you need to connect a phone number: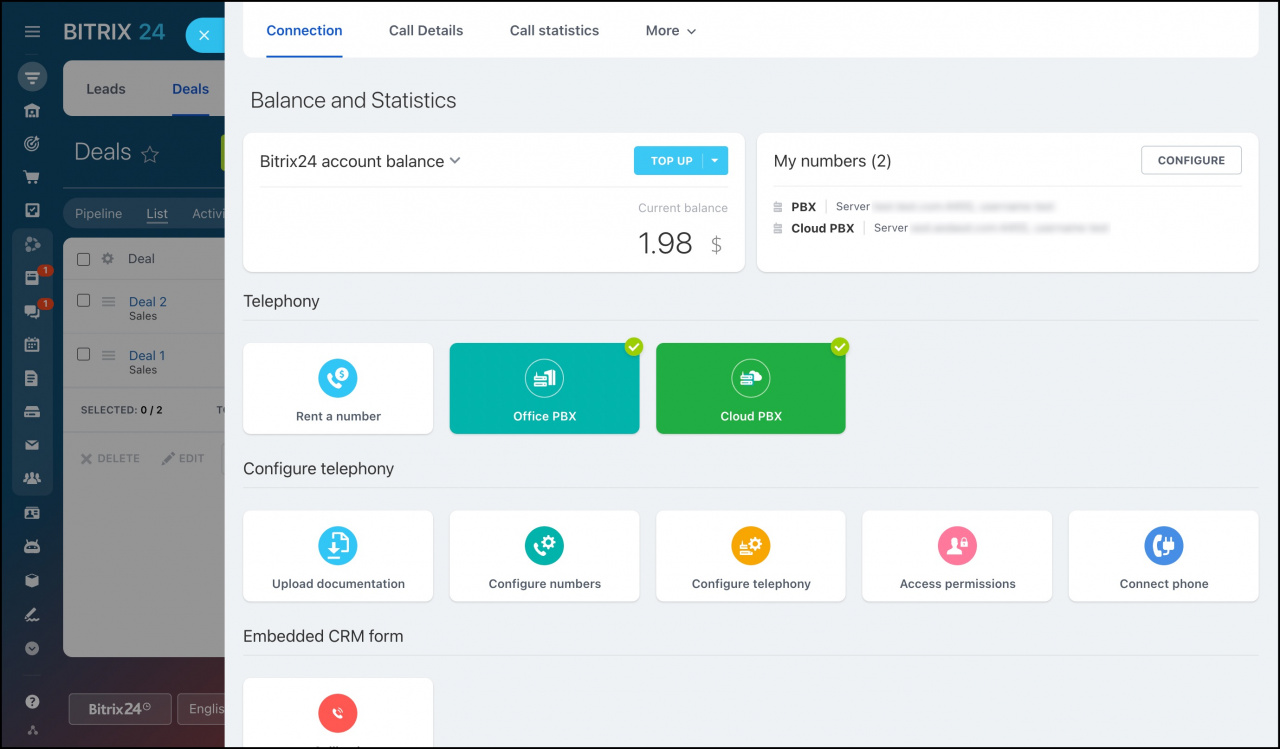 You can find available the following telephony connection options:
1. Rent a number
Rent a number from our telephony provider and bind it to your account. To do so, just select the country, region, and one of the numbers types offered. If a number is no longer needed, it can be eliminated.
The system may request to upload additional documents (e.g. proof of address, passport or ID copy) for some regions or countries. Please follow the instructions (image size should not exceed 2000px). Submitted documents are usually processed by Voximplant Inc. within two business days.
Important! Telephony provider can mention the support of SMS messages in the description of the phone number. This is general information about the services of the communications service provider. In Bitrix24, rented numbers cannot be used to call emergency services (112, 911, etc.) or to send SMS messages. No additional options are available besides the phone calls.
2. Connect SIP PBX
In Bitrix24, you can connect SIP PBX using Rest API (app downloaded on Marketplace) or using SIP connector. The number for incoming and outbound calls is provided by your telephony provider.
There is a limit on the number of connected cloud SIP PBXs. Currently, you cannot connect more than 10 numbers when using this telephony connection type. However, there is no limit on the number of incoming lines. Also, this limitation does not apply to office SIP PBX connection.
Difference between SIP PBX connection using Rest API and using SIP connector
SIP connector:

Access to Telephony in Bitrix24 and all CRM functions. Your telephony provider charges you for the outbound calls according to the chosen tariffs. SIP connector is available worldwide and its rent is $49/mo.

REST API (Market apps):

Call routing and voice traffic are managed on the end of your SIP PBX and cannot be transferred to Bitrix24. It helps reduce the time when a connection is established and improves the quality of communication in comparison with SIP connector.
Telephony balance and call rates
To check your telephony balance, go to CRM > Add-ons > Telephony > Connection: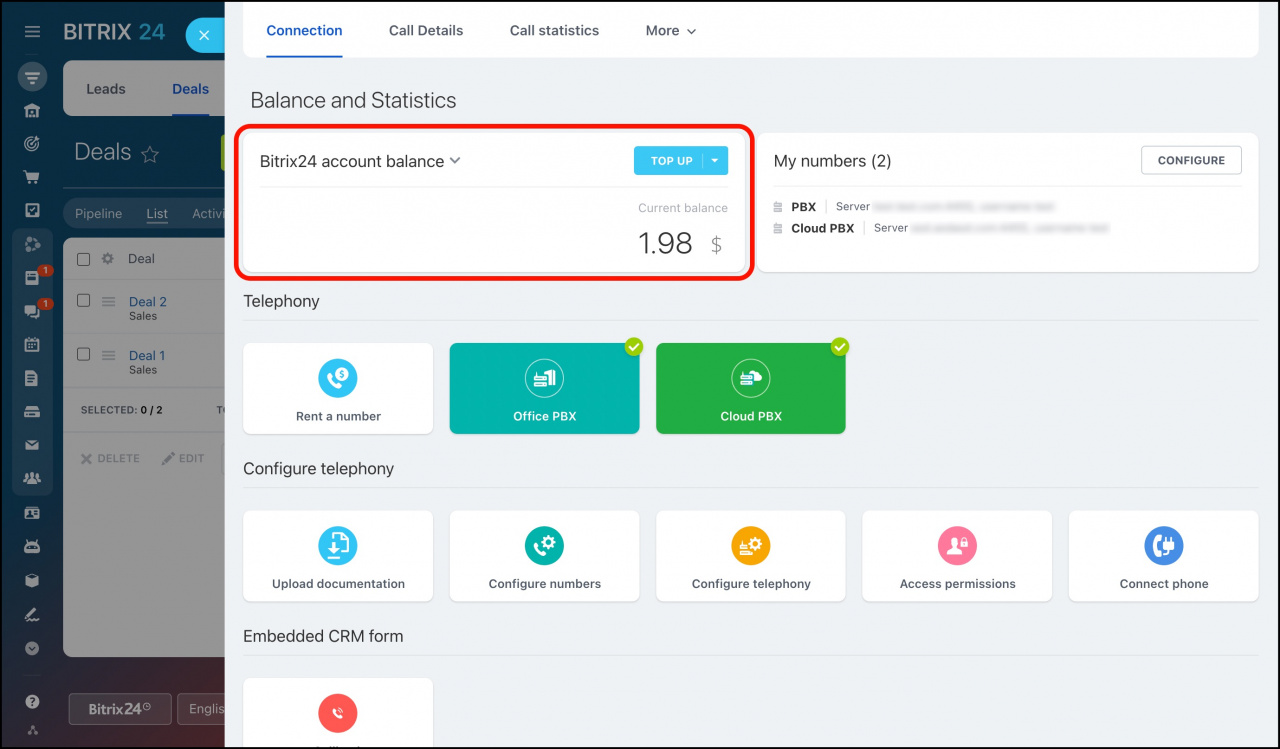 Click the Top up button to refill the balance. Read more in this article - Telephony balance.
Call details
In the Call details tab you can view call statistics (call status, type, duration, connected CRM record, cost, assessment), recordings and logs (details column).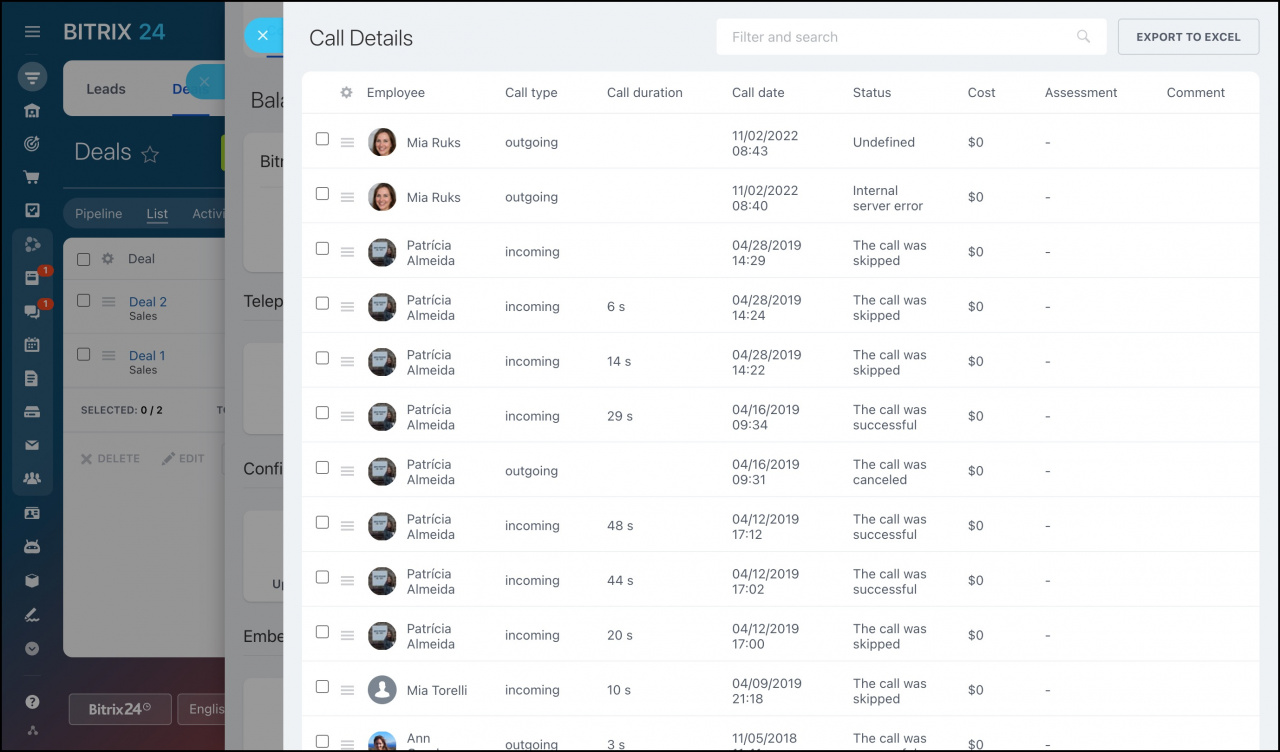 Call routing
You can specify the way incoming calls must be distributed between employees and saved to CRM. These settings need to be configured for each number separately.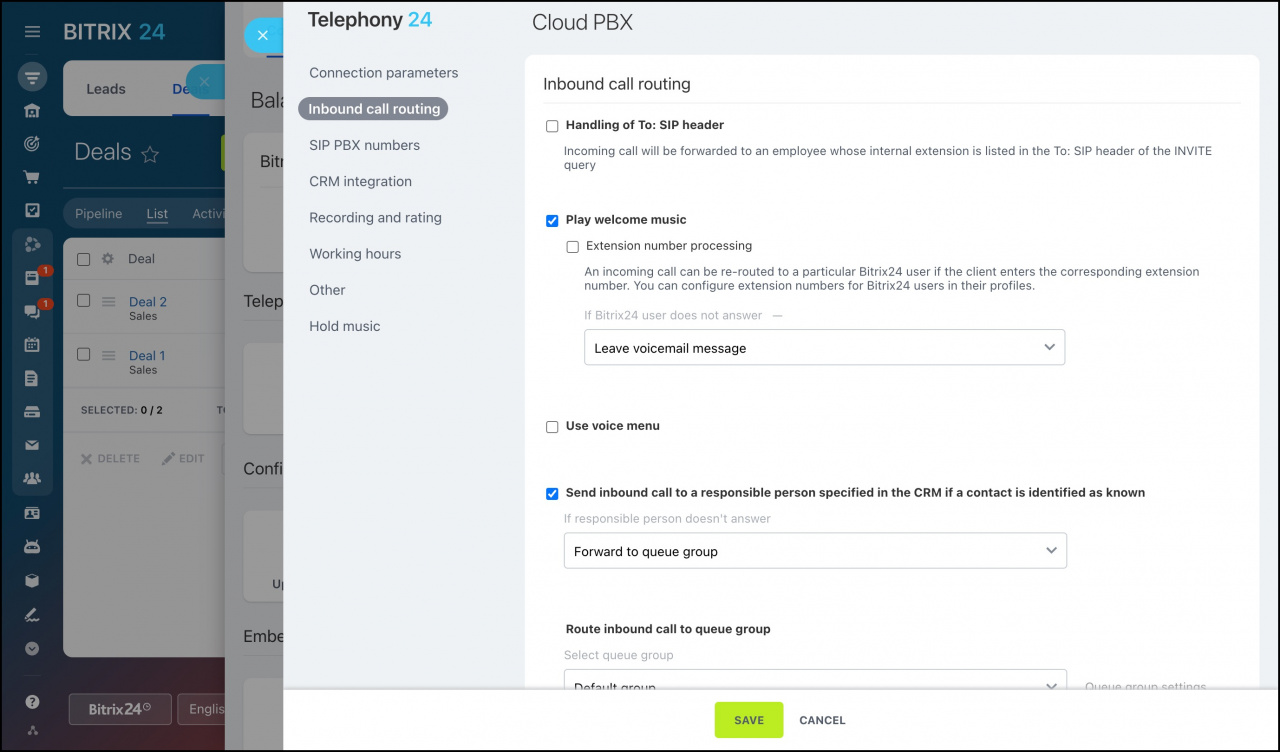 Activate the Extension number processing option, and your clients will be able to call a particular employee if they know his/her extension number.
Send inbound call to a responsible person specified in the CRM if a contact is identified as known is a handy option for employees who work with clients in CRM. Each incoming and outbound call will be checked by the system. In case there is a lead/contact/company with the callee's number in CRM, you will see the information about it in the call window. If this phone number is not registered in CRM, you can choose one of the options: automatically create a new lead or offer to create a new entity in the call window.
Create queue groups and assign them to different connected numbers. In each group you can add users who will answer calls to this number and specify the call distribution method: evenly, exactly as enqueued or to everybody.
When using evenly or exactly as enqueued type of call distribution, you can also specify the ring count to wait until redirecting a call to the next user in queue.
In case none of the employees answers a call, it won't be unnoticed. The system suggests a callee leaving a message on voicemail or forwards the call to the responsible person's mobile phone, another queue group or specified number.
Working hours
In this section, you can configure time settings for telephony. Specify your time zone, working hours, days off and holidays. Then you can configure Off hours call processing in order not to miss any call.
Call recordings
You may need to record calls to recover some details of the conversation with a client or to control your subordinates and resolve issues. Both incoming and outbound calls can be recorded.
Before you enable this option, please make sure that it does not violate company policy or the laws of your country or countries whose laws your company is obligated to follow.
In addition to call recording, you have an option to get a call transcription in text format. Call transcription is a paid add-on service. Funds will be debited from your telephony account after each call. This service is enabled for all calls and call transcription text is saved to the Call details section.
Access permissions
If there are many employees in your company, it is recommended to limit access to Telephony and allow the use of calls to the specific employees only.
Account administrators can configure access permissions in CRM > Add-ons > Telephony > Access permissions section: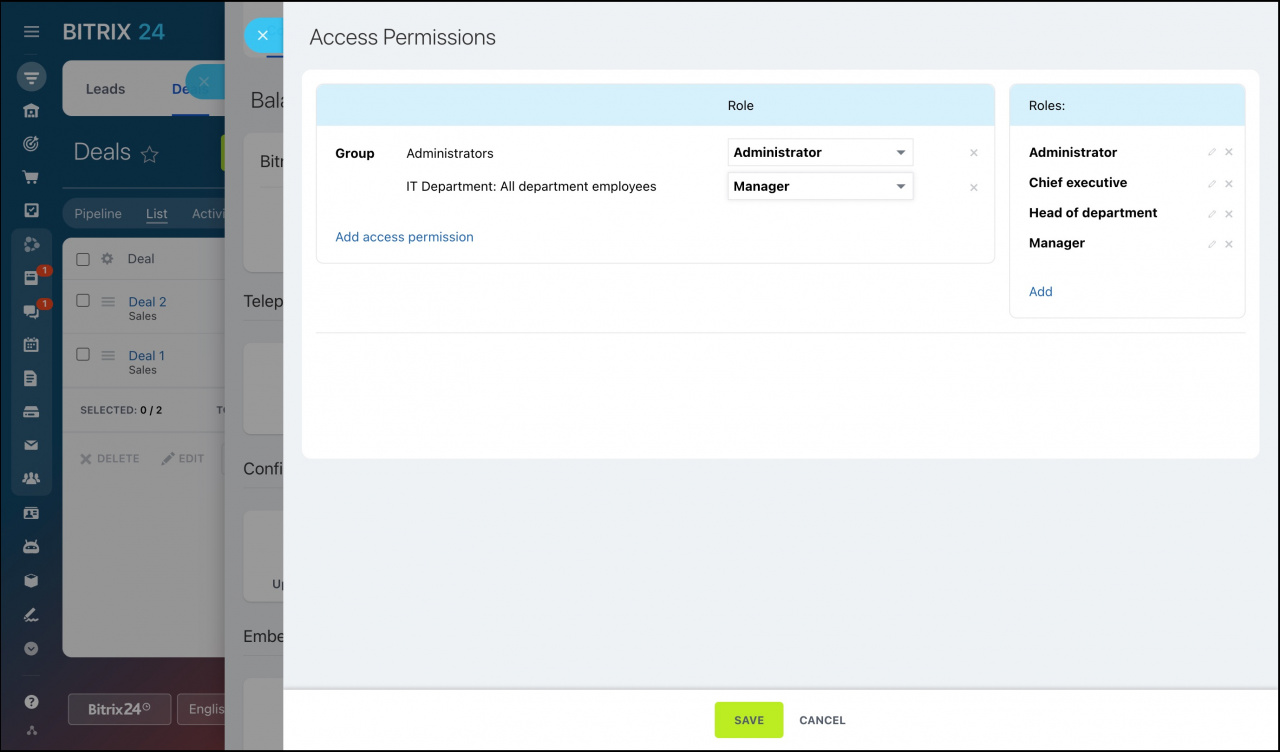 You can specify:
which employees can make outbound calls;
who they can call (for example, CRM clients only);
which employees can listen to the call recordings;
which employees can rent numbers, configure call routing and other options.
Sip Phones connection
You can use desktop IP phones to make calls in a common way. Here is how you can connect these devices to your Bitrix24 account.
In Telephony users section, you need to select Connected in the SIP Phone field when configuring the extension number for a user. Also, use the data provided in this section (server address, login and password) for phone configuration. After that, your device will be registered on the IP-telephony server.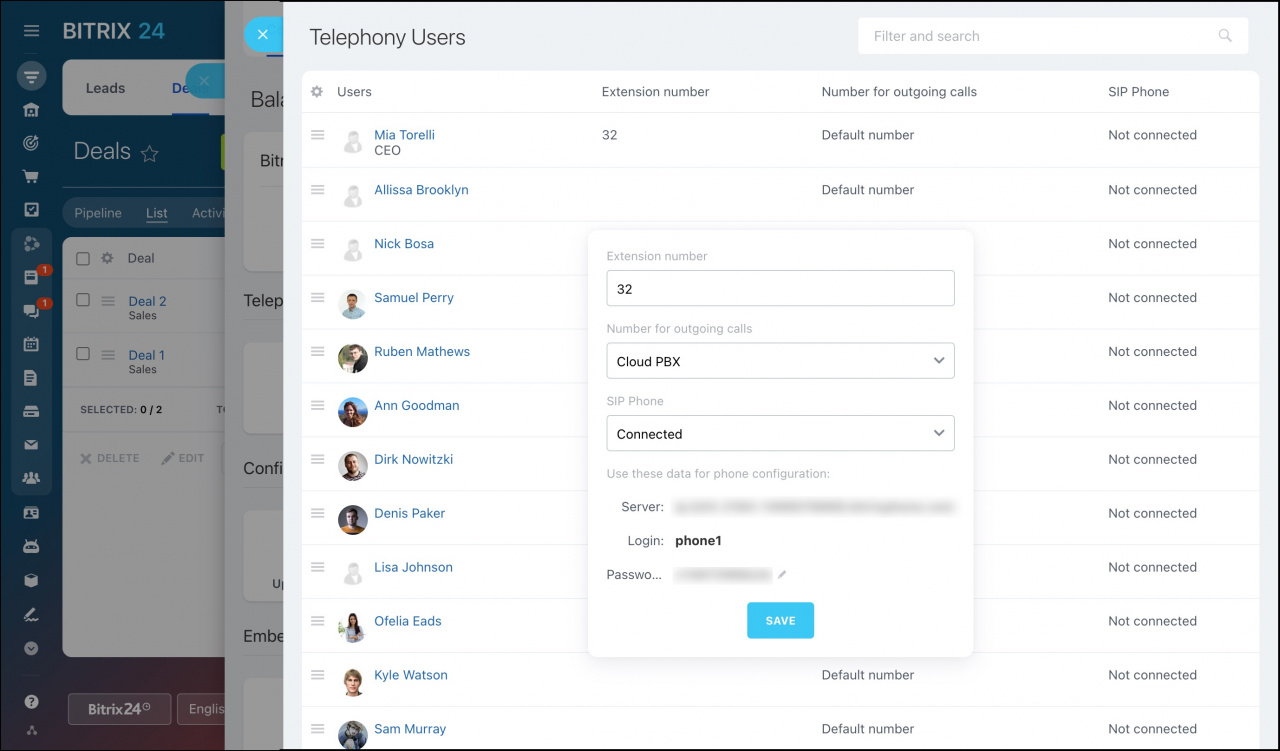 To avoid any issues with Sip Phones connection to Bitrix24, please check the requirements specified in this article. In addition, you can read more about SIP phones settings here.
Also, it is possible to use the telephony with softphones for Windows, iOS, Android: Media-5, Zoiper, CSipSimple, etc. Our mobile app contains softphone functionality, we recommend trying to use it first.
Hold music
We prepared a set of standard tunes in Telephony which will be played to the caller as a greeting on incoming calls or when on hold. You can also replace them with your own recordings.
Telephony issues
We always try to ensure the smooth operation of Bitrix24 Telephony, but there may be nuances in some cases related, for example, to the width of the Internet channel or your hardware's capabilities.
If you face any issues with Bitrix24 Telephony, please check the requirements from this article.
If you contact Bitrix24 Support, our specialist will need to analyze call logs to better understand the issue and solve it as soon as possible.
You can find more information about other options and settings in the articles of the
Telephony
block.