Call forwarding is a telephony option which redirects a telephone call to another destination.
How to change forward to number in PBX connection
When you may find this option useful:
You want to receive incoming calls via connected PBX, but make outgoing calls via Bitrix24 telephony (provided by our partner VoxImplant (VoIP)). This means you need to be charged for outgoing calls due to Bitrix24 telephony tariffs, but don't need to purchase the SIP connector subscription.
When outgoing calls & calls forwarding don't work properly via the connected PBX (compatibility issues, PBX limitation for 3rd parties integrations, etc.)
When you need to receive incoming calls via one particular connected PBX and make outgoing calls via the other connected PBX.
Forwarded calls are in fact outbound calls & are charged accordingly.
To change forward to number go to Telephony > Connection > Connect SIP PBX, choose the PBX connection you need to edit & open Connection settings: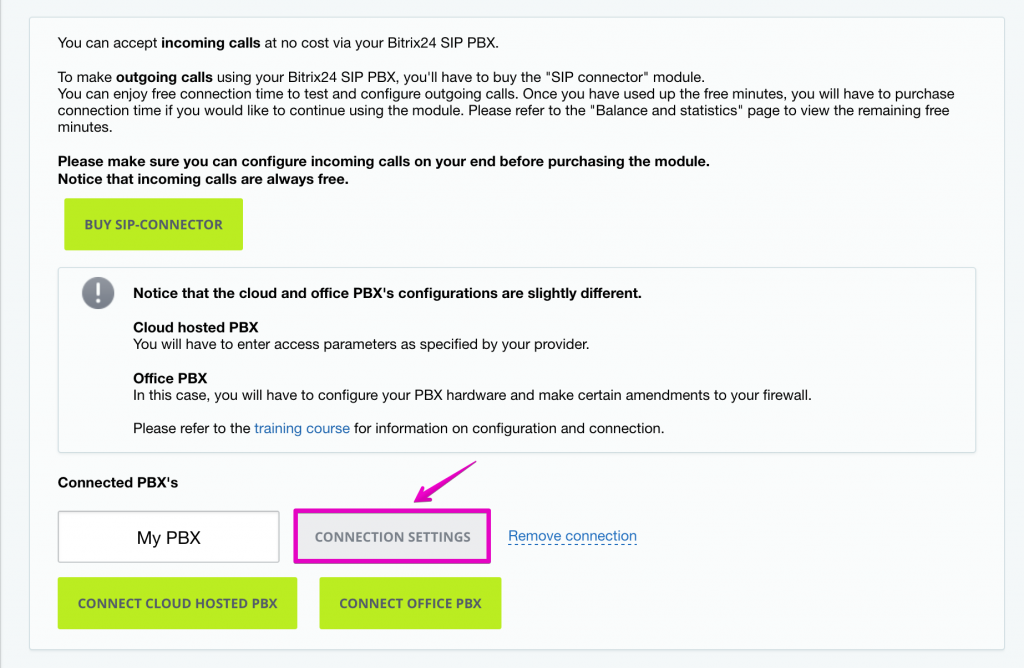 At the Phone Number Settings Page go to "Forward to number" section & edit the number.
You may have several options to choose from depending on the type of telephony you are using:
Main outgoing number - default number given by the system, which can be used before you connect your own number in Telephony > Connection > Connect to your number
Connected number
Rented number - number you have rented in Telephony>Phone numbers>Rent a number
Connected PBX - if you have several PBX connected in Telephony > Connection > Connect SIP PBX, these numbers will be available as well.
Important: the "forward to number" field change is available for the PBX connections only, this cannot be performed for rented numbers.
Also, you won't be able to see the current number used for calls forwarding in the edit form, because it is set by default.
Forwarded Calls Recording
If you have Save recordings of all calls option activated in your telephony settings, then the forwarded calls will be recorded. You can find the recordings under Telephony > Balance & Statistics > Itemized Bill > Record or under Company Drive > Telephony - Recorded calls.

In case the call has been forwarded to the employee's mobile phone but the client has hung up before the employee answered, the call details won't have the call recording available since the conversation hasn't started in fact.
Call Forwarding Doesn't Work
Call forwarding is in fact an outbound call. To be able to perform call forwarding you should have enough telephony credits either under Bitrix24 telephony or under your PBX provider (depending on the connection you have configured).
Forwarded Calls Caller's ID Is Displayed As My PBX number
When incoming calls are forwarded to mobile or fixed phone – the caller's ID number is displayed as your PBX number. Why? - We can forward the call you have already received only by making an outgoing call via your PBX. That is why your PBX number is displayed on the phone the incoming call has been forwarded to - as caller's ID. Telephony providers do not allow to 'substitute' phone numbers and call through your PBX under '3-rd party phone number'.