You can process mail in Bitrix24 in the Webmail section.
If you have a mailbox connected with Bitrix24, you'll get to the messages list. Otherwise, you'll be suggested to connect your email address.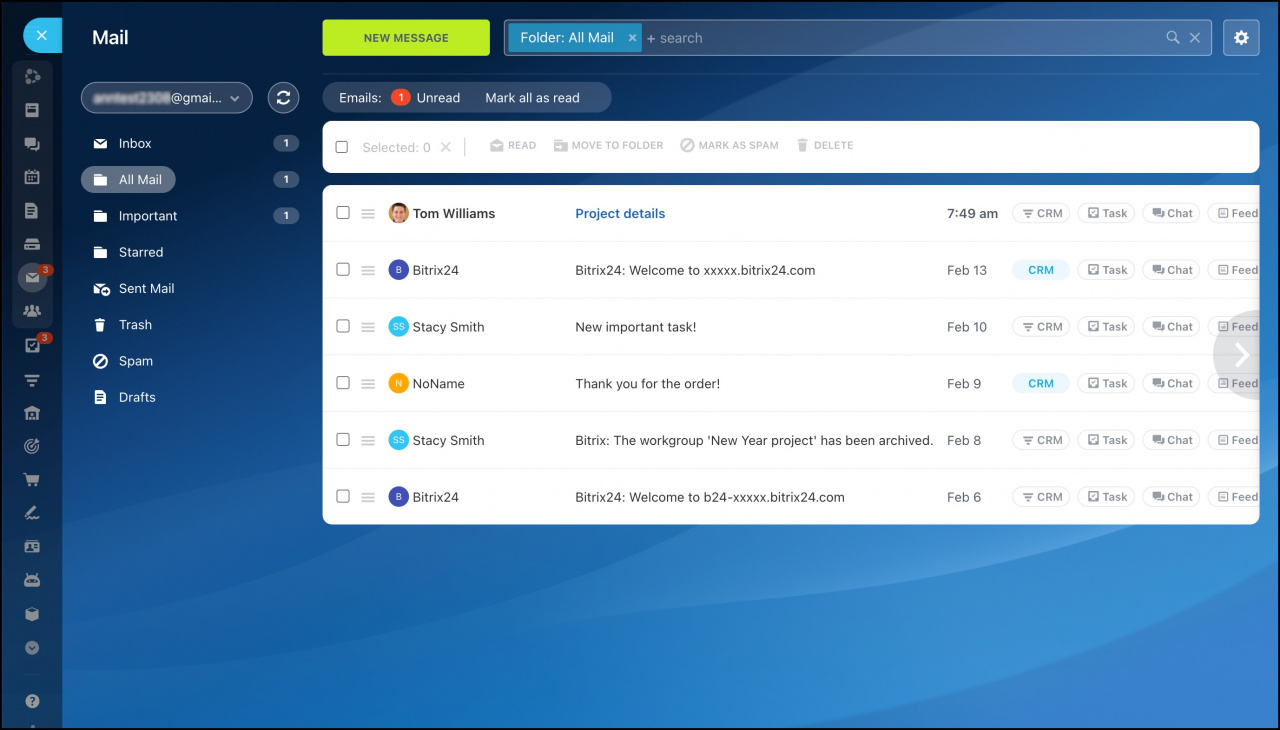 Filters and synchronization
You can filter messages by date, folder or even by the status read/unread.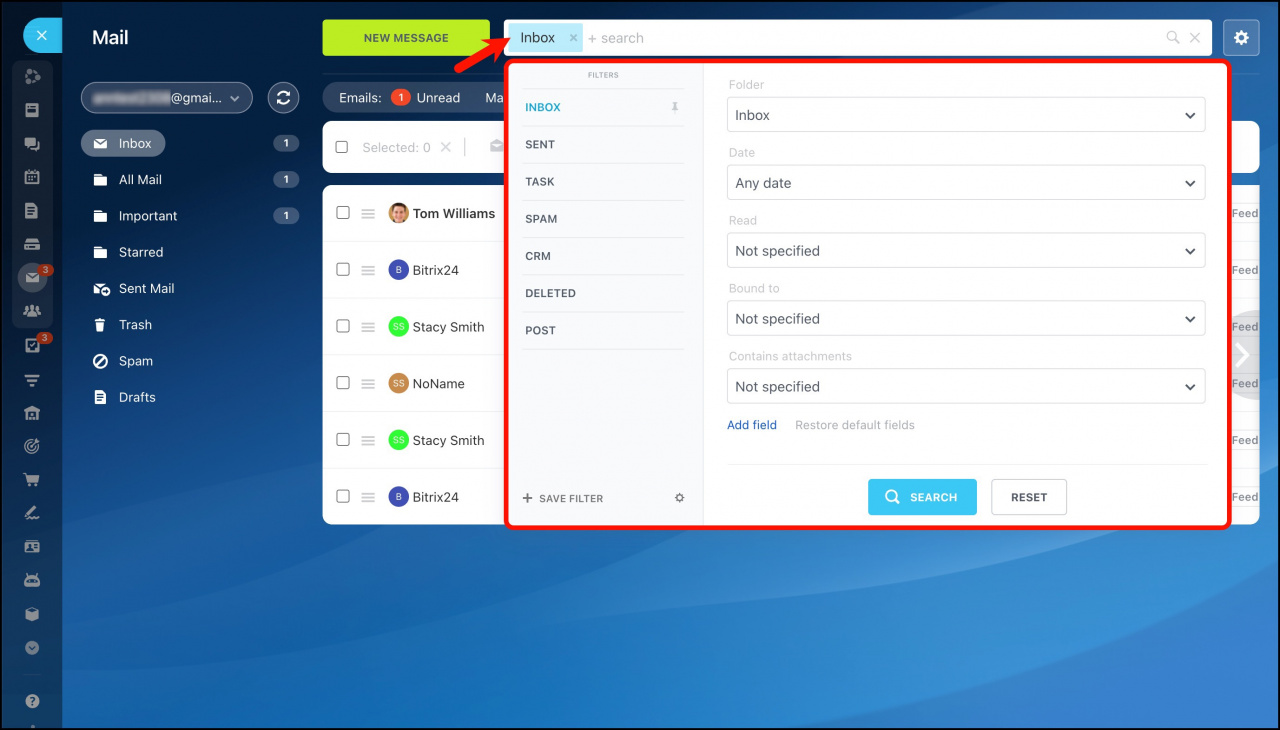 If there are custom folders created in the mailbox, they will be also displayed in Bitrix24.
Also, you can connect another mailbox and switch between accounts through the menu.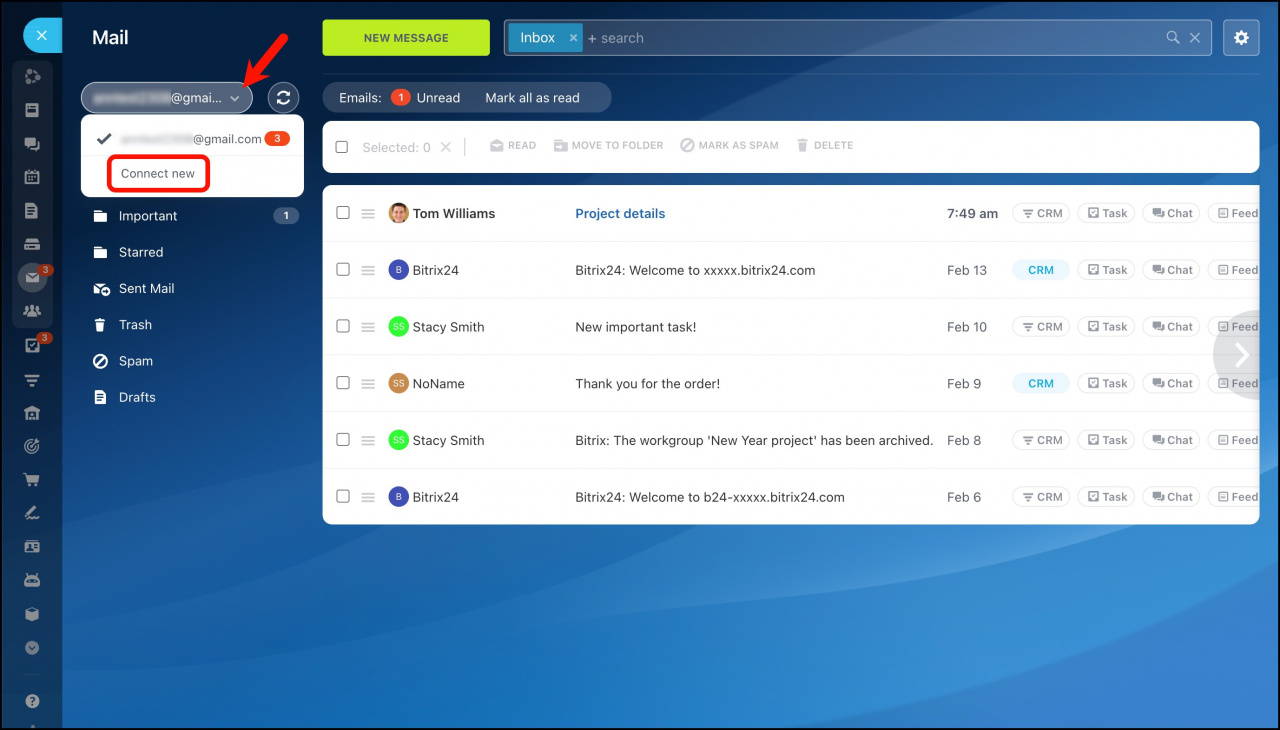 If you have several mail accounts connected, a red counter will appear above the current mailbox to indicate that there are unread messages in other mailboxes, so you won't miss important messages when working with several mailboxes.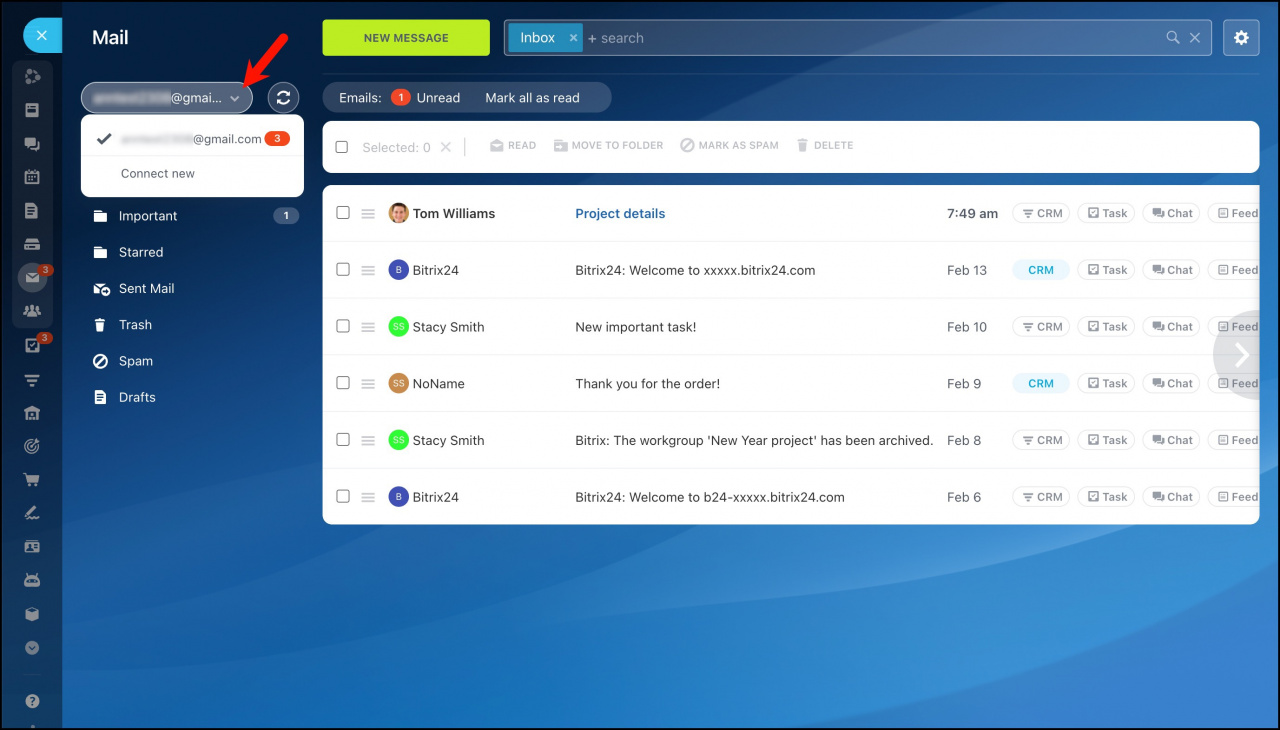 The synchronization button checks the mailbox.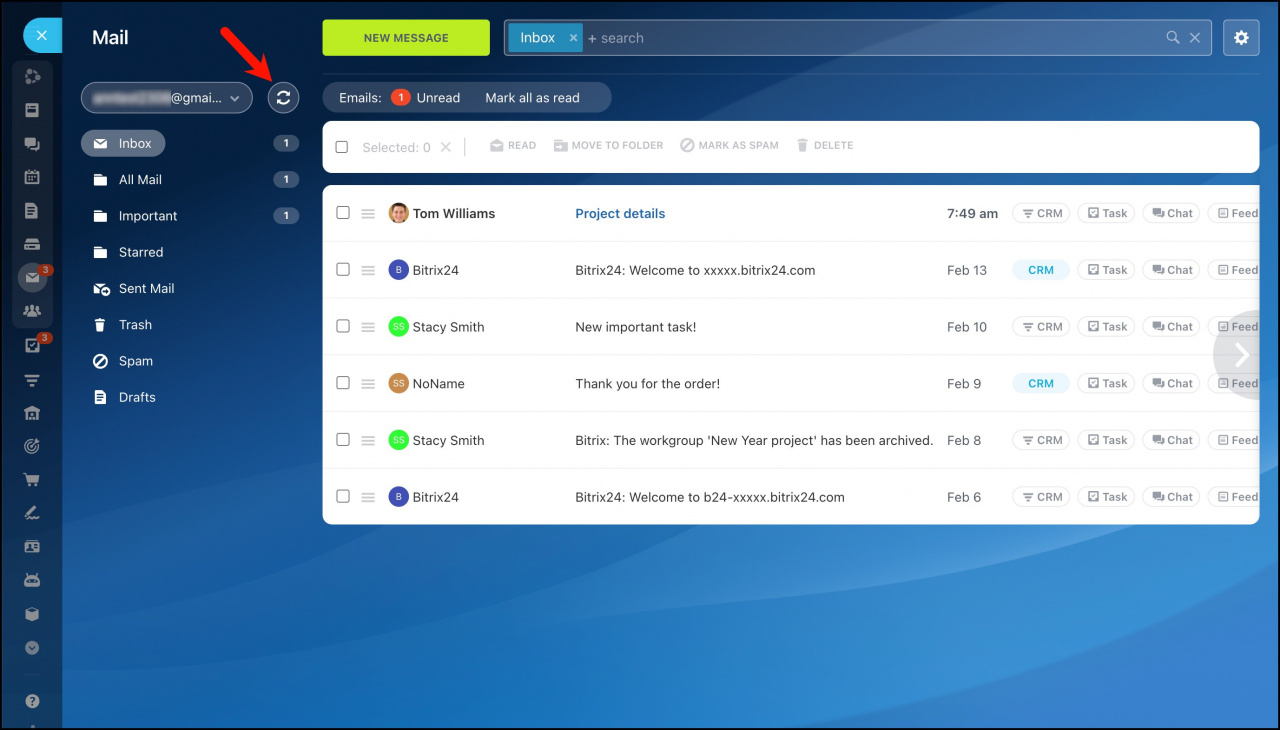 The mail is checked every 10 minutes if the mailbox owner is online.
The mail is checked every 10 minutes if the Route emails from existing clients to assigned CRM managers option is enabled and any user has logged into the account.
Your mail is checked once a day if any user has logged into the account and the Route emails from existing clients to assigned CRM managers option is disabled.
The mail is checked immediately when you open the Webmail section.
If none of the account users are online, the mail is not checked.
You can check your mail by clicking the Sync button.
Mailbox synchronization is based on user activity in the Bitrix24 account. That means that the mail is checked when a user is online and actively works in Bitrix24 (reloads pages, opens different sections, performs operations in Bitrix24 desktop or mobile app, etc.).
Having a collapsed tab with a Bitrix24 account in a browser is not counted as a user activity.
How to send an email
Click New message.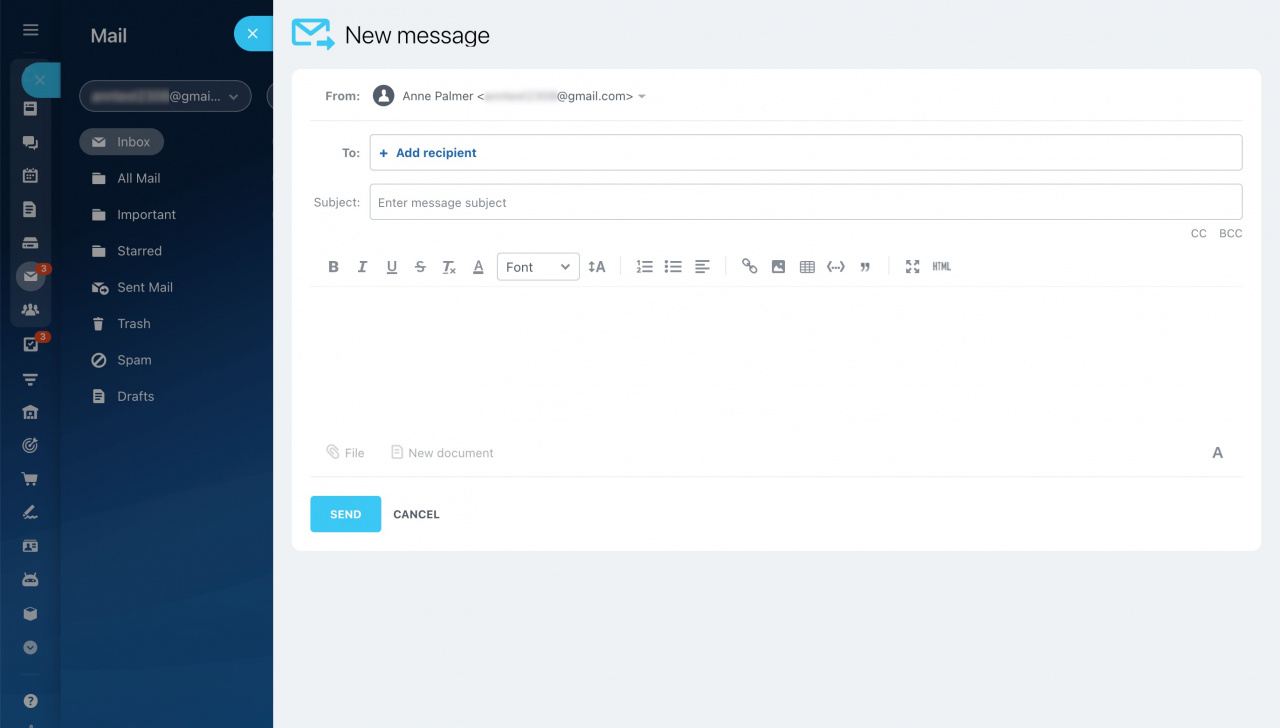 Add the recipient, subject, and the message itself and click Send.
How to process mail
Counters at the top of the messages list show the number of not processed and unread messages.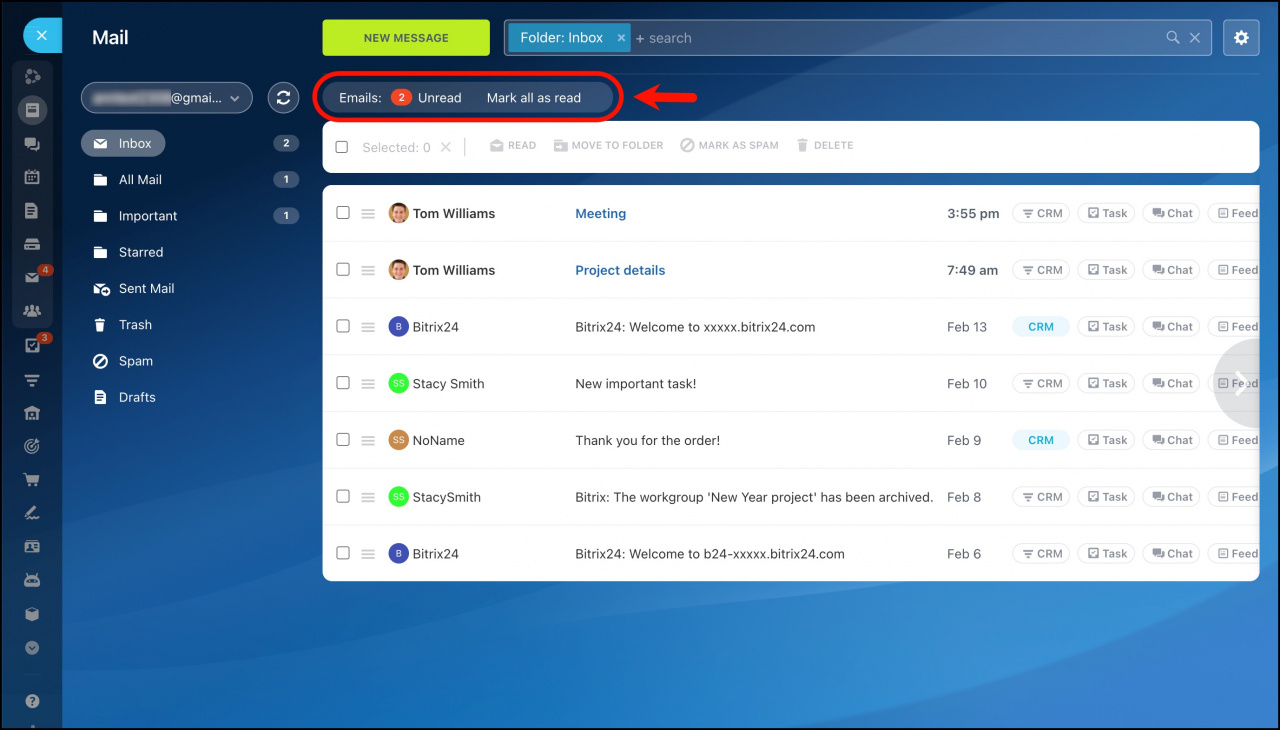 Not processed status means that the message is not linked to a task or CRM.
Unread emails are highlighted not only in bold but also in color. The counter shows you the number of unread emails.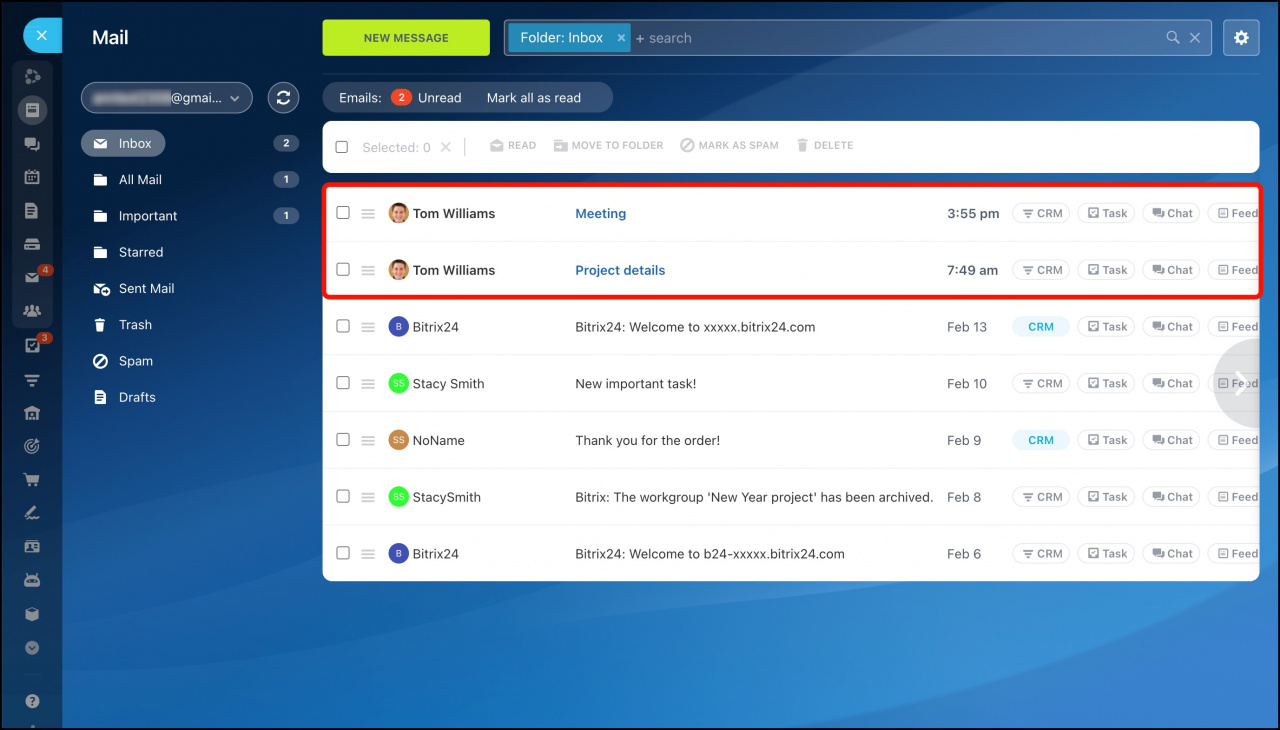 When a new message comes, a notification appears in the right upper corner.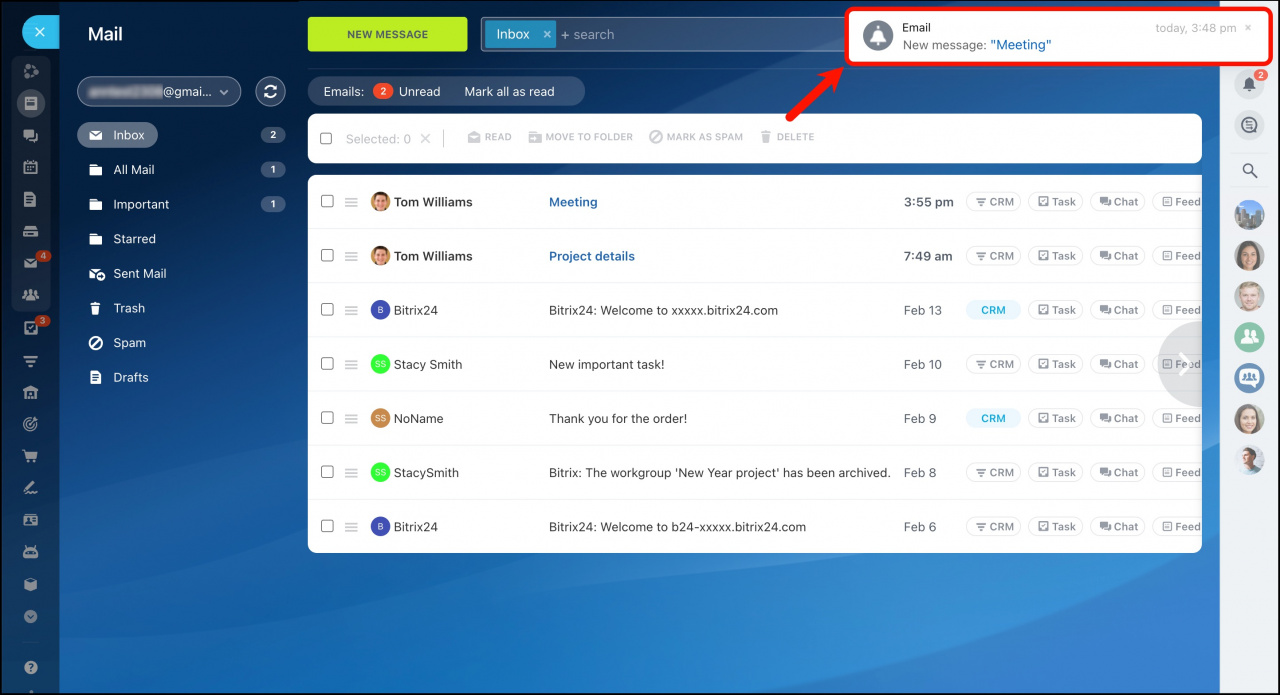 Now you can open an email in 3 ways: click the sender, click the subject line, or double-click the email.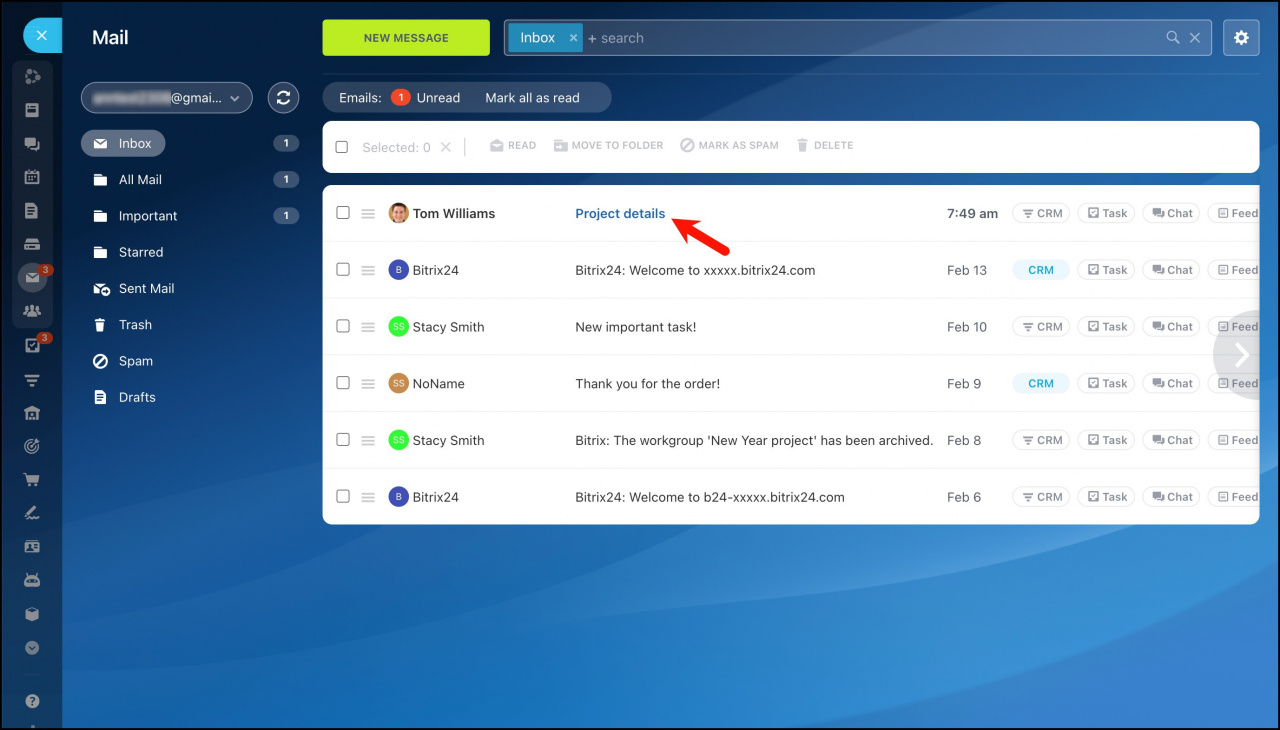 Create a task or an event from an email, save the email to CRM, or discuss it with colleagues in chat or Feed.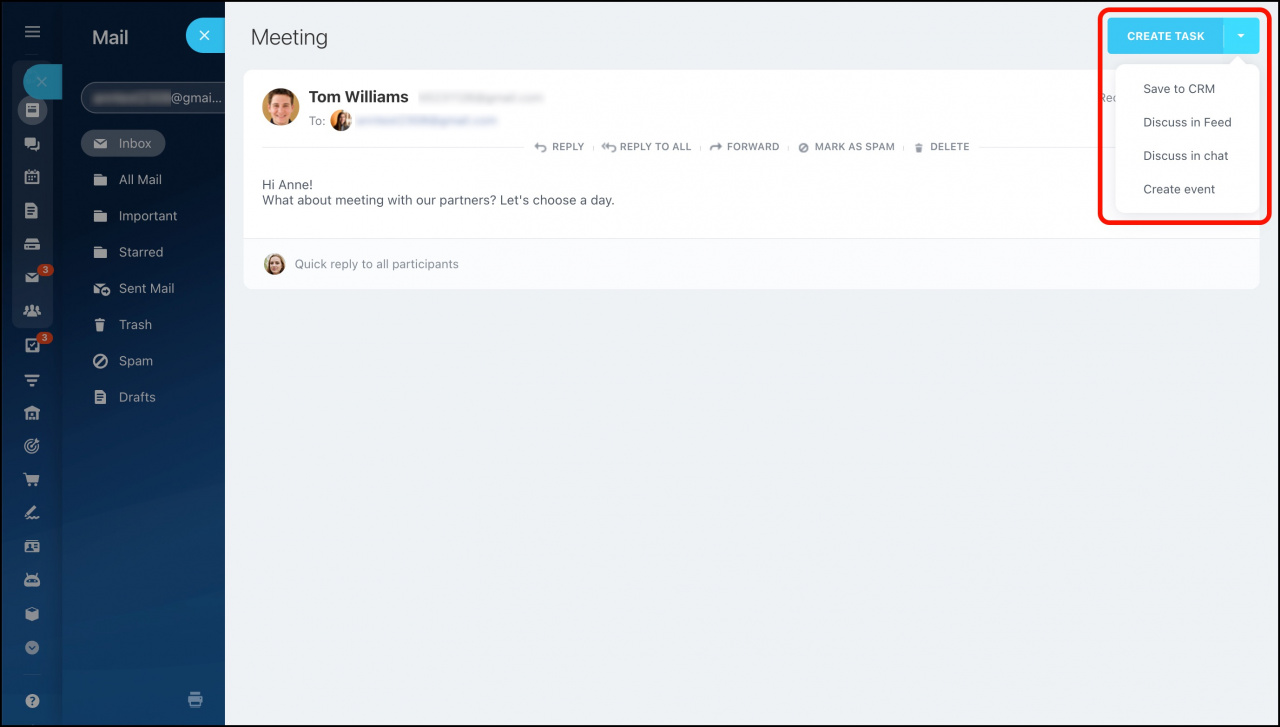 You can also reply, forward, or delete the message. Perform actions in the messages list section or through the menu.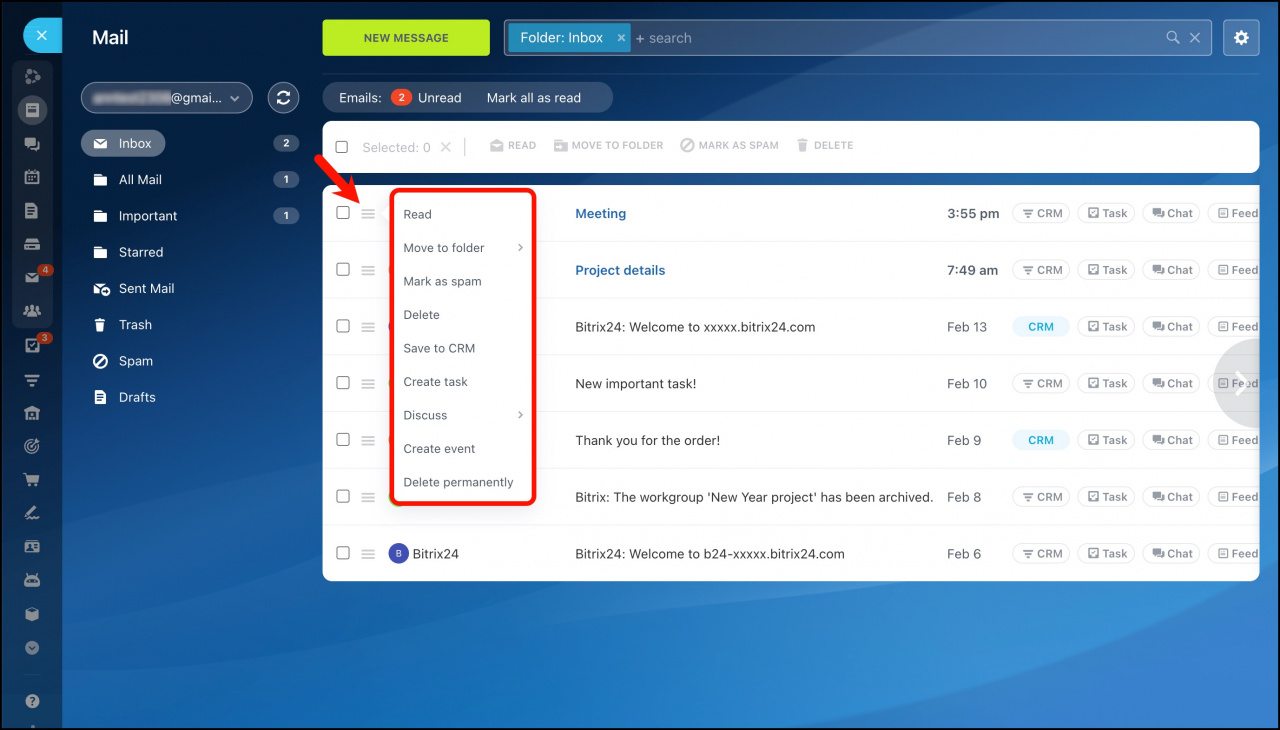 You can select an email in the list with a single click or with a checkbox.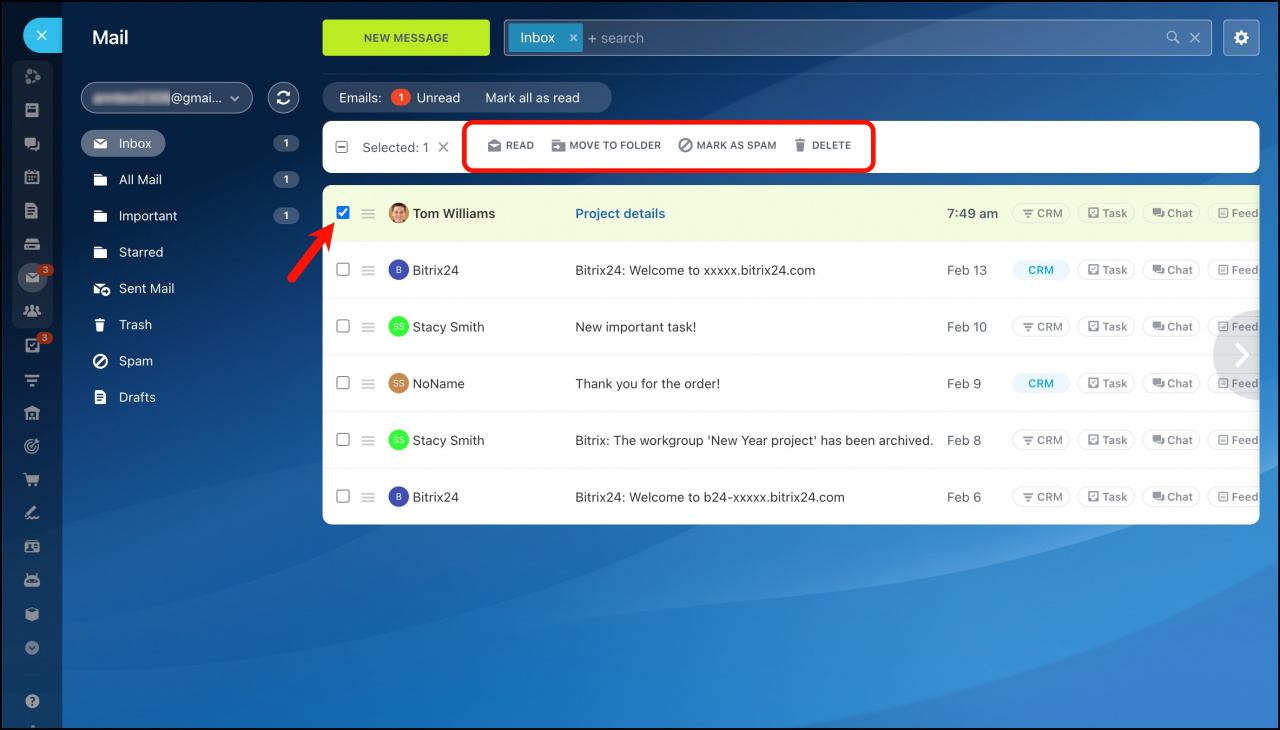 Available actions:
Read/Unread
Move to folder
Mark as spam
Delete
Save to CRM/Exclude from CRM (read more in this article)
Create task (read more in this article)
Discuss in chat or in Feed (read more in this article)
Create event (read more in this article)
Delete permanently
Recommended articles: