Open Channels is a new tool for your Bitrix24 account offering integration with famous social networks and other messengers. Open Channels consolidate various means of digital communications with your clients in Bitrix24.




What is it about

A fast and easy way to communicate with your clients in real-time. Simple as that - you will get all clients messages in your Bitrix24 chat. Conversely, your clients will receive your response via their message source – Facebook, Instagram, Telegram, Skype, Web chat and Viber. Just select a group of employees responsible for social media queries and new messages will be automatically dispatched between them with the help of Bitrix24 Open Channels.

How to start

1. Create a new open channel. Click Open Channels in the left-sided menu (click More if you don't see it in the menu). Access permissions for Open Channels can be configured by Bitrix24 account administrator under Open Channels > More > Access Permissions.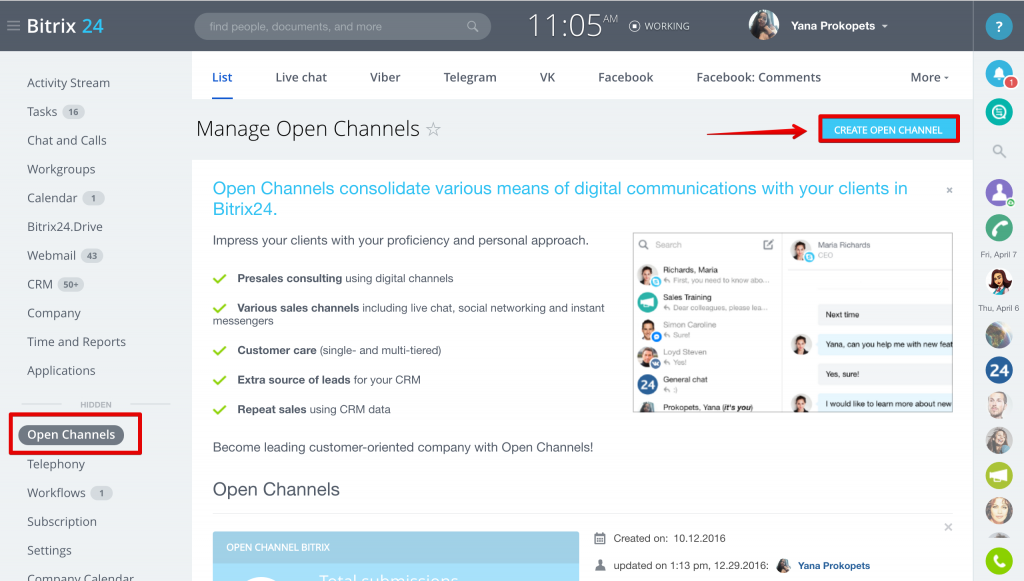 2. Connect communication channel. For example, let's connect a Facebook public page:

Important: You need to create your company Facebook page first (at Facebook) or use an existing one. You also need to be an administrator for this page.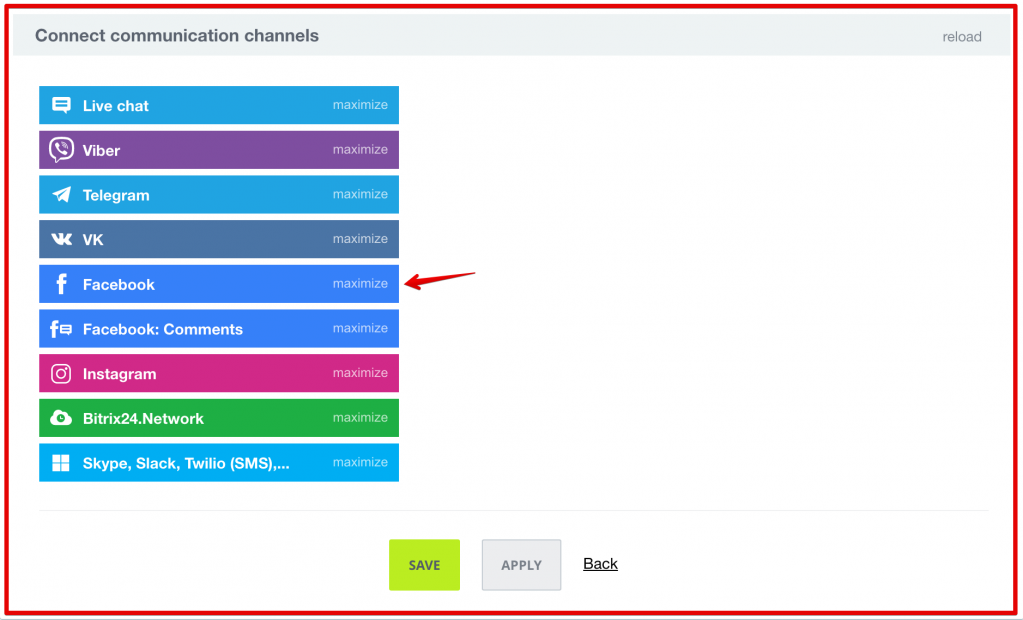 Follow Facebook authorization requests and allow Bitrix24 to access your page and send messages from this page.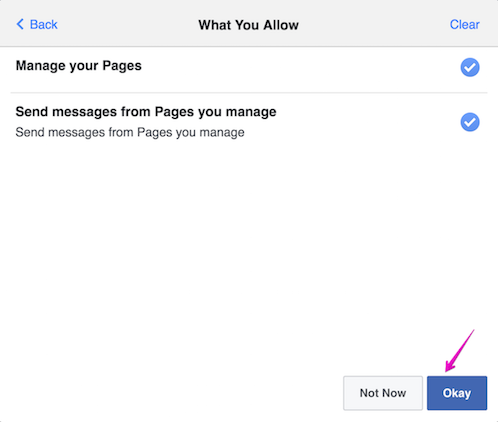 If you manage several public pages on Facebook, you can select which one you would like to connect. After you get the notification that your Facebook page has been linked, the process is finished – you can save Open Channel settings.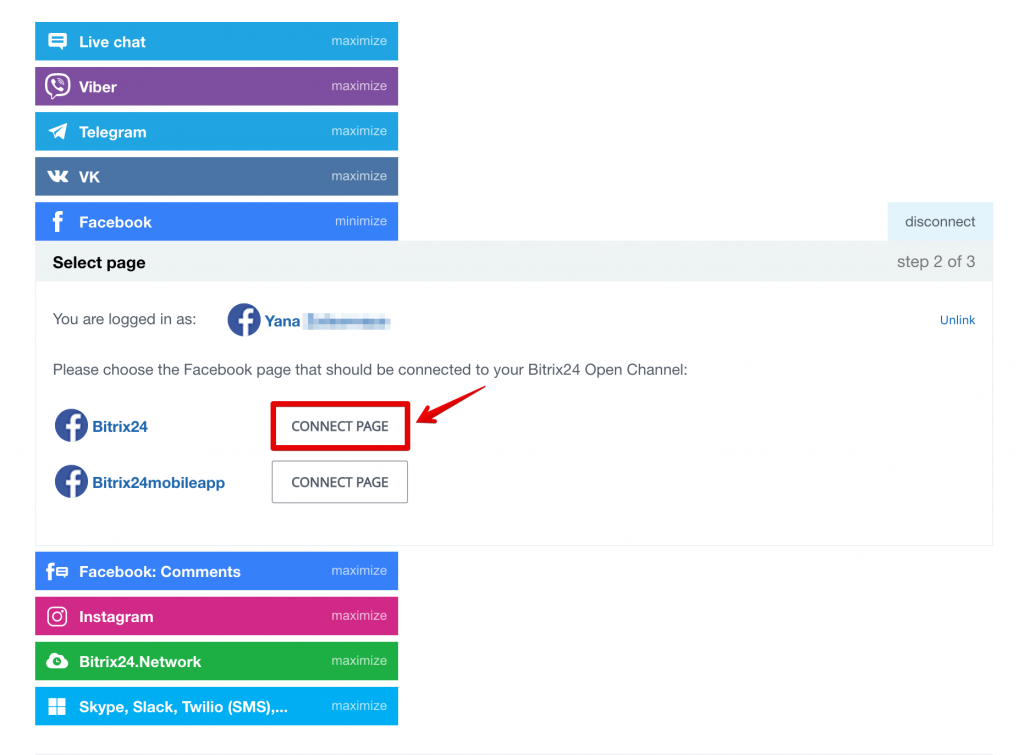 Enable, disable, edit or delete Open Channels
Connected open channels can be found on Open Channels page. Here you can always edit the open channel settings, enable\disable or delete connected channels.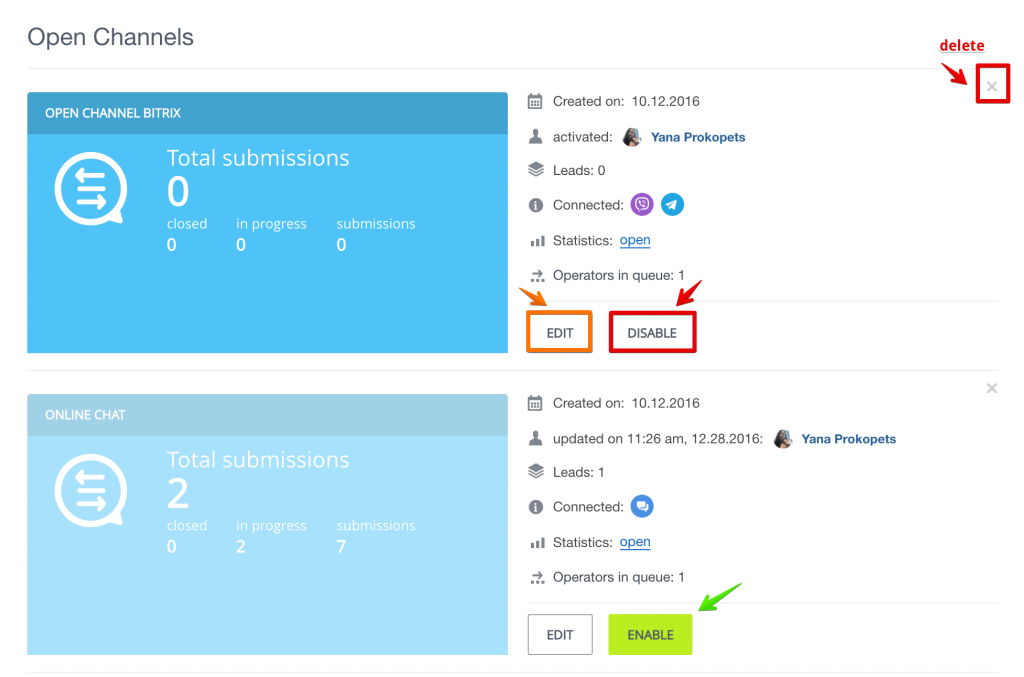 Number of Open Channels that you can connect to 1 Bitrix24 account depends on your account plan:
Free plan: 1
Plus plan: 2
Standard plan: unlimited
Professional plan: unlimited
Please note that while chat sessions are free and unlimited, only 100 sessions can be added to CRM under the Free plan.


How it works

Let's take the Facebook example. Your client sends a new message to your Facebook public page: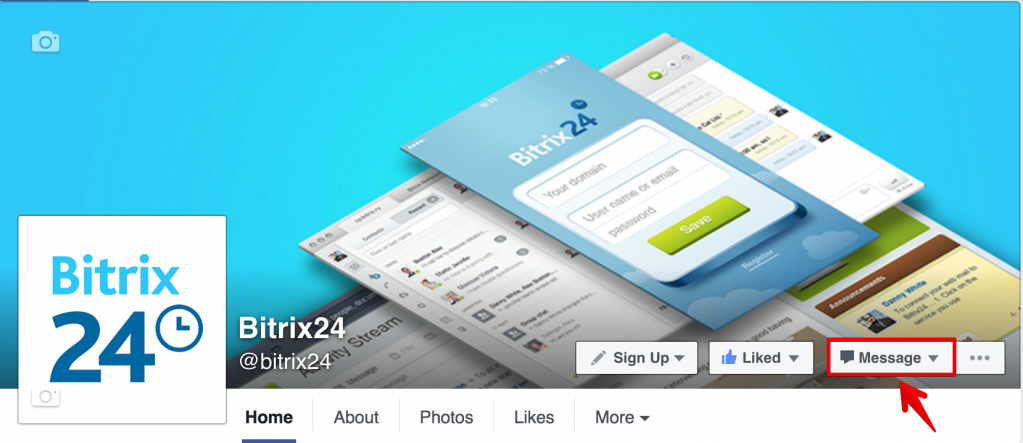 This message lands in your Bitrix24 chat and in case this is a new client – a new lead is created in your Bitrix24 CRM automatically. If this is an existing client the system will connect new chat conversation with the corresponding record in your Bitrix24 CRM.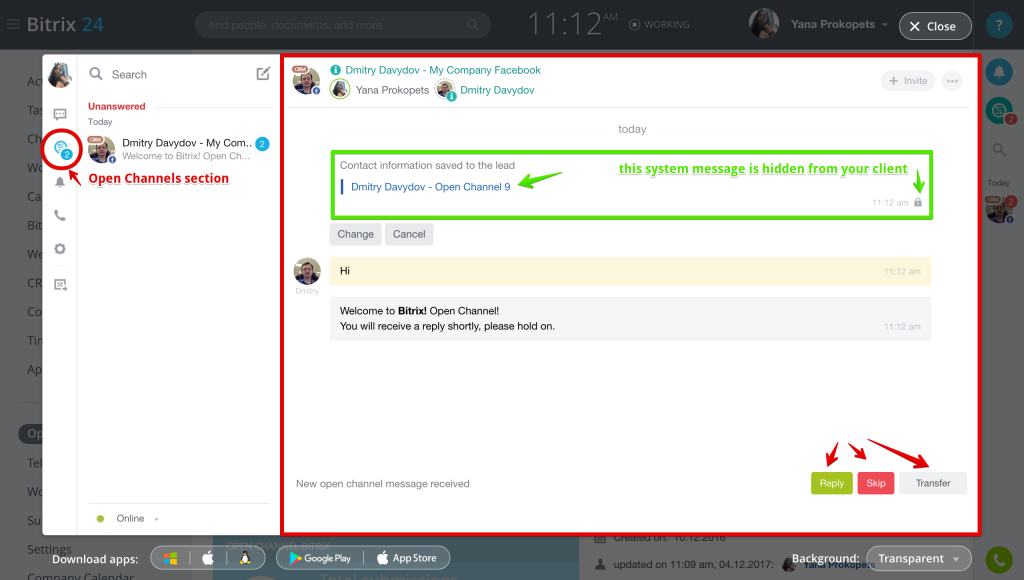 Here is how a message from the connected communication channels will look like in your Bitrix24: client name is marked with a different color so that you won't confuse it with an employee or extranet users. There will also be an icon of the connected communication channel (Facebook in our case).
All Open Channels conversations are now grouped under Open Channels section in your desktop app or web messenger.

An automated reply is sent to the client immediately (can be configured in open channel's setting).

Further, you have several options to choose from:


Reply: message will stay assigned to you.
Skip: message will be transferred to another user in respect to the configured users queue.
Transfer: you select the user whom the message will be transferred to. (Important – the transfer option is available for those users who have access for business tools).
When you click "reply", your client may already have received an automated message (if configured so in open channel's settings). You can type your own message after and send, it will appear in client's Facebook immediately: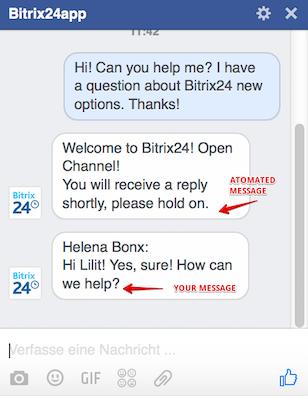 The client won't see a difference between an automated message and your actual reply.
Whisper mode:
in case you need your colleagues help or advise - invite other employees to chat and enable whisper mode – so that the client won't see your conversation with them: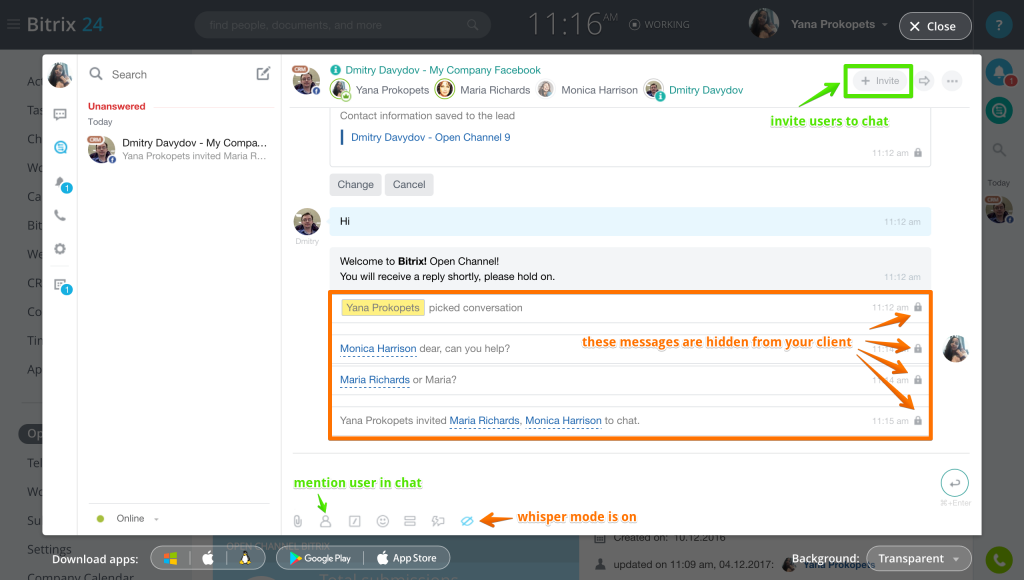 Quit whisper mode to continue communication with the client.
Invite users:
use invite option to select users you want to invite to the chat. There is an option if you'd like them or not to see the chat history.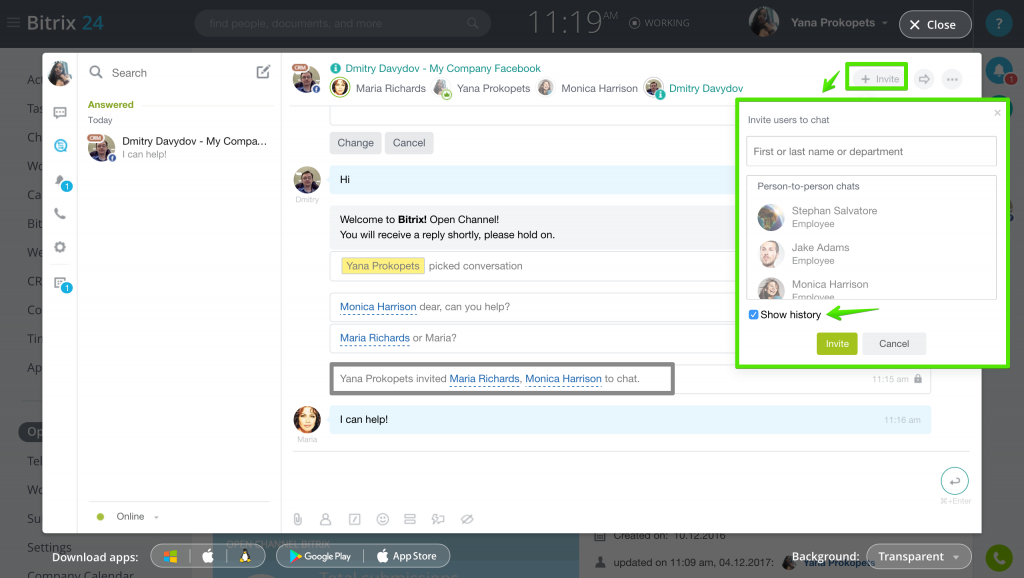 Pin conversation: Additionally, you can pin the conversation – it prevents the dialog from auto-closuring in case your client is not replying (note: pin conversation time is limited).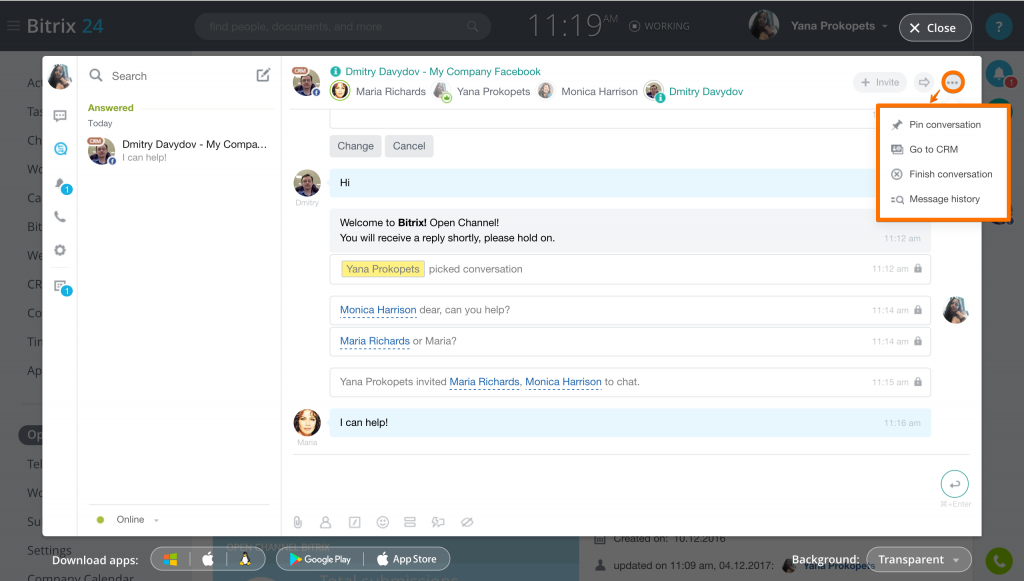 Chat history: all chat history is saved. You can open it at any time.
Go to CRM: this options opens connected CRM record (automatically created lead or existing client).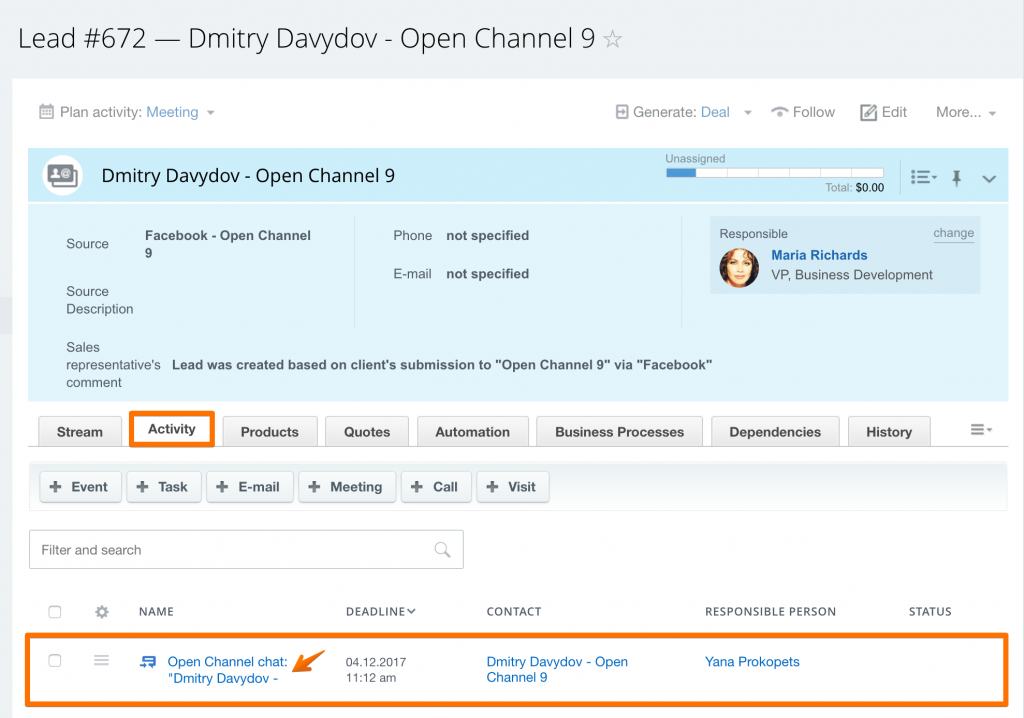 Chat history will be attached to the corresponding CRM record in your Bitrix24 CRM (open Activity section) - you can open it or continue conversation.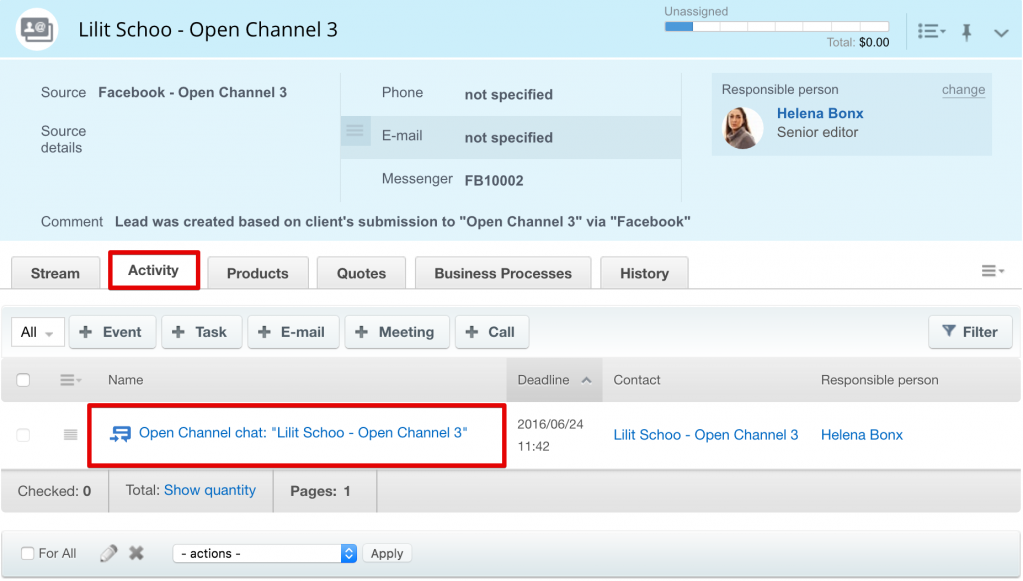 Transfer: alternatively, there is a possibility to transfer conversation to another user even if you've started already (this user will receive full chat history):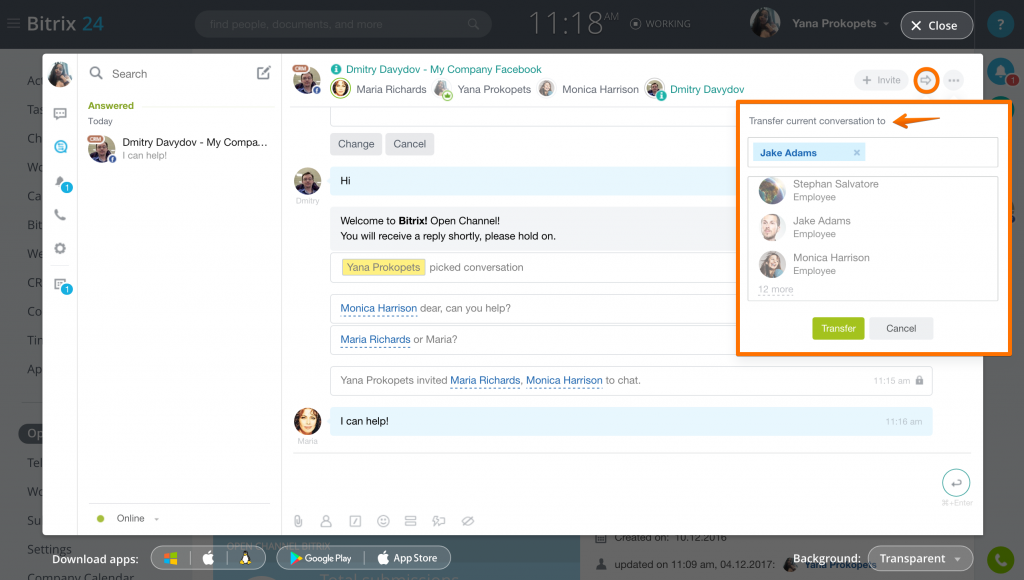 When you finish the conversation, there is also an option to send an automated message to the client (this can be configured in Open Channels Settings > Configure Actions).

Mark As Spam
Unsolicited or undesired Open Channel conversations can be now marked as spam. This can be done both before and after you have started the conversation.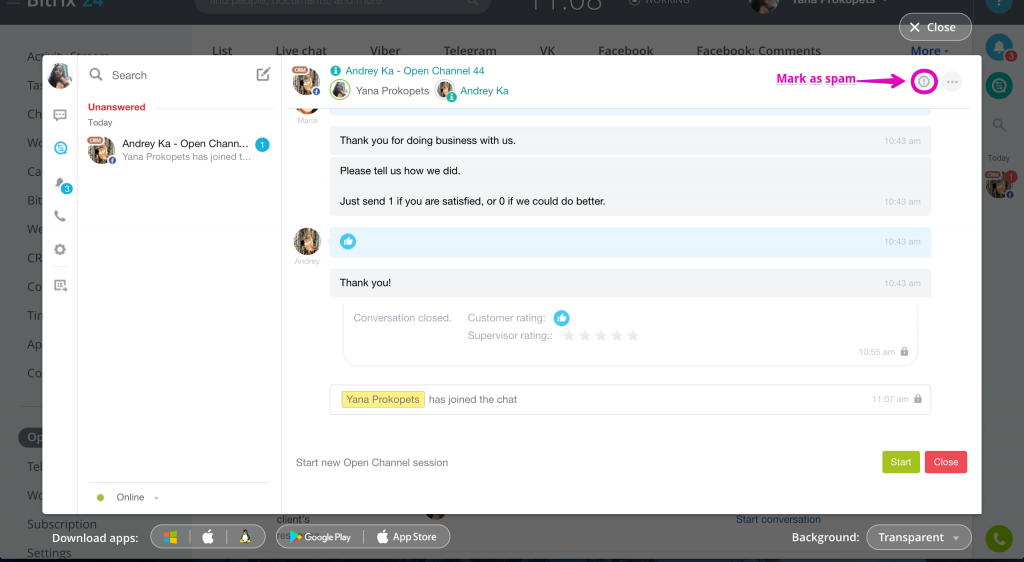 Rating
Clients are now able to rate conversations (chat sessions) by either upvoting or downvoting. This feedback mechanism allows companies to quickly identify agents who provide poor service and fix the problem before it gets big. You need to have Bitrix24 Plus plan or above to take advantage of this feature.
This option can be configured in Open Channel settings page.
Supervisor rating - is very similar to the previous one, but the feedback is provided by the supervisor and is based on a five-star system. Because in Bitrix24 supervisors have access to all chat sessions, they are able to rate conversations by other agents for accuracy, speed and helpfulness. You need to have Bitrix24 Standard plan or above to take advantage of this feature. This option can be found in Open Channels Statistics.
Facebook Comments Integration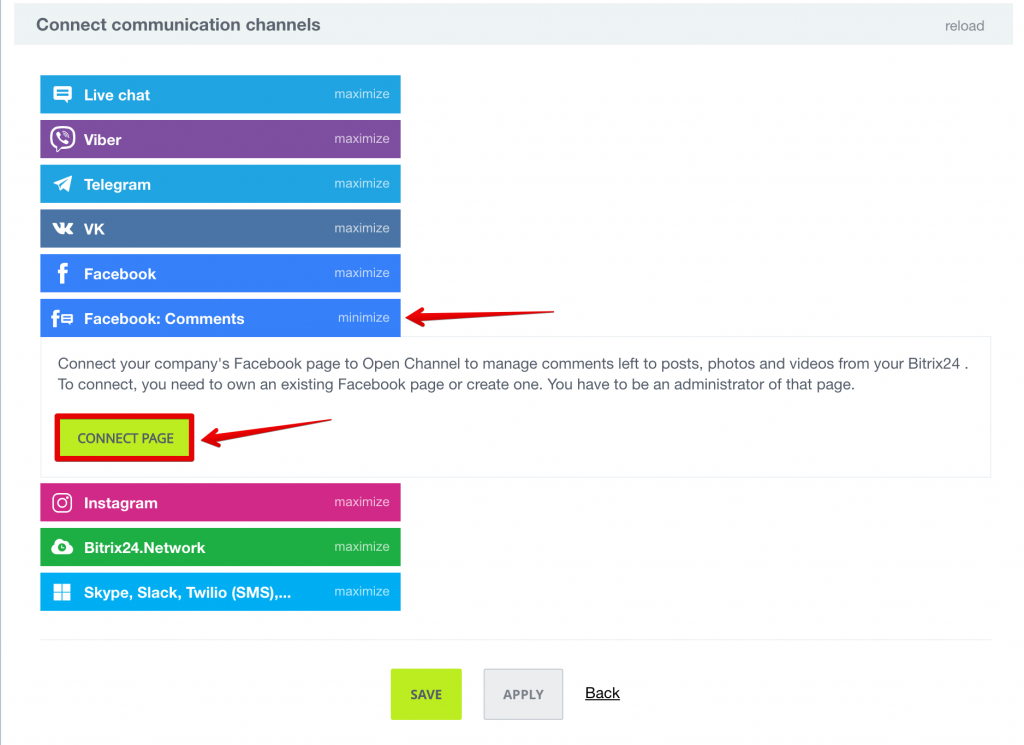 Bitrix24 Open Channels support Facebook comments as well. All comments left on your Facebook page and their authors can now be stored in your Bitrix24 CRM and your employees can work with these comments from Bitrix24 interface.