You can connect Facebook with Bitrix24 open channel and reply to Facebook messages in Bitrix24 Messenger.
Step 1
In Contact Center section, click Facebook.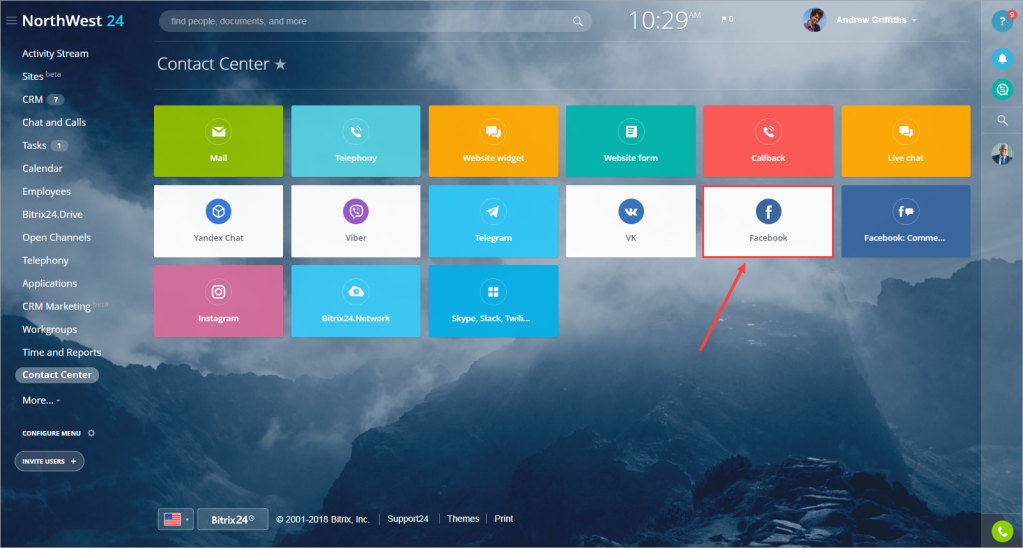 Step 2
Select the open channel which you want to connect Facebook with and click Connect.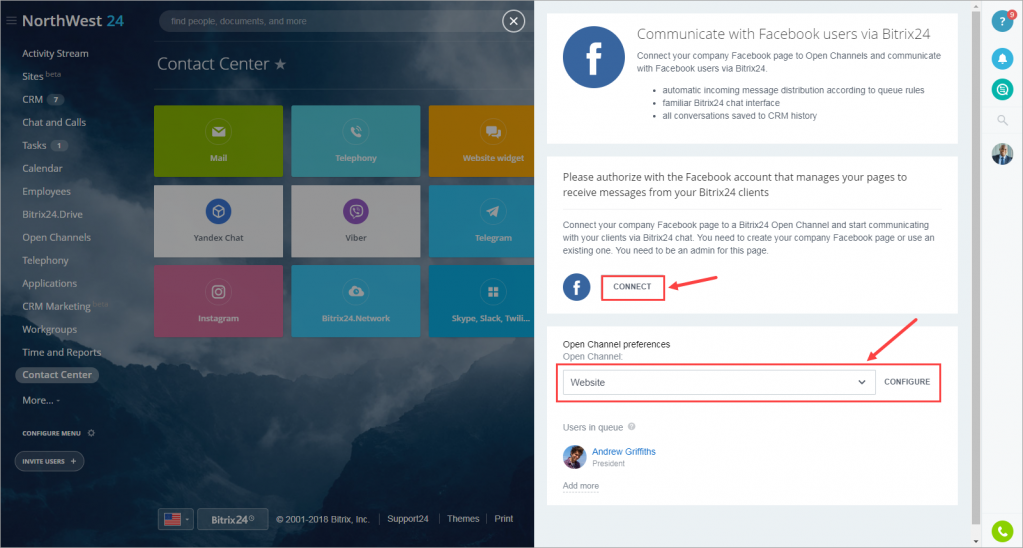 Step 3
Log in to the Facebook account.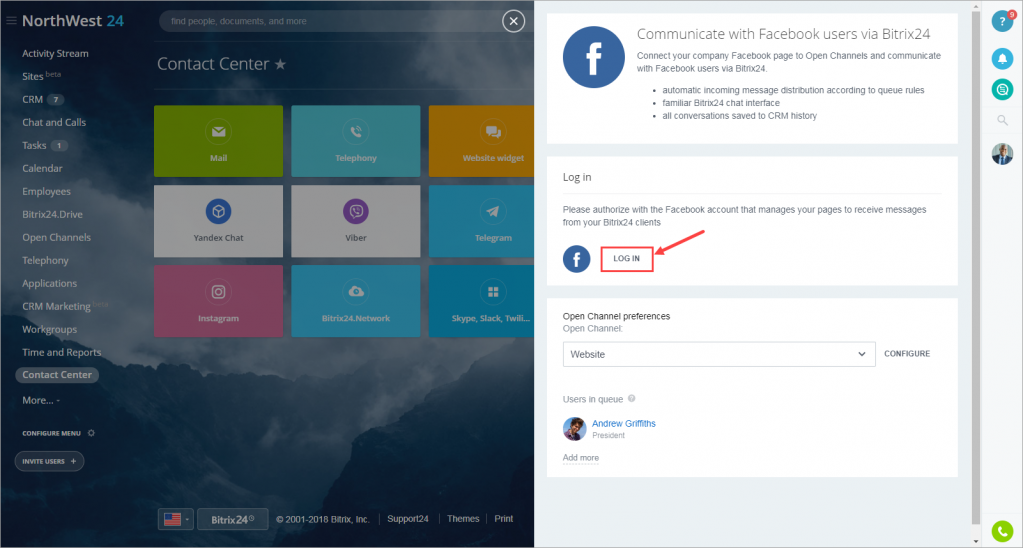 Only Facebook page administrator can connect it with Bitrix24. If you don't have a Facebook page, click
Create
.
If the Facebook page is not displayed in the list of available pages when connecting it to Bitrix24, you have to configure access permissions to this page manually. Read more in the article - Fix problems with connecting Instagram and Facebook to Bitrix24.
Step 4
Select a Facebook page to connect with Bitrix24 and click Connect.
Done! Facebook is connected.
How it works
Your client clicks Send message on your Facebook page.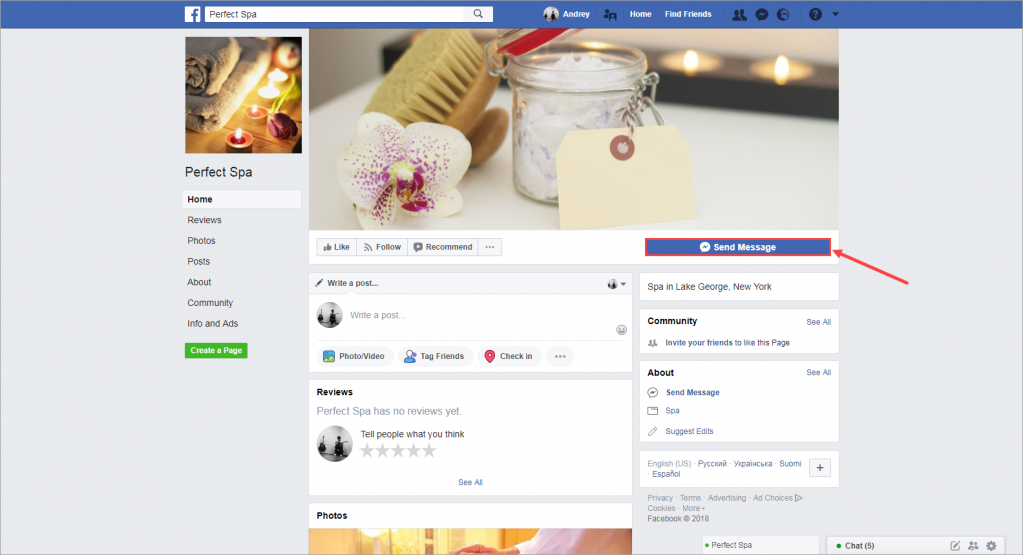 This client sends you a message via Facebook Messenger.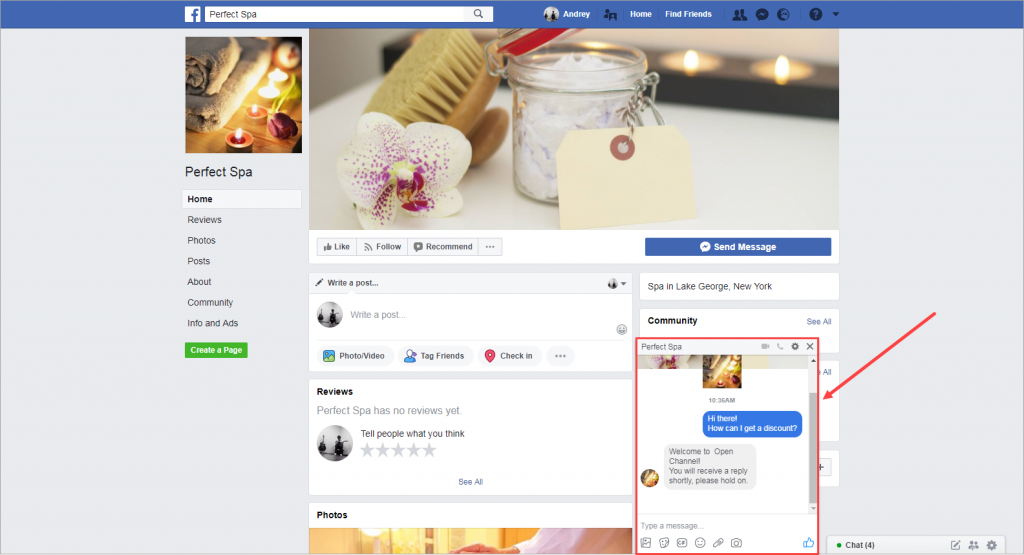 You'll receive only Facebook messages in Bitrix24 Messenger, not Facebook posts or
comments
.
You get this message in Bitrix24 Messenger and reply to your customer there.
If there is no such a client in your CRM database, a new lead is created (automatically or manually, depending on which option you've enabled in the open channel settings).
Important details:
The operator should reply to the client's messages in Facebook within 24 hours after the last message of the client. After 24 hours, the operator's messages will not be delivered to the client.
When Bitrix24 administrator connects Facebook page, the page the administrator is currently logged in to gets connected.
When you disconnect the connected Facebook user in open channel settings, the Facebook page gets disconnected too.
When the connected Facebook user loses his/her administrative rights, this Facebook page gets disconnected automatically.
You can connect Facebook Page only (not groups!).
Any Bitrix24 administrator can connect/disconnect Facebook pages if he/she has access permissions to Open Channels settings.
You cannot connect the same Facebook page with open channels in several Bitrix24. Only the one that was connected last will work.
If your message contains more than 640 characters, it will be sent split.
You cannot edit/delete messages in this open channel.
Recommended articles