Bitrix24 Account administrator can link company email address to Bitrix24 CRM using email tracker to automatically create Leads, Activities and Contacts from incoming/outgoing mail. Other users can link personal emails only.
Just open CRM section > More > Settings > Email > CRM Email Accounts (company email).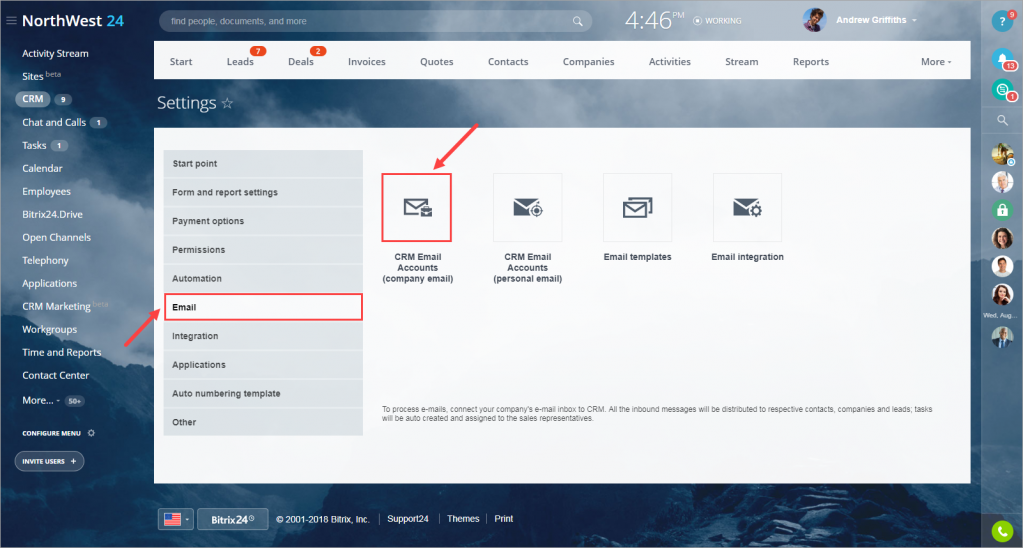 Most of the settings are the same as for the personal email tracker, excepting Check for new e-mail every and Lead and contact distribution queue.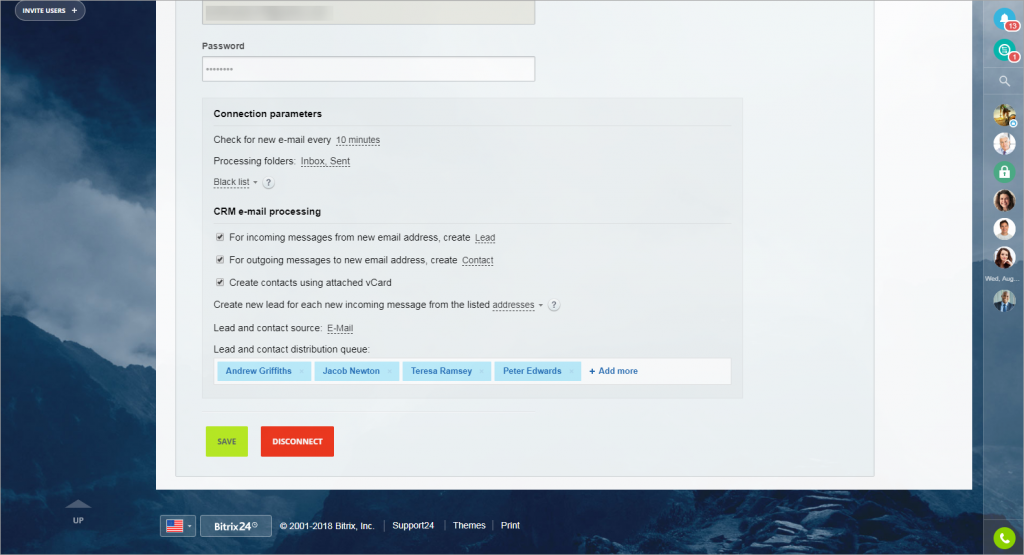 Specify how often your company mailbox will be checked for new email and folders that will be checked.
Check for new e-mail every 2 or 5 minutes options are available to Professional plan subscribers only.
Add email addresses to the Black list so they wouldn't be processed and collected by email tracker and wouldn't be added to CRM.
Then select what to create for outgoing and incoming mail - Leads or Contacts. By default, leads are created for incoming mail, and contact are created for outgoing mail. Also, you can specify email addresses for which Create new lead for each new incoming message rule will be used.
Finally, select Lead and contact source and specify Lead and contact distribution queue. Lead distribution is carried out evenly and exactly as enqueued: first lead to the first responsible person in the queue, second - to the second, etc.
Now just click Save to enable email tracker.
How it works
There are two possible scenarios:
If you get an email from unknown sender (email address is not found in CRM). In this case, a new lead is created:

The name of the lead is the subject of the message and the message itself is displayed in the comments section.

A new activity is added to the responsible persons's activities list automatically.

Incoming mail status (read/unread) is synchronized with activity status (completed/not completed). If you delete an incoming email without opening it, a corresponding activity is deleted automatically. If there is a lead created just for this activity, it gets deleted as well.

If you get an email and sender is found in your CRM (sender is already added to CRM as a lead or contact). In this case, a new activity is added and linked to a contact (or a lead).

The name of the activity is the email subject. The message text is added to the activity description.

Also, the new email is displayed in the comments section of the contact.
Recommended articles