Workgroup is a virtual community of users created for discussing and solving of defined issues, goals and tasks.
By uniting users into workgroups for collaboration and projects, all communication and data related to a given project or team is organized in a single place.
Projects in Bitrix24 are based on Workgroups. The main difference is that project has dates. Tasks in projects cannot be set outside the project dates.
You will be able to access all your project data easily by opening the corresponding workgroup.
You can keep track of all project activities & react to any group discussions in real-time.
Invite your clients, partners, outsource help or any other external users to your Bitrix24 workgroup. All workgroup functionality is available for external users, but these third parties are able only to see the workgroups which they are a part of.
Groups have individual permission settings and roles such as moderators, owners, and members. New members are added via invitation.
After starting the service, you can create an unlimited number of workgroups which can be edited, deleted or moved to the archive later.
How do I transfer a group into a project and back?
Invite Users To Workgroup
You can add workgroup members during new workgroup creation or add them later from
Actions
>
Invite to Workgroup/Project
.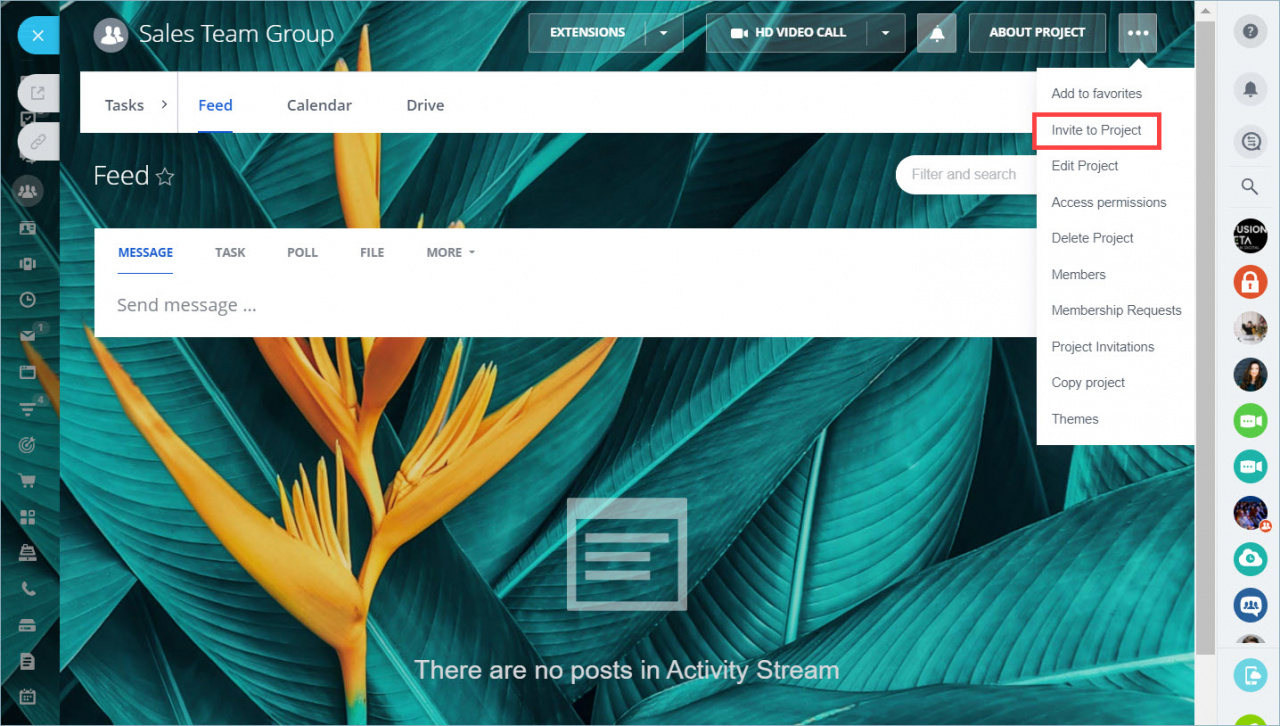 You can invite individual users and entire departments as well. Select employees you want to add and click Send invitation.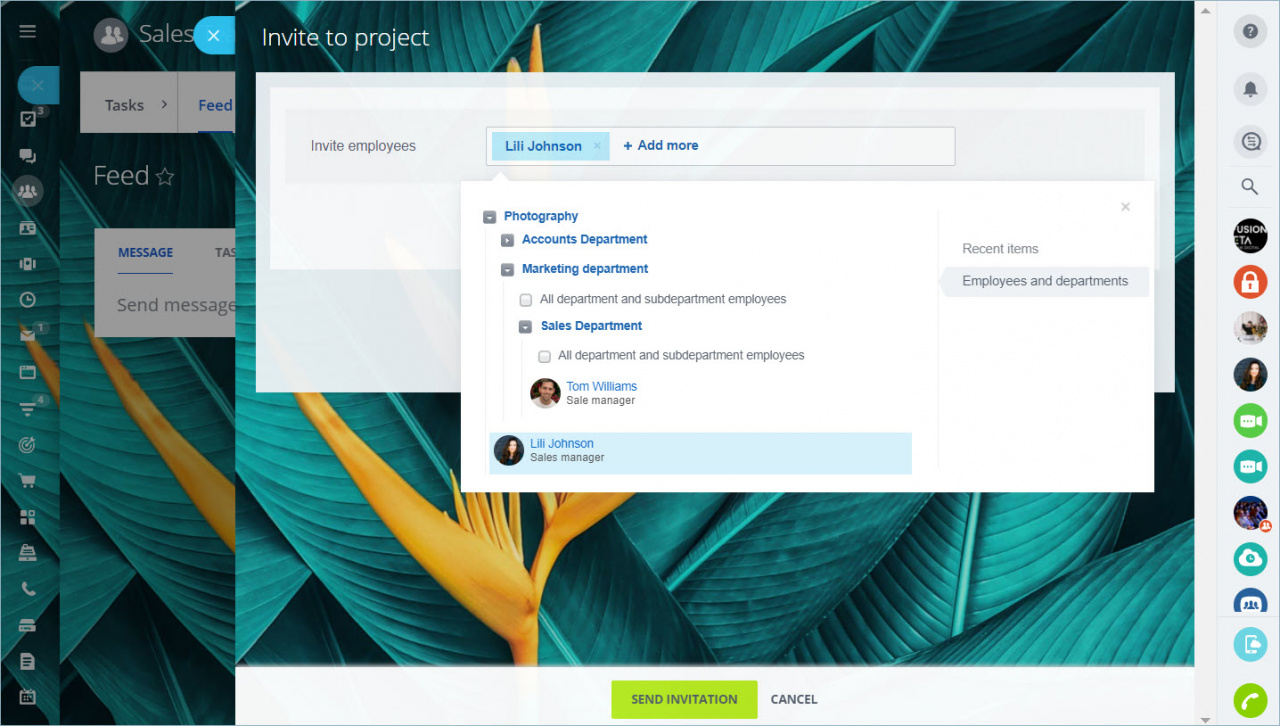 You can cancel invitations you have sent.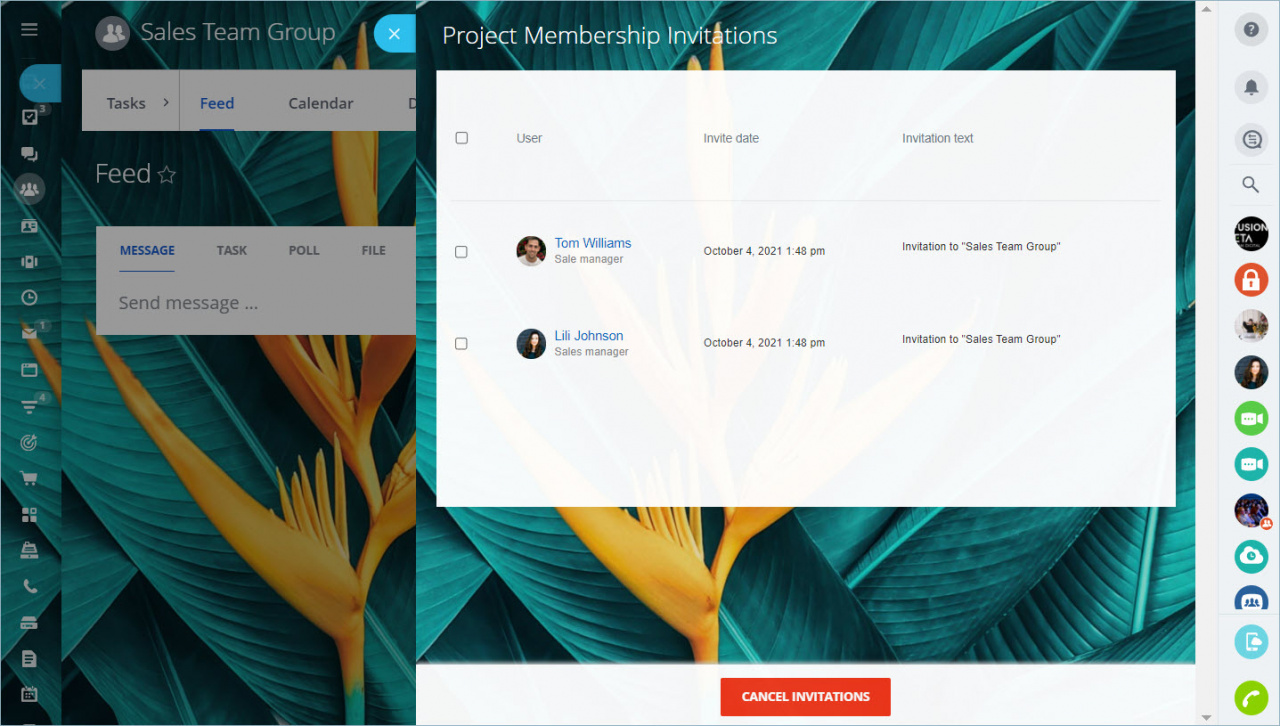 Group members page will show:
Moderators: users who can moderate the group (edit group settings, invite users to group, delete users from the group)
Departments: departments that you've invited to join the group.
Members: individual users who have confirmed workgroup invitation (joined the group already).
Connected users: users of connected (invited) departments. When you invite the whole department with all its employees, the department employees will be automatically added to the group & will be shown here.
To be able to invite external users to the workgroup (by email) please go to Actions > Edit Workgroup > enable Available on Extranet option.
To manage requests to join a group or a project, select Actions > Membership Requests.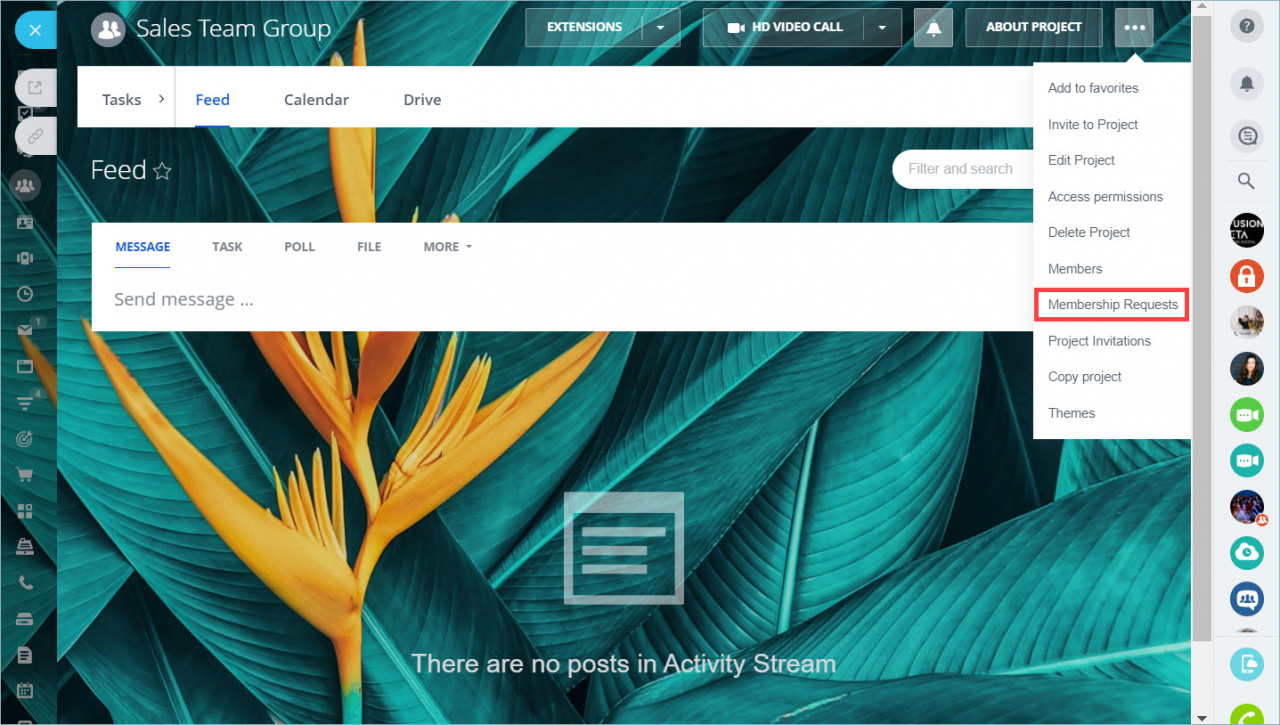 Workgroup features
Besides main features there are several additional options available:
Hide tasks mode: hides task notifications from the workgroup Activity Stream.
Notifications tab: enables\disables workgroup notifications.
Group Actions tab: open main workgroup settings & options.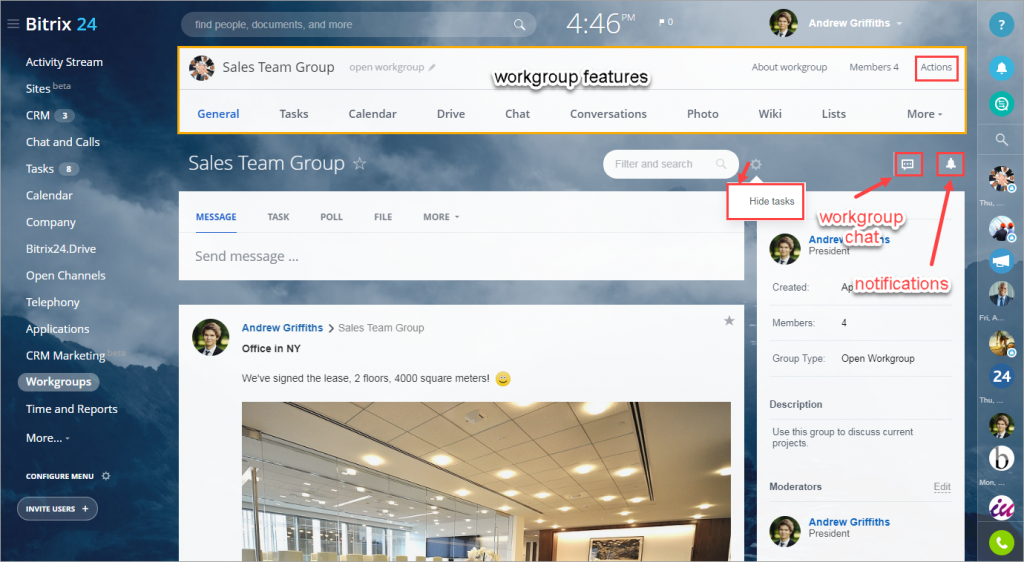 Who can create workgroups
Any Bitrix24 account user can create a new workgroup.
The group owner can set who can invite users to the group in
Actions > Edit Group > More.
There are 3 choices available:
group owner only
group owner and moderators
all group members
Main Workgroup Parameters
When you create a new workgroup the system will show you a workgroup parameters window. You can edit these parameters at any time later inside the workgroup
Actions > Edit Workgroup
:
1. Description: add workgroup name, description & image. Also, you can change the workgroup owner and select moderators.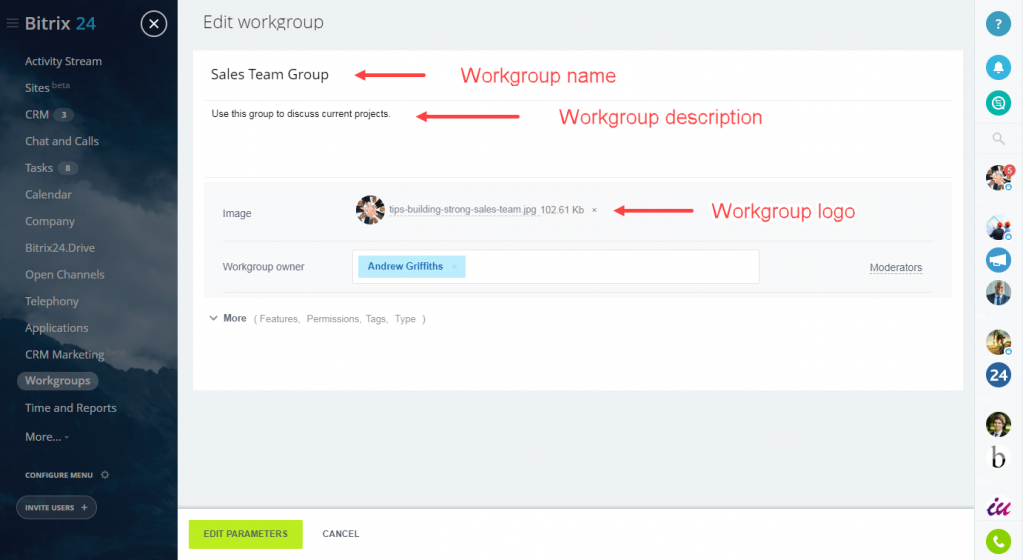 Click More to access additional settings.
2. Features: you can select which tools will be available inside your workgroup.
3. Users allowed to invite to the workgroup: you can set who can invite users to group here.
4. Tags: add tags to make workgroups searching much easier.
5. Workgroup type:
Visible to all - makes group visible to all account users.
Open group - any account user can join the group.
Archived - allows to move workgroup to archive, group is not deleted & all data is saved.
Available on extranet - extranet users will be able to use this workgroup.
Project - converts the workgroup into project.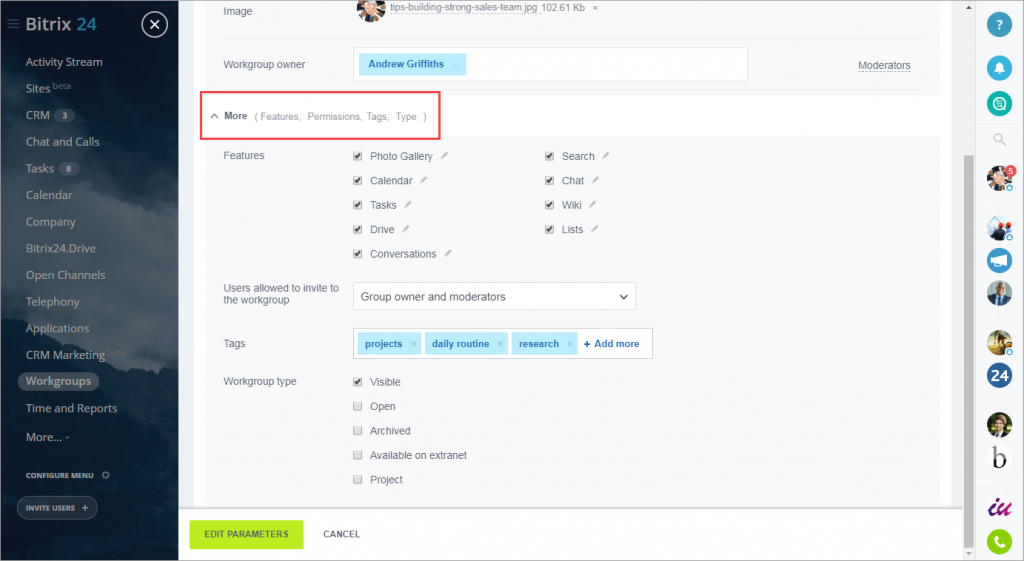 Feature Settings
You can configure workgroup features (tools) under
Actions > Access permissions.
Please note that
access permissions for workgroup
Drive & Calendar & Lists
should be configured individually inside each tool.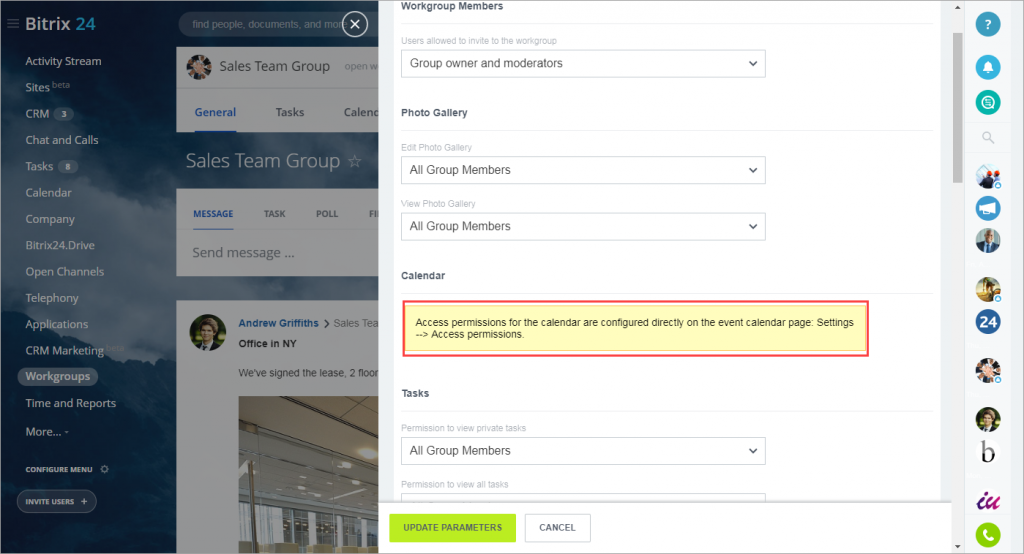 Who can create groups (projects)?
Any company employee can create groups and projects in the cloud version of Bitrix24.
In Bitrix24 On-premise, the ability to create groups and projects is controlled in the administrative interface > Groups in the user profile.
The number of groups and projects in Bitrix24 is unlimited.
You can create unlimited number of workgroups. Existing workgroups can be moved to Extranet or
archived
.
Recommended articles