Email Campaign is a great tool, but it also may result in spam and unsolicited messages. No one likes useless emails, thus Bitrix24 came up with spam preventing system.
How it works
Each email sent from Bitrix24 Email Campaign has Unsubscribe & Report Spam options.

How to add the "Unsubscribe" link
By default, the "Unsubscribe" link is added to the
Footer
block.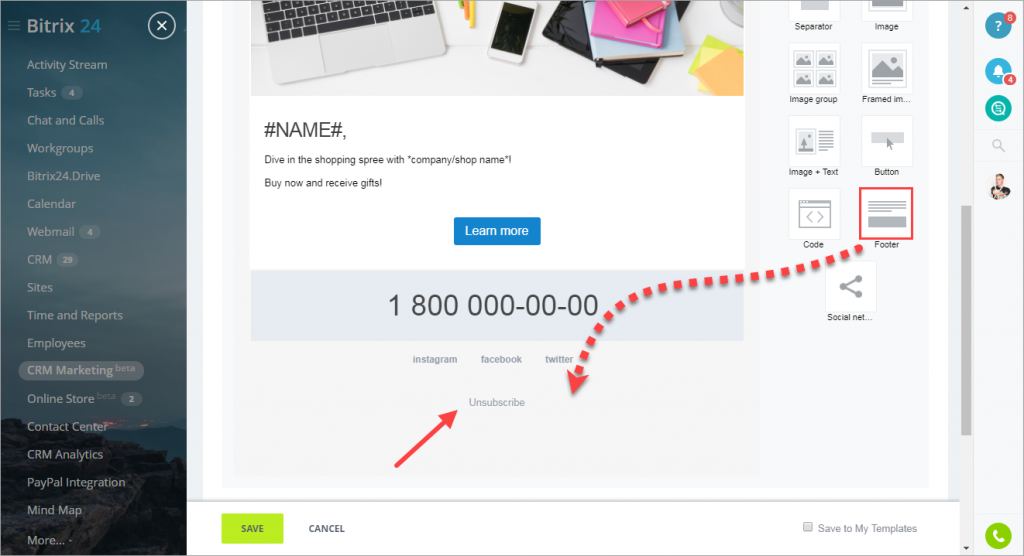 Just drag this block to the place where you want to add this link.
If you use your custom HTML template, use this code:
You are receiving this message because you have previously registered with us as our customer. Please <a style="color: #0054a5;" href="#UNSUBSCRIBE_LINK#">click here</a> if you no longer want to receive emails from us.
In Bitrix24 there is an internal email campaign spam system rating that depends on the number of received spam reports. This means, if your email campaigns result in a big number of spam reports from recipients - the number of email messages available for your Bitrix24 will be restricted or even blocked.
If the number of emails sent from your Bitrix24 is growing with no spam reports from recipients, then the number of email messages you can send from your Bitrix24 will be growing.
By default, your email restriction is 1000 emails per day, to start with. You can always check your current restrictions at CRM Marketing > Settings.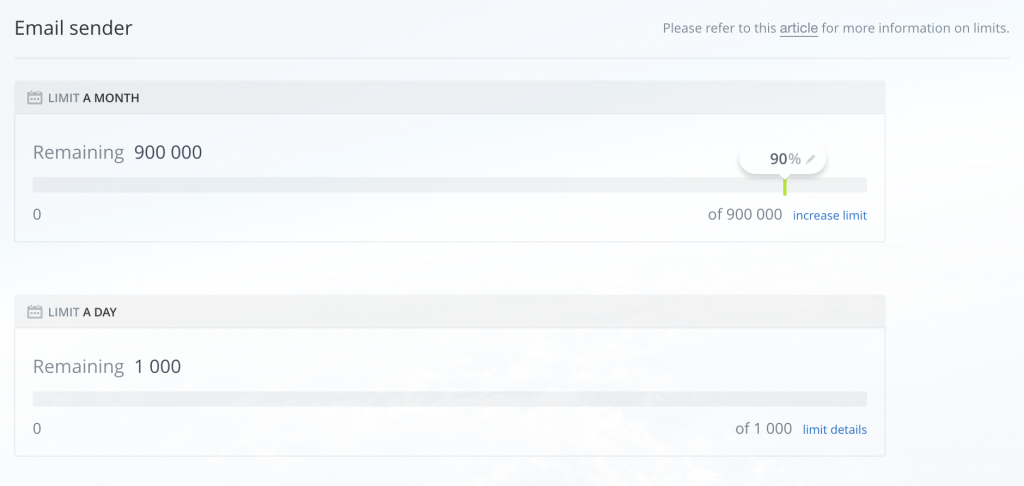 Important! Monthly email limit is determined by your Bitrix24 plan. Please refer to
pricing page
for details.
How to increase the daily limit
For example, your daily limit is 1'000 emails. But your monthly limit is 1'000'000 emails (1'000'000/30=3'333).
To increase the daily limit, you need to create a campaign with 1'500 emails. 1'000 emails will be sent, 500 will be added to the queue. The limit will be increased the next day, and these 500 emails will be sent. So, to increase the daily limit, you need to exceed the current limit.
If there are too many spam reports, your daily limit may not increase or may even decrease.
Additional limitations
Emails can be not received due to different reasons: server error occurred or email address doesn't exist. Such emails are considered to be "errors".
If you have too many "errors", the daily limit will not be increased.
That's made to prevent increasing limit by sending emails to non-existent email addresses.