Taxes ( VAT or Location-dependent tax )
When you are generating an invoice, you can include taxes which can be set up here CRM>Settings>Start point>Taxes. The Bitrix24 CRM supports two types of taxes:
Location-dependent tax (sales tax). This tax is applied to the total order amount. The tax rate depends on the customer location.
Item-dependent tax (VAT). This tax is specified and applied to each item individually.
To choose between these, click
Settings
in the context panel and the following popup will appear:
Here is how to create a
Location-dependent tax
:
When using an
item-based tax (like VAT)
, a tax rate can be assigned to each individual product in the creation/modification form of that product:
But you can also set the
VAT
parameters in the Invoice or Quote creation form:
Add payment details to Invoice or Quote form
You can add your bank details, contact information, company logo, stamp, signature images & upload invoice background in CRM>Settings>Payment options>Payment systems. You already have here several pre-made payment templates for Invoices (Bank Transfer), Quotes and Cash. You can either edit existing templates or create new ones with the help of "add" tab: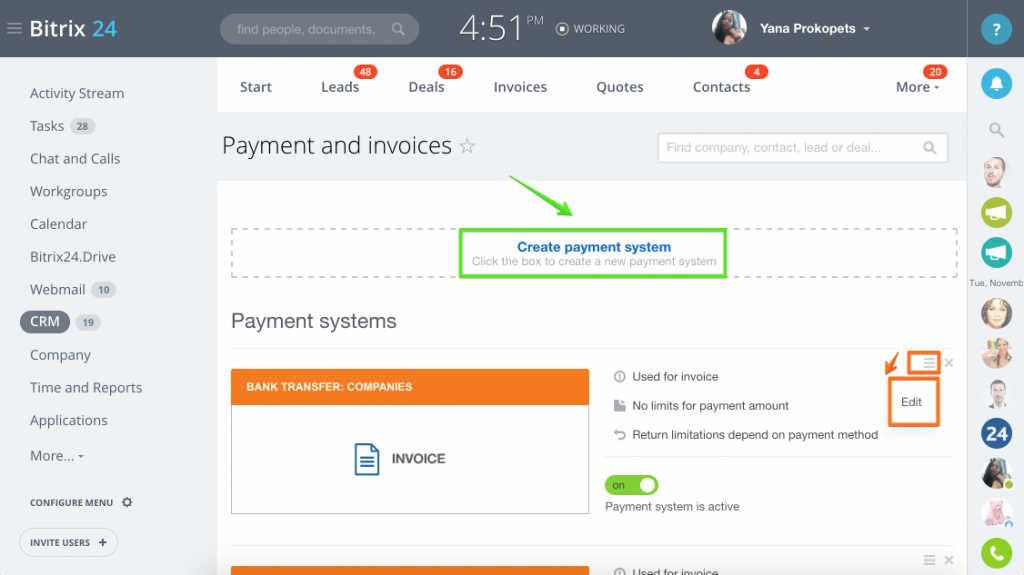 For new payment templates - choose client type (e.g. Company) and payment handler - Invoice or quote and localization (e.g. Invoice English):





In the "Handler parameters" you can add payment details, attach logo, background and signature files:


Set Invoices or Quotes numbering
Invoices & Quotes numbering can be set in CRM>Settings>Other>Other settings>Invoice numbers (or Quote IDís):


If you'd like for your customers to pay your invoices online, read this
Online Payment Options
.