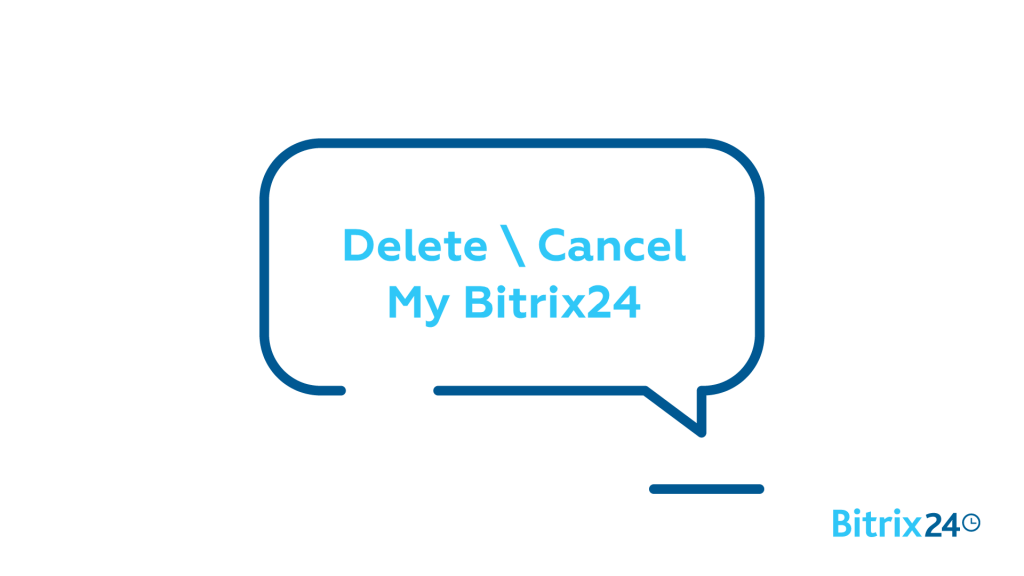 I want to delete my Bitrix24 account
If you decide to stop using your Bitrix24 and would like to have it deleted, you have several options:
If you are a free Bitrix24 plan subscriber, you can simply stop using your Bitrix24 (none of your account users should log in) and the account will be automatically deleted after about 50 days of inactivity.
If you are Bitrix24 paid plan subscriber, please follow these steps to cancel your subscription first. When your Bitrix24 account is downgraded to free plan, you can stop using it and it will be automatically deleted after about 50 days of inactivity.
Please note: when your Bitrix24 account is deleted, your Bitrix24 Network ID (your login & Bitrix24 Network profile page) stays so that you can come back in future & create new Bitrix24 accounts.
My Bitrix24 account has been deleted
We automatically delete free inactive Bitrix24 accounts in case none of its users have logged in for more than 50 days. Please note – this does not affect Bitrix24 paid plans subscribers.
Here is how this happens for free accounts:
We send you a warning email that your account may be deleted due to inactivity.
After about 40 days of inactivity your Bitrix24 account is deactivated and you can't access it anymore: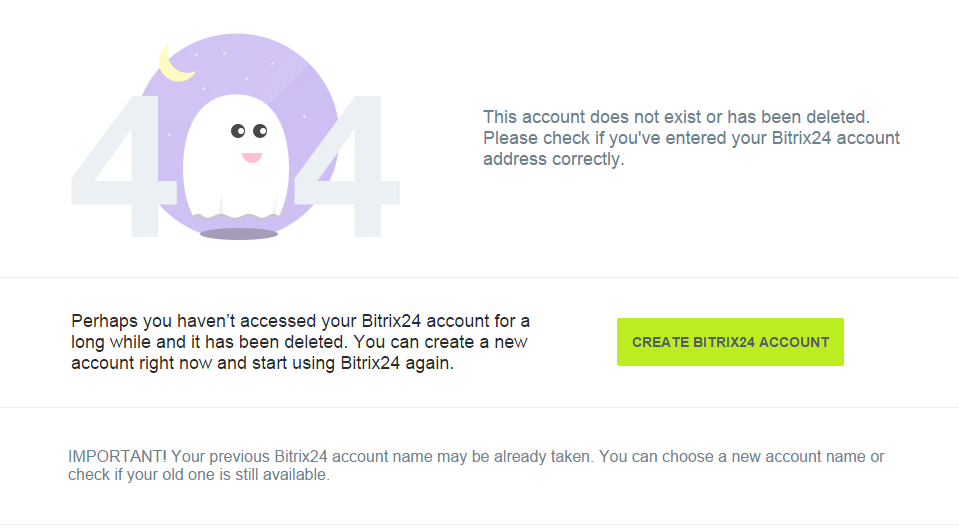 Please note: 404 error notification may also appear when you have misspelled your Bitrix24 account name.
Then you get an email saying that your Bitrix24 account is no longer available: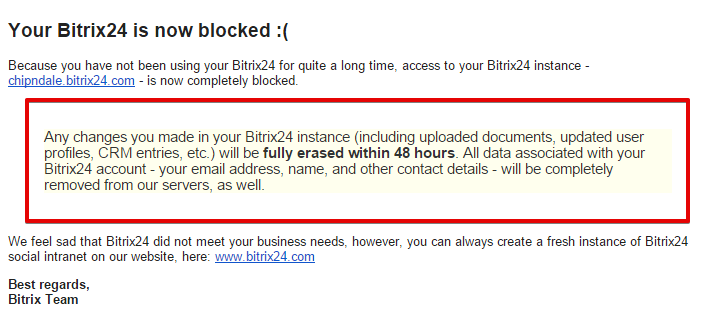 After about 2 more days we delete your Bitrix24 account completely, which means you still have a chance to bring your Bitrix24 back online - to do that you need to contact our Helpdesk immediately.
Important: if your Bitrix24 account is completely deleted, all the data associated with your Bitrix24 are completely removed from our servers.

Even if you missed the deadlines and your Bitrix24 was completely deleted, you can register a new Bitrix24 with the same domain name (if it hasn't been taken by another user already).
How to avoid your Bitrix24 being deleted
If you constantly work in Bitrix24 or you have an active commercial plan, your account will not be deleted.
If you have to suspend your Bitrix24 (due to an upcoming vacation or any other reason) with an intention to get back to your project later, enable deletion protection. During the year your Bitrix24 will not be deleted.
Go to Subscription > My Bitrix24 plan > Enable deletion protection.