Here is how to connect Instagram with Bitrix24:
Log in to your Instagram account.
Thatís it! Instagram is connected! Now all comments to your Instagram posts will appear in your Bitrix24 CRM and comments authors will be added to the CRM database.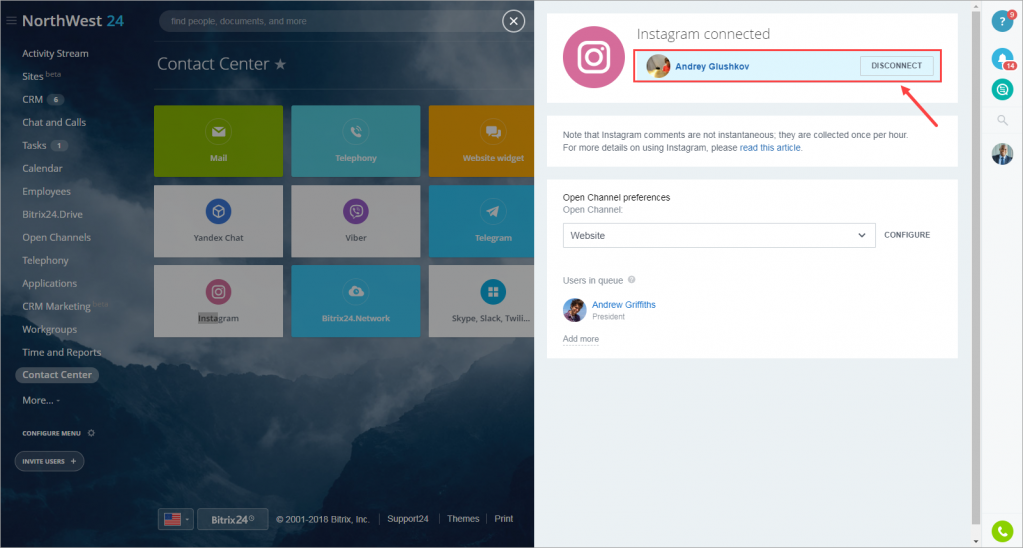 Important: Instagram comments will appear in your Bitrix24 in about 15 minutes, not in real time.
Please pay attention to the following limitations set by Instagram when replying to your clients via Bitrix24:
You can send no more than 60 replies per hour to the client's Instagram comment (meaning you can send no more than 60 messages via Bitrix24 chat to the client who commented on your Instagram post)
Instagram has a 300 symbols per comment limitation, which means when your comment sent via Bitrix24 chat exceeds 300 symbols - we cut your comments in parts. For example, if your comment is 350 symbols, it will be cut in two.
One Instagram comment may have no more than 4 hashtags (#). Comments with a larger number of hashtags won't appear on Instagram.
You can send only 1 link in your reply.
Your reply cannot be all capital letters.
Instagram Authorization window pop-up troubleshooting
If you face a continuous Instagram authorization window pop-up while trying to configure Bitrix24 & Instagram Open Channel integration, please follow these steps:
Open browser incognito(private) mode window (or use another browser where you are not yet logged in to Instagram)

Open your Bitrix24 account > Open Channel
Click connect Instagram
Add your Instagram login\password details in the authorization pop-up window
Recommended articles