Open Channels in Bitrix24 collect enquires from different sources in real time and distribute chat sessions among agents in the queue.
How to create an Open Channel
The administrator can create a new open channel in the Contact center > select any social network/messenger > click Create Open Channel in the Open Channel preferences section.
Important!
An employee needs to have access permissions to configure open channels. By default, only the administrator can create and configure open channels.
The number of open channels that you can create depends on your Bitrix24 plan.
All the open channels you create are linked to the domain name of your Bitrix24 Account. Thus, you need to configure open channels again if you change the domain name of your Bitrix24 Account.
Then click the Configure button: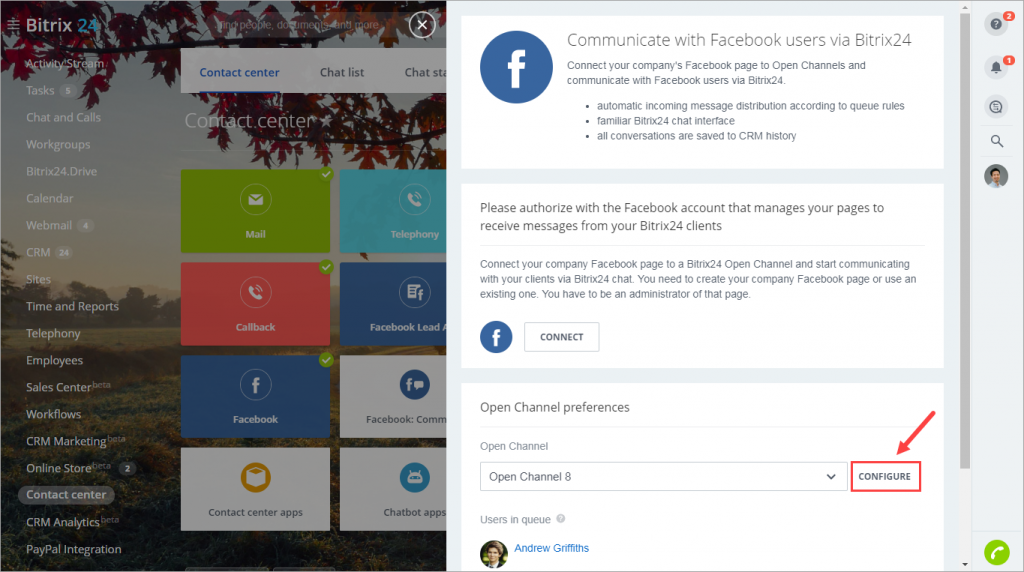 Here's a list of available Open Channel settings:


Queue


Agent queue
Here you can select employees that will process messages.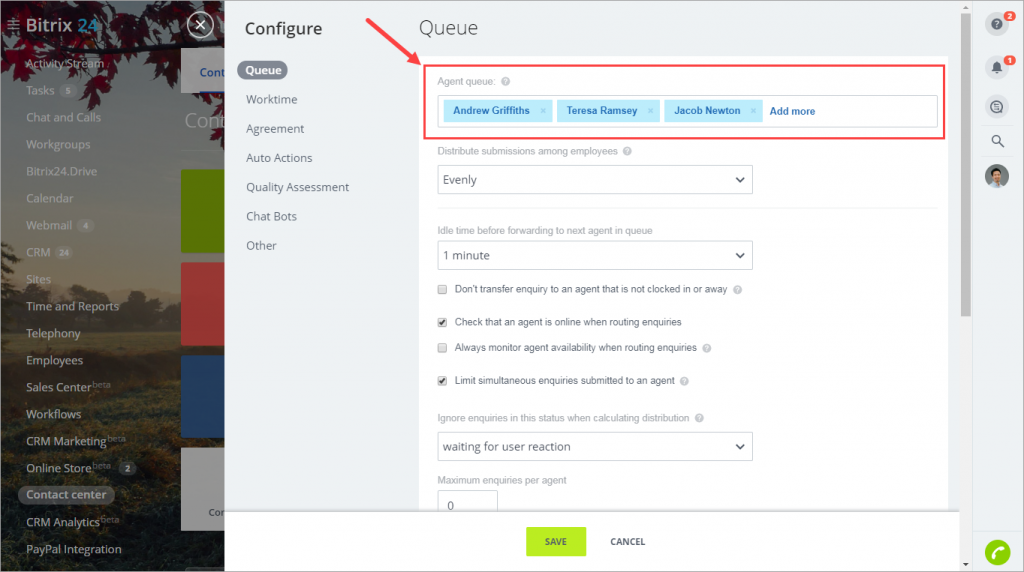 Distribute submissions among employees
Here you can select an enquiry distribution mode:
Evenly - current order of employees involved (added to the queue) is of no sequence; enquiries will be distributed so that all the agents get a similar workload.
Exactly as enqueued implies that a current order of employees takes precedence; a new enquiry will be sent to the first available person, and then to the next one in the queue if no response follows.
To everybody - requests will be submitted to all employees in the queue.
Idle time before forwarding to next agent in queue - specify the time interval from 1 minute to 12 hours.
You can also activate the Don't transfer enquiry to an agent that is not clocked in or away option.
Check that an agent is online when routing enquiries - when enquires are distributed between the agents, each agent is checked if he/she is online or not.
Always monitor agent availability when routing enquiries - if a enquiry is not set to auto close, the system will check that the agent is online whenever a new message is received. If the agent is offline, the enquiry will be transferred back to the queue.
Limit simultaneous enquiries submitted to an agent - activate this option to limit conversations per agent. You can also specify which chats should be excluded:
Replied to - excludes enquiries to which an agent replied at least once, closed and pending rating chats.
Waiting for user reaction - excludes enquiries to which an agent replied and is now waiting for reaction. Closed and pending rating chats are also excluded.
Closed - excludes closed and pending rating chats.
Read more in the article - Open channels: how does the queue work.
Important!
The number of employees in the open channel queue cannot exceed the number of users that can access
business tools
in the account. The number of users that can use business tools depends on
Bitrix24
Plan
.
Revoke conversation from an agent if their vacation is longer than (days) - if an agent's vacation is longer than this value, their conversations will be returned to the queue.
Agent information
Specify which information about agent will be displayed:
Use employee user profile - show agents using current information (name and user image) as specified in the user profile.
Use Open Channel entries - shows information provided in the Open Channel settings.
Hide agent information - no user info will be shown.
Verify client in CRM database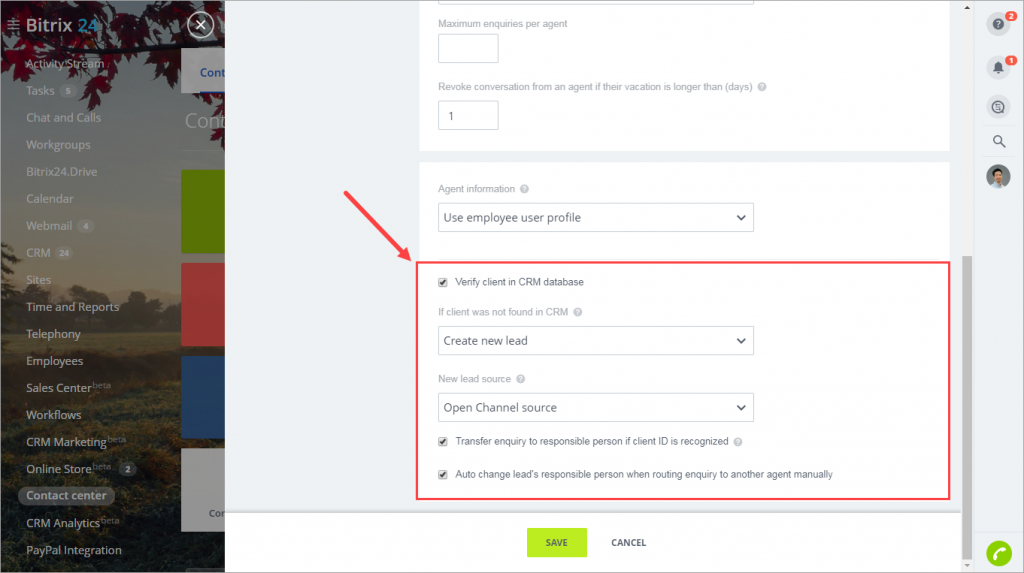 If client was not found in CRM database, new lead can be created automatically or manually. There is a link in a chat window to create a new lead manually. In this case, a client's full name and message log are added to a new lead.
Note:
a new lead is created only if you have a possibility and contact information to contact a client back. For example, if you get a message sent from a social network, you can contact this client back; hence a new lead is created.
But if you get a message sent from a Live Chat and the sender hasn't left any contact information and left your website, you cannot contact this client back, hence a new lead is not created.
New lead source - if "Open Channel source" is selected, the new lead will specify the source of communication used: Facebook, Skype, Telegram, etc.
Transfer enquiry to responsible person if client ID is recognized - activate this option and if this client is found in your CRM, the conversation is transferred to an employee that is responsible for this client (even if the employee is not added to the queue).
Auto change lead's responsible person when routing enquiry to another agent manually - activate this option and if you transfer chat to another agent during the conversation, this employee will become a responsible person for this client. If not activated, when the chat is transferred, the one who first accepted the chat will still remain responsible for the client.


Worktime


Here you can customize Open Channel working time: select time zone, business hours, weekends and holidays.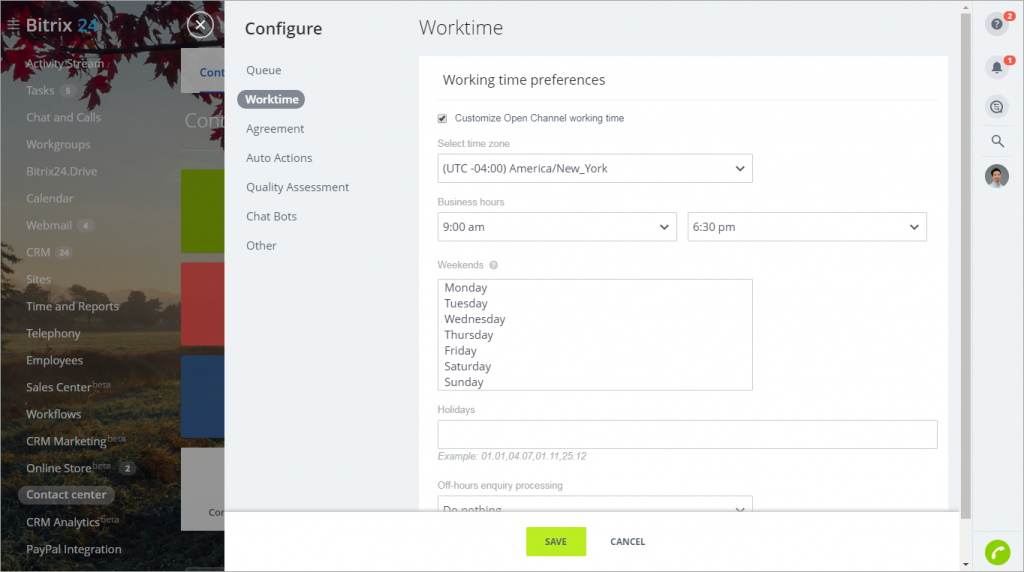 If you get a message from a client during off-hours, you can configure automated text reply.


Agreement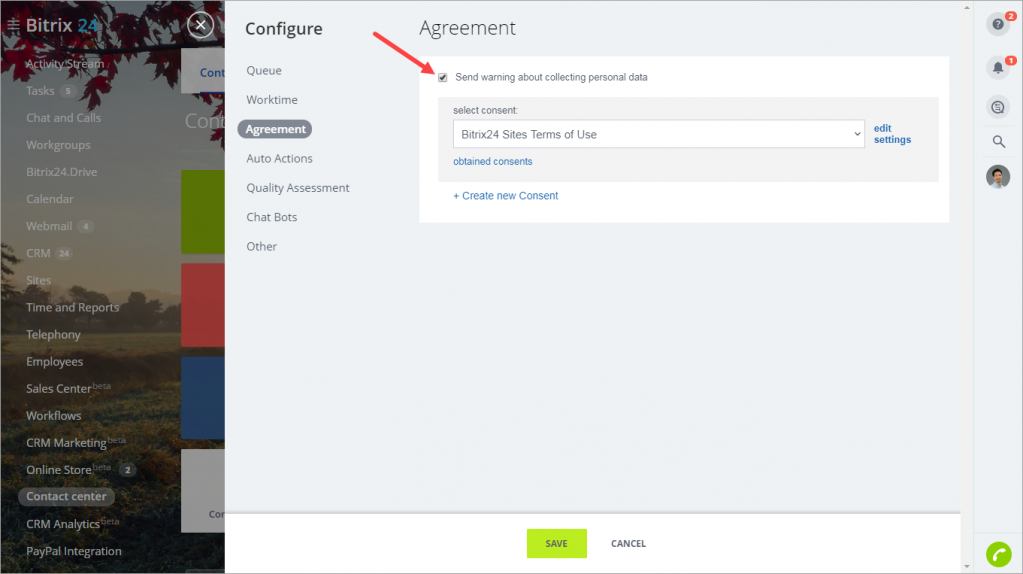 Activate Send warning about collecting personal data and select a consent form that will be shown to clients or create a new one.


Auto Actions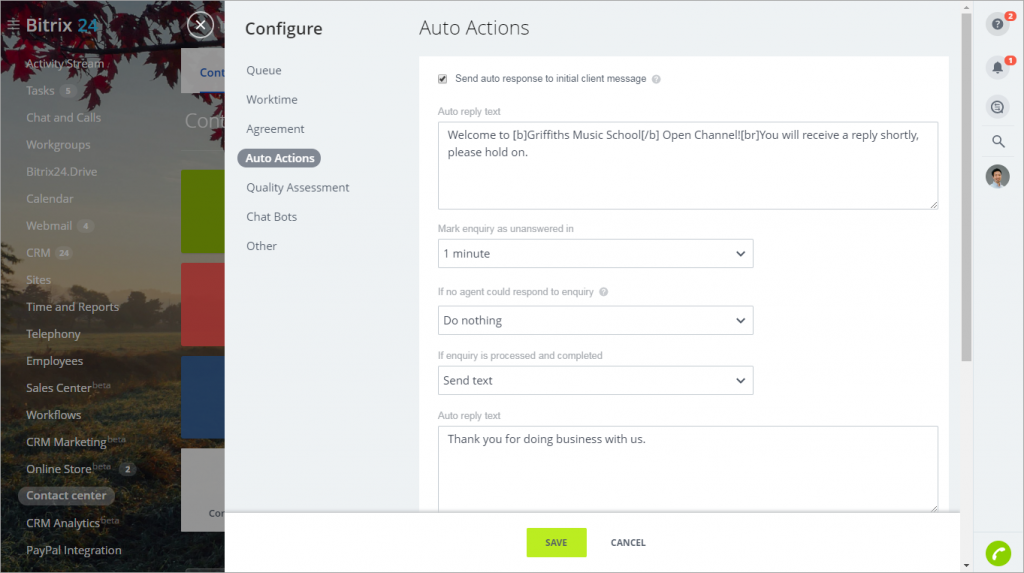 Activate Send auto response to initial client message and specify Auto reply text.
Specify the time interval to Mark enquiry as unanswered in, and if no agent could respond to an enquiry, you can reply with the automated text reply or perform no action.
If enquiry is processed and completed - here you can specify the message that will be sent to your clients after the enquiry has been closed.
Also, you can specify Delay until enquiry is completely closed (after it was marked as closed by agent).
When auto-closing an enquiry using Conversation timeout, you can send a message to a client or do nothing.
Canned response list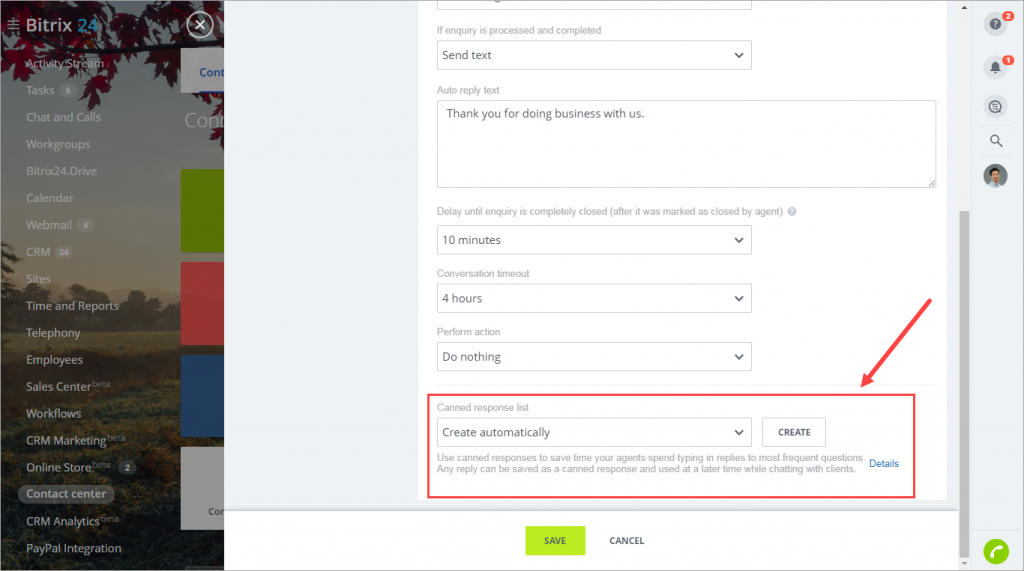 In this block, you can select the list of canned responses that will be used in this open channel, as well as create a new list. Read more about canned responses in the article - Canned Responses in Open Channels.


Quality Assessment


Once the conversation is closed, you can send a request to rate agent performance to a client. This option is available to all Bitrix24 CRM+, Standard and Professional plans subscribers.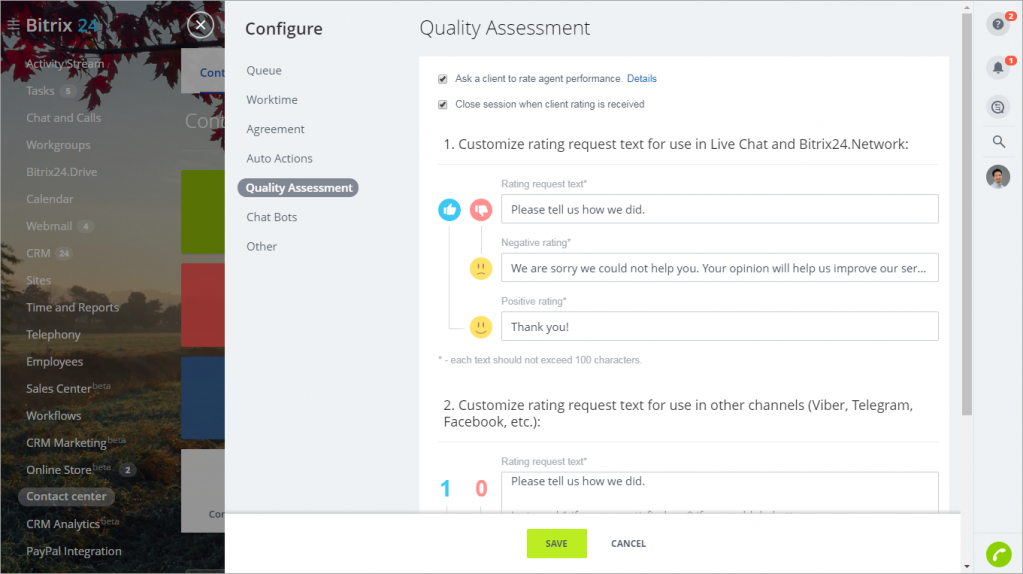 Close session when client rating is received option allows closing session as soon as a client rates agent performance.


Chat Bots


Activate Assign chat bot when a client enquiry is received option and all enquires will be assigned to the chat bot first. Then they will be distributed as usual.
You can download chat bots from Bitrix24 Marketplace.
Not all chat bots downloaded from Bitrix24 Marketplace are compatible with Open Channels. Please contact a developer of a chat bot to find out if it's compatible with Open Channels.


Response time KPI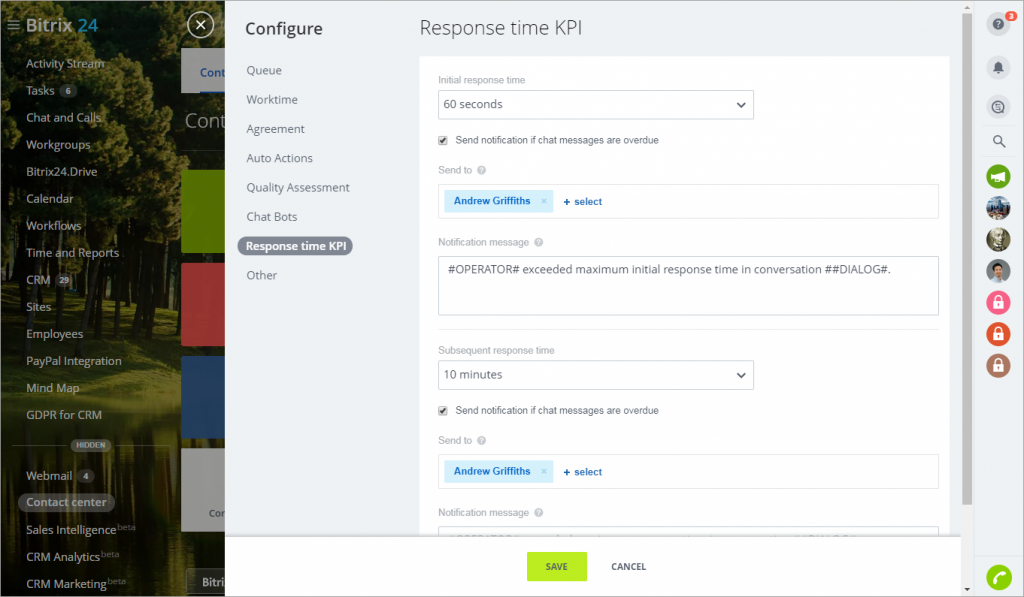 KPI helps you evaluate the efficiency of a specific employee.
KPI includes:
Initial response time - specify the time interval between the initial client's message and the agent's response that shouldn't be exceeded.


Subsequent response time - specify the time interval between the subsequent client's messages and the agent's response that shouldn't be exceeded.
For both of these parameters, you can enable the Send notification if chat messages are overdue option.
Select an employee that will get a notification if chat messages are overdue in this open channel in the Send to field.
You can edit the Notification message. Available macros:
#OPERATOR#
- agent name;
#DIALOG#
- conversation ID with a link.
You can view the agent's KPI in the Chat list section. Just click the cogwheel button and add the following columns:
Initial response time
Total response time
Average response time
Maximum response time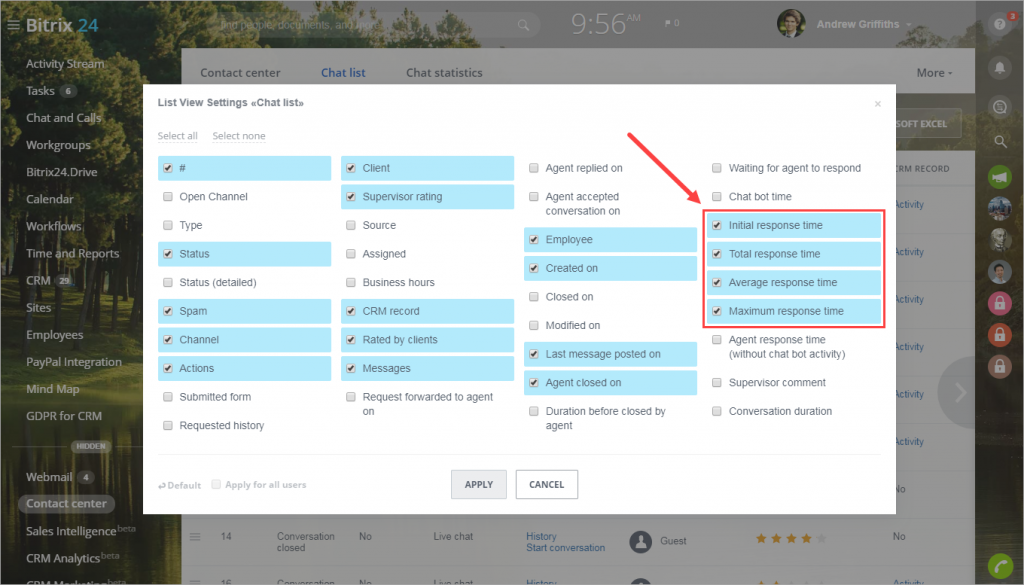 Other Settings


The Open Channel name is generated automatically, but you can change it. Remember that your clients will see this name in the chat window header.
Channel is active
This option enables/disables the Open Channel.
If you deactivate the open channel, make sure to disconnect all the communication channels connected to this open channel. Otherwise, you'll still get messages via these communication channels but won't be able to send a response.
Save message log
The message log is saved automatically and can be found in the chat or the corresponding CRM element's card. It's also can be found in Chat list section and is available to the account administrator.
Language preferences
Here you can select the language used in the email messages sent to a client when he/she requests a message log or gets a notification.
Delete this Open Channel
Click Delete to delete this open channel.
Connect communication channels
In Bitrix24 you can connect the following communication channels:
Unfortunately, you cannot connect your WhatsApp with Bitrix24 as WhatsApp doesn't provide the official public API. This API is needed to integrate messenger with other services. As soon as WhatsApp releases official public API, we will add the option to connect WhatsApp with Bitrix24.