There are two ways to work with Bitrix24 CRM - Simple CRM (without leads) and Classic CRM (with leads).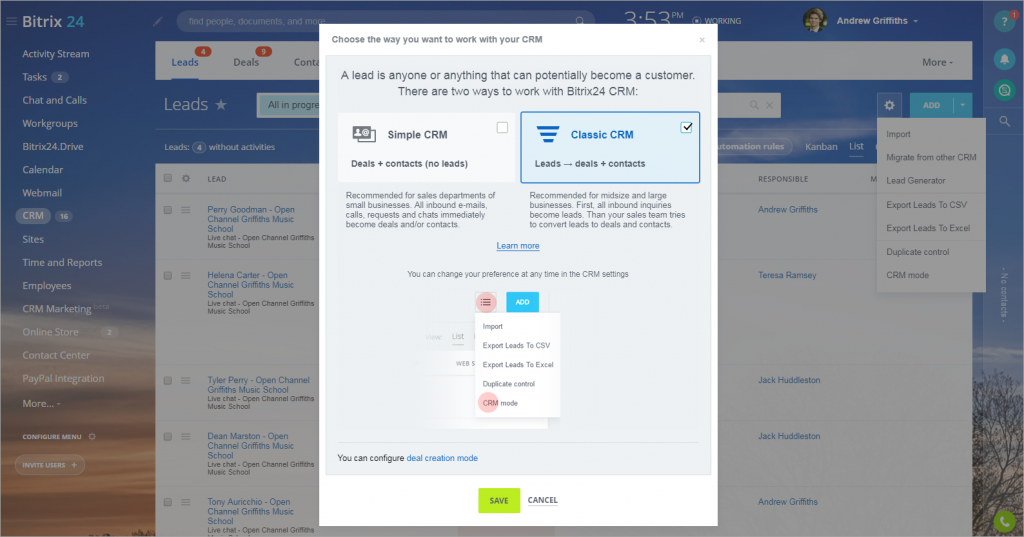 Classic CRM mode
If you're using this mode, all the potential clients are added to Bitrix24 CRM as leads.
A lead is a CRM object containing information (telephone number, email, website) of a person or company who has the potential to become a customer – that is, to complete a deal. Read more in the article -
How to work with leads
.
How to get new leads? Bitrix24 gives you a big variety of tools - open channels, telephony, CRM webforms, etc.
After a lead is added, you continue to communicate with a potential client and then convert this lead to contact.
This process is called "Lead conversion". You can convert leads to contacts, companies or deals.
Then you keep on working with clients and get more and more information about your clients.
Leads can also be converted into deals.
Simple CRM mode
Working in Classic CRM mode requires a lot of resources and time. For small companies, we've made a Simple CRM mode without leads.
In Simple CRM mode, all inbound emails, calls, requests and chats immediately become deals and/or contacts.