With Skrill Integration app your customers will be able to pay you via the Skrill payment system. You can install the Skrill Integration app from Bitrix24.Market to accept payments via Skrill in just a few simple steps.
Legacy versions
Skrill x Quick Checkout
Connection is as simple as possible: you will only need to specify your logon email address to make the initial connection happen. All payment methods will be loaded and enabled in automatic mode.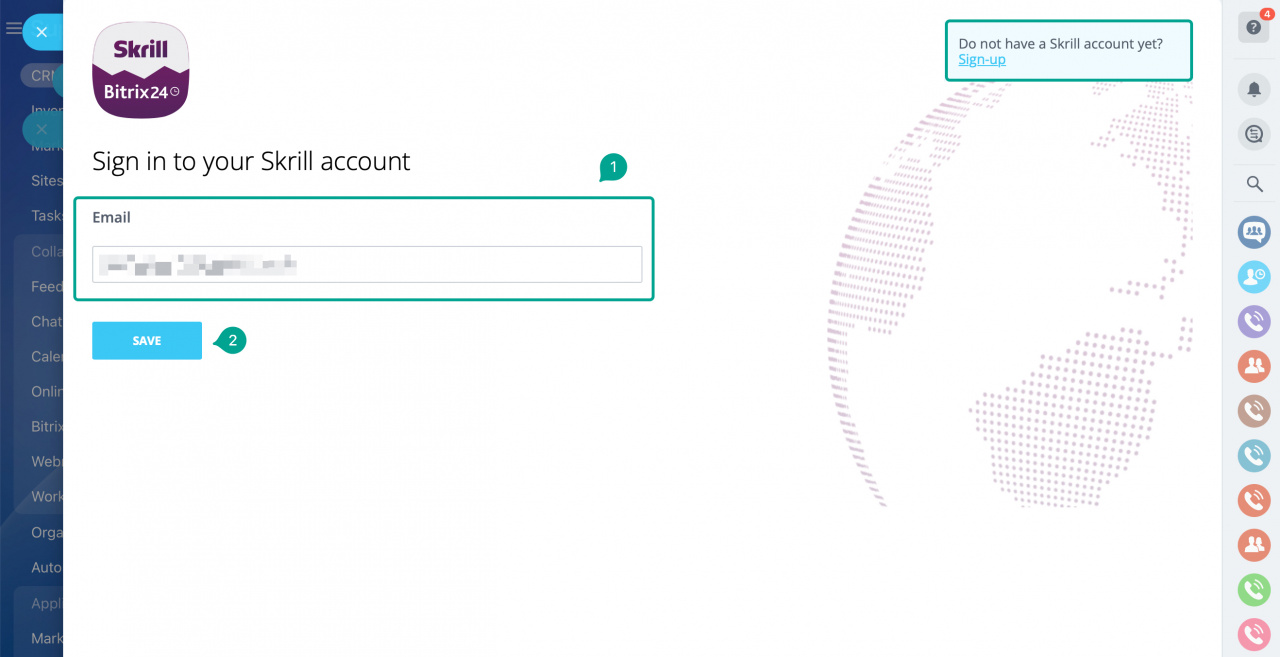 To ensure the changes have been applied and the sync is configured correctly, click unto Save button after default payment methods have been loaded and enabled.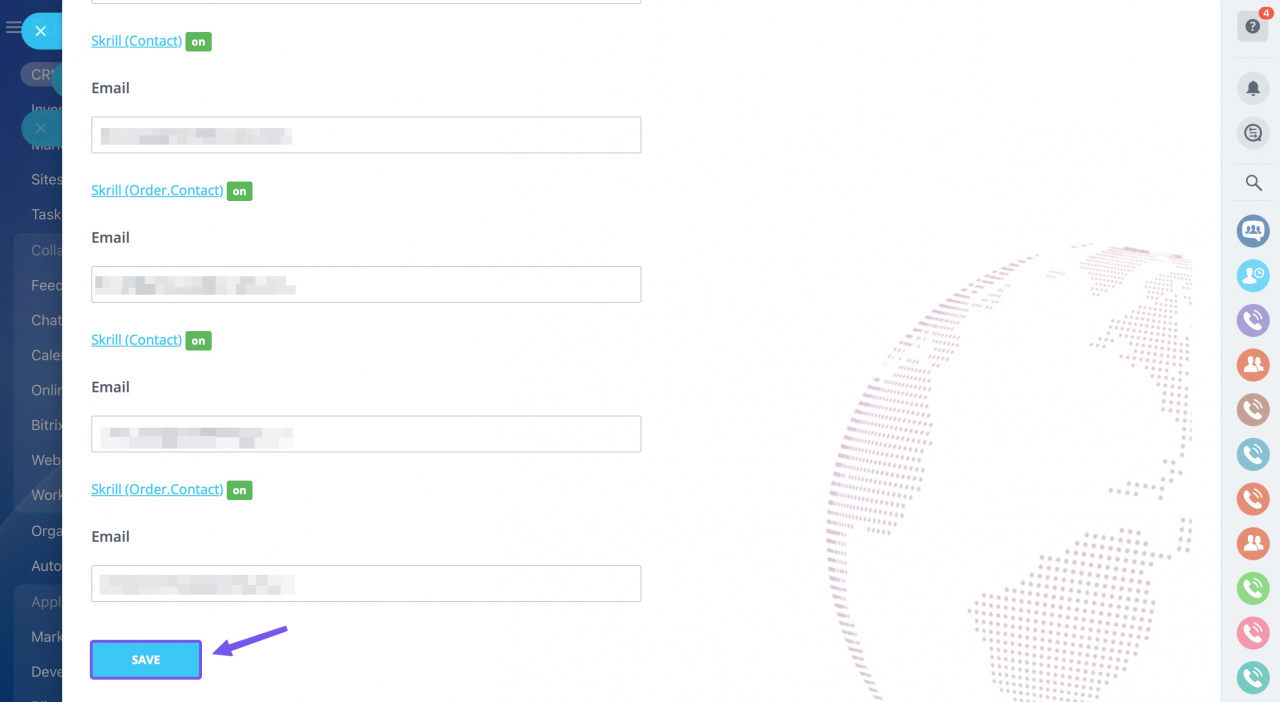 If you need to switch certain methods off, you may do it by disabling corresponding payment method in CRM settings > Payment options > Payment systems as illustrated below: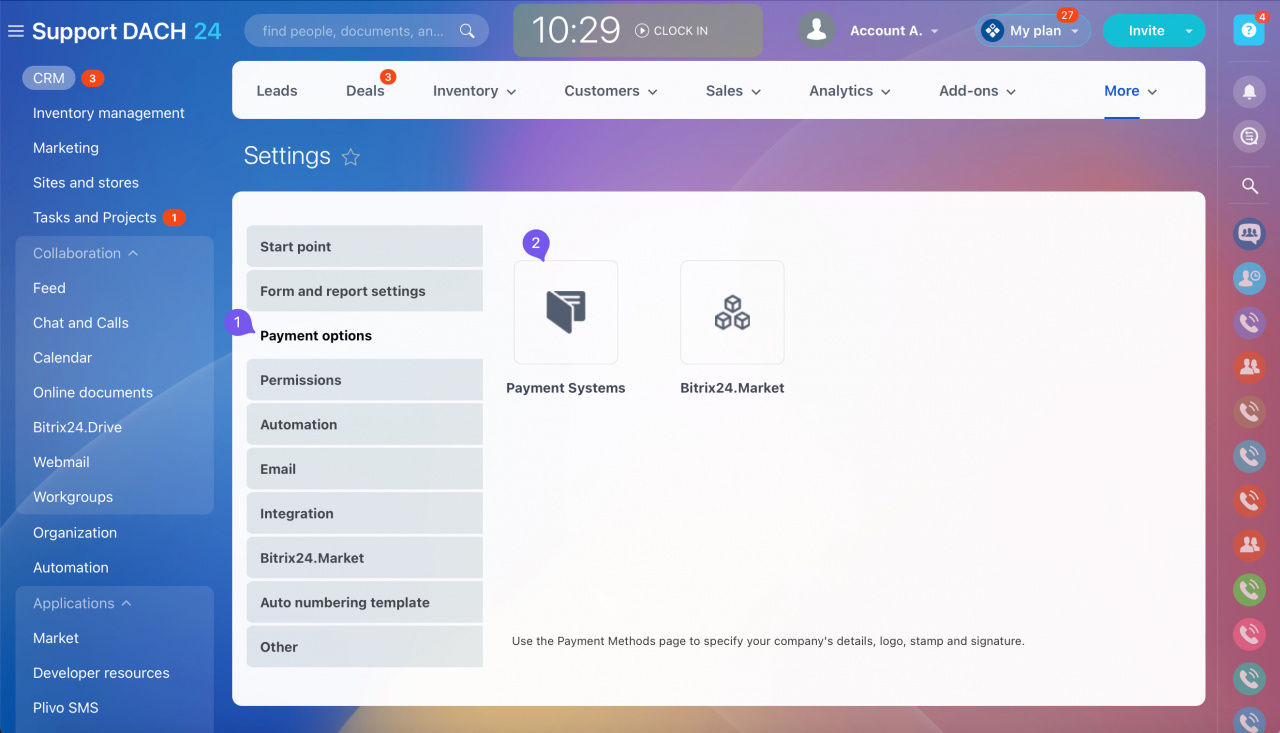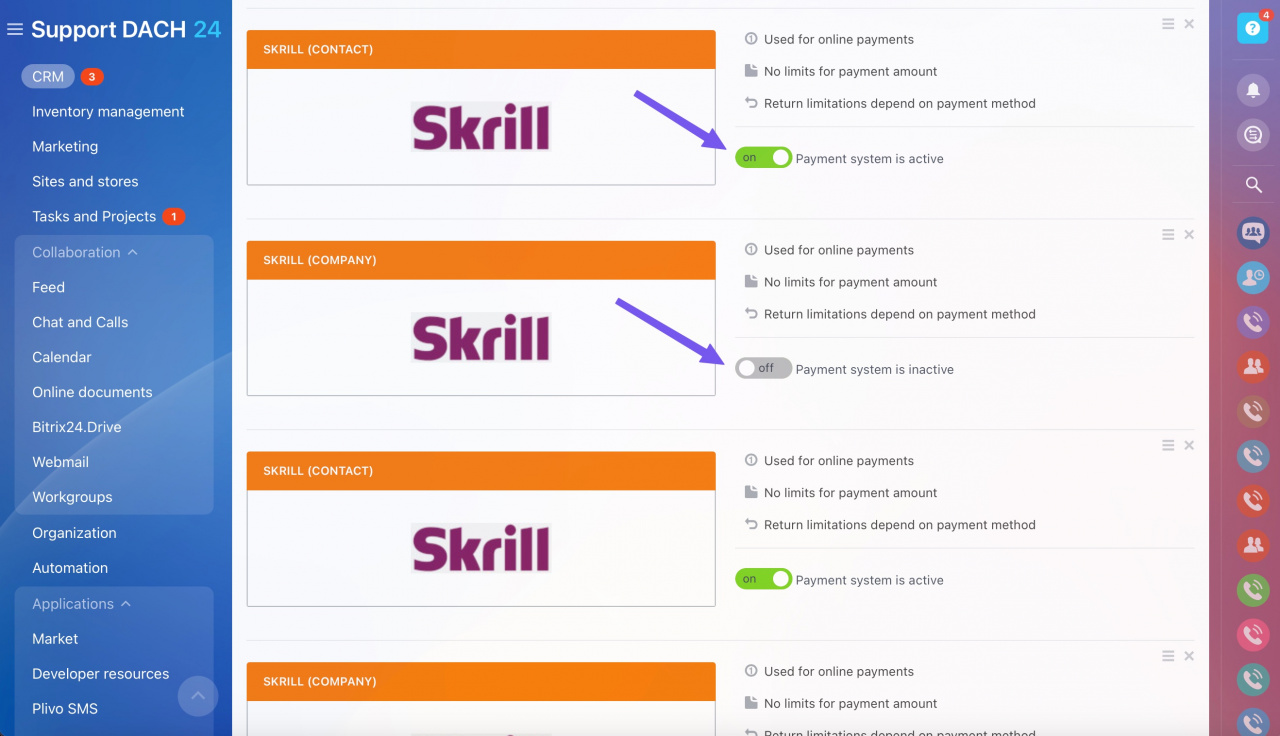 Skrill Quick Checkout is a secure hosted payment page, where customers are redirected from your payment page to make a payment through Skrill.
We have implemented checkout scenario support in the sixth version of the app which is now available in the Market. That means all of your customers' payments are processed directly in Skrill. Available methods (such as cards, instant bank transfer, specific processors, etc.) differ from country to country.
Once the customers selects Skrill as payment option using the payment link you provide, they will access familiar Quick checkout interface and will be able to choose a preferred method.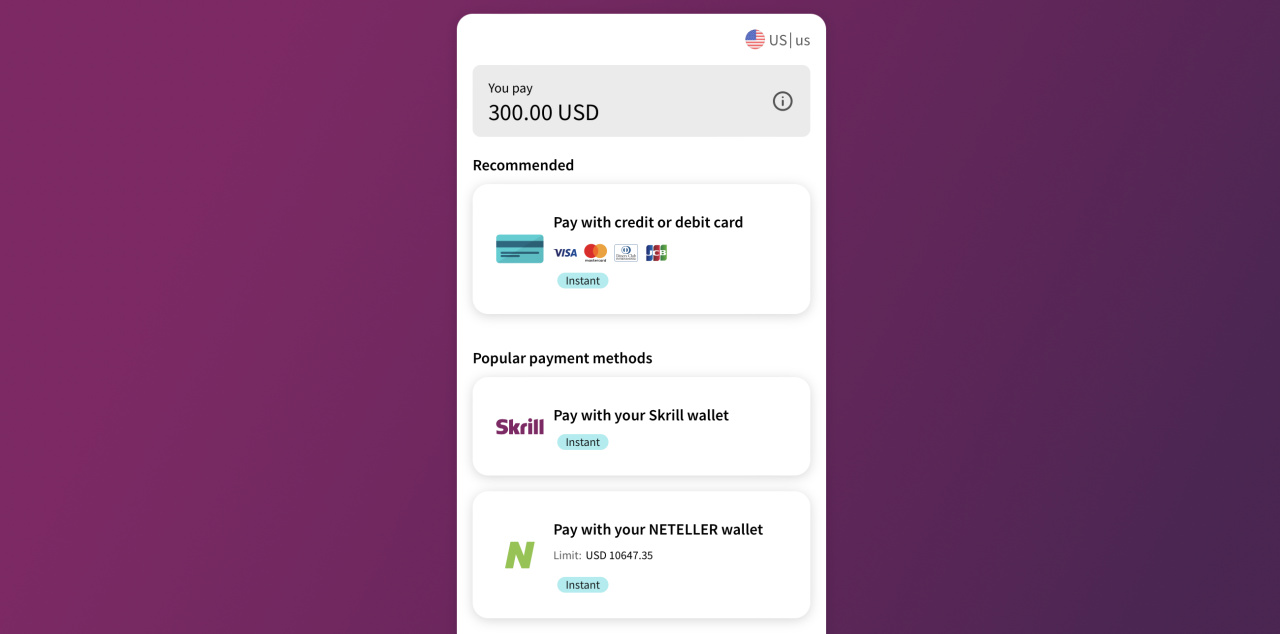 Meanwhile, from now on you will only need to specify the merchant email to connect your Skrill account via the app.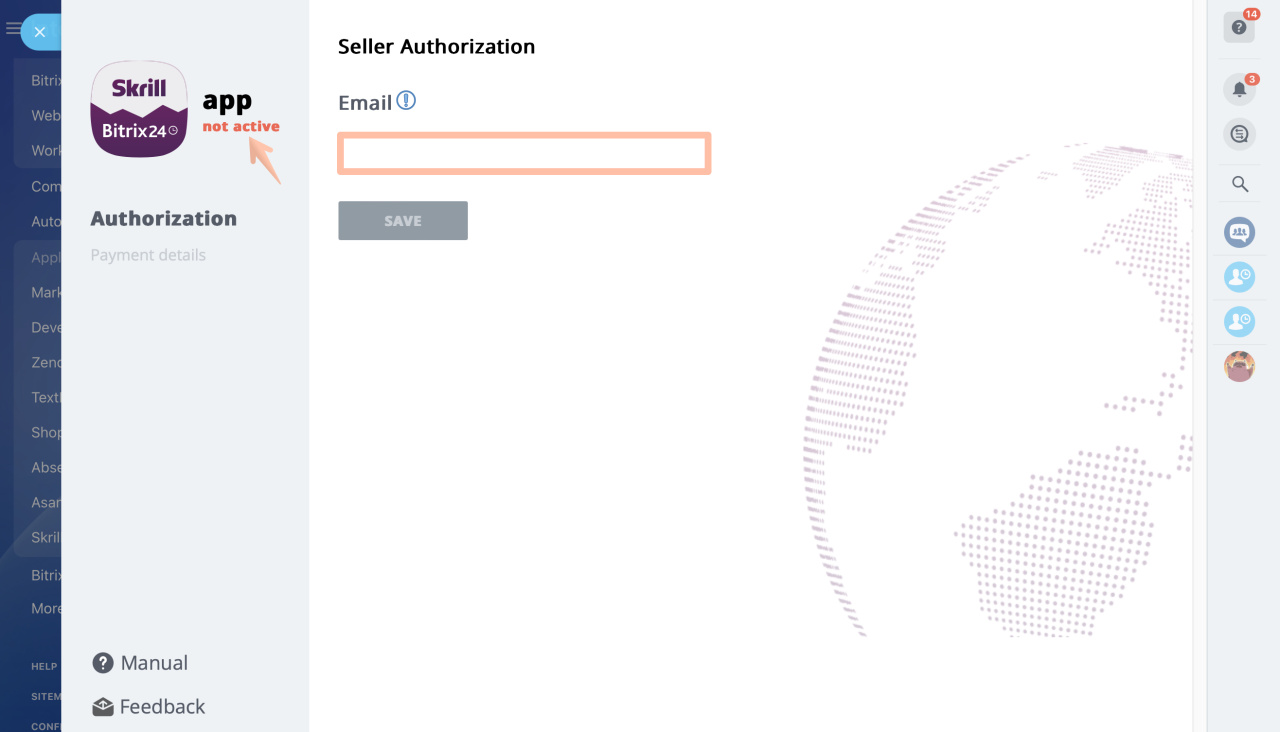 Enabling particular options has become much simpler. Just go to Payment details tab and enable options you would like to be used.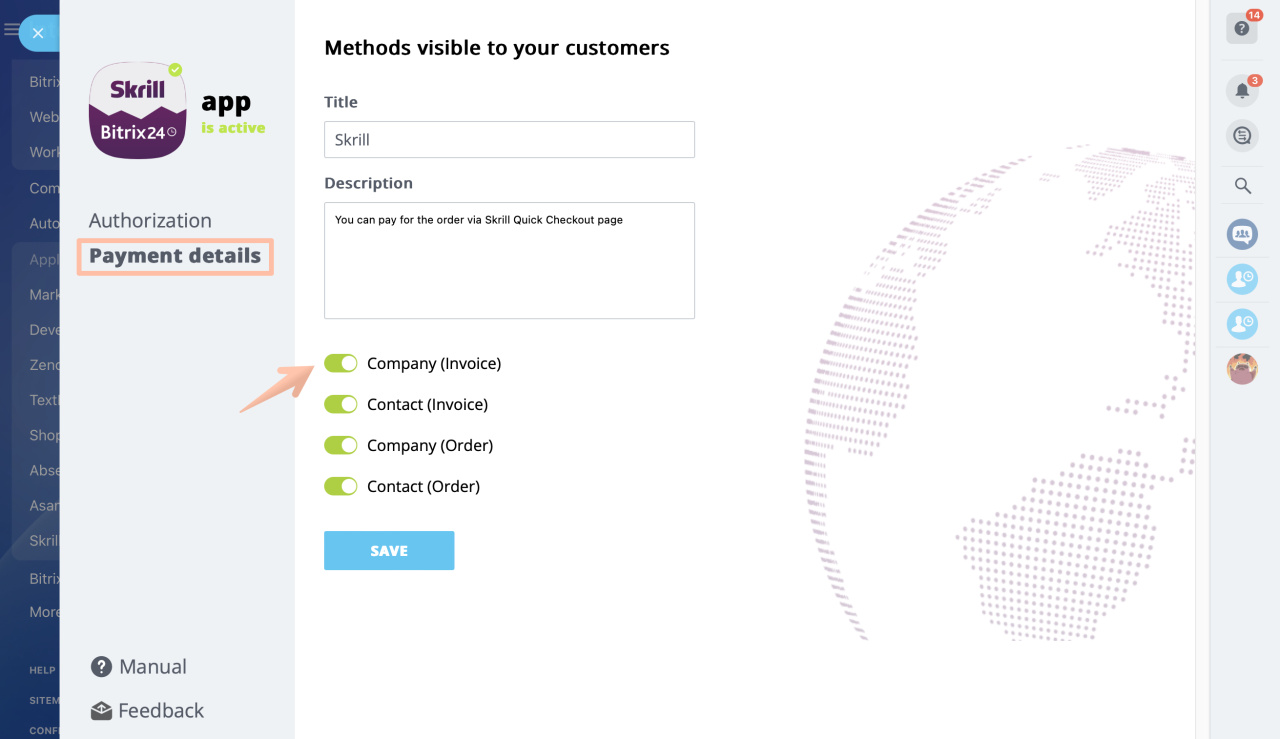 Contact (Invoice)
and
Company (Invoice)
are used exclusively in the
legacy invoice types
for contacts and companies respectively.
Contact (Order) and Company (Order) will be used in contacts and companies, respectively, for the new invoice types (issued from deals) as well as for online orders at your online stores.
At this page, you can also edit the Title and Description for the payment service option. Click the Save button to apply changes.
By consolidating your payment stack with a payment orchestration layer you can offer your customers a consistent, safe, and simple checkout experience. You can find the integration app using this link.
Register (activate) your Skrill Business account
If you already have the activated Skrill Business account, skip this step.
Go to the Skrill
website
and click
Get a Business Account
.
Enter your company email address to the corresponding field and click Submit.
Kindly make sure that your business meets the criteria listed and complete the form.
Click Submit.
Follow the instructions provided by Skrill, and your Business account will be registered. If there is any doubt or difficulty while completing the form, feel free to reach out to Skrill support team.
Skrill Integration lets you implement Skrill as a way to pay you in multiple forms and ways: in chats with your clients, forms, from within deals and much more. Explore all of the available options in our article dedicated to integrated payment options in Bitrix24.
And remember: we are eager to get better for you! If you have an idea or any feedback you would like to share, feel free to contact our support team. Looking forward to hearing from you!