Bitrix24 storage space is provided per account. Depending on the account plan, you will get different storage space amount.
You can find all the information about Bitrix24 plans on the
pricing page
.
Bitrix24 administrators can get information about account storage space under Subscription > My Bitrix24 Plan > Cloud Storage: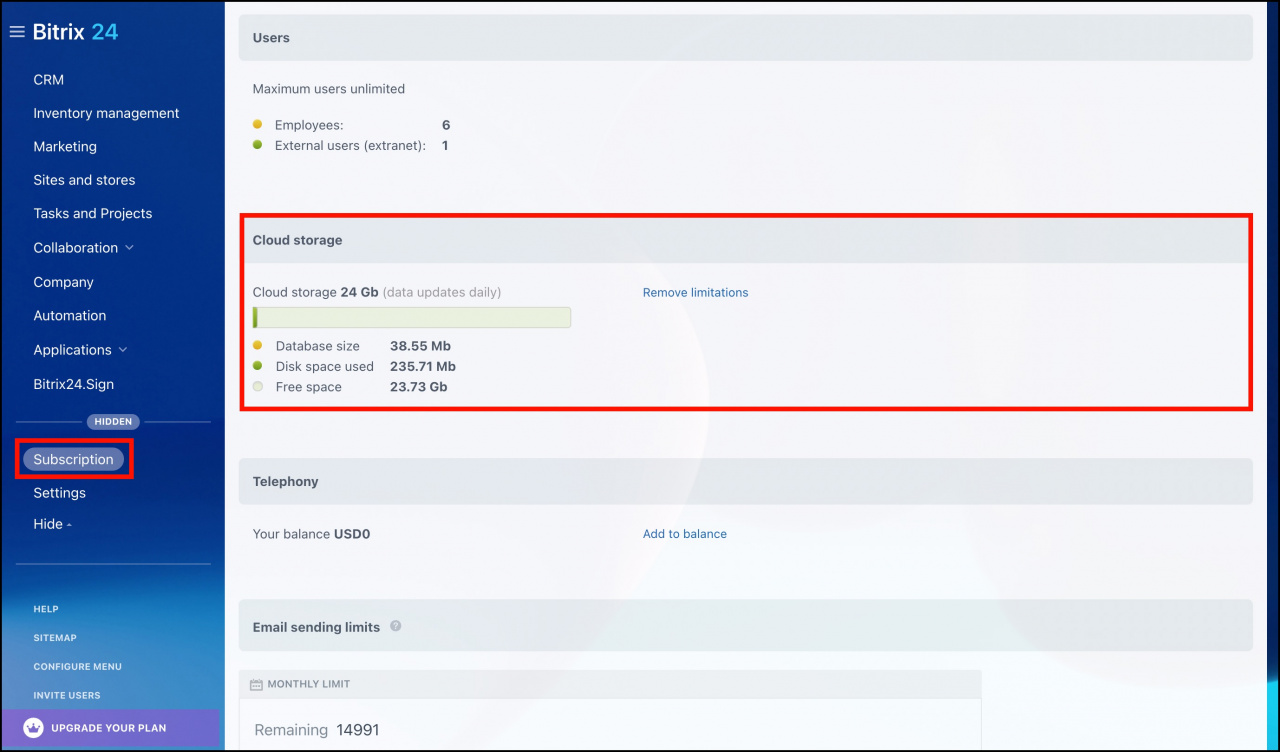 Here you can see the amount of storage space used & how much space is left:
Database size - cloud storage occupied by database: tasks, events, emails, CRM information (without files).
Disk space used - files stored (located) at your account.
Free space - amount of free available space.
Storage space is provided per account & cannot be distributed between account users by administrator. The storage space is loaded automatically & simultaneously taking into account all account users workload.
How is online storage used
When you feel that you are running out of space, there are several things you should know about how the storage space is countered in Bitrix24:
Emails & email attachments. You can run out of free storage because of the large number of emails & email attachments that you work with in CRM. To reduce the amount of storage space used you should delete old emails. All email attachments can be found under Bitrix24.Drive > Company Drive > Files from email.

After deleting files from this folder, don't forget to empty the Recycle bin as well.

My Drive files. Files uploaded to My Drive are counted in the storage space as well. Don't forget to check Created, Uploaded & Stored Files folders for files uploaded to messenger, Feed posts or created from scratch.

Company Drive files. Users of your Bitrix24 account can upload files to the shared document library - that is Company Drive. You need to check these files as well. Don't forget the Recycle Bin.

Other users My Drive. Each Bitrix24 users has own My Drive with own files. Bitrix24 account administrator can open each user Profile Page > Drive to check the amount of space used by each user's files. Don't forget to check users Recycle bins:

Workgroups Drives. Each workgroup has own Drive section where files can be uploaded by workgroup members. Don't forget to check & clear the Recycle bin.
FAQ
Storage hasn't increased after I've deleted data
If you've deleted unnecessary files, emails, etc. please note, that the actual cloud storage space information will be updated in 24hrs. You can check your storage space information later under Subscription > My Bitrix24 Plan.
What will happen to data if I stop paying for a subscription
In case you stop paying for a commercial plan, your data (stored in Bitrix24) won't be lost. But, if the amount of storage space exceeds the limit allowed by free plan (5Gb) - you won't be able to perform actions inside your Bitrix24. For example, edit files, upload new ones, send messages, set tasks, etc. You will need to either delete files, tasks, messages & other data stored in your account or renew the subscription.
I need more storage
If you are running out of space & need more storage space than provided by your plan, this means you need to upgrade - Subscription > Upgrade. Please note that you cannot purchase additional storage space separately, you can require it together with plan upgrade.