In this article, you can find answers to the most popular questions about CRM Access Permissions.
Access level is different from what I've set
If you have configured access permissions for your employee in
CRM
-
Settings
-
Access Permissions
, but employee's access level is different from what you've set (e.g. user sees what he\she shouldn't be able to see) - it may be that the user is listed also as group or department member under Access Permissions.
For example, My company: Employees group has full administrator access when the individual employee has limited access role. In this case, we deal with access permissions conflict.
Please note that the system grant access due to the following rule in such cases: if a user is assigned various roles (e.g. belongs to both a workgroup and a department which are granted different roles), the user will always be granted the highest level of access allowed by the various roles.
Access permissions for sales teams
If you have several sales team that work independently, you can configure access permissions so, that each team will have access to own team records only. In other words, one team won't have access to the other team notes.
Bitrix24 Product Catalog is common for all sales teams & managers of the same Bitrix24 account.
Here is how to configure access permissions for sales teams:
Go to CRM - Settings - Permissions - Access Permissions and click Add Role.

Set access level Personal & department (or Personal, department & sub departments) for those CRM entities you want to limit access to. Please make sure you have checked deal stages & lead statuses access as well (click + to unroll). Save.

Click on Add Access Permissions, select users & set the role (you have just created) for them.
Sales Team Supervisor can be given a different role. For that, you need to create another role & name it Sales Supervisor.
For example, the simple sales agent may have "Read access = personal & department", but "Edit access = Personal", which means this user can view all sales team records, but edit only own ones. The Sales team supervisor may be granted extended rights. For example, the sales team leader may have "Edit & Delete = Personal & Department" records & "View = All". In this case, sales team supervisor will be able to view all records of all teams, but add & edit only those of own department.
Who can access CRM Settings
By default, only Bitrix24 administrators can have access to the full list of Bitrix24
CRM Settings.
But, they can give simple CRM users access to the CRM Setting too at the Access Permissions page. Please note that such access opens settings for the CRM module only, not for other Bitrix24 features.
This access should be granted to the particular Access Permissions Role (CRM > Settings > Permissions > Access Permissions > open Role > enable option User can edit Settings.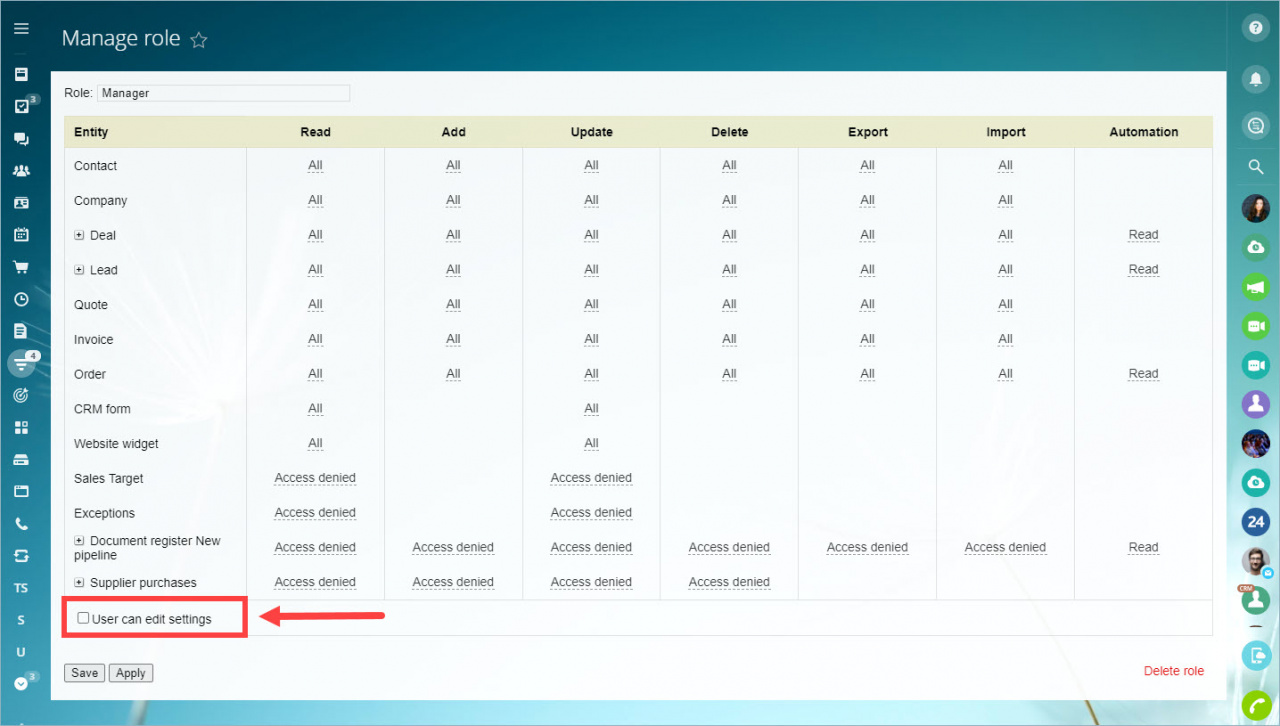 Access permissions when users are moved between departments
There are situations when your company's structure changes due to various reasons, e.g. a new head of department is appointed, or an employee was transferred from one office to another. In such cases, the question is how to correctly configure CRM access permissions.
The solution is quite straightforward: for new access permissions to work correctly, you need to re-assign all the old CRM records (that were created prior to structural changes in the company) to the same previously responsible user via Select Action - Assign new responsible person - Apply.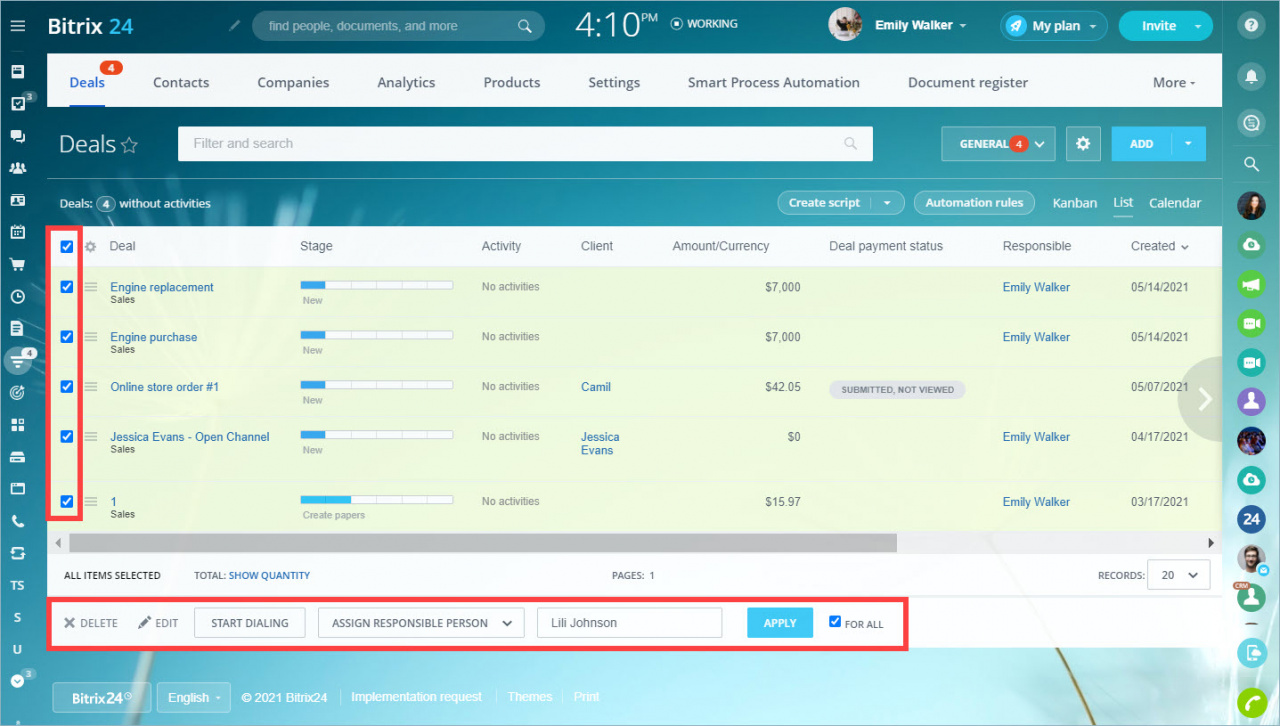 Done! After this, access permissions will be refreshed and both old & new CRM entries will be available to the selected user.