You can find telephony call details under Telephony > Balance & Statistics> Itemized Bill: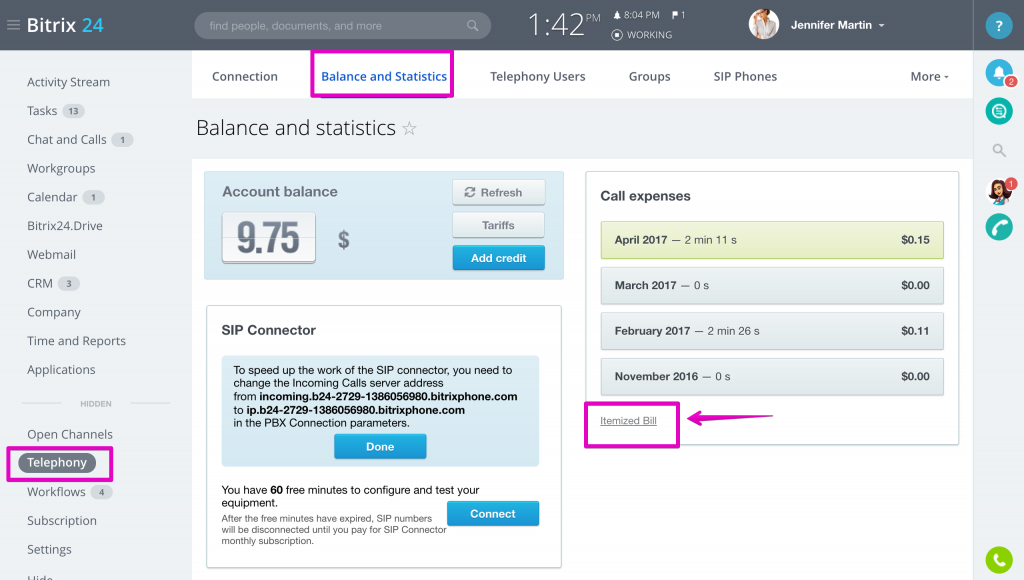 Here you can access call statistics (call status, type, duration, connected CRM record, cost, assessment), recordings and logs (details column).
View calls logs
Call logs are technical and statistical data collected for the telephony calls performed at your account.
Please note that call logs are technical information about your calls that may be requested by our support team in case you have telephony issues of any kind. To open the call log use the icon under the Details column: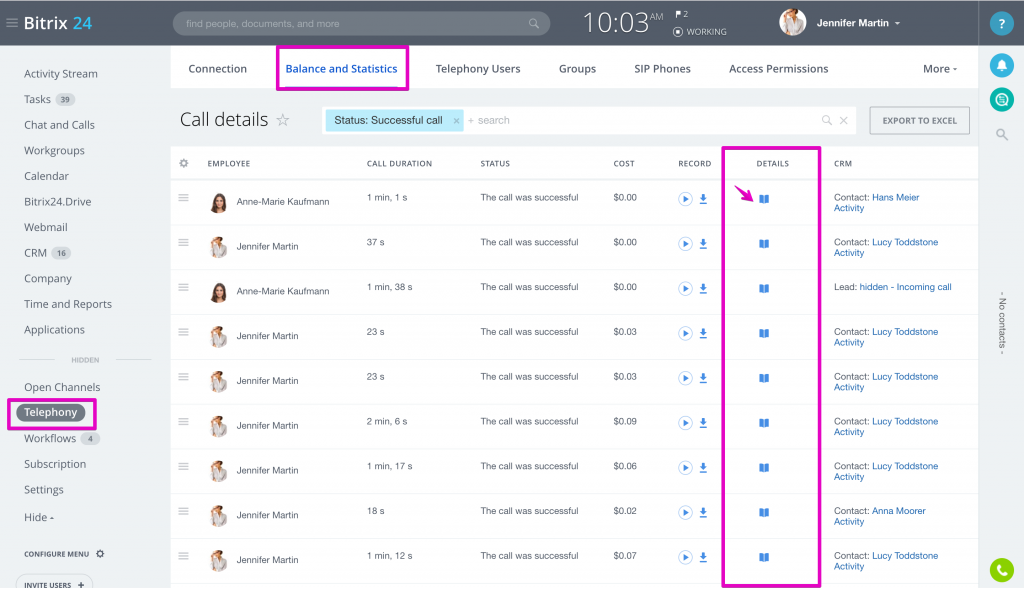 Please note that logs have a lot of technical information that may be useful for those who are configuring telephony integration, or for the telephony provider in case if the problem is on the provider's side.
If you receive "Not found File" error when attempting to view call logs this means the logs have been automatically deleted (note that calls logs are stored for no longer than 1 month by our telephony provider).
Filter & Search
There is a possibility to filter call details by various parameters:
Call date
Employee
Portal phone number
Phone
Call type
Status
Call recording
Call duration
Cost
CRM (connected CRM record)
Click on search area to open filter menu. Use Add Field option to add more fields to the filter widget: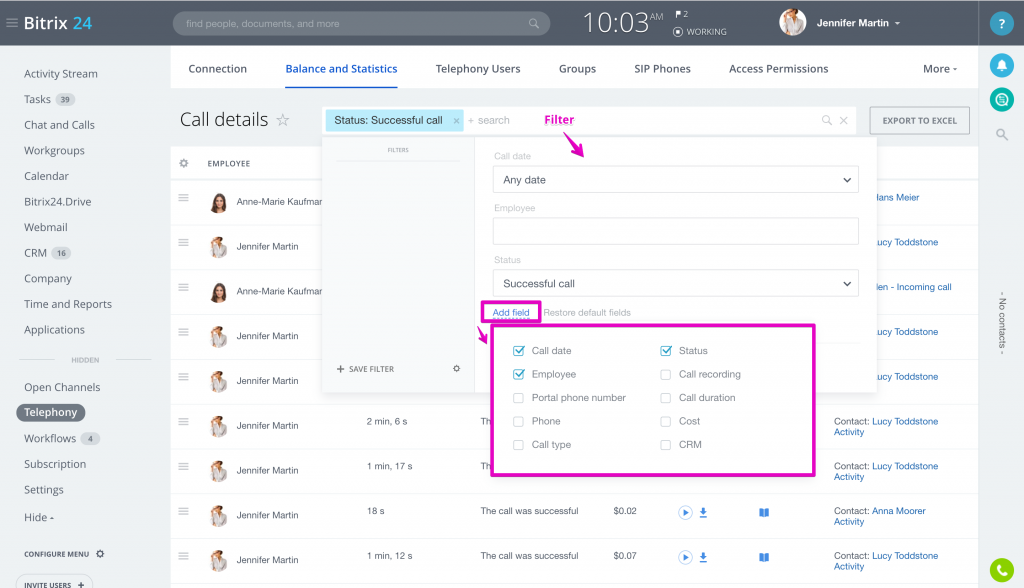 Click on Settings icon to access Apply for All Users option - this option allows to save filter configuration for all account users.
Configure call list columns with the help of Settings icon above the list. Select fields you want to add to the list columns and click Apply. The Apply for All Users option allows to save call list columns configuration for all account users.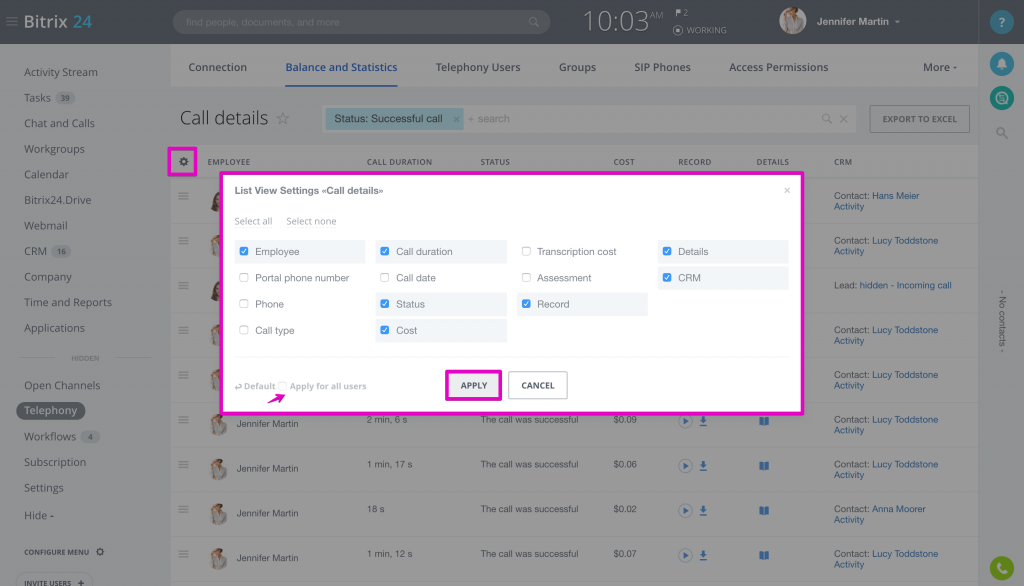 Please note that you can use both filter & search keywords together to archive best search results.
Call Recordings
Call recordings are available here as well. Use Play tab to play the recording or Download Arrow tab to download the recording to your computer.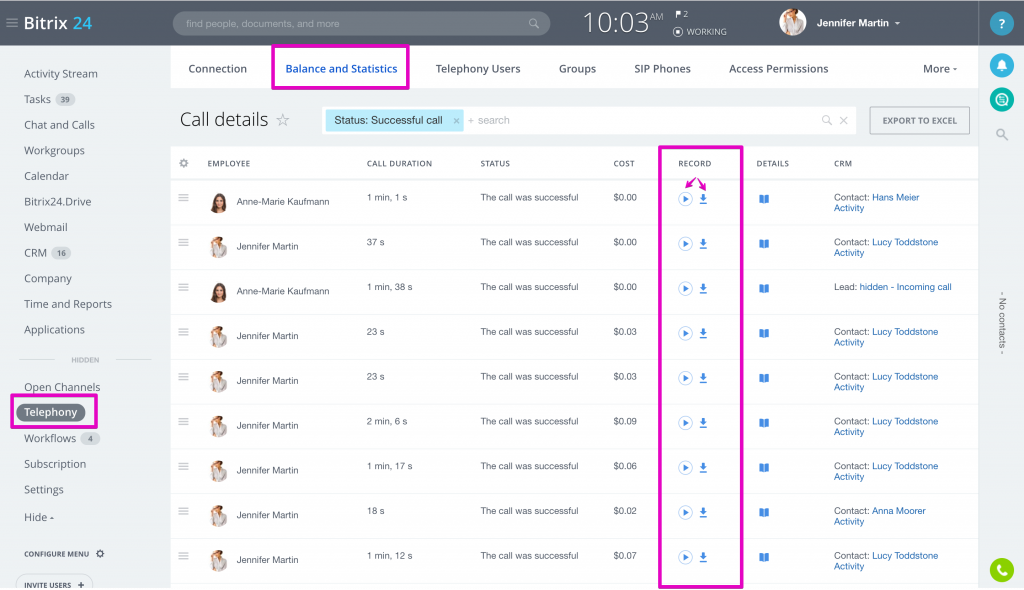 Export to Excel
You can use Export to Excel option located in the right corner above the call details list to export call statistics to Excel.
Export to Excel option is available to Standard and Professional plans subscribers.