Sometimes your employee cannot answer the phone call from the client due to different reasons (employee is on break, has a day off, etc.). Configure call forwarding and don't lose such clients!
How to configure call forwarding
You can configure call forwarding in Group settings > Missed call processing. First, go to CRM > Add-ons > Telephony > Connection page.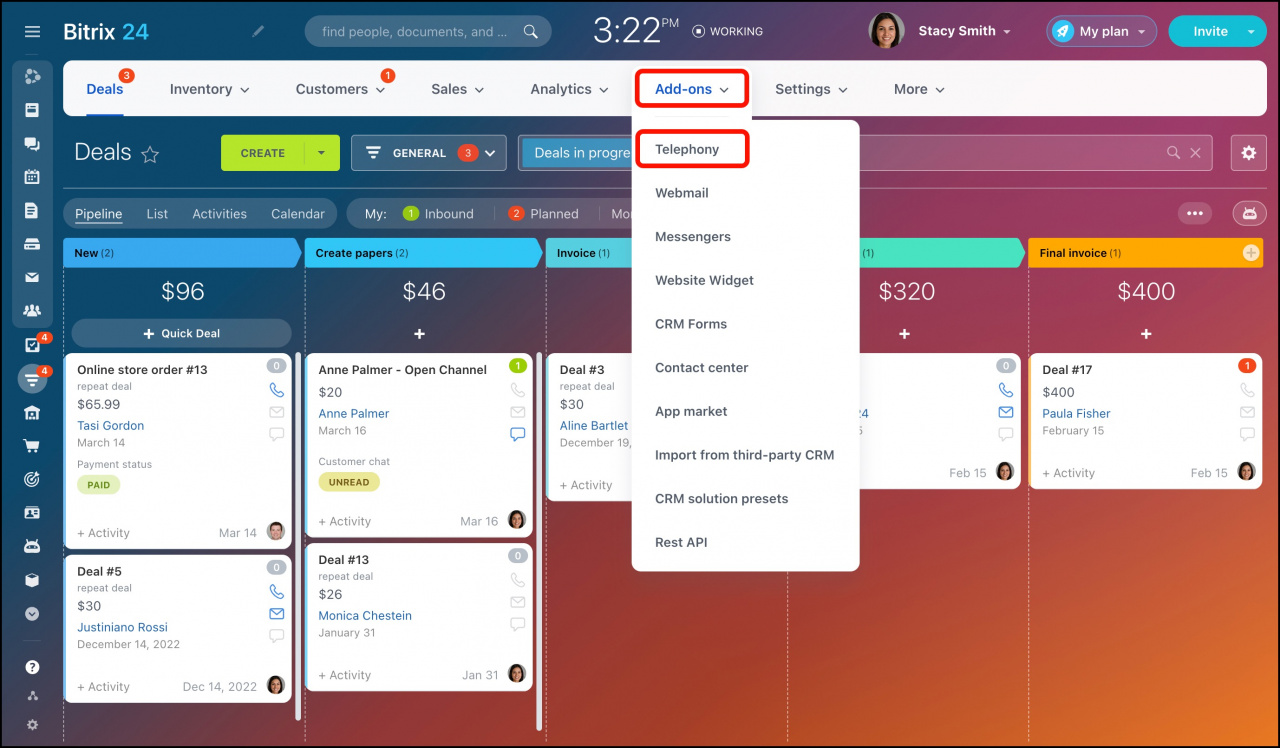 After that, there are two ways to get to the Group settings section:
When you configure the phone number preferences: click Configure numbers > select a number/PBX > click Inbound call routing > Queue group settings.
Automatic call forwarding
There are several call forwarding options in Bitrix24:
1. Forward call to employee
In this case, the missed calls will be forwarded to the last employee in the queue.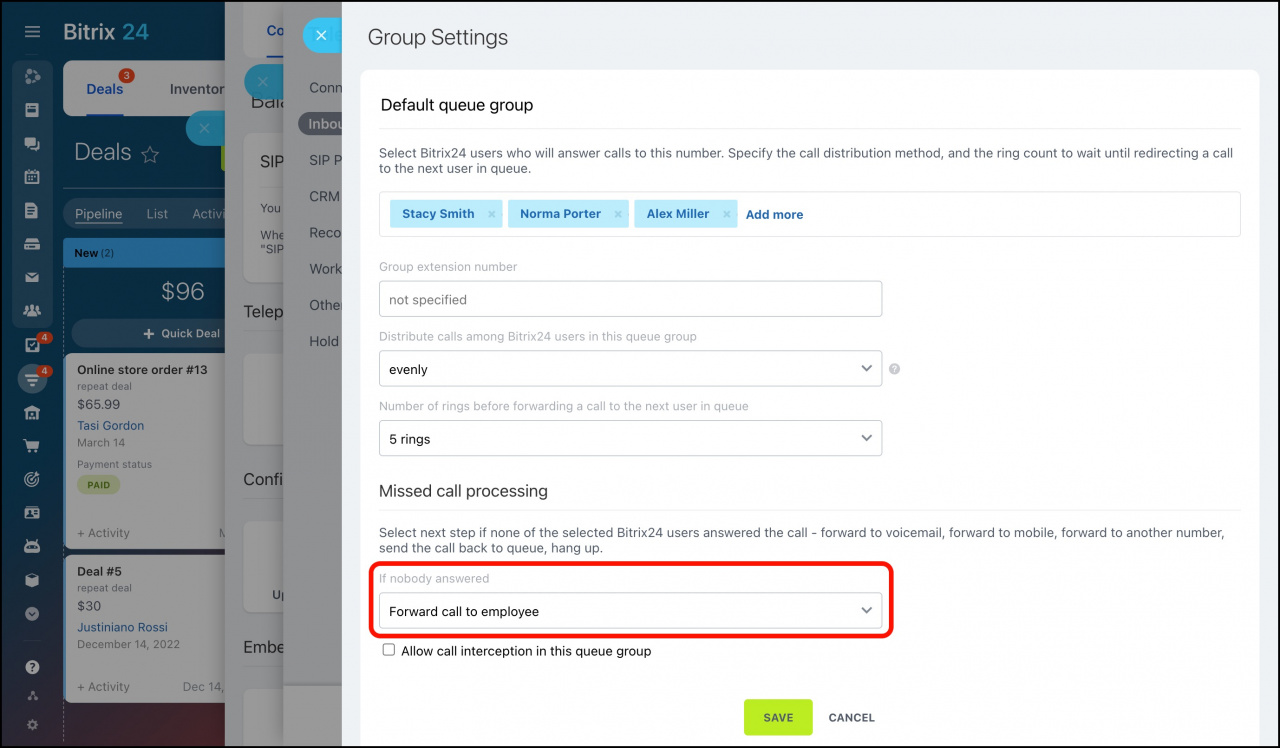 For the correct work of this option, the phone number in the employee profile needs to be in the international phone number format - country code, area code, and phone number. +, () and spaces don't affect the phone number recognition.
2. Forward call to specified number
4. Wait for available operator
The call "moves in circles" inside the queue until any employee from this queue group answers it.
If all operators are busy:
your client hears the Wait music tune that can be changed in phone number settings
when any operator is ready to answer the call, this call is forwarded to this operator
if there are several calls, they will be processed in the order they are received
If you select the Wait for available operator missed call processing option and to everybody type of call distribution, the unanswered call is ended and added to statistics as a missed call.
Manual call forwarding
In Bitrix24 you can transfer a call you have already picked up to another user. This can be done directly in the call window.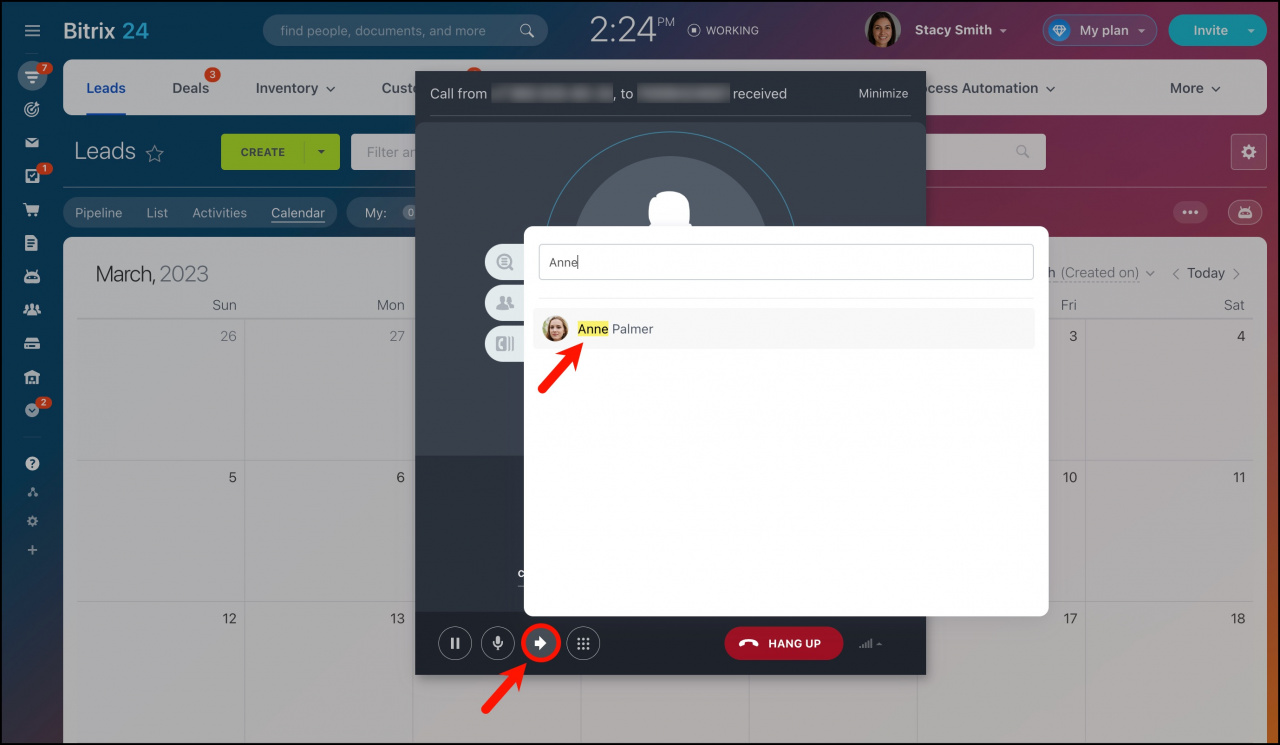 There are two options available:
If you click the call transfer button > select an employee that you want to redirect the call to > click Redirect without waiting for an employee to answer the call, your conversation with a client is automatically ended, and this client will need to wait for the selected employee to answer the call.

If the other employee doesn't answer the redirected call, this call is ended.

If you click the call transfer button > select an employee that you want to redirect the call to > wait for this employee to answer the call, you can talk to this employee before redirecting this call. The client listens to the Wait music tune while you're talking to the other employee. Then you can click Redirect, and your colleague will start a conversation with the client.