Interactive voice response (IVR) is a technology that allows Bitrix24 Telephony and CRM to interact with your clients through dialpad input.
If you receive large volume of incoming calls, it may be helpful to have IVR system filtering them for you and routing these calls to the desired destination.
Another popular use case scenario is when the client needs to get some basic information & human call operator participation is not required. In these instances, you can record voice message response and play it to the client.
Bitrix24 IVR Options
● Transfer client's call to the particular operator or to the operators list
● Redirect calls to another phone number (outside Bitrix24 telephony system)
● Clients can enter an extension number to reach a particular person.
● Leave a voice message
● Replay voice menu record
● Quit voice menu (the call will be processed based on configured phone number settings)
● Go to another level voice menu
How to configure IVR
Important: you should have main telephony number configured before going to IVR Setting.
Go to Telephony > More > Configure IVR.
You can choose between 2 voice menu sources: audio file or text. If you choose to add text, it will be spoken to callers whenever they reach you by phone (language, voice, speed & volume can be configured). If you decide to upload an audio file, it should be in mp3 format, mono and its size shouldn't exceed 2 Mb.
Perform action if no button was pressed option gives 2 choices: exit IVR or repeat voice menu recording.
Phone buttons should be configured as Actions Buttons.
List of available options includes:
● Forward to employee
● Forward to queue
● Forward to external number
● Enter employee's extension number
● Leave voicemail message
● Repeat current menu's recording
● Exit IVR
IVR nested menus
You can create IVR nested menus by adding a new action button > + > New menu.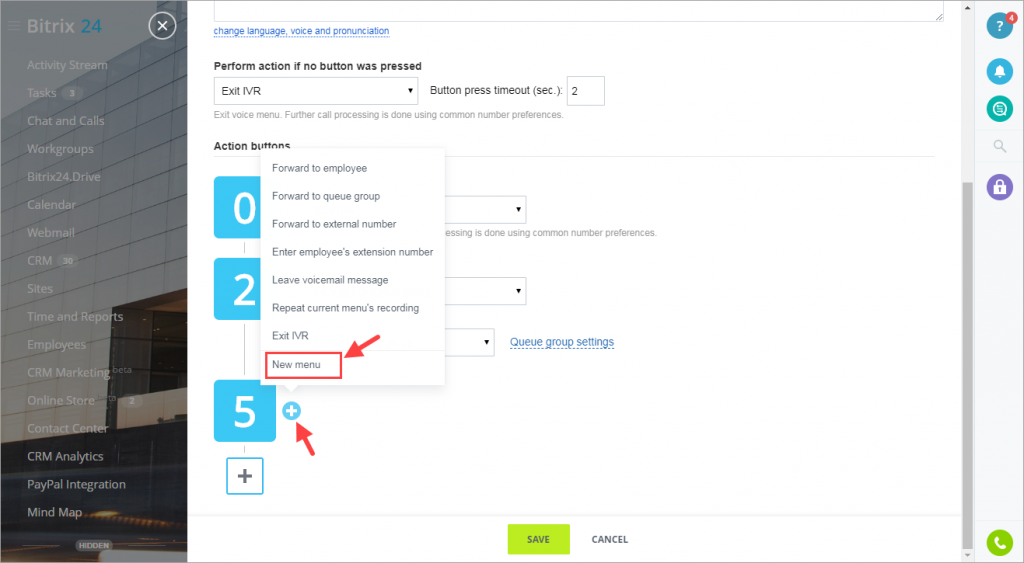 Standard plan subscribers can add up to two levels of nested menus. Professional plan subscribers can add an unlimited number of levels of nested menus.
IVR Operator Groups (Queues)
If you have set calls forwarding for your IVR actions buttons, then you can configure operators groups under Telephony > More > Telephony Settings > Groups (Queues).
Here you can select Bitrix24 users who will answer calls to this number. Specify the call distribution method and the ring count to wait until redirecting a call to the next user in the queue.
How to activate IVR menu
Click Connection > select connection option > Configure Number > activate Use IVR menu option > select IVR menu or create a new one.