You can set the option to automatically forward calls from your rented number to a specified number.
Make sure you have:
option "Direct incoming calls to the responsible Bitrix24 user if caller is identified" disabled.
under "Forward inbound call to queue" line no employee is chosen (queue is empty).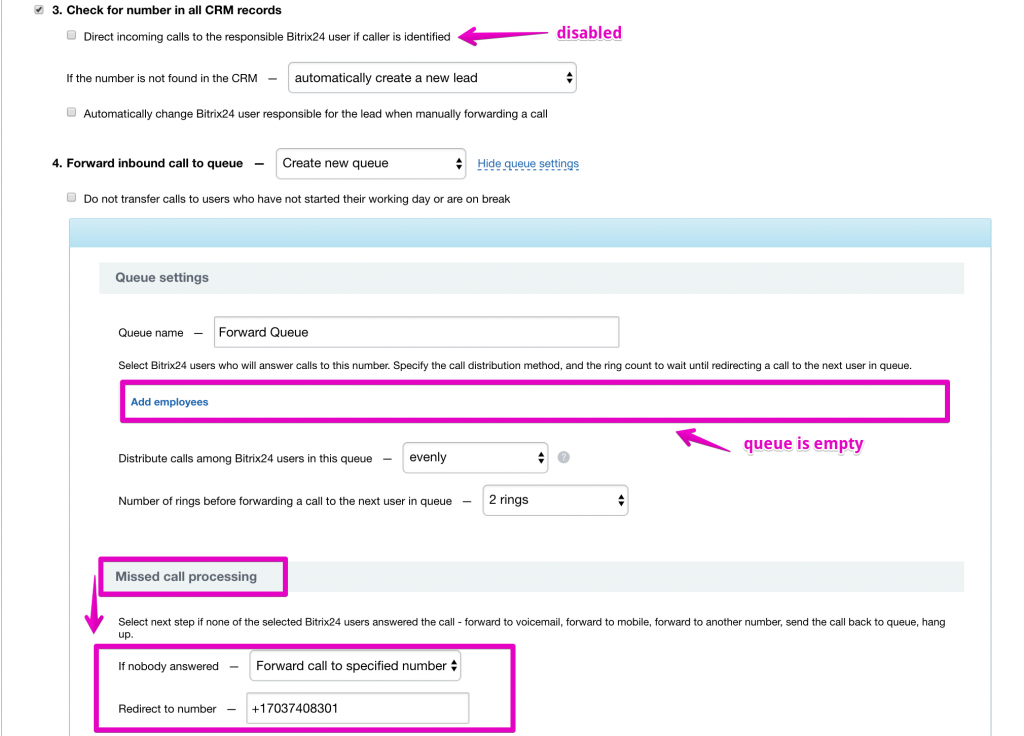 Here are some notes to take into account:
1. This type of call will be listed in call details with
undefined user mark
.
2.
Such call won't be added to the CRM
even if you have option "check for number in CRM records" enabled.
3.
The call will anyway first go through your Bitrix24 portal
and be forwarded further after. The call can be forwarded to the user's mobile phone directly (without going through your Bitrix24 & awaiting user's reaction)
only if the user has offline status
.
4.
There cannot be a queue for call forwarding
. Call forwarding will be applied to only one of the users listed in queue (available for options "evenly" or "exactly as enqueued"; "to everybody" option is not supported for this scenario).
5.
Call forwarding is in fact an outbound call
, which means you won't be able to forward a call to one user's mobile phone number and then transfer it to another user's number.
Please note that call forwarding is in fact an outbound call, which will be charged accordingly.
Voximplant (our telephony provider) starts charging the call once the callee picks up the phone. So they don't charge for the airtime.