Bitrix24.Mail has some important features.
Earlier connected mailboxes
Earlier connected mailboxes will continue to work. New mailboxes need to be connected by employees themselves.
Cannot access the connected mailbox settings
After activating new Bitrix24.Mail, the first active administrator gets access to settings of the already existing integrated mailbox (usually it's a company mailbox). This administrator can edit settings or give other employees permission to process emails in this mailbox.
How often Bitrix24 checks for new mail
These rules apply to all Bitrix24 plans:
The mail is checked every 10 minutes if the mailbox owner is online.
The mail is checked every 10 minutes if the Route emails from existing clients to assigned CRM managers option is enabled and any user has logged into the account.
Your mail is checked once a day if any user has logged into the account and Route emails from existing clients to assigned CRM managers option is disabled.
The mail is checked immediately when you open Webmail section.
If none of the account users are online, mail is not checked.
How many mailboxes can be connected
The number of mailboxes
per employee
that an
employee can connect
depends on
Bitrix24 Plan
.
In this case, mailboxes to which an employee was given access to by another user are not counted.
New mailboxes with a free domain
You cannot create and integrate free domains
inside Bitrix24
anymore. The mailboxes with a free domain and mailboxes @bitrix24.com that are
already integrated
continue to work.
Free domains for commercial plans subscribers will continue to work and will automatically renew each year.
For free plan subscribers, the extension is not available. To renew, you can purchase a commercial plan or re-register the domain in your name with a domain registrar and renew it by yourself. To do that, send a request to our technical support. After re-registering domain, you can create new mailboxes yourself and integrate them via IMAP.
If you don't have your own domain name, but want to have one and connect mailboxes with Bitrix24, you can use one of the services that provide an option to get custom mail domain names. For example, GSuite by Google, Yahoo! Small Business, Zoho Mail, Outlook in Office365, etc. After creating a mailbox with your own domain, you can connect it with Bitrix24 via IMAP.
Sending messages takes too much time
If for some reasons you are not satisfied with the time it takes to send a message via Bitrix24.Mail server, you can
send emails via SMTP server
.
Repeat leads are created for the existing contacts
If you want new emails to be linked to the corresponding CRM elements without creating new leads, just activate
Route emails from existing clients to assigned CRM managers
option in Mailbox settings.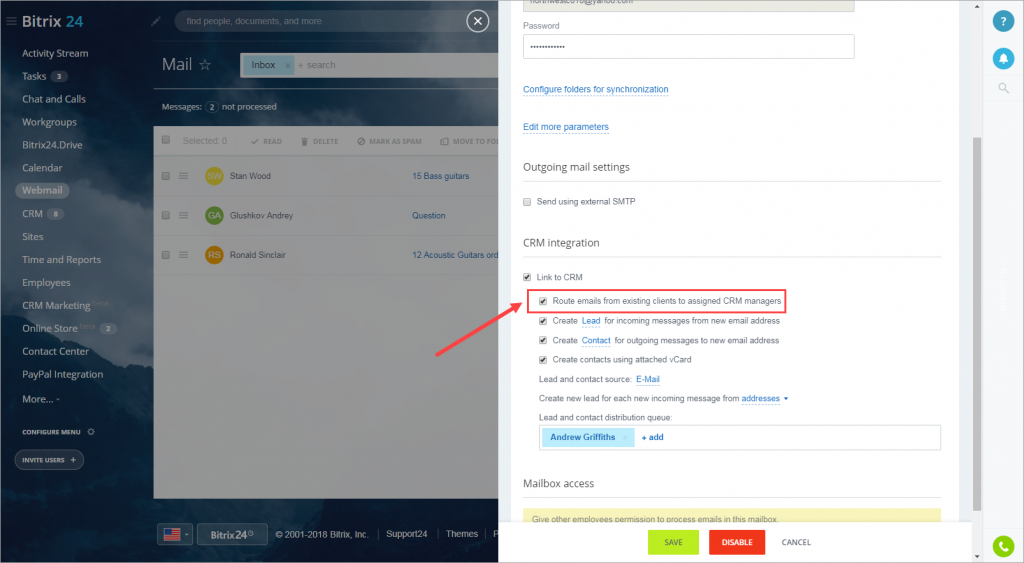 In this case, even if the responsible manager is not added to the lead and contact distribution queue, new messages from already existing contacts are added to the Activities section of the corresponding contacts.
Why my email message is not delivered? Why I don't see an email message from my client in Inbox?
If your message is not delivered or you don't see an incoming email message in your Inbox, the reason may be that this message has an attachment that is too big. An attachment should not exceed 14.3Mb. Otherwise, your message will not be delivered or you won't see an incoming message in your Inbox.
What does "Email does not match CRM rules" error message mean?
This error may occur due to several reasons:
You are trying to save an email message from an employee to the CRM manually.


Emails are saved to CRM automatically, and one of the following conditions is met:


the email message is too old (this can happen if Fetch messages for option is set for a longer period than Link to CRM > Process messages for option);
the email message is marked as spam or is in the trash;
this message is an email notification from your Bitrix24 Account;
this message was sent by your Bitrix24 Account user;
the sender's email address is added to exceptions list.
How can I add my own DKIM and SPF records?
You cannot add custom DKIM and SPF records for outbound email messages in Bitrix24.
However, you can register your own domain, configure your webmail server, add custom SPF and DKIM records, configure DMARC record check, and configure sending messages via SMTP in Bitrix24.
Is POP3 supported?
No. You can connect your mailbox using
IMAP
.