Installation & Setup
Prerequisites
The app requires no setup in Bitrix24 as it all happens in Zapier.
Establishing the connection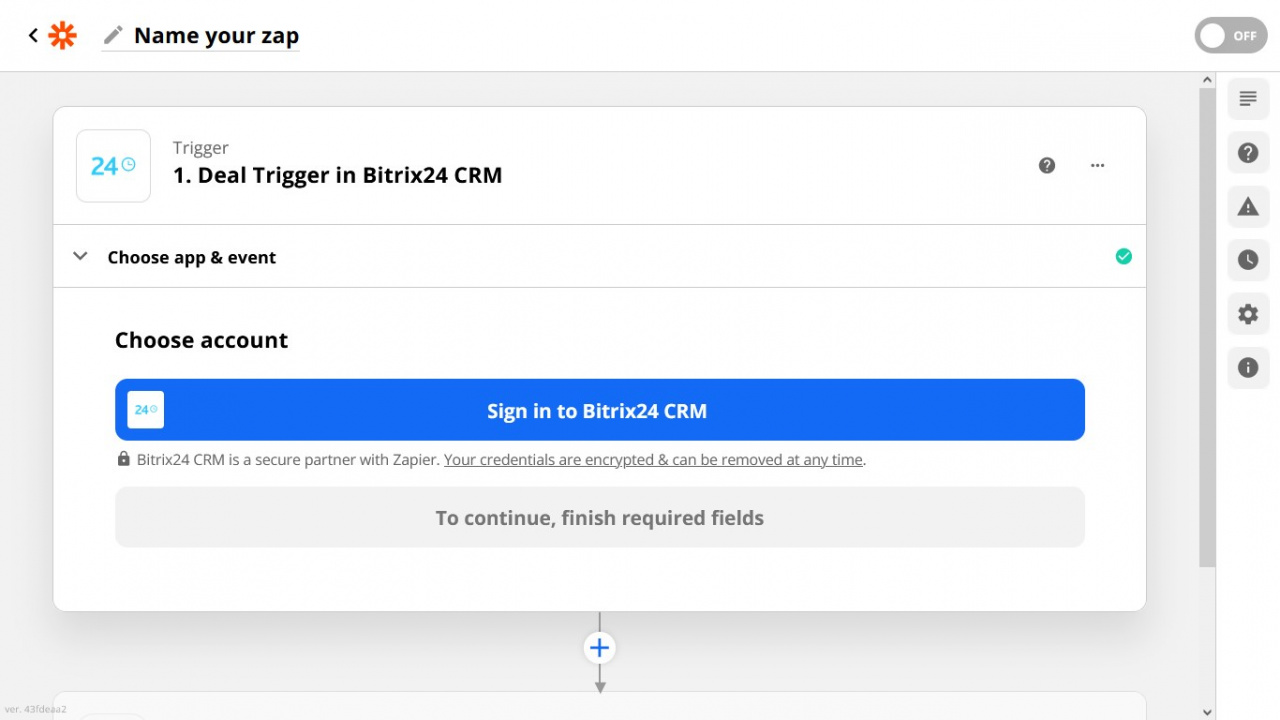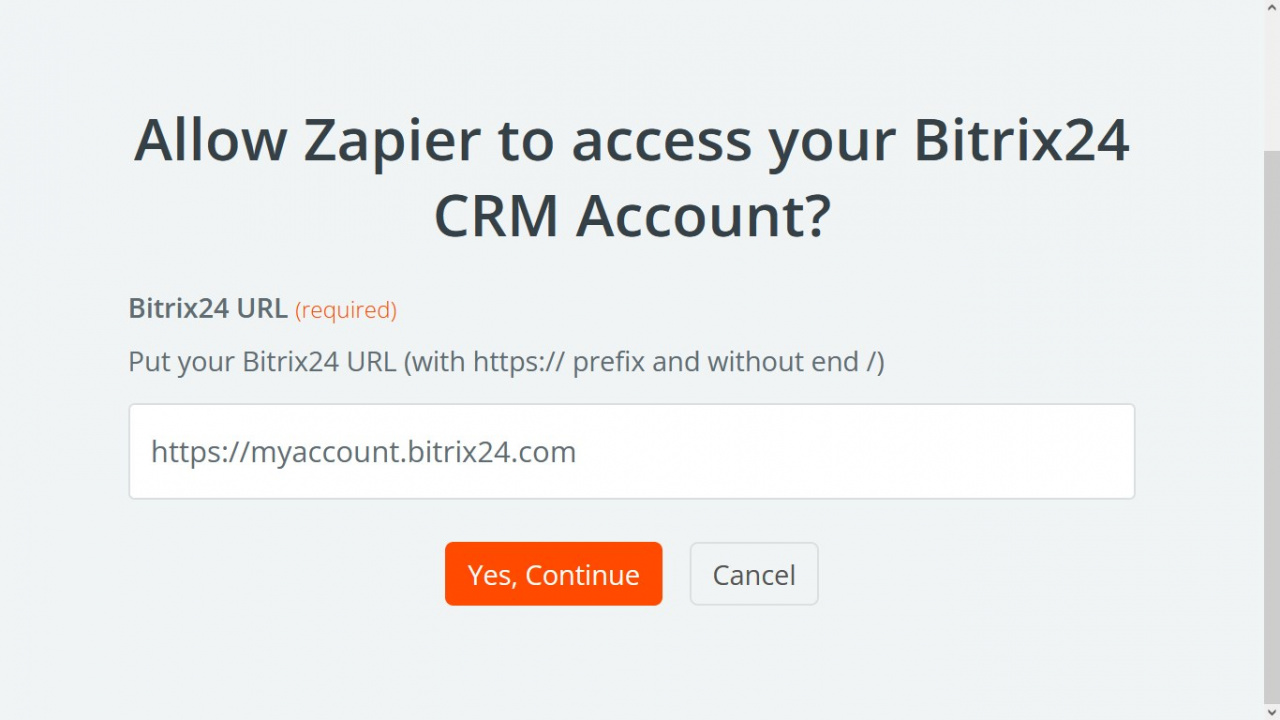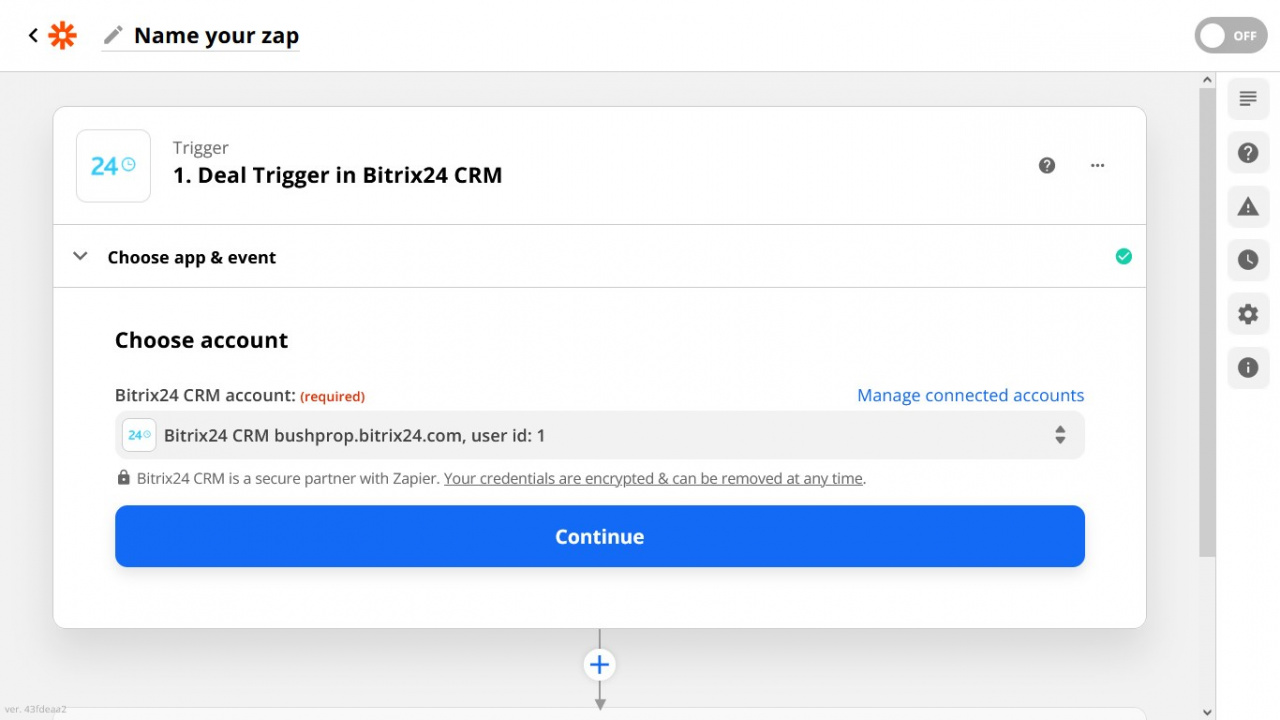 You're now all set to proceed with building the Zaps.
FAQ
General
Q: Why are there two Zapier apps, one in the Marketplace and the other in Zapier? The versions are different.
A: These are indeed two separate apps that work together. The Zapier for CRM app from the Marketplace allows to accessing Bitrix API, while the one in Zapier interacts with it. We recommend using the latest version of the connector to make the most out of the integration.
Q: Is it possible to connect two separate Bitrix24 accounts via Zapier?
A: Yes, you can have multiple Bitrix24 connections at a time and build Zaps connecting different Bitrix24 accounts.
To add a connection in Zapier go to My apps > Custom integrations > Bitrix24 CRM connector > Add connection
Q: I do like your app, but what if I want to submit feature ideas? How can I do that?
A: You're welcome to reach our Bitrix24 support to pass your feedback and ideas.
Technical
Q: Why am I getting a 404 page in Zapier when trying to re-establish a connection with my Bitrix24 account?
A: That happens when you're trying to use a deprecated version of a Bitrix24 CRM app in Zapier. Rebuild the step using a publicly available version of the app.
Q: I'm getting ERROR_OAUTH: Application not installed error after entering my Bitrix24 URL to establish a connection in Zapier. Why is that?
A: For Zapier to connect to your Bitrix24 account, you need to have Zapier for CRM app installed from Bitrix24 Market. No additional setup will be required.
We advise to check whether your app's configuration might differ from the recommended one, please make sure that:
No ending slash was used in the URL while authorizing. The same applies to using https:// URLs instead of http:// ones;
Your current version of Zapier for CRM is the latest one. If you are not certain about it, we recommend to uninstall the app with its settings and reinstall the latest version from the Marketplace.
The issue might also be caused due to multiple authentication profiles, for some of the access tokens could have expired. If you suggest that might be the reason, feel free to reach out to Bitrix24 Integrations support.
Q: How do I find a record by its ID? I do not seem to get the option under the Field name tab.
A: If you need to find an entity by its ID, use the custom input option.
Q: Is there duplicate control when adding new entries via Zapier?
A: There is no automatic duplicate control when adding new records using our API. You need to establish the check yourself. The integration app offers the Search action that can help you identify existing records and, therefore, not create duplicates.
Q: We operate our on-premise instance on a closed network. Is it possible to install and use the app locally?
A: This is a REST API-only app, and it requires access to and from the internet for it to work.
Q: How do I know the deal stages' IDs for adding a deal to a specific stage when creating a deal using the app?
A: To get an ID of a specific stage, you can get it by inspecting the stage using your web browser in Statuses & Dropdowns settings