You can store unlimited number of contacts in your Bitrix24 account. Please note that your contacts may have files attached - please make sure you have enough free storage space.
How to add new contacts
You can add new contacts to Bitrix24 either manually - via plus icon below Contacts on the top bar panel or via "Add" tab in Contacts List view; or import contacts (CSV file format).
Contact Form
New sliding contact form shows contact details, activities & allows to switch between main sections such as:
General: contact details page, current activities, comments, activities planner tools.
Deals: shows all associated deals & allows to add new deals for the contact.
Quotes: shows all associated quotes & allows to add new quotes.
Invoices: shows all associated invoices & allows to add new ones (paid invoices statistics is available).
Workflows: allows to run business process for the contact. Please note that you should have business process configured in CRM > Settings > Automation > Business Processes.
History: reflects contact form changes history.
Profile: client profile shows contact analytics.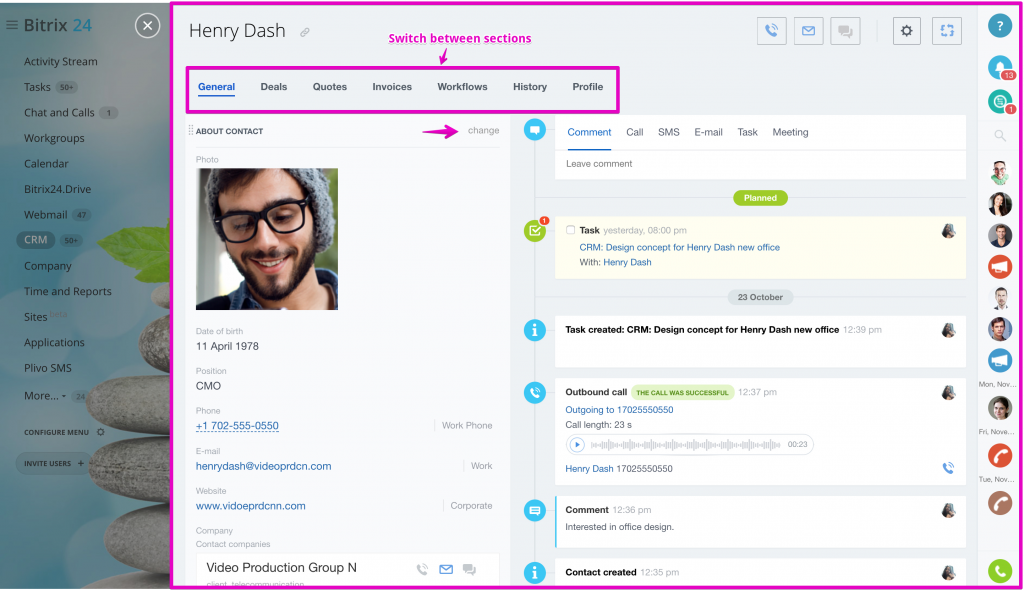 1. Required fields
: first & last names are 2 default fields required for each contact. You can add own required fields under CRM > Settings > Form & Report Settings >
Custom fields
.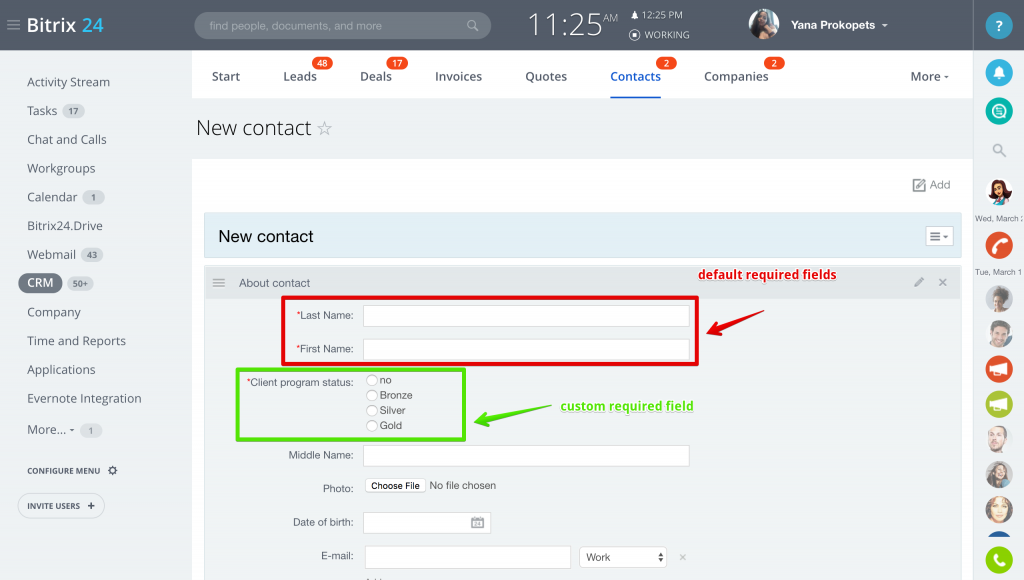 2. Responsible user:
each CRM record (lead, contact, company, etc.) in Bitrix24 should have a responsible user. You can select contact's responsible in the new contact form or change it later. If you don't set responsible for a new lead, you, as contact creator, will be automatically assigned as contact's responsible person.
3. Duplicate control:
the system will automatically advise if there is a duplicate found when you add contact's name, phone or email address.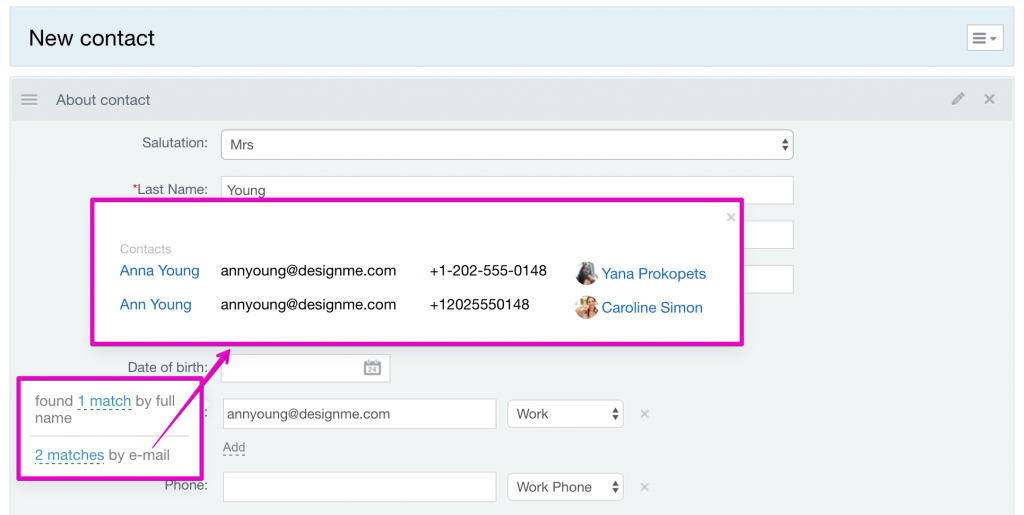 Important: when you add new contacts - duplicates control is available for all Bitrix24 plans subscribers. But, advanced duplicate control (among all contacts after they are already in the system) is available for Bitrix24 Plus, Standard or Professional plan subscribers only.
4. Connect companies to the contact:
select existing companies or add new ones to the contact. Several companies can be connected to the same contact, use right & left arrows to switch between them. You can add contact's position in this company below:

5. Contact details - street address & banking details:
choose if you'd like to add details for a company or person. You can edit person & company details forms under CRM > Settings > Start point > Company or Contact details templates.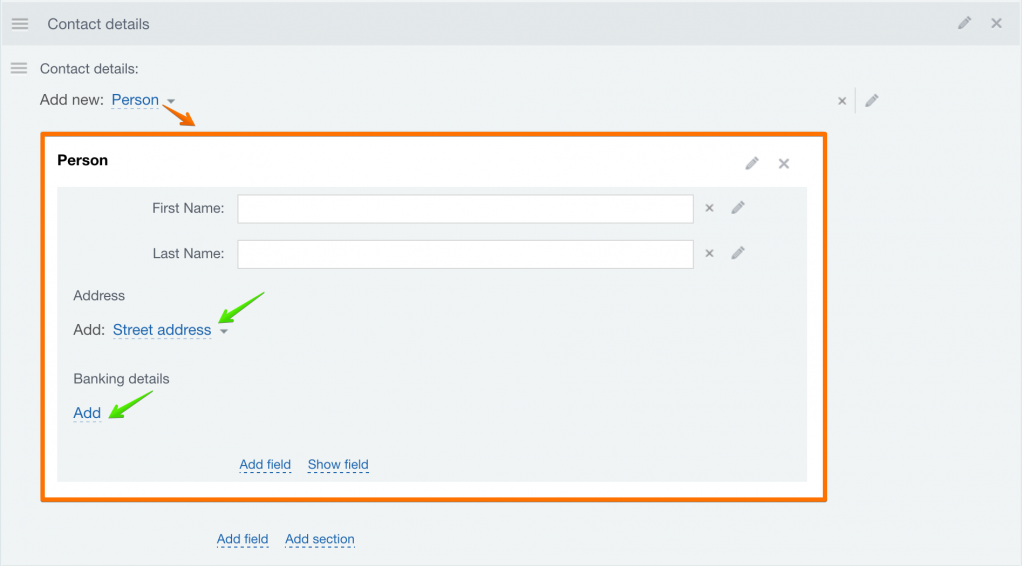 6. Available to everyone:
this option helps to configure special restricted
access permissions
for contacts equal to "all open".
if access permissions for contacts are equal to "All open", the user will be able to access all contacts with this option (available to everyone) activated.

when access permissions are set as "All", the user will have access to absolutely all contacts (no matter if the option is active or not).


7. Use in contacts export:
you can restrict particular contact export with this option (when deactivated). All new contacts have "use in contacts export" option activated by default - meaning these contacts can be exported.
8. Date of Birth:
after you've added contacts birthday dates, the system will advise upcoming clients birthdays on the CRM Stream page, on the right: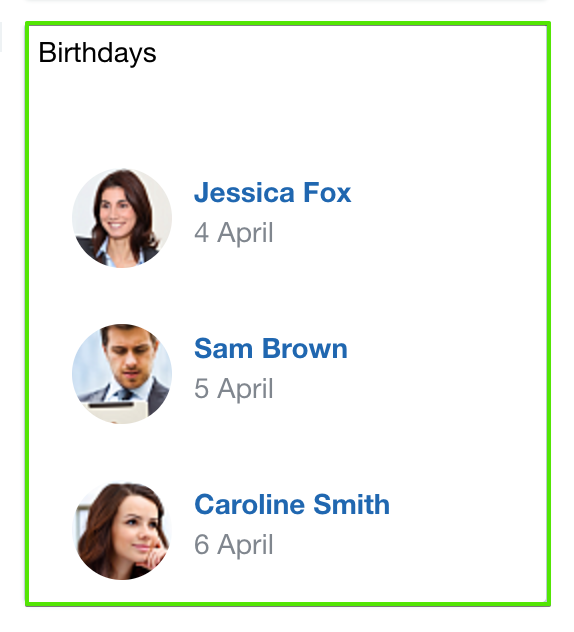 9. Salutation, contact type & source:
these dropdowns can be configured under CRM > Settings > Start point > Statuses & Dropdowns. You can drag & drop lines to reorder them, edit names or delete them.