Focus mode
is the deal behavior that causes it to go to the top of the kanban. Focuse mode works in the
Pipeline
,
List
and
Activities
views.
The focus mode is available in deals, leads, smart processes, and invoices.
Let's consider the focus mode work on the example with deals. If you used to manually sort deals, now you don't have to do that. It is enough to add an activity to the deal, and then it will go up to the top of the kanban at the right time, and you will continue to work with the client.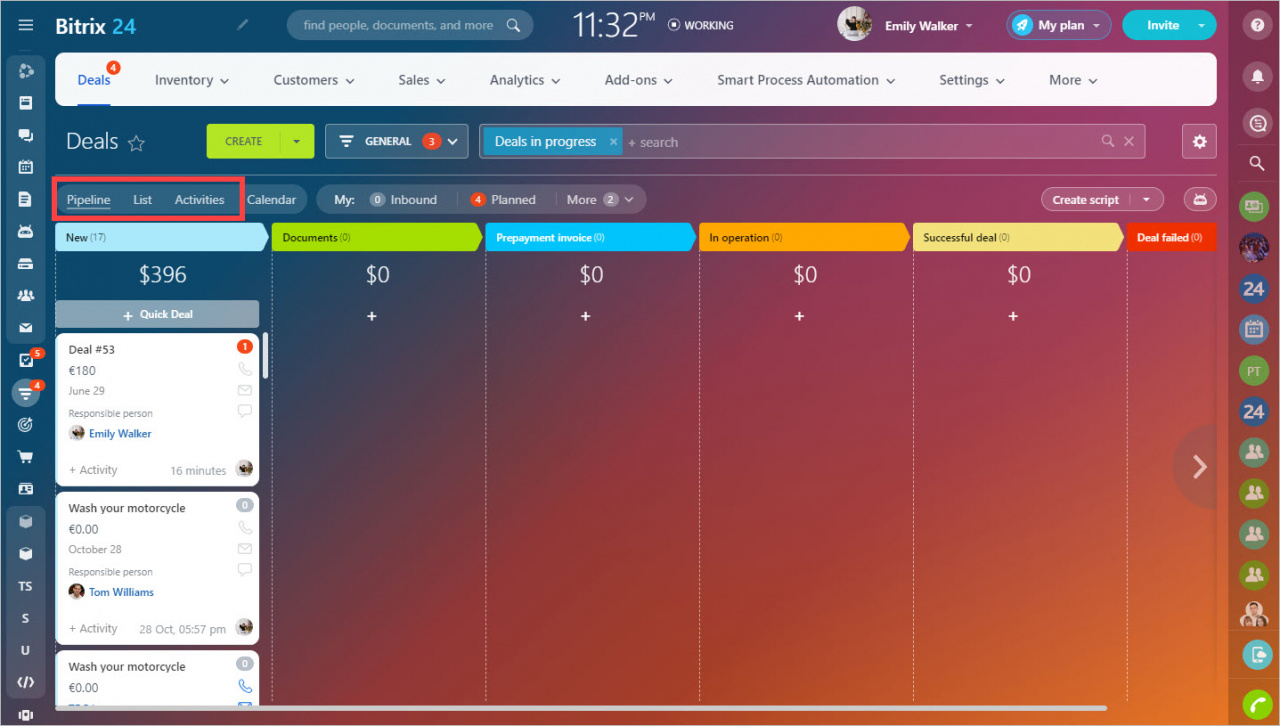 What events will cause the deal to go up:
If a comment appears in the deal from an employee who is not responsible for the deal.

Let's say you, as a supervisor, decided to check the deals of your subordinates. You see a discrepancy with the regulations and leave a comment in the timeline. Previously, the employee would only know about it when he or she opened the deal. Now the deal with the comment will go up to the top of the timeline and the employee will immediately pay attention to it, as well as to the comment.
If there is an incoming email, chat, incoming or missed call from a customer.

Let's say you discussed the deal with the customer a week ago. You may even have an activity planned to contact him or her in 2 days, but since the deadline has not yet come, the deal is at the bottom of timeline. However, if the customer gets in touch with you, the deal will immediately be at the top of the list and you will see it immediately. Thus, clients' requests will not be left without your attention.
15 minutes before the deadline, and exactly at the time that is specified in the file.

For example, the deal is somewhere at the bottom of the kanban. The last time of communication with the customer was a week ago. We fixed the agreement and created an activity for today, with a deadline of 2:00 p.m. 15 minutes before the event the deal will go up. The deal may go down again because of other deals, if your colleagues add new ones to the stage. Therefore, at the time of event, the deal will go up again.