You can customize your Bitrix24 in Settings section.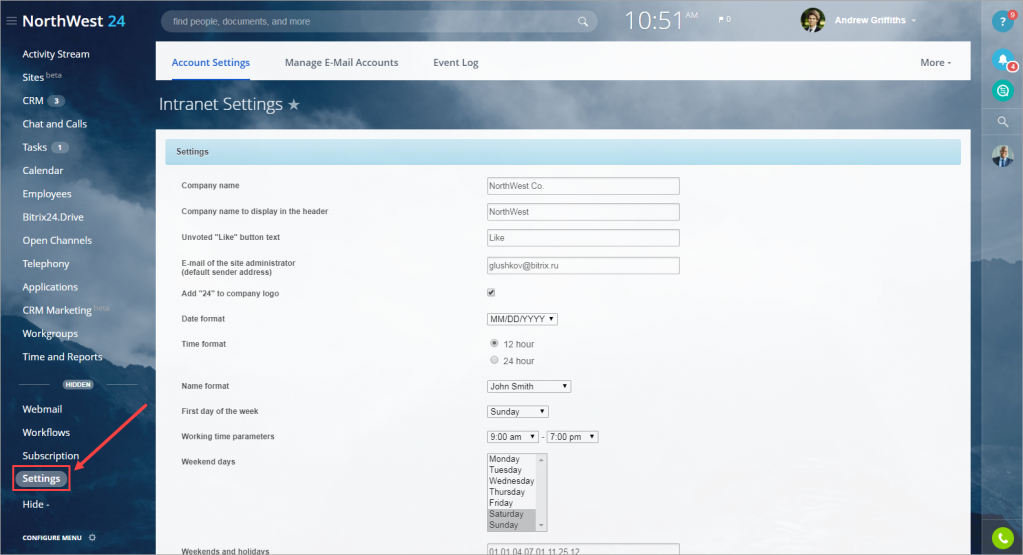 Some of the options are available to Bitrix24 Standard or Professional plan subscribers only. You can learn more on
Bitrix24 Plans and pricing
page.


Settings


Here you can configure general settings.
Change your Company name and Company name to display in the header that is displayed in the left top corner.

E-mail of the site administrator (default sender address) - this e-mail address is used as a default sender until you change settings.
Add "24" to company logo - disable this option if you don't want to have "24" in the left top corner. This option is available only to CRM+, Project+, Standard and Professional plans subscribers.
Date format, time format and name format - select how the corresponding information will be displayed.
First day of the week - workweek starts with this day in calendars.
Working time parameters - specify business hours.
Weekend days - specify weekend days. It's important when planning tasks and working with calendars.
Weekends and holidays - every country has its own holidays, so here you can add holidays or delete existing ones if they are not needed. Enter dates without spaces and separate them with commas.
Phone number format: default country.
Type of your organization - you can select how would you like users of the account to be addressed in some menu items, headings, messages, etc. There are 2 options to choose from: company and employees, organization and users.
Show dismissed employees.
View documents using - select the service which you want to use to view your documents.
Allow involved users to edit documents... - the administrator can enable the option for all users of the account to edit the documents attached to messages, tasks, etc.
Automatically connect Group Drive when user joins group - enable this option to automatically connect workgroup drive to the new workgroup user's personal drive.
Auto generate PDF and JPG files for documents - a preview is created and Media Player is activated to work with PDF and JPG files in the account This option allows to do that.
Auto generate MP4 and JPG files for video media - the same as the option above but for video files.
Convert file as soon as it is opened - this option refers to old documents that have been added to the account a long time ago and that doesn't have a preview created using the options above. If this option is activated, the file will be converted on opening so that it can be displayed on the media player and previewed next time.
Max. entries in document history - if the specified limit is exceeded, the older entries are deleted automatically.
Allow public links - enables working with the public links in your account.
Allow document locking - when this option is enabled, you can lock the document so that only one person at a time could edit the document.
Allow "All users" as option in Activity Stream - by default, all users can post messages to "All users" in the activity stream. Here you can disable this option or select users who can send such messages.
Use "All users" as default recipient - by default, "all users" are specified as recipients of the messages in the activity stream. Here you can disable this option.
Allow users to send messages to General chat - here you can disable this option or select users who can send messages to General chat.
Notify about new hires in general chat.
Notify about employee/user dismissal in general chat.
Enable rich media links - this option will preview the links inserted in the messages and comments. This works both with the external links and with internal links to the tasks, leads, etc.

Allow quick registration - if this option is enabled, any Bitrix24.Network user can register on any Bitrix24 account (if he knows the account name). However, the account administrator's confirmation is still required.
Allow everyone to invite new users to this Bitrix24 account.
Notify about new hires in Activity Stream.


GDPR Compliance


As Bitrix24 has many clients in the European Union, we follow GDPR compliance rules and maintain GDRP section on our website. Obtain your digitally signed copy of the Data Processing Agreement and print the agreement. This is your copy of the agreement.
We need to have our copy too and it can be digitally signed by you in the account settings. The agreement comes into effect when your Bitrix24 account administrators provide all necessary information in the account settings (GDPR Compliance section) for our records keeping.


Security settings


In this section, you can Make two-step authorization mandatory for all users and Specify the period of time within which all the employees will have to enable two-step authentication.


Services


In this section, you can disable some Bitrix24 tools if they are not used in your company.
This feature is available for Standard and Professional plan subscribers.


IP restrictions


Here you can select users or entire departments for which access is allowed from specific IP addresses only.
Important: this option is not applied for users with administrative rights – they can access Bitrix24 from any location. Access limit by IP is available available to
CRM+, Project+, Standard or Professional plans
subscribers only.


Company logo


You can upload the company logo, which will appear in the upper left corner of your account instead of "Bitrix24" sign.